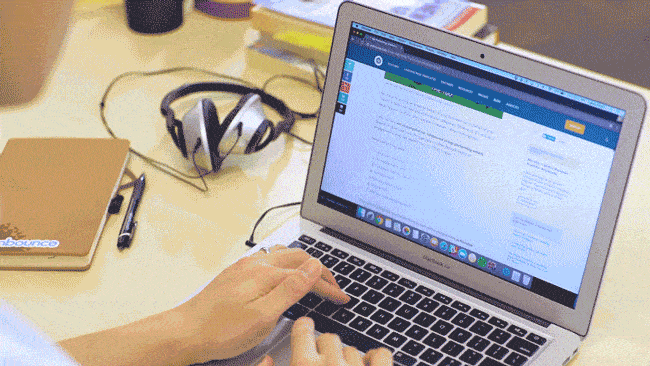 Today we're launching Unbounce Popups to help you get more conversions on any website, blog or online store. Using targeted popups, you can drive revenue, capture leads and direct users to your high-converting pages — without bugging your developers or changing your website.
You know you're having a weird moment when you're talking to Siri about marketing and you don't even have your phone with you.
I was trying to visualize the sitemap for unbounce.com. I can't believe I was even considering the term site map. When was the last time you used "site map" in a sentence? Please tell me you're not Googling "site map" right now…
Anyway, the imaginary conversation went something like this:
Me: Siri, would you be a gem and list every page on my website, ordered by traffic volume from high to low? Oh, and if you could make a note of which ones have a call to action, that would be great.
Siri: How do I know if a page has a call to action, Oli?
Me: If it has a button or link that leads to a URL defined as a conversion goal in your analytics, it's got a CTA. If it doesn't, it doesn't.
Siri: Okay, here is your list.
Me: So what you're telling me, Siri, is that out of 845 indexed pages, 804 of them have no conversion goal – no opportunity for site visitors to actually become a lead or a customer?
Siri: Yes, Oli.
Every page on your website is a potential conversion opportunity.
They're not all the same, they're not all as big and they're not all worth an equal amount of money. But they're opportunities.
That's why today we're launching Unbounce Popups – a new tool to help you get more conversions on all your web pages.
When my co-founders and I launched Unbounce seven years ago, we set out to provide marketers with the most powerful landing page optimization platform on the planet. But our vision always extended beyond landing pages. We wanted to create exceptional marketing experiences.
This begins with our own marketing, but becomes a much larger vision when you consider our responsibility as a software provider, helping 13,000 customers create their own exceptional marketing experiences for their own customers.
As a mental exercise, picture those 13,000 businesses including thousands of in-house marketing teams managing 500-page websites, 25 concurrent projects and millions in paid ad budgets. Add in thousands of marketing agencies, each with a portfolio of 50 clients with 250-page websites, hundreds of campaign landing pages and average page traffic of 1,000 visits per month.
Do the math and we may be looking at tens of trillions of missed conversion opportunities…. every month.
Why does this matter?
This means that one small piece of technology can have a profound influence on how people experience the internet and the marketing touchpoints they encounter along the way.
We take that responsibility seriously. It's what we care about more than anything.
Our goal at Unbounce isn't simply to connect businesses to customers, it's to do it in a way that brings value to both sides of every transactional business opportunity.
The word opportunity here is a two-way term. It's an opportunity for you as a business, and it's an equal opportunity for your visitor to get what they're looking for, when they're looking for it.
Introducing Unbounce Popups
Hopefully by now you're visualizing your own website and landing pages (or those of your clients), and you're drooling a little at the thought of amplifying your own marketing performance.
You might also be visualizing the pain and cost of updating your website to take advantage of these conversion opportunities.
With popups you don't need to redesign your website, or wait for the dev team to make changes. By adding one simple line of code to your site you now have the ability to add a conversion opportunity to any page.
What's a Popup?
An Unbounce popup is an overlay that appears on a web page asking your visitor to take an action. Popups help you create focused conversion experiences anywhere on your site. You can have them appear for only the visitors you'd like to target using a variety of triggers: on entry, on exit, on delay, on click, or as someone scrolls a certain percentage of your page, for example.
Whether you want to generate leads, drive sales or direct traffic from low-converting to high-converting pages on your website, you can now use the Unbounce drag-and-drop builder to create super-customized popups that support your goal — all without coding skills or developers.
Why Popups?
You've likely noticed a proliferation of popups across the web. You see them everywhere because they work. Or at least they can, if used strategically and responsibly.
When I'm talking about something that works, I mean that it works first and foremost for your customers, and by extension, works to grow your business. This means maximizing your potential for conversion while keeping your prospect's motivations and experience top-of-mind.
Popups increase the number of opportunities you have to generate conversions on your website, blog or e-commerce store (and, of course, on your landing pages). They allow you to show relevant offers to specific users at the perfect time, making them less likely to leave your website without converting.
For instance, you could use popups to:
Convert abandoning website visitors into potential customers as they're about to leave your page.
Convert blog readers into subscribers by offering up an ebook that relates to the topic of the post they're reading.
Offer online shoppers a last-second discount on shipping just before they abandon their shopping cart.
Turn first-time visitors on your homepage into leads by triggering a popup on arrival, enticing them with a special welcome offer.
Amazing companies like Buffer, Campaign Monitor, Hotjar and ShopifyPlus are already seeing impressive results. But don't take our word for it — here's what Colin Sandeman-Allen, Marketing Manager at Alumedia had to say:
Within 21 days roughly 30% of our organic revenue had a popup touchpoint. Converting at 21.83% and increasing the effectiveness of complementary campaigns by 9%, Unbounce popups have easily become some of our most profitable organic campaigns.
Great power, great responsibility
For the past year, we've been testing popups on unbounce.com and our blog.
We've had some really big wins, but it's not just about the extra conversions. By using popups we've uncovered incredibly valuable insights about how this technology can impact how our visitors experience Unbounce – and we can't wait to share those insights with you.
When you offer relevant, well-timed offers that are truly valuable, you are enhancing the user experience. And that's a good thing for everyone.
Start using popups today by clicking the link below and starting your free 30-day Unbounce trial. Already a customer? Log in and start using popups at no extra cost. You can now use the same drag-and-drop Unbounce builder to drive conversions on both your campaign landing pages and your website!
As always, we've got your back with tons of hands-on help, including:
Chat, email and phone support on every plan whenever you need it.
Tons of education and inspiration in the form of tactical blog posts, tutorials, podcasts, webinars, ebooks and other free resources.
High-converting templates for you to customize to suit your brand,
An active user community of likeminded marketers who are facing many of the same challenges as you.
Can't wait to hear what you think, see what you build and share in your marketing success.
Cheers,
Oli Gardner