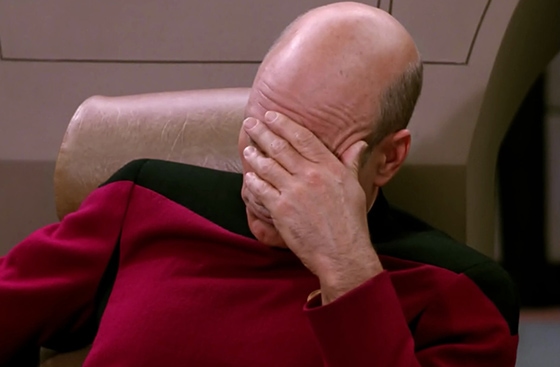 Cheer up, Picard. Your mistakes make you smarter.
Image source
.
Conversion rate optimization is all about improvement.
Whether you're reading blog posts, running A/B tests or attending awesome conferences, the end goal is to get better. Better at formulating hypotheses, generating leads and securing more conversions.
But there's a lot of baggage that comes with improvement. Namely, making big mistakes and falling flat on your face.
We asked nine of the conversion experts speaking at the upcoming Call to Action Conference about their biggest conversion mistakes – and the most valuable things they learned from them.
Here are some of the biggest CRO lessons they learned the hard way (so you don't have to).
You don't know what you don't know
As the founder of Enchanting Marketing, Henneke Duistermaat teaches marketers how to freshen up stale copy that just isn't resonating with prospects.
One mistake she sees again and again is people assuming that they know what's best for their customers without first talking to them:
We often think we know what our customers are looking for.

We think we know what phrases they use.

But we're all affected by the "curse of knowledge" – after being immersed in our company, our products, our specialist niche, it becomes difficult to imagine what it's like to be a customer and not know the things we know.
To break out of this bad habit, here's what she recommends:
Get away from your company. Talk to your prospects. Read product reviews.

Keeping strong connections with real prospects and real customers is the best way to write high-converting copy and grow your company.
Joanna Wiebe – co-founder of CopyHackers who recently wrote the ebook on landing page copywriting – also thinks you should turn to your prospects for copywriting inspiration:
My confession: I'm a thief. And I'm gonna keep on stealing.
According to Jo, the best copywriters in the world are thieves:
We're thieves because we steal words from our customers and prospects. Truth be told: it's our thievery that makes us powerfully effective copywriters.

It all depends on your audience. That's why you shouldn't defer to your own mind or the mind of a copywriter to find the best words for your audience. Rather, go listen to your market.
She sums it all up nicely with this great line:
Don't be afraid to break the rules
Talia Wolf of Conversioner thinks that one of the biggest mistakes you can make as a conversion rate optimizer is to assume that "best practices" apply across all verticals and audiences.
Yea, "always be testing" is a cliché by now, but for a good reason: Talia has debunked "best practices" time and time again with her tests.
One such test took a lengthy form and broke it up into smaller chunks – first asking for email and name and then the rest of the info in the second step. The assumption was that longer forms create friction, but the test results suggested otherwise:
That version actually lost. It turned out that people were put off by the shorter version and were more likely to fill in the long detailed registration form as it made them feel like they were starting the process immediately.

It just goes to prove (yet again) that nothing is set in stone. Just because it's someone else's best practice doesn't mean it will work for you.
Demian Farnworth, Chief Copywriter at Copyblogger Media, has had similar experiences. As a result, he's learned to test going against the grain:
When I was working for a large non-profit. I convinced them to use the word "free" in their email subject line.

This was a few years ago, so the fear of "free" being considered spam was still real. But I convinced them adding that word would beat anything else they offered.

I think it was a winner by 43%. And thus began a culture of testing.
Test smarter, not harder
CRO expert and UX champion Craig Sullivan isn't ashamed of his mistakes. In fact, they've taught him a thing or two about creating winning hypotheses:
The biggest mistake I've made was testing the "stupid stuff," meaning things that people were arguing over or had a personal whim to test, including mine.

However, unless there is a clear hypothesis, driven by user insight, data and inspection techniques, it's just moving deck chairs around on the Titanic.
Craig has learned to go with a more structured, deliberate approach:
These days, I'm driven by fitting every piece of work into this sentence:

"From observing data [A] or feedback [B], we believe that doing [C] for people [D] will make outcome [E] happen. We'll know this when we observe data [F] and obtain feedback [G]."

If we're making changes to a client site and a test or product change doesn't fit into that sentence, it's a good flag that our thinking isn't straight!
Every winning hypothesis starts with extensive research
Michael Aagaard of Content Verve agrees that smart A/B tests start with an informed hypothesis borne of extensive research.
To illustrate this, he shared this quote from Abraham Lincoln:
Give me six hours to chop down a tree, and I'll spend the first four sharpening the ax.
But how does this quote relate to CRO?
Jumping headfirst into a series of A/B tests with no data and insight is like chopping blindly away at a tree for hours with a dull ax, hoping that the tree will eventually give way to the blade and fall over.

In CRO, collecting data and getting insight is like sharpening the ax. We're trying to increase our chances of being able to take down the tree in the first attempt – maybe even in the first swing.

Your A/B test is only as good as your hypothesis.
Prioritize tests with the most potential
When it comes to prioritizing important tests, here's what Peep Laja of ConversionXL had to say:
Start with conversion research (qualitative + quantitative, heuristic analysis) to identify where the areas for growth are, which levers work.

You have a limited amount of traffic, so test issues with the biggest uplift potential first. If you don't know what to test, you're doing it wrong.
Take a step back and think of your entire funnel
In CRO, conversions are all-important. But if you're not minding what happens before and after the conversion, then you're only getting a glimpse of what is happening to your marketing campaign.
During the optimization process, take a step back and look at your entire funnel – in all its complexity.
Colin Nederkoorn of Customer.io fell into the trap of focusing too hard on product sign ups… until he realized was that there was a ton of untapped optimization potential before the conversion even took place:
Some people buy right away. Other people aren't ready to buy yet.

For those people, if you don't have a low-pressure way to stay connected with the company, you lose a hard-earned lead.
After he realized this, he started thinking of ways to optimize his funnel before the conversion:
If you can capture an email address on a landing page in exchange for something like a downloadable PDF, or a newsletter signup, you can nurture that relationship until the person is ready to buy from you.

We didn't do this early enough, and are still working on giving people enough opportunities to connect with us outside of buying the product.
Similarly, before you make a change that you think will lift conversions, pay attention to potential downstream impacts.
Oli Gardner of Unbounce learned this lesson firsthand:
The biggest mistake I've made was to push what looked like a winning variant live without exploring the impacts of doing so.

We ran a test on our pricing page that added a new bullet point list of benefits. The impact on new trial starts was negligible (in the slightly positive but close to nothing range), so I pushed it live.
Unfortunately, there were some unforeseen consequences:
What I didn't anticipate was that this design inclusion pushed the "Open a free account" link down the page by about 300px. Three weeks later this materialized as a big drop in upgrades because there was a big dip in new free accounts.

It took us a week to figure out the problem and six weeks to recover financially.

Ouch.
Mistakes make you a smarter marketer
Mistakes have a bad rap. No one wants to admit failure.
But if you treat your CRO blunders as opportunities to learn, you can never fail.
So treat every single mistake as a problem that needs solving. Ask yourself, "What happened, and why?" The answer will equip you with the smarts to formulate better hypotheses and run smarter tests.
Simply put, you'll become a better marketer.
Like what these experts had to say? Come see them throw down their knowledge in real life on September 14th and 15th in Vancouver at the Call to Action Conference.
---