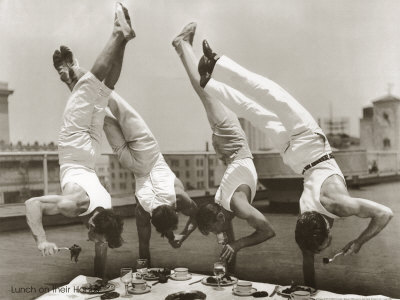 Quora is the ultimate brain break. Whether you're on a train, sitting in a waiting room, or just need a distraction at work, this peer-to-peer discussion platform is a great venue to learn and get your name known.
To get you started, we've hand-picked 31 discussions about conversion optimization, landing pages and user experience. Jump in and join the conversation, or just lurk and see what others are saying.
And in case you don't have 4 hours to go through all of the serious ones, we added 2 fun threads at the end that have absolutely nothing to do with marketing.
Learn, lurk, and enjoy.
The Heart of Marketing:
Conversion Rate Optimization
If you're running Facebook ads, you absolutely need to know the yield of your investment. As every marketer knows, however, social media analytics is a discipline where art meets science. The most popular answer to this question comes from SEO Manager David Iwanow, who asserts that Google Analytics is the best possible option for tracking the results of your social media campaigns.
You Chime In
This thread could definitely benefit from your personal anecdotes. What platforms have you come across, and what strategies do you find most effective in tracking your social conversions?
HubSpot's Joshua Porter points out that while length is important, four key variables can have an even stronger impact. The first is motivation — what Porter calls the most important variable related to conversion optimization. The second is friction — where copywriting is crucial. You need to provide instructions that are intuitive. The third is the information that you choose to collect — please don't press your visitors for a telephone number if you can avoid it. And finally, the last variable is brand — so make sure that you present your company as trustworthy.
Other points to note: For one answerer, removing CAPTCHA improved conversions by 20%. Another marketer points out the importance of perceived value proposition as a powerful incentive.
You Chime In
Even with 12 answers, this thread could definitely use some more data. Any interesting trends from your own experience worth sharing?
If it's examples you want, there are plenty of sources for inspiration here. Commenter favorites include a simple A/B split test for post purchase conversion optimization (Birchbox), embedded videos from the New York Times, and lots of blog links with even more resources.
You Chime In
This thread features plenty of links but very few first-person accounts or brand anecdotes. Don't be shy — share what you've learned.
Long story short — don't go looking for a one size fits all approach because you certainly won't find it. Some ideas are worth trying, however: keep your forms short, use large CTAs, trim your copy, experiment with colors, customize your offers to your target audiences, and embed an explain a video. No matter what, be compelling.
You Chime In
Case studies, please!
Hold up — proven? In the world of experimental design, there is so such thing, says one commenter. The key is to continuously test and retest. Some definite musts: make sure that the checkout process is as efficient as possible, make on-site product searches easy, and help your customers make informed buying decision. if you're not sure where to start, go straight to the drawing board — browse through your favorite online stores for inspiration.
You Chime In
This post could definitely benefit from some concrete examples. What online stores have inspired you? If you're running an online store, what on-site features have you tested to improve conversions?
You should start collecting leads as soon as you can — even before your company or product actually launches. But how many visitors are willing to sign-up to learn more about something that is still a work in progress? The answer to that question might be 'more than you think.' Commenters on this thread are seeing conversion rates in the 9%-11% range. Some marketers are even seeing percentages in the '20s.
You Chime In
There are lots of metrics shared in this discussion but very little nuance. Have you noticed any factors that can cause conversion rates to fluctuate or skew?
Have a free product? If so, what are some of the best ways to convert your users into paying customers? There are 16 examples in this thread with product models ranging from event management to media and file sharing.
You Chime In
B2B options, please! It would be great to see some clear examples of these cases.
How do you maximize the probability of a visitor clicking through and trying your product? Ramit Sethi has the top answer here. There are no tricks — you need to fully understand your users and audience. Are you fulfilling both their needs and wants? Are you relating your product to their values and every day lives? Are you writing copy that's compelling enough? Why wouldn't somebody want to sign up?
You Chime In
What strategies do you recommend for addressing the questions that Sethi posed?
In this case why is the more important question than what. Don't ask for data without explaining how you're planning to use it. There are even some (surprising) A/B test results included in the mix. The key takeaway is to be stategic with you data and never collect more than you need.
You Chime In
What are some of the most effective ways to communicate your privacy intents with users? Have you found success in different types of language and word choice?
For When the User Has Landed
Here are 38 answers with inspiration and best practices. What's interesting about this discussion is that the discussion spans close to three years. Some design trends will never go out of style — user friendliness, sociable elements, fast load times, minimalism. And of course, testing. All of these strategies and elements will be applicable to any type of product.
You Chime In
This is a timeless mega-list of inspiration that definitely needs to keep growing. Share some of your favorite examples.
This Quora thread of 25 answers will provide you with the ultimate list. Whether you need usability research or A/B testing solutions, you're likely to find the right resource here.
You Chime In
Even if the tools that you need are all here, leave a comment to explain how you use them. Your fellow Quorans will definitely appreciate the insight and tips.
Here's where to look if you need design inspiration for your up and coming venture. The screenshots are the highlight of this thread. There are plenty of links to more examples and best-practices blog posts for additional education.
You Chime In
More screenshots!
In addition to the many screenshots in this thread, marketer Aditya Sanyal highlights an awesome infographic from KISSmetrics that breaks down the blueprint for a perfect landing page. The key component to success? It should be testable.
Psst! Here are 35 more beautiful landing page examples for even more inspiration.
You Chime In
The beauty of this thread comes from the diverse approaches to marketing to design. Even if you're just lurking, add some comments to highlight your favorites.
The question poster defines a successful startup as one that has been able to successfully scale its product and customer base. Common themes include simplicity, strong CTAs, testimonials, and media appearances. These traits funnel into the most important component — clarity.
You Chime In
What are some landing page elements that really stand out to you?
If you're a current or prospective Unbounce customer, make sure to check out this thread. These are genuine, unbiased reviews of the product from a couple of different perspectives — an ad network, a non technical startup founder, SEOmoz, and some others. Check out the post to see why people like Unbounce and what needs the product is meeting.
You Chime In
Oli, Georgiana, and the rest of the Unbounce team are probably reading this thread and would definitely value you taking the time to share your unbiased insight.
Quora is more than just a platform for thought leadership — it's also a place where you can find some practical insights and advice. Up and coming startup Tugboat came to the Quora community looking for ways to improve their landing page and embedded video. Fellow founders, designers, marketers, and video producers all weighed in with some pretty cool cross-functional dialogue.
You Chime In
When it comes to open-ended advice, there is no such thing as too many perspectives. What suggestions would you give the Tugboat team?
The consensus on this thread is that you absolutely need to run a test. This is one question that definitely could use an answer or two with personal case studies.
You Chime In
Have you ever run any tests on text link vs. button performance? What insights have you found?
If you're thinking of embedded videos on your landing page, check out these examples for inspiration. The idea is what you need to be warm, welcoming, informative, and entertaining. You don't necessarily need to be a video expert to pull it off — the key is to find a strong concept, and run with it.
You Chime In
An interesting (and important) topic worth covering in this thread is the value of video for audiences with varying skills and familiarity levels. Should you customize your landing pages accordingly?
If you're having trouble engaging your audience, start here for a consultative guide. In addition to speeding up page load times and reducing external links, you'll also want to make sure that your search box is very user friendly. And of course, make sure that you're being relevant to your users by providing them relevant and high-value information.
You Chime In
Ever run A/B tests that are relevant here? If so, definitely share your findings.
Whether or not you realize it, visitors are coming to your site through their mobile devices. You really need to nail your mobile landing pages in terms of UX and design aesthetics. Screenshots are a requirement for providing an answer to this question, so there is plenty of inspiration to get you started.
Also check out 10 Ways to Increase Conversions on Your Mobile App Landing Pages
You Chime In
This particular thread probably isn't the right place, but it would be great to see a list of clear-cut don'ts, too. New Quora thread, anyone?
You can never have enough inspiration for design — so here are more examples that you'd love. Some are repeats from other threads (Dropbox, Evernote, MailChimp), and some are new.
You Chime In
What are some of your favorites? Help make this Quora thread a never-ending discussion.
Psychology Overload:
for Enhanced User Experiences
Long story short; UX design deals with overall experience with a product or service while UI design deals with the specific user interface. UI can be part of UX, but not all products necessarily have a UI. This is a pretty cool discussion that makes use of everything from photos of cereal, to diagrams of bathrooms, charts, and images of urinals.
You Chime In
In your mind, are these roles clearly distinct? Obviously, some degree of overlap will happen. What trends have you seen?
This question comes from a UI designer who wants to become a UI, UX, and User Centered Design expert. If you're looking for resources to expand your skill-set too, this thread is a great place to start.
You Chime In
What have been some of your favorite books, and how have they helped you learn?
If you're positioning your landing pages to attract new users, this thread is a definite read. The top answer here provides a comprehensive guide with examples, key metrics to watch, and rules of thumb for optimization.
You Chime In
What concepts and elements have you tested in designing your user flows?
The basic principles of good design are timeless, and it's amazing to see their applications in today's top innovations. Here's a good discussion that reviews some new twists to timeless classics.
You Chime In
The beauty of this discussion is that it's entirely subjective. What are some of your favorite examples that you've come across?
Lots of cool examples! Some from brands that you've definitely heard of (like Google) and others from up and comers like LovelyCharts and FormBakery. There are lots of different examples to help inform any type of business and product.
You Chime In
This list is nowhere near complete — what are some great examples that you've come across?
It's hard to believe that nobody's answered this question yet. It's definitely an important one!
You Chime In
ASAP
You might expect a one-word answer here, but the post has actually evolved into a comprehensive discussion on color theory. Anyone who is doing business on the Internet should read this thread.
You Chime In
Have any cool A/B test results worth sharing?
This is one of the most useful color theory discussions that you'll ever find on the web. Read it. Comment on it. Share it with absolutely every stakeholder that your organization.
You Chime In
It would be valuable to see actual applications for how these ideas function in practice (on an actual web page).
Wilcards
This is a must-read for anyone, marketer or not. Oh and 'you chime in' applies without question.
At this point, you're thinking to yourself — 'Man, this could get bad.' You're right. It does.
---
Hope that these (productive) distractions brought you some education and fun. Feel free to jump into the conversation by sharing your own Quora favorites below.
---