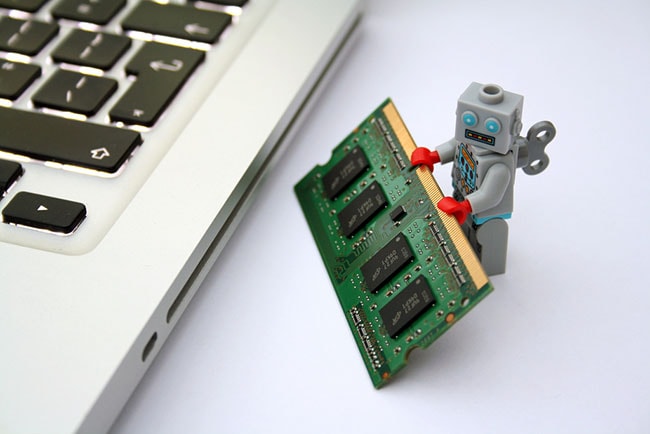 Good marketing is all about sending the right message to the right people at the right time.
Properly segmenting your contacts using the right variables allows you to better target everything from emails to PPC campaigns to landing pages. The more targeted your messaging, the more likely you are to see a lift in conversion across the board.
This is why many people choose to adopt a marketing automation platform: software that addresses the management and automation of your contact database, customer nurturing, email marketing and other workflows.
In addition to contact management, most MAPs also have a broad range of other features, including lead scoring, content management, SEO management, tracking and reporting.
This smorgasbord of features leads us to one of the most common marketing automation misconceptions: people think that marketing automation is the only tool you'll ever need.
But the reality is:
A fool with a tool is still a fool.
This quote by Grady Booch aptly describes the risk of implementing a marketing automation platform without truly understanding its strengths and limitations.
There is no silver bullet.
Marketing automation will not solve all of your problems, nor will it be the only tool you'll need in your marketing stack. While your MAP might have the ability to do all of the above – it doesn't mean it's the best tool for the job.
In fact, in some cases, using a more specialized tool is a better way to go – it's part of the reason why major marketing automation providers (like HubSpot, Marketo, Eloqua and Pardot) have thriving partner networks with a ton of integration partners.
Not sure if your marketing automation tool is giving you the flexibility you need? Here are some examples where using specialized software can help you refine your execution and drive better results.
Landing pages
Some marketing automation platforms provide the ability to set up basic landing pages, but the range of features available to create, test and optimize them are limited.
At Uberflip we've found a handful of limitations with our MAP's landing page builder.
To get the level of customization we wanted in our landing pages, we would have had to spend more time and resources fiddling with CSS and HTML. Even then, we're limited by how the end result will look. We're also limited by the fact that we can only create one variant on a landing page and the traffic split is randomized by our MAP, giving us very little control.
As I speak to more and more marketers, it's clear that this is a common pain point when it comes to landing pages. Nick Bhutani, Sr. Digital & Acquisition Marketing Manager at booker.com has the same problem. According to Nick, they needed:
A better solution because the out of the box landing page feature provided by our marketing automation platform just wasn't as flexible in terms of design and development. Our design team was looking for mobile/responsive style landing pages, and found this tool a lot easier to work. This had a very positive effect on our mobile/tablet conversions.
At the end of the day, using Unbounce helped booker.com decrease their CPA by 42% and they saw a 33% lift in conversion rates.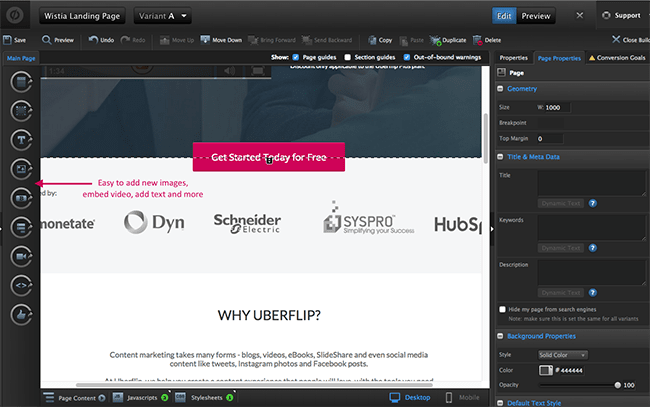 Using a dedicated
landing page builder
helped booker.com decrease their CPA by 42% and they saw a 33% lift in conversion rates.
Similarly, at Uberflip, we've found that using a specialized landing page builder like Unbounce has a number of benefits, especially when we're testing landing pages for promotions or other campaigns:
We have better access to more high-quality templates
We can ensure that our landing pages are mobile-friendly (surprisingly, this isn't possible with many MAPs)
We can easily manipulate the design to match our brand guidelines
We can create more than one variant and we have great control over how the traffic is split between landing page variants.
Bottom line: the level of customization and depth of feature set are key to driving results when it comes to landing page optimization.
Lead scoring
Lead scoring is a great way to prioritize leads for your sales team. Here's how it works in most marketing automation tools:
Identify characteristics and behaviour of the people who you think are likely to convert into customers.
Create a formula based on these parameters, assigning different weights to each variable depending on the assumed impact.
Send what you assume to be qualified leads (i.e. they hit a certain score) to your sales team.
See if your sales team loves or hates you (i.e. were your assumptions correct?)
Rinse and repeat.
The challenge is that these are only variables that you think have an impact based on a limited data set.
In reality, there are countless signals that can tell you whether or not someone is likely to become a customer. And many of these signals are seemingly unrelated to your product and are outside the scope of the data your MAP provides.
Using a tool like Infer or Lattice-Engines, you can automate a more sophisticated lead scoring process.
These tools supplement your existing data with thousands of external signals that their algorithms can find by scouring the internet. That could mean anything from employee count and technology vendors to social presence.
You'd be surprised at what kind of information you aren't even aware of may be indicative of a potential buyer's behavior.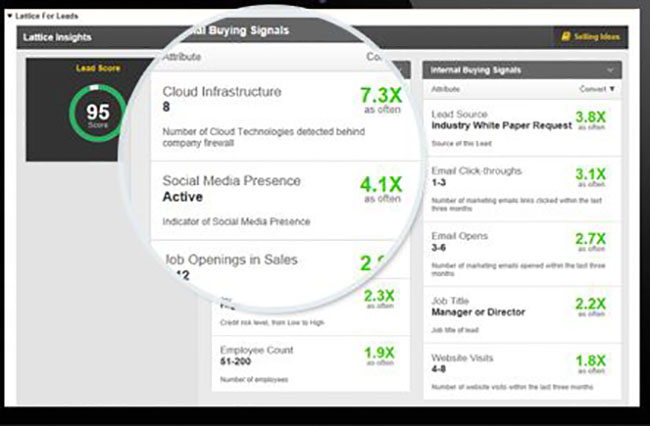 Specialized lead scoring tools like
Lattice-Engines
can help you score leads in a more sophisticated way – and rake in more conversions.
For example, marketing technology company Demandbase uses a predictive analytics platform to identify the shared characteristics (based on internal data and external signals) of "high-value" leads and prioritize them. By making sure their sales and marketing teams were focused on the higher scoring leads, they were able to significantly increase their pipeline and saw a 75% increase in close rate.
Through analyzing your existing data and finding all of the external signals that have an impact on your lead score, you can validate your assumptions, improve accuracy and learn more about your customers.
Bonus: A more accurate lead score means you'll be feeding better leads to your sales team — and they'll love you for it.
Content management
Great content fuels marketing campaigns.
But creating great content isn't enough to generate leads. You need to be able to create a great content experience, which includes everything from killer design, great structure, the ability to manage premium content like ebooks and videos and effective calls to action.
When it comes to managing the user experience for your blog or resource center, the CMS capabilities in a MAP are often limited. It's also worth noting that, while a few marketing automation providers have CMS capabilities, many do not, so there is often a disconnect between content assets and marketing automation processes.
Taulia, a payments solutions provider based in San Francisco, was using the CMS provided in their marketing automation platform. But as content became a more important part of the marketing efforts, it was clear they needed more flexibility in creating and updating the entire content experience – not just the content itself.
By using Uberflip, a CMS designed for content marketers, they didn't need to rely on IT to easily:
Organize all their content (including blog articles, videos, ebooks and white papers)
Create tailored content streams for specific personas
Place and customize calls to action
Include nested forms and overlays within the user experience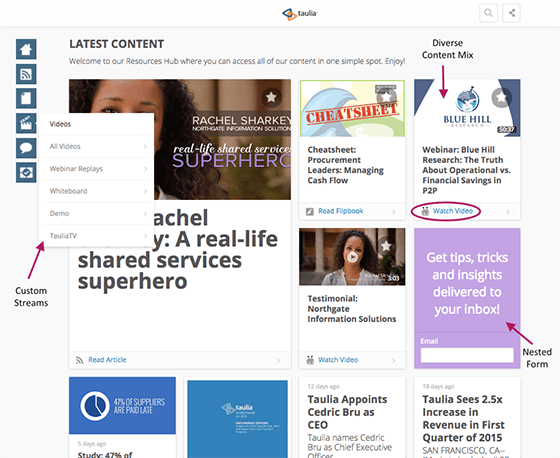 Taulia
, a payments solutions provider based in San Francisco, uses a specialized CMS to provide a delightful content experience for their audience.
Using a specialized content marketing platform that integrates with their MAP helped Taulia tailor the user experience and manage the content from their marketing campaigns easily. This means they can move faster, target content better and at the end of the day, generate more leads.
Adapting your marketing ecosystem
Understanding the purpose, strengths and limitations of your marketing automation platform is key to driving killer results. While your MAP might be the core of your marketing ecosystem, you also have to identify the right complementary tools based on your goals and needs.
When it comes to certain functions, they simply don't provide the same depth of features that you might need.
But regardless of the tools you use, without the right people and processes in place to execute, you're going to be wasting your time and money.
So take Booch's quote to heart and avoid becoming a fool with tool. Understand how your company and your team operates and build a stack that will improve your processes and get results.
Are there any other challenges you've experienced with marketing automation? How did you overcome them?
---