Indochino is the world's largest made-to-measure apparel company, built on revolutionizing the way people buy made-to-measure suits. Obviously, they're not going to be marketing to suit-buyers the traditional way. That just wouldn't reflect the brand, the business itself—or a smart use of advertising dollars.
Of course, the question then is… how does an innovative company like Indochino make use of its ad spend intelligently? Through the creative of use of landing pages! Here's how they did it.
Creative Landing Page Tactic #1: Going Editorial
Like many brands, Indochino was running Facebook ads. Unlike most brands, its marketing team knew that sending these ad clicks to the blog—or even site-specific pages—was still not relevant enough.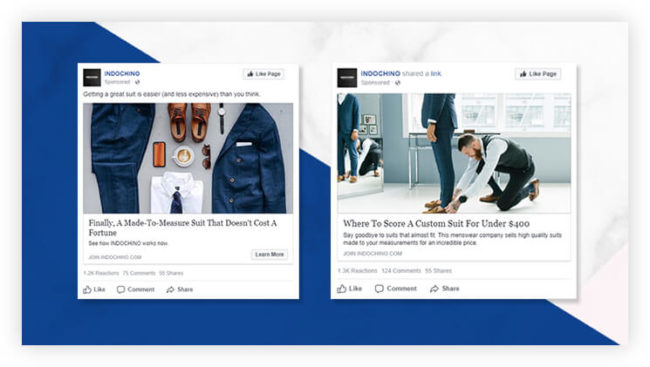 One of the biggest pain points for us, before Unbounce, was that we did not have an informative landing page on the website with a simple, easy navigation path that focused the user's attention toward our conversion objectives. We needed to quickly build better, high-converting options and Unbounce was perfect for an on-brand look, fast.

Lisa Craveiro

Director of Acquisition at Indochino
But here's the really cool part. Instead of building a traditional landing page, Indochino created an editorial piece. An article that looked like this.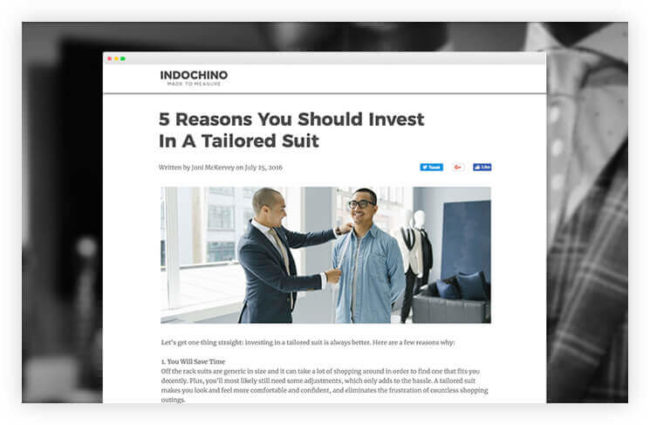 The results: 64,000+ visitors clicked on their Facebook ads, landed on this mock article, and converted at 17.40%. That brought thousands of people through to check out their showroom locations, read more on the website, or see the sample suits. All for just a few hours of work (writing and building the page).
Creative Landing Page Tactic #2: Get Location-Specific with Ads
With eight new showrooms launching across North America within a year, Indochino needed to update the pages on their website, but found that they didn't have enough time to create, code, and launch all this location-specific content. (Try telling your dev team you want eight new pages…)
Yup, landing pages saved the day.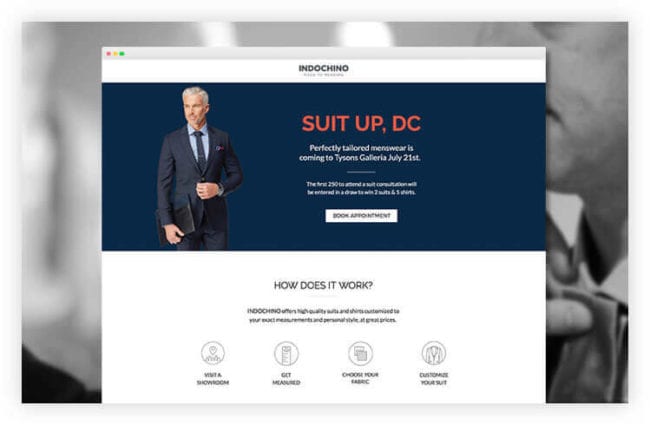 Again, Indochino's marketing team were able to build these landing pages quickly and use Unbounce's location-targeting feature to match their pages to what their audience was Googling—which in this case included the city names.
The nice thing about location-specific pages is that you can target your audience with a much more personalized message. The resulting "Oh! This message is for me!" is an effective way to guide them to click through and increase conversions.
By the way, that DC page converts at 19.38% (visitors can choose to book an appointment or view the suits).
Creative Landing Page Tactic #3: Work Faster with Partners
This is yet another unique way that Indochino is using landing pages. But we'll let Lisa tell you about it:
Often marketers can land a great partnership, like we've been lucky to do with The Knot and Postmedia, but if you can't generate relevant landing pages specific to the campaign quickly, you can limit the momentum of the partnership along with creative opportunities. With contest pages like this, we can be up and running in a couple of days and immediately see from ad to landing page how we're performing. It's helpful for understanding which partnerships we should run again.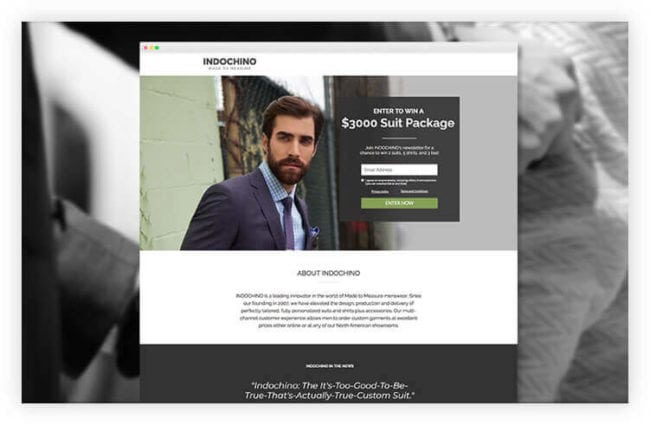 When you're running contests and other time-sensitive promotions, you need to get a page up fast. Unbounce's builder gives you an easy, quick way to do that—and make sure that the page is slick and on-brand. This page converted at 15.14%.
How many ways are you using landing pages?
There are so many cool ways that landing pages can be used, for a whole variety of campaigns. Want to see how easy it is to build one in Unbounce? Try out the builder's Preview Mode to drag and drop your first page together!