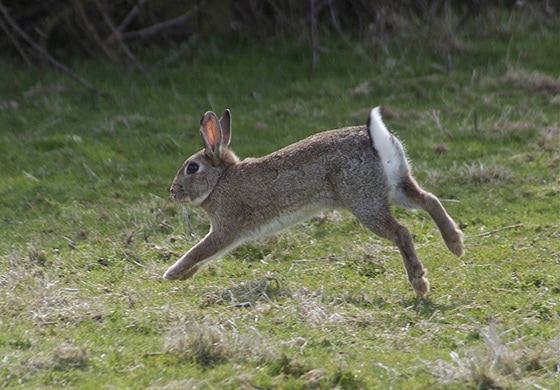 An engaged email list is an invaluable marketing asset – but are your leads taking the leap and becoming customers? Image by
Porsupah Ree
 via Flickr.
You've optimized your blog and lead gen landing pages for conversions and your email list is filled with subscribers – prospects who have self-identified as being interested in your company and what you have to offer.
But many of them haven't yet taken the leap.
Some of them may be interested in your product or services, but they might need a little nudge or reminder. And that's okay, because after you read this post, you'll have an arsenal of tactics to help direct those leads into your sales funnel and make them into happy customers.
Here are five tried-and-true tactics you can use in your email marketing campaigns to convert qualified email subscribers into customers.
1. Follow up with curious prospects by sending triggered emails
When prospects interact with your campaigns, your brand is top-of-mind – and you want to keep that momentum going.
A great way to achieve this is with a triggered email: an email sent automatically to a subscriber in the event of an abandoned cart, subscription signup or some other interaction they have with your campaign.
These emails get your subscribers' attention because they're relevant and timely. Website getAmplify explains that triggered emails have a click-through rate 152% higher than traditional emails – as well as 50% higher open rates.
They can also have a serious impact on conversions. According to this Business Week article, triggered emails are "responsible for hundreds of millions of dollars in Amazon's annual sales."
Use triggered emails to follow up with users who abandoned your checkout or sign-up process
One common type of triggered email is the "abandoned cart" email sent out when you start to check out or fill out a sign-up form but don't complete the conversion. If a prospect has signed up for your list, or if you otherwise have their email on file, this is a perfect opportunity to follow up and ask what went wrong.
Here's an example of an automated email I received recently after deciding not to purchase some software: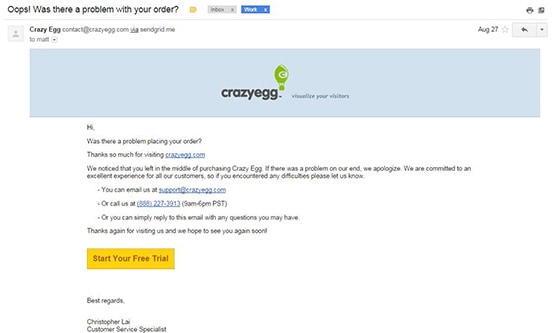 Click for larger image.
The above email from Crazy Egg illustrates some awesome ways to get the most out of your triggered emails:
Give your prospect added exposure to your brand by following up and referencing their recent visit your page.
Ask for customer feedback: did a technical glitch prevent them from converting, or did they have questions that went unanswered on your landing or product page? (BONUS: This feedback can help you tweak your landing page for higher conversions.)
Include a crystal-clear CTA button that makes it easy for them to get back to the transaction if they should decide they want to complete it.
Following up with prospects who have already indicated some degree of interest can be a really low-hanging fruit. When SmileyCookie, online gourmet cookie business based in Pittsburgh, started using triggered emails, they were able to recapture 29% of the sales they would have otherwise lost from abandoned carts.
Not too shabby for an automated process that only needs to be set up once.
2. Make your audience feel like a VIP with personalization
Adding a personal touch to your emails is a great way to build rapport with them. In his book The Six Principles of Influence, Robert Cialdini states that:
"We're more likely to be influenced by people we like. Likability comes in many forms – people might be similar or familiar to us, they might give us compliments, or we may just simply trust them.

Companies that use sales agents from within the community employ this principle with huge success. People are more likely to buy from people like themselves, from friends, and from people they know and respect."
It's no surprise then, that according to this article from MarketingLand, personalized email campaigns were "shown to lift transaction rates and revenue per email six times higher than non-personalized emails."
One tactic I like to use with my email marketing campaigns is to try and make my subscribers feel like they're part of an exclusive club.
Consider the subject line of this email I received from Banana Republic:

The subject line of this Banana Republic email reads, "For serious guys only, 50% off."
Because Banana Republic had previously asked for my gender and age, they used email segmentation to send me emails advertising male products. When I received this email, it made me think, "I'm a guy who's serious! I want that 50% off!"
You can try this in different variations, but the overall idea is to make your subscribers feel like they're privy to a sneak preview or a secret sale.
Here's another example of an email I received from ProFlowers after I sent my wife some flowers: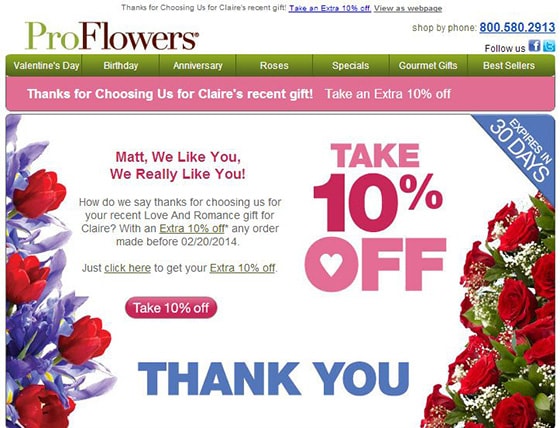 This email does a lot of things well. It has a clear CTA and adds extra incentive by including a special discount. It references me and my wife by name and generally makes me feel appreciated. Personal touches like this go a long way toward establishing trust with the buyer.
3. Include a clear call to action that makes people want to click
Every email you send to your subscribers should have a clear goal.
Visit your site? Participate in a sale? Use a promotion code? Whatever the action, it needs to be very apparent to the subscriber.
The clearer the CTA, the more likely it is that your subscriber will be propelled further down your sales funnel.
Here's an example of a powerful call to action from my own personal email: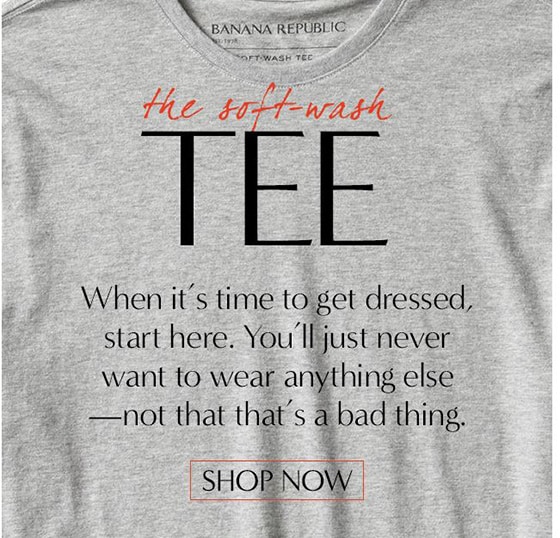 This email from Banana Republic has a crystal-clear CTA.
Notice the minimalism of the design? Notice the clear, definitive call to action?
Bonus tip:
Deciding on a clear CTA and calling it a day isn't enough. You also need to A/B test.

A study done by Content Verve showed that a simple change in an email's CTA copy led to a 14.79% increase in conversions.
4. Link your CTA to a dedicated landing page
Having an awesome call to action is a great start, but if people click through and land on a page that has nothing to do with what made them click, then you've wasted their time (and yours).
A dedicated landing page can help you follow through and deliver what you promised.
According to this infographic from Ion Interactive, Dell has created over 1,000 landing pages for their email marketing and has seen conversion increases as high as 300% (!) when testing landing pages against website pages.
Here's an example of an email I received from Marketing Land that leads to a dedicated landing page: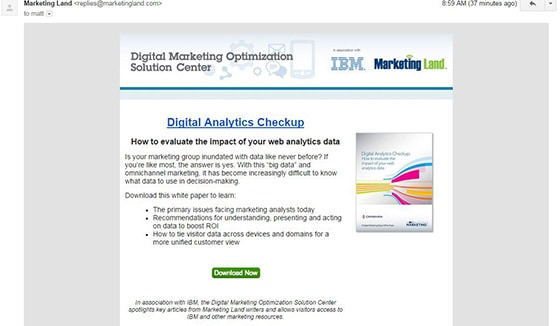 As it should be, the intended goal of this email is clear. The minimal design draws attention to the image of the whitepaper and the green CTA. Additionally, the copy explains explicitly what you get and the benefits you'll receive.
When you click "Download Now," you're taken to the following dedicated landing page: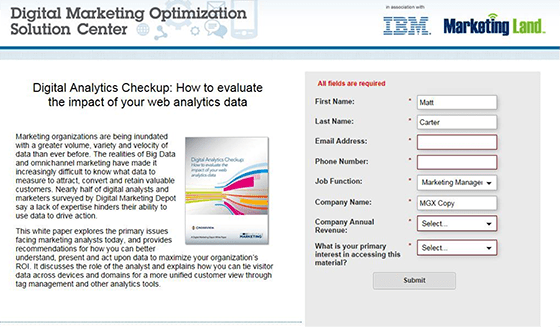 Okay, Marketing Land could use stronger CTA copy, but their dedicated landing page confirms that you made a "good click."
Here's what this page does right:
The image from the email is repeated on the page, confirming that you've made a "good click."
The headline is also repeated to remind you what you came for.
Marketing Land includes IBM's logo to inject some social proof.
The landing page only has one possible action you can take: Fill out your information and click "Submit."
Creating an effective landing page is all about thinking like a prospect. If you visualize things from their perspective, then you'll create better experiences and higher-converting landing pages.
5. Offer a premium course to your email subscribers
No matter what your goal, you always want to over-deliver in value to your prospects.
Offering an exclusive course or webinar to new subscribers serves this purpose, but it also does so much more:
It provides an opportunity for you to establish yourself as an authority on a topic of your choice.
It gives repeated exposure to your company, increasing the likelihood of having them convert (one case study from IgnitionOne shows that the average customer has five or more exposures to a brand before they convert).
It allows you to show more of what you have to offer before asking for a commitment at the end of the webinar or course.
Here's an email I received from Copyblogger recently:
Click for larger image.
Although it's a "softer" sell than some of the other tactics I've mentioned, it's still a great way to lay a foundation for a long-term relationship.
This tutorial from Smashing Magazine shows you how to create an autoresponder course that will help you generate sales long-term. It shows you how to create the course from scratch, create an upsell offer for the end of the course, and even integrate a payment solution directly with MailChimp.
Bonus tip:
Create continuous design match between the aesthetic of your course and your upsell's landing page.

For example, match the color and fonts in the course material to the color and fonts on the registration page. This makes for a better, more consistent user experience and can help to increase your conversion rate.
For maximum impact, test and optimize everything
Your email list is an invaluable asset to your marketing; it allows you to get to know your prospects intimately and allows you to qualify and nurture interested leads.
The fact that these subscribers have provided you with their email address already means that they're at least partially interested in what you have to offer. Continue to deliver value and you may find that they move organically down the sales funnel.
For maximum impact, don't forget to test your assumptions with some good, ol' fashioned A/B testing!
What are you waiting for? Which of these tactics will you start with?
Editor's note: The bigger your email list, the more people you'll be able to convert. Check out Noah Kagan's free 30-day course to doubling your email list to get off on the right foot.