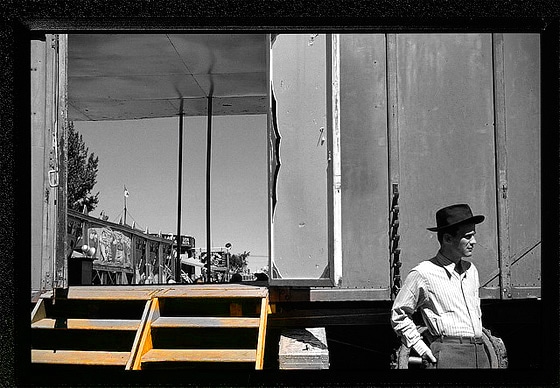 It only takes 3 steps to get people on the conversion train.
This is day 3 of our "Smart Email Marketing Conversion" week, make sure you keep coming back to catch the rest of the posts, and check out the ones from earlier in the week.
Three steps hey? How can you convert blog readers into customers in three steps? Well, you need to keep your customers engaged with great content, which you send out frequently by email. Second, you need to leverage BIG content and a drip campaign, and then finally, use behavioral activation messaging to talk to people n their own buying cycle.
By using email you can build systems that help you use content to convert subscribers into users and users into customers.
I'm going to outline three practical ideas you can use to setup a series of email marketing campaigns that will drive readers to your product and give you the best shot at converting them into paying customers.
Content is king. Or it's damn useful for explaining what you do in a subtle form.
To hone in on converting leads into sales, I've broken down my suggestions into three key steps:
Keep blog subscribers engaged with your content using email.
Turn engaged readers into users via BIG content and an email marketing drip campaign.
Follow-up your new signups with behavioral activation messaging to drive paid conversions.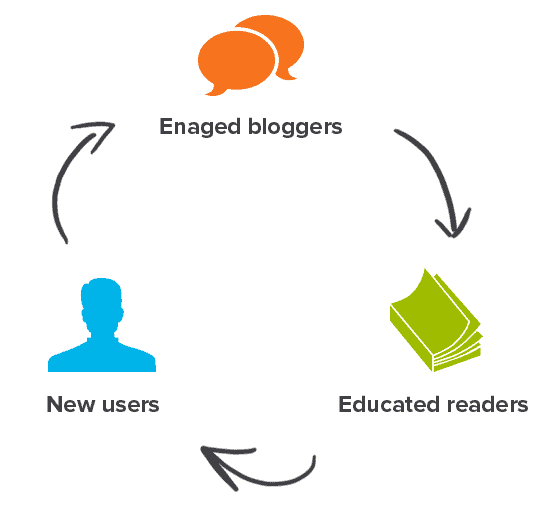 1. Use Email to Drive Blog Readership
Your mission
Keep your readers engaged. Remember, it's not about the sale at this point.
The greatest blogs rigorously email their readers to achieve two things:
Great content
Consistency
Not only do they write 'EPIC' content, but they email it out and get it in front of their subscribers consistently.
Take KISSmetrics. They update their blog at least twice a week and they email me about it all the time. Their emails are short and contain a clear synopsis of the excellent content I can click through and read. There's no doubt KISSmetric's knows what they're doing and, as a regular reader, these emails see me clicking-through all the time.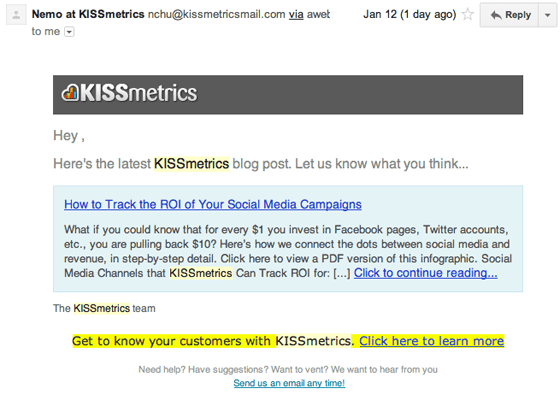 Conversely, take Derek Sivers. He doesn't email me once a week, perhaps not even once a month but when he does, his emails are extremely on point. Derek's email list promises email updates 'from time to time' and he sticks to this. It's a format that works brilliantly for him – when Derek emails, I read.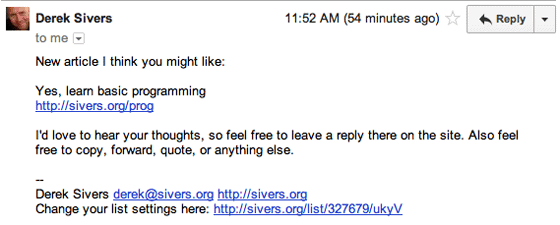 Takeaway
Update your blog when you say you will and email your blog subscribers when you do so. Keep it short and sweet.
By sending emails on a regular basis you will draw customers back to your blog and build trust that you stay true to your word. You want them to see and read your new content, love it and share it.
This first strategy helps you build and engage with new readers at the top of your funnel.
2. Use a Drip Series of Emails as a Conversion Funnel
Your mission
Build trust with your new prospects. Share everything your product does for FREE.
You've got a growing blog list and you're keeping them engaged with regular content updates. Email is bringing them back and people are sharing – life is good!
But how do you convert these readers into customers? 95% of them aren't going to sign up for your product right away so how can you help them along?
One of the most effective ways to drive new signups for your product is to use an educational drip email campaign.
By sharing all of your secrets so the customer can solve the problem on their own, you are implicitly sharing why they should sign up for your product to make their lives easier. That's right, you give away your "secrets" and, in doing so, win the hearts and minds of these new readers.
How do I know this works? It's how we've won our largest customers, it's how Patrick McKenzie gets wins for WPEngine, it's working for Rob Walling over at HitTail and it did a great deal for Kareem at SocialWOD too.
For inspiration, take a look at HitTail's homepage: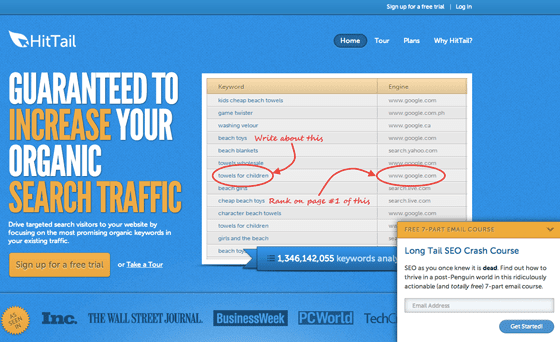 Click for full-size image
I think this is a great example of a sign up form to get potential customers into your educational emails. Rob (the founder of HitTail) has his little form pop up after around 20 to 30 seconds ensuring it does not distract from the primary call to action. The goal here is to capture emails of customers who would otherwise not sign up for your product.
To get this up and running you should setup a series of 5-8 emails over a 30 day period. Your drip campaign is a new channel to attract prospective customers that are not ready to sign up. Two key places to implement this new campaign are:
Landing pages. Use a landing page tool like Unbounce to drive new paid and unpaid leads into sign up forms to download your eBooks or guides.
Sharing BIG content to your blog subscribers and inactive users via email in exchange for customers' permission to email them more of your educational content.
A great example of BIG content comes from HelpScout who nails this consistently. It's a great way of building trust and their content is a prime example of the sort of content you can use to get people into your educational campaign.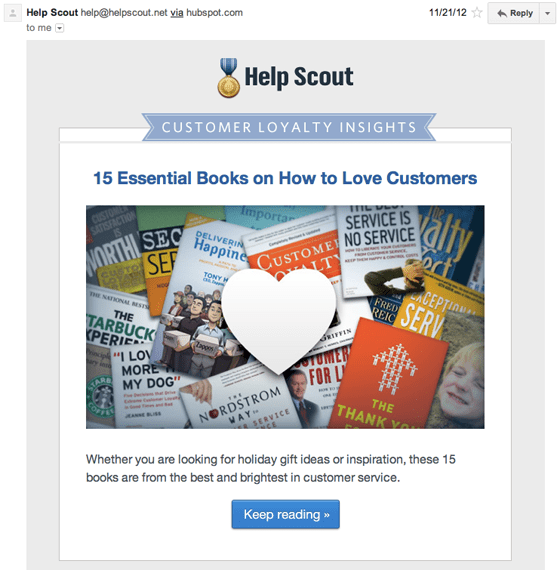 Pro-tip
Use display remarketing using tools like Trada to bring blog readers or landing page visitors who don't signup for a free trial back to sign up for your educational campaign.
3. Drive Activation with In-App Emails
Your mission
Actually convert sign ups into paying customers.
Now you've got readers excited and signing up for your free trial.
Getting customers to sign up via your landing page or having converted them using the above tactics is challenging enough but it's no good if you just stop there.
By using automated emails, you can setup a system that helps to drive customers toward activation in your product.
The first step here is to identify what counts as activation. In Vero's case it's the sending of a customer's first live behavioural email, in Unbounce's cases it's the creation of their first landing page. For 37Signals it might be the creation of the first project within Basecamp.
What you really want to do here is encourage new, inactive users to take this activation step as soon as possible. A few ideas:
Follow up with customers that do not complete this activation step within 24 hours with a helpful reminder of what they need to do to start.
Email customers throughout the free trial period with examples of what other customers have achieved with your product.
Send a 'personal' email from a founder's email address that asks what challenges the customer is facing and how you can help them. Send this 2-4 days into the free trial of all customers.
Ask customers who are nearing their free trial end date if there is anything you can personally do and if they'd benefit from an extended free-trial: you've spent so much time and effort on getting them into the funnel that you should maximize your chances of success.
Take this example from HelloFax for an example of the personal email in action.

Click for full-size image
Take this example from Dropbox for an example of an on-brand (and funny) follow-up email: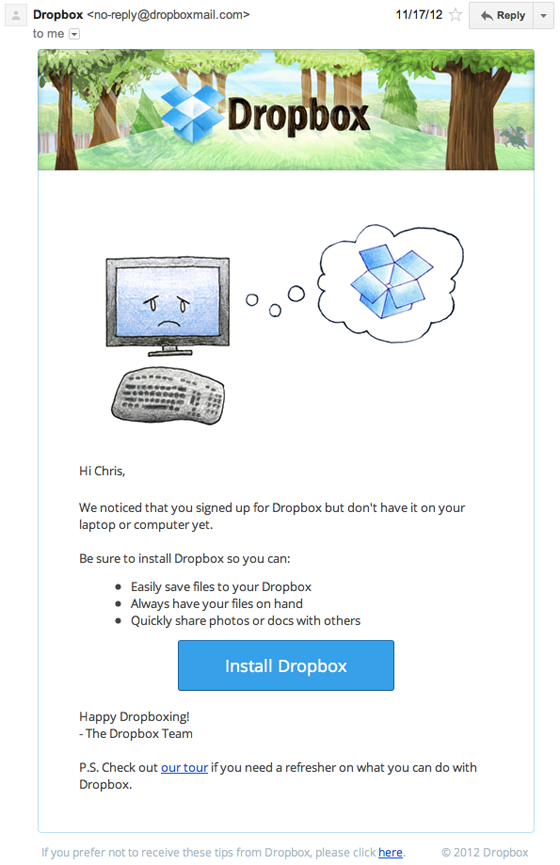 This is just the tip of the iceberg. There are so many emails and ideas you can test to get started.
Some final tips:
Test HTML vs. plain text. I find a mix works well. Sending HTML emails is great to keep everything on brand. They also help make your plain text emails appear more personal.
Use a single call to action in each emails.
A/B test at biggest drop off point in your funnel. A/B test every single idea you have.
Don't write like a big corporation, write like a human.
Use behavior to send the right message.
Share educational content once they do activate to keep them engaged and circling through these systems.
There you have it
Look at email marketing as a channel you can optimize to help systematize your customer acquisition. By investing time in testing your automated campaigns you can leverage content you're already sharing to convert readers that come both directly or via your blog into customers that actually pay.
---
If you've got any questions, please ask them in the comments. I'd love to hear your experience with these tactics as well.
---