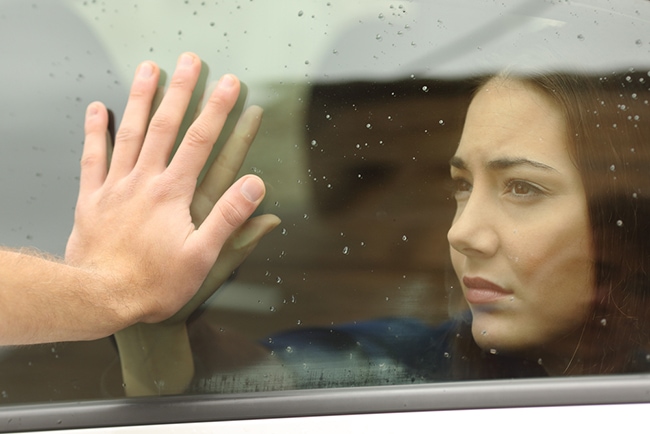 Saying goodbye to your unengaged subscribers is the hardest part. The second hardest is getting the greasy handprints off your window. Image via
Shutterstock
.
By 2018, you'll get over 140 emails each day.
Billions are already sent daily, adding up to trillions annually (how many zeroes is that even?!).
Email service providers attempt to help, scanning and filtering the questionable stuff out before it even hits your inbox.
You thought Facebook's declining organic reach is bad? Wait until all of your emails go unread, straight into the email abyss (also known as the Promotions tab).
Surprisingly, one solution to improve results is actually through deleting email subscribers.
Here's why, and how to do it strategically to jumpstart your lacklustre email results.
Why your email performance is declining (and how to salvage it)
Email marketing generates $38 bucks for every $1 spent.
Not bad. And good enough to comfortably place it (still, in 2016) as one of the highest ROI channels available.
Here's another doozy: Email outperforms Facebook and Twitter combined by 40X in acquiring new customers.
Amazing, right?
Decades after Hotmail's ultimate distribution growth hack of giving away free email addresses, it's still at the pinnacle of a marketer's playbook.
Unfortunately, our primary task — specifically, getting emails into people's inboxes — is getting exponentially more difficult on a daily basis.
The problem is twofold.
First, the number of emails being sent is at an all-time high. Over 205 billion last year according to one report; expected to grow 3% over the next four years as well.
And second, email service providers, with their savvy foresight, are combating this using techniques like machine learning to automatically sort or filter out most of the stuff being sent.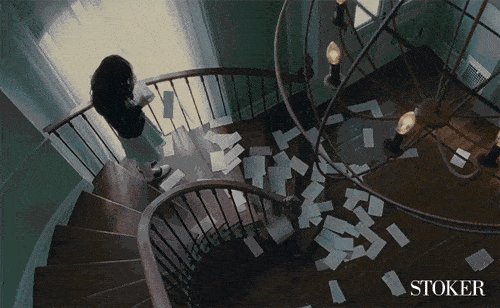 Wait, it gets worse!
Email lists are depreciating by 25% each year as a result. So even if you're getting the damned things into someone's inbox, the responsiveness of subscribers is also falling (due to the overwhelming volume of crap they're forced to process on a daily basis, no doubt).
This is where graymail comes in.
It ain't quite spam, but peeps aren't jumping for joy when they see it either. It's the company newsletters that contain little value, with pathetic open rates and even more pathetic click rates. The obligatory stuff people didn't really ask to receive and obviously don't care to read.
Low engagement activity, coupled with a spike in (1) spam notices and (2) unsubscribe rate increases, result in lower deliverability according to this recent Wired article.
The biggest email service providers (think: Gmail, Outlook… and uh, um… do people still use Yahoo or Hotmail?!) use sophisticated algorithms for 'reputation scoring' that "ranks the likely spamminess of a server that's sending an email".
Therefore, getting your software to send the email is easy the easy part. Getting it successfully delivered, isn't.
In response, Mailchimp will use a technique they call "taste-testing" to start with sending only a tiny fraction of your overall email blast, assessing performance in real-time to determine if they should continue sending or kill it immediately to avoid any further reputation damaging.
There is almost no better metaphor for this downward cycle of email neglect than sacrificing the golden goose. You're taking something with amazing potential (re-read the stats above if you don't believe me), and then completely sabotaging it with piss-poor execution.
(Anecdotally, I've even seen deliverability issues affect ALL emails coming from your domain name — even one-on-one sales follow-up attempts with a prospect.)
The first obvious step towards enlightenment is to send better stuff that people actually want to read. (Can you believe people actually pay for advice like that?!)
However, in an age of escalating barriers to inbox-entry, we also need to proactively prune email subscribers; removing the bad apples to make sure you're still able to quickly and easily access the good ones when it's time to hit "Send".
Here's how.
How to prune your email subscribers on the daily
There is no better vanity metric than the email subscriber count. The thought of deleting those precious things, and lowering that number, causes a violent nausea in some people.
In the good old days, you'd see the little cheesy Feedburner box with glowing subscriber count that would undoubtedly make that blogger's word Gospel.

Today, we've come to our senses we do the same damn thing. 'Cept now it's fueled by Inbound-gamification, re-hashing the same influencer marketing crap over-and-over-and-over-and-over to hit the frontpage.
But here's the thing.
HubSpot ditched 250,000 subscribers. That's probably more than any of us will delete in our entire lifetimes. If you're keeping score at home, that was nearly 45% of their total list! And yet they took solace in the fact that most of these people weren't engaging anyway, so it's not like they were going to lose tons of email traffic overnight.
Routinely ditching the bottom ~5-10% of our lists probably won't kill us, either.
So here's how to do it.
Tip #1: Get rid of the obviously bad stuff
Previously unsubscribed, but still hanging around? Routinely bouncing? Purchased contact lists?
Get rid of them all.
The first two are easy and obvious. Simply login, find and delete.
Personally, I like a clean email list free of pollution. What I mean is, if you must use purchased lists to perform outreach (this is a judgment-free zone), isolate those peeps in a different tool like PersistIQ.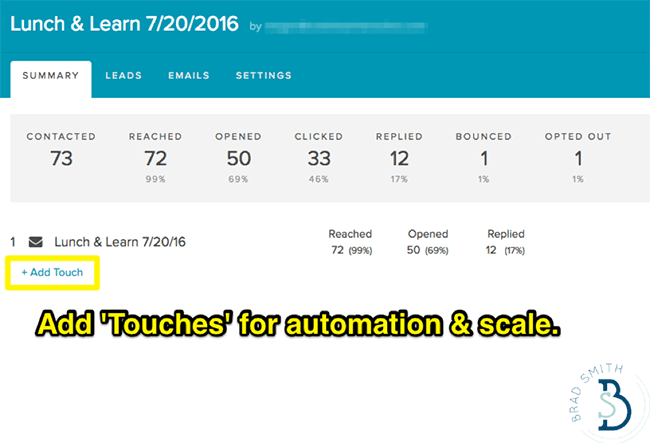 Add touches in PersistIQ for automation and scale.
Not only is it 1,000% more suited for scaling outbound outreach (yay increased productivity!), it will also keep your email database free from poor performers bringing down future results.
Then, you can always send these people a targeted campaign (like a webinar or similar) designed to get them to willingly opt back into your email database, turning a cold contact into a warm subscriber.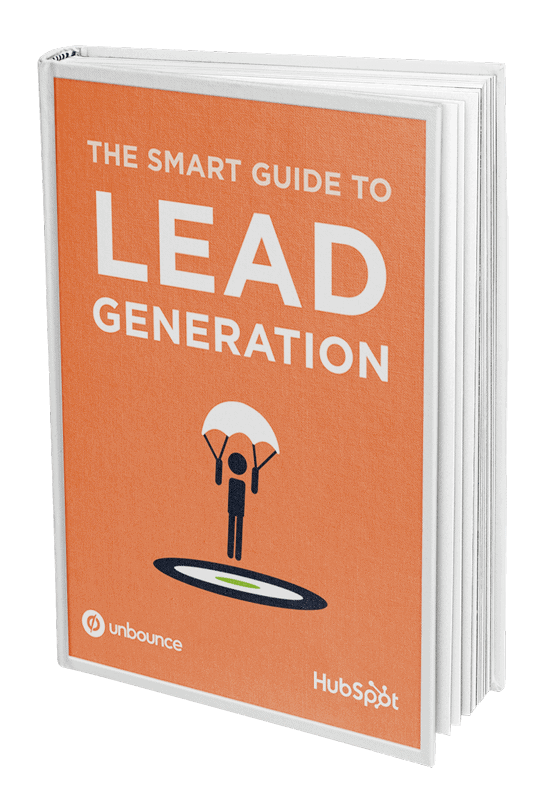 All this subscriber pruning making you sad?
Grow your subscriber list and fill up the top of your funnel with quality leads with the Smart Guide to Lead Generation.
By entering your email you'll receive weekly Unbounce Blog updates and other resources to help you become a marketing genius.
Tip #2: Segment emails with the lowest engagement scores
Now let's take care of the most inactive subscribers remaining.
Open rates are notoriously unreliable. So go with engagement instead.
If people haven't clicked on any of your last five email campaigns, it's a safe bet that they don't care about what you're sending them.
Many email tools will also let you sort based on some kind of activity or rating-metric as well (like the MailChimp example below).

Mailchimp allows you to sort subscribers based on ratings and activity (or lack thereof).
So segment these people with a few different criteria to be safe, and then you can most likely just delete them straight away.
At the very least, get them off this list and into some kind of re-engagement campaign, where the objective is exactly that: send them something different or interesting to win back their attention and engagement.
Here's how to do that.
Tip #3: Send re-engagement campaigns to subscribers with the lowest engagement
Subscriber recency says that the longer people have been a subscriber, the less active and engaged they'll be.
The trick then, is to identify these people ahead of time, before they lapse into email obscurity, with some kind of re-engagement campaign.
You can (and should) pair this with marketing automation techniques to automatically begin filtering these people.
Here's a real example to illustrate.
Off-screen, and prior to anyone seeing this example, somebody downloaded an ebook, guide, etc. that's typically on the end of a blog post. Then like every good little marketer says, those people received a top o' the funnel (TOFU) email workflow after getting their hands on the shiny new lead magnet.
Now here's what's about to happen in the image below:
The first trigger you see in this example references "35 days". Basically, we only want this workflow to kick in after people have already progressed through the original TOFU workflow.
Our next step is to make sure these people haven't filled out any other offers, which on this site includes two different middle of the funnel (MOFU) options (a Services Overview and Website Evaluation) and a bottom of the funnel (BOFU) one (Quote & Proposal) which are often located on your primary website pages like the About, Services, etc.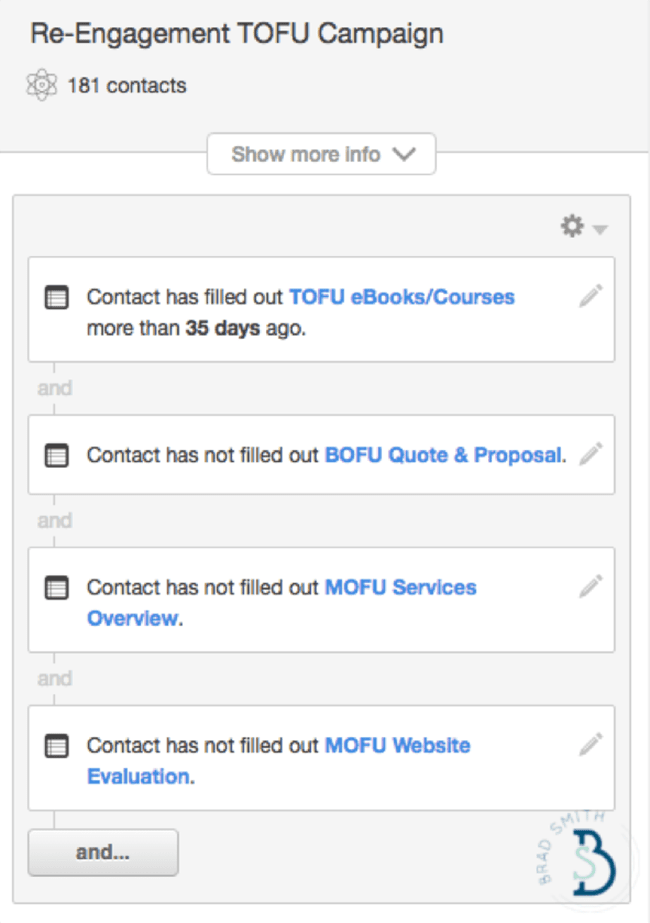 Example of a re-engagement TOFU campaign in HubSpot.
In other words, we're saying: Give us all of the people who (a) have already received a workflow of drip emails for 30 days but (b) didn't sign up for anything else.
There's a high probability that these people will churn or that engagement will lapse because they haven't taken us up on any other offer so far. So we want to preempt that by sending them timely reminders, incentives or breaking news; hopefully piquing their interesting enough to 'win back' their attention (and hearts and minds).
These messages can vary in style, ranging from sending over your most interesting blog posts to a more targeted promotion.
Discounts are a popular choice, as are surveys to get some feedback on how you can tailor messages more effectively for that individual.
You can even send a preemptive unsubscribe warning that lets them know you're going to automatically un-enroll them if they don't tell you otherwise.
Bonus tip: Combine with remarketing/retargeting
Just because you're purposefully unsubscribing segments of people doesn't mean you have to give up or throw away those email addresses entirely.
Instead, you can still attempt to win back these lapsed subscribers with offers in other channels, like using remarketing or retargeting with Facebook custom audiences.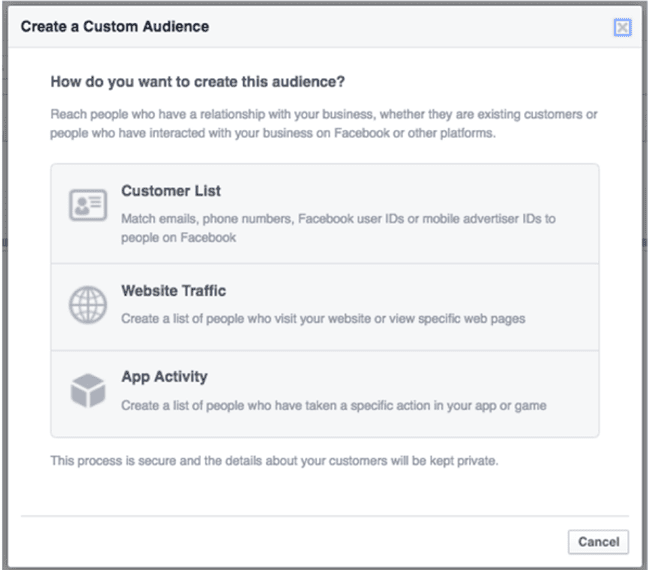 Win back lapsed subscribers using Facebook's custom audience feature.
Again, the best approach might be to try targeted offers, promotions and discounts to cut through the noise and get their attention.
You can even pair these messages around key holidays (like those fast approaching) to rekindle that old flame; reigniting those warm and fuzzy feelings all over again.
Conclusion
It's incredible to think that email marketing still outperforms almost every other digital channel.
However, that profitable future is showing signs of waning.
The exponentially increasing volume of emails people get on a daily basis has given rise to new advancements for filtering by email service providers.
This, coupled with increasing unsubscribe rates and decreasing engagement scores, means priority #1 for most marketers (and the email marketing software they use, as we saw from MailChimp) is to make sure our graymail emails aren't just being sent, but delivered.
One of the best ways to keep deliverability on the up-and-up is to regularly remove unengaged subscribers, keeping your Opens and Clicks as high as humanly possible.
Routinely deleting subscribers might be panic-inducing, but it will help ensure that the people who actually want to read your stuff (and give you money) will continue receiving emails for years to come.