You can't start a relationship on the right foot without saying, "Hello!" And as a business or marketer, it's all about making good first impressions—or else it'll be "Goodbye!" to you.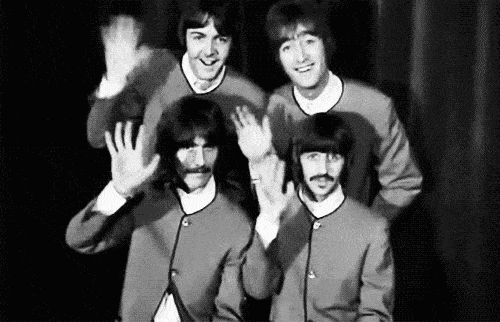 So when someone new signs up for your mailing list, don't leave 'em hangin'—welcome them to the club! And what better way to say hello than to send out a warm, personalized email?
Welcome emails are key because they're the first contact you've got with your new subscribers. It's your chance to get on their good side and keep 'em coming back for more.
So, if you wanna get started sending welcome emails like a boss, read on to see what to include in that first email—we've even included seven awesome examples!
What's a Welcome Email?
A welcome email is a triggered message that's sent to new subscribers.
When someone first subscribes to your list, they receive an email saying hello, along with recent updates and other relevant info. As your brand's first impression, welcome emails should be informative, engaging, and friendly to start the relationship out strong.
One of the most important emails you'll send as an eCommerce company, welcome emails do a few things:
Thank your new subscribers for signing up.
Introduce or provide extra information about your products.
Suggest other relevant products and encourage engagement.
Another thing to consider is that welcome emails also have high open rates—they're 86% more effective than a company's other promotional emails.
Things You'll Wanna Include in a Welcome Email
When crafting a welcome email, be sure to include:
A strong subject line: Grab their attention with a clear and simple subject line that reflects your email's goal. You can get a little creative here, but try to keep it short and on brand.
Links to other products or resources: If recipients are interested in other products you offer, or your brand has a blog or other helpful resources, share those links in the welcome email.
Ways to modify preferences or opt-out: Offer visitors the opportunity to modify their preferences for when they would like to hear from you, or opt-out of your emails altogether if they so choose.
Editor's note: Hey, we get that writing ain't easy. Want help? An AI-powered tool like Smart Copy can make it easy for businesses like yours to consistently grow with relevant, personalized content.
7 Examples of Welcome Emails That Will Boost Brand Loyalty
Now that you know what to include in a welcome email, take a look at these five examples to inspire your own campaigns.
1. The Penny Hoarder
The Penny Hoarder is a personal finance and lifestyle publisher that helps its email subscribers make the most of their money through helpful articles.
Email subject line: Welcome to The Penny Hoarder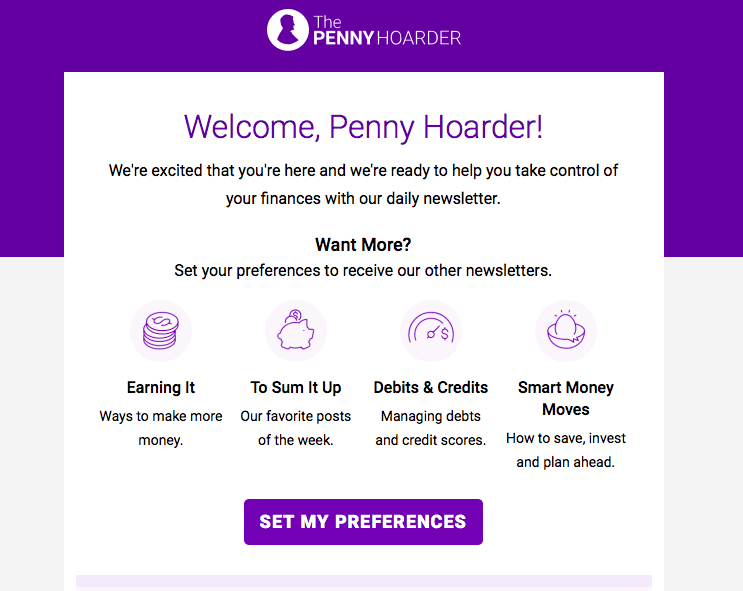 This welcome email provides a simple welcome and shows their other newsletters with a CTA to set preferences.
What's to like:
The Penny Hoarder's welcome email is short and sweet, and clearly directs you to set up preferences or sign up for additional newsletters.
2. Ahrefs
Ahrefs is a link-building and content performance tool for marketers, webmasters, and SEO specialists.
Email subject line: Welcome to AWT

Ahrefs includes a welcome note and steps to get started with their tools.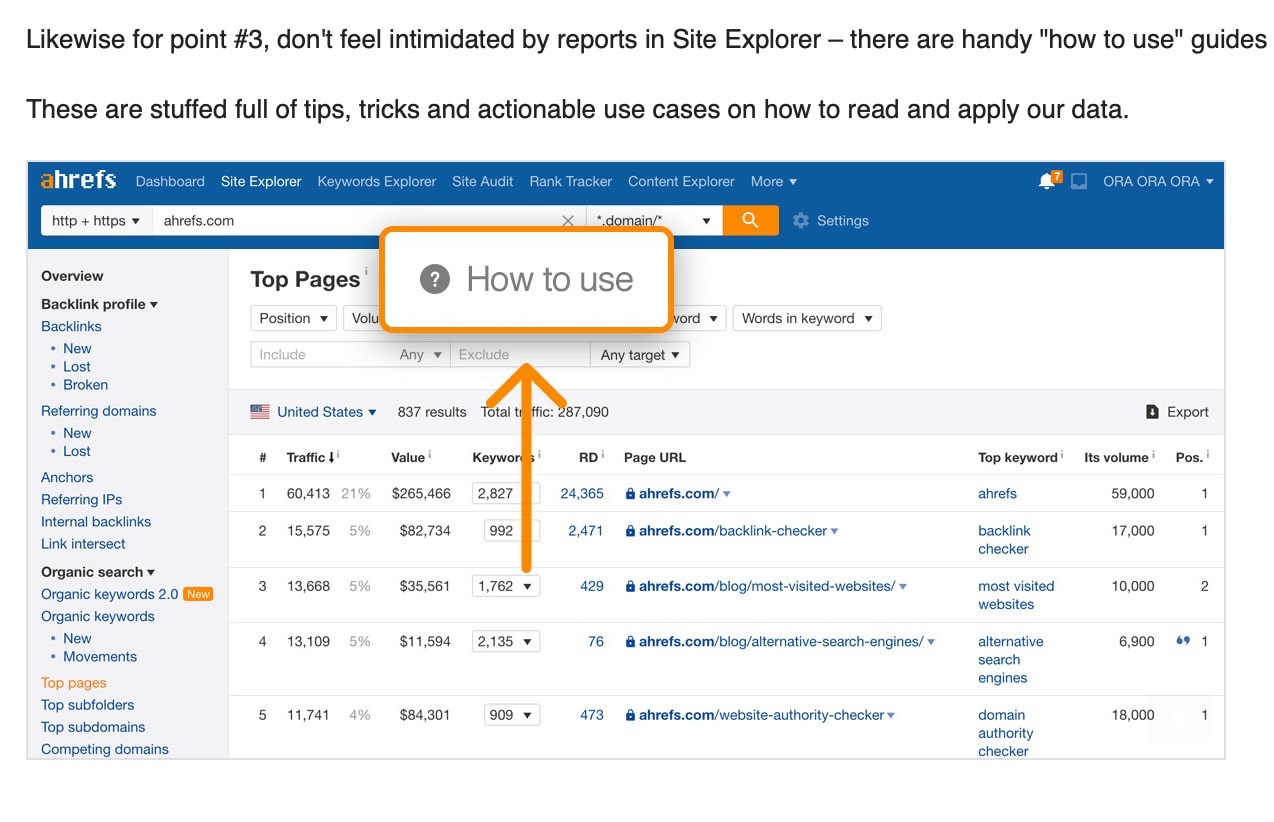 What's to like:
This email is simple, but it gets the job done by providing the essentials on how to use their product. It even includes screenshots to show how you can find helpful resources within the platform.
3. Calendly
Calendly is a time management app that allows you to schedule meetings with one click.
Email subject line: Welcome to Calendly!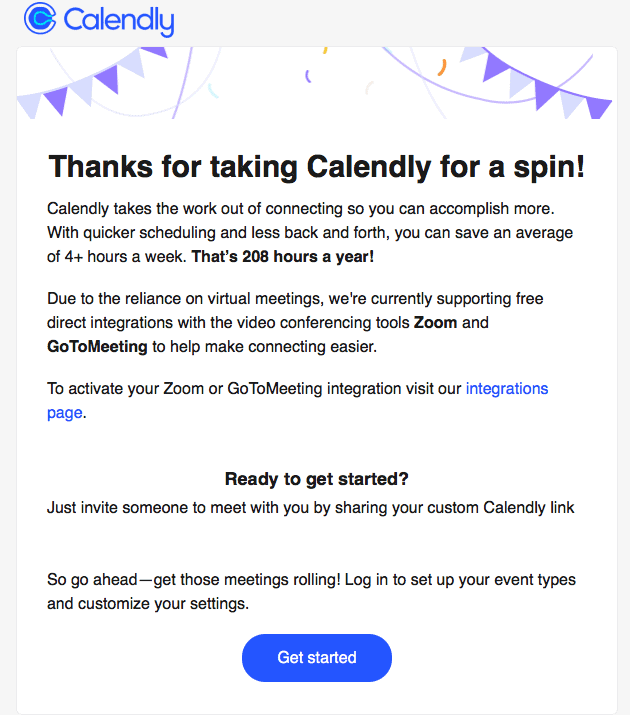 Calendly lists a stat about their app to get you hooked right off the bat. It also notes that their tool can be integrated with many other services, and links to get started.
What's to like:
In just a few words, it's easy to see what Calendly does and how the tool can benefit users. Plus, it includes just enough information to get you started without overwhelming its new subscribers.
4. Mangools
Mangools is a suite of search and social marketing tools for marketers.
Email subject line: Welcome to the Mangools family 🍹 Here are some useful links to get you started.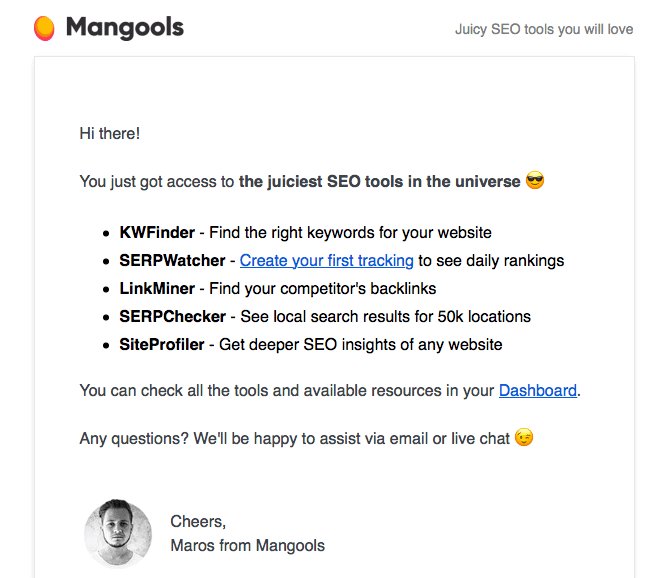 Mangools provides a list of some notable features of their product, a link to available resources, and mentions that they're available to help via email and chat.
What's to like:
This welcome email doesn't reveal too much, but it does include a helpful list of features and some ways to get started, which will help customers get the most out of Mangools's services. And, the subject line with the tequila sunrise emoji is a nice touch that shows off their personality and fun brand voice.
5. Slickdeals
Slickdeals is a platform for finding discounts and savings at popular local stores.
Email subject line: Welcome to Slickdeals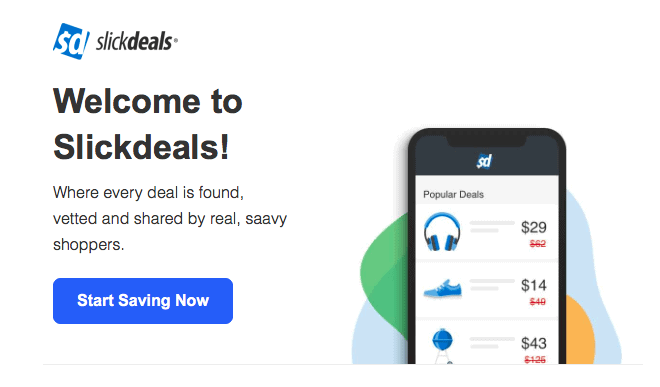 Their welcome email directs you to start using the app and set up your deal preferences. They also highlight some popular, trending deal categories.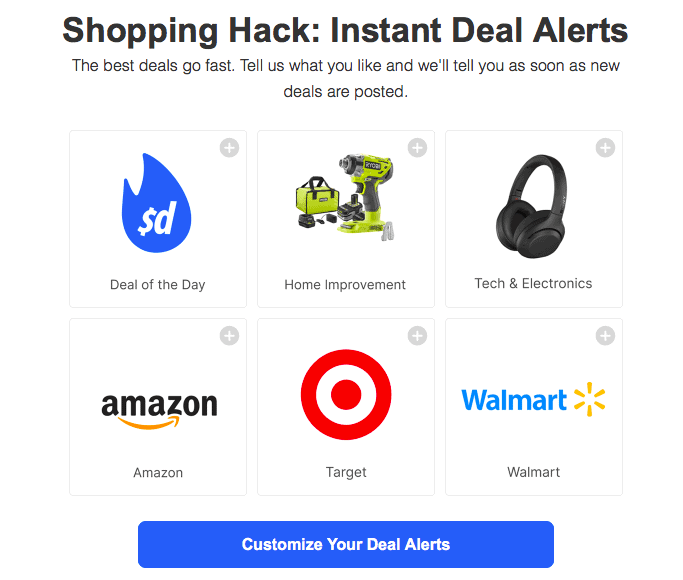 What's to like:
Slickdeals does a good job of encouraging customers to start using the app by using visuals of logos we know and trust. Plus, the inclusion of trending categories plants the idea in customers' minds of what types of hot deals they can discover with this app.
6. Buffer
Buffer is an app that allows you to schedule posts on social media platforms.
Email subject line: 2 quick notes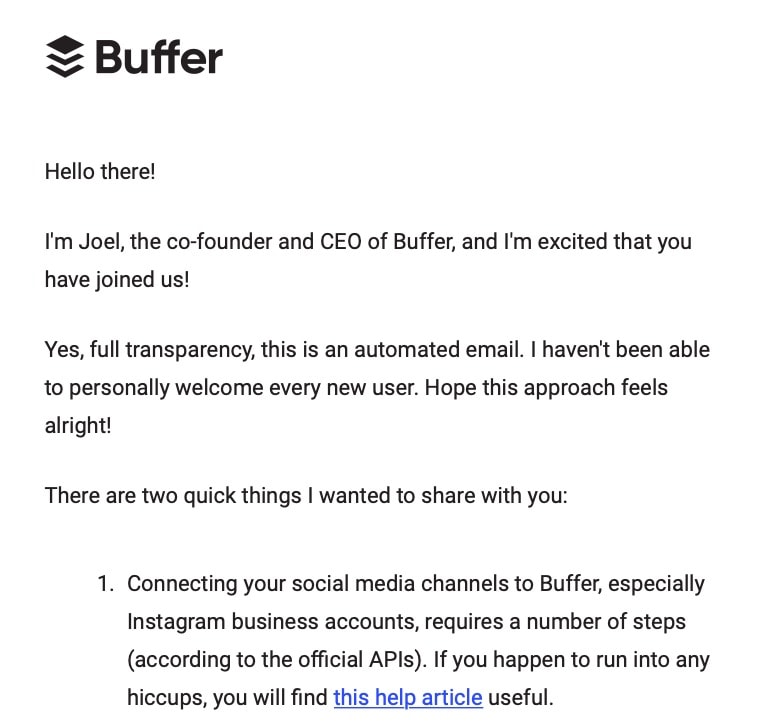 The CEO of Buffer, Joel Gascoigne, starts off his email by welcoming you personally (fully disclosing that the email is automated and that he's not actually the one reaching out!). He also includes some extra links relevant to Buffer and invites you to reach out to their team if they have any questions.
What's to like:
Joel is clearly making the most out of automation with this welcome email. He not only sends an automated message to new subscribers, but he also takes the time to add a personal touch. His inclusion of helpful links and his invitation for you to reach out is a great way to not only promote his product but also to make a connection with customers.
7. The Hustle
The Hustle is a newsletter that delivers the most important startup and business news every day.
Webpage headline: Welcome to the HUSTLE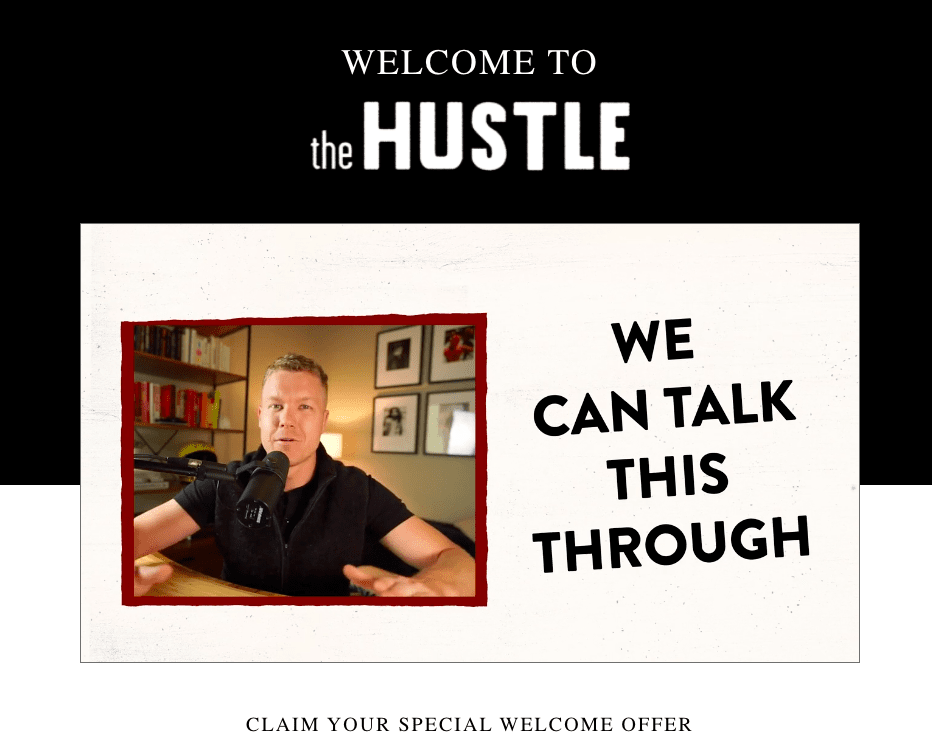 In addition to a welcome email, the Hustle immediately redirects you to a welcome webpage after submitting your email address online. Who has time to go to their inbox anyways, right? The page includes a video with Hustle Founder Sam Parr explaining what you can expect to receive in your inbox. He also promotes their exclusive paid newsletter and offers a special deal to sign up.
What's to like:
By redirecting you to a welcome webpage, the Hustle takes advantage of an extra touchpoint. The video is a great way to show off the personality behind the company, and the offer for a paid subscriber-only deal is smart.
Optimize Your Landing Pages for Email Sign-ups Today
Welcome emails are a great way to make a memorable first impression and encourage brand loyalty.
By creating a welcome email that sets expectations and shows you appreciate your subscribers, your open rates will increase—as well as the likelihood of your audience continuing to engage with your brand.
If you don't have a list, there's never been a better time to start building one! Once you've created a welcome email, you'll want to optimize your landing pages for email sign-ups. Need help getting started? Try Unbounce's free 14-day trial and start building landing pages that drive more people to sign-up.