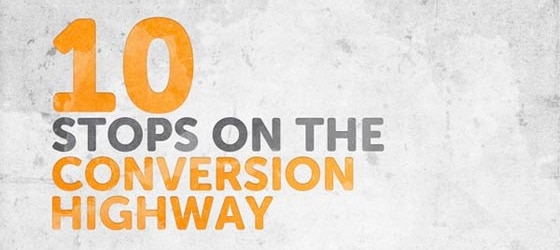 Are you ready for a ton of scrolling? Well, I hope you are as this infographic would be about 18ft long if printed out.
Take a giant road trip through North America with us from Boston to Vancouver (the home of Unbounce and landing pages) and learn along the way how to create an awesome landing page that converts.
Each stop has one of my weird and tenuous metaphors based on a famous landmark, designed to help you learn about the different elements in a great landing page.
By the end of the trip you will be ready to build higher converting landing pages, and there's no better place to do it than Unbounce.
---
Strap yourself in and let's go!
New York City: Why you should use a single CTA
Route 66: How message match can improve your conversions and paid search quality score
The Twin Cities: A/B testing to find your ideal landing page variant
Mount Rushmore: Here we examine how testimonials can improve the trust of your page
The Continental Divide: Segmenting your traffic to tailor your page messaging and designs to different inbound sources and demographics
Lost in the Desert: Add a phone number as an alternative contact method
The Grand Canyon: How social proof and herd mentality can nudge fence-sitters into your conversion funnel
Las Vegas: Homepages vs. landing pages – the classic battle
Hollywood: In La-La Land, we visit the home of movies to discuss why you should include a video on your landing page
San Francisco: And finally, we end with how to apply optimization tactics to your page to lift conversions
Enjoy the ride. (And click the graphic for the full sized version).

Click for the full-sized version.
Note: This graphic was initially part of a guest post for Hubspot about how to create an effective landing page.
---