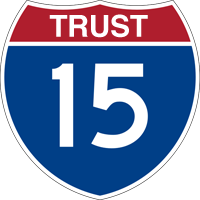 Web visitors are a fickle bunch. They'll stop by your landing page after becoming interested in your banner ad or Google AdWords ad, and then they'll put on their "Judge Every Book By It's Cover" hat and give you roughly 5 seconds to impress them.
If an FBI agent appeared at your door in t-shirt and jeans, and started questioning you without telling you who he was, you'd be rightfully concerned and probably wouldn't open the door.
Wear a dapper black suit and have your ID clearly presented and you'll at least get the time of day.
My point? Trust matters in first impressions.
How Can I Improve the Trust of My Landing Pages?
Follow a few simple guidelines and you'll see a marked improvement in your landing page conversion rate.
Brand & Message Consistency

If your banner, landing page and destination site don't feel part of the same family you will lose valuable business. Ensure that your visual design is the same from banner to landing page. Don't change color palette and typography from one to the other. Repeat the original core message on the landing page for instant recognition and increased confidence that you are in the right place.

Remove barriers to valuable content

If you are giving something away for free, but are asking for personal details in exchange, offer something free in advance, such as a small portion of the materials you are providing. If what you are giving away is truly valuable, this will increase your conversion rate.

Refrain from using gimmicky sales tactics

The web is littered with so much crap that waders are the preferred footwear of todays surfer. No matter how much you feel the need to use the BUY NOW, BEST DEAL EVER, LIMITED TIME OFFER type guff that profligates the sad lower end of our industry, just remember one thing… authenticity rules. People are starting to learn to see through the hype and understand when you are telling the truth.

Popups/pop-unders

Do you really need advice about this? Ok, here goes. If you use them, you should hang your head in shame and go wait in line for when your entire customer base leaves you for a company with more integrity. Sure, you may notice a slight improvement in conversion in the short term, but if you're attracting the types of customer that click on popups either because they are suckers or simply to get the ad out of the way, then they will exhibit the same ADD and bad judgement when they get through to your site. And NEVER EVER use those javascript dialogs that ask whether you really want to leave the page.

Use verifiable facts

In the age of comparison shopping and online research, bold claims about your product or service may elicit trepidation on the part of your visitor. If what you are promising isn't really true leave it out, because you will be caught. Perhaps by only a few individuals, but if they turn out to be social connectors, then you could quickly find yourself plastered all over the blogosphere with devastating consequences.

Endorsements

If you have affiliations with famous people, use endorsements to build credibility. I'm pretty sure that Proactiv isn't some miracle cure for acne, but I'm willing to suspend that doubt purely because the celebrities promoting it are placing their credibility on the line.

Terms and Conditions in Layman's Terms

If you need to have a terms and conditions page or section, try to put the important stuff in layman's terms. Better yet, make it entertaining, by separating it into two segments – t&c for real people with cool jeans, and t&c for lawyers.
Don't ask for information you don't really need

There are always 5 people in your office begging for that one extra field to be inserted in your form, but if it's not critical to the information or product being requested on your landing page, then don't risk scaring people away. Chances are that extra information will be scantily used anyway.

Testimonials

They work. But don't use false ones. If you make up over-enthusiastic statements by caricatures of stereotypical personas grabbed from stock photo sites, you will look unauthentic. Wait for that great personal story that can be the tipping point in making people trust you and believe that you have affected someone else's life. If you don't have one yet, don't use one. Simple

Certification logos

This is a classic technique to garner trust. If you have an association with a company such as Verisign, wear it proudly on your sleeve. However, it's important to use relevant and well known brands in your alignment strategy. Saying you are part of the Viagra sellers alliance probably won't help you convert women into paying customers for a trek in the Andes.

Professional design

Quite simply, the more expensive you look the more people will be likely to believe your story. In this case money talks. You still need the right call to action and landing page copy, but as single folks know, a killer pad with picture perfect interior design and seductive Feng Shui can get you halfway to converting a timid first-base date into a home run.

Don't exaggerate!

Following on from the last point, if you oversell yourself in the living room, you may very well attract your guest into the bedroom, only to find they leave at the sight of the real thing.

Privacy

Provide links to a privacy statement and or terms and conditions to quell fears of email abuse. A good technique is to write "We'll never sell your email address" beside an email form field.

Show a phone number

Simply by having a phone number present, it tells people you are legitimate and there are real people at the end of the line. It can also be a good fallback for people who aren't comfortable with online transactions, but who like your offer.

Co-branding

Provide co-branding opportunities with affiliates for a greater sense of trust and confidence. This does 2 things; it maintains the consistent branding and affirmation required for conversion when someone clicks through from an affiliate link, and it adds another visible partner on your page increasing your credibility – particularly if they are an important brand themselves.
Unbounce Challenge
Try some of our 15 ways to increase trust in your landing pages on your next campaign.
We would love to read about your results. If you care to share them, please comment below.