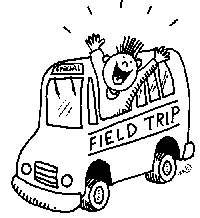 Today, in our second post in the 7 Days to a Better Landing Page series, I escaped from the office to go on an impromptu marketing field trip.
My goal was to find real-world examples or metaphors that illustrate the 7 Elements of a Landing Page that I described in yesterdays post.
Armed with my car, iPhone (using the camera and voice recorder) and a hunger to buy some new marketing books, I set out to explore marketing as it appears off-screen.
Here's what I found on my travels…
7 Examples of Landing Pages Elements that Appear Outdoors
What I was searching for were examples of interactions that exhibited as many of the 7 Landing Page Elements as possible. On occasion I simply focused on one element when I saw a good example. Everything listed below came from a 3 hour romp around beautiful Vancouver, BC, Canada where Unbounce is based.
1. Buying music in the car
At the start of my little trip I was driving over the Lions Gate Bridge to North Vancouver, listening to the radio. An unknown song came on and I liked it (I won't mention exactly who it was cos my taste in music is often ridiculed by EVERYONE I know).
My immediate reaction was:
Who is this?
How can I find out who it is?
I want it right now so I can hear it again (my OCD makes me want to listen to new songs 400 times in a row).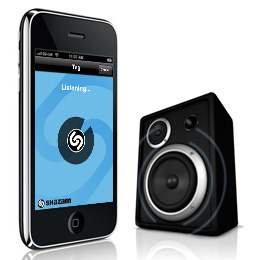 10 years ago, if you were in the car and heard a new song on the radio, you'd wait until the end of the song, hope that the DJ mentioned the name of the band and scramble to find a pen to write it down. Sadly, they hardly ever did that. An opportunity lost, for you and the artist.
More recently, you'd listen intently for a memorable line in the chorus, say it out loud to yourself 15 times to ingrain it in memory. Then when you get home you'd Google it.
Today however, is different. I simply pulled over (you know, cos I'm a responsible driver), clicked the Shazam App on my iPhone, waited for 10 seconds as their genius algorithms recognized the song for me and provided me with a link to buy it from iTunes. Now that's a closed sales and marketing funnel. Within less than a minute I had the song replaying happily through my iTrip and I was good to go.
Note: If you missed yesterday's post, you might want jump back for an explanation of the 7 Elements of a Landing Page.
Landing Page Element
Real-World Interaction
Unique Selling Proposition (USP)
Quite simply put, this is the coolest things I've ever seen technology do for me. I'm into music in a big way. Their product is completely unique and word has spread viraly as people compare iPhone apps in social situations.
Benefits
You can find out the artist, album and title of a song at any time, anywhere you happen to be (in the car, at the bar, in the mall). Then you can buy and download it right to your phone.
Hero Shot
Not appropriate in this context, but for the record, Shazam is my hero.
Context of Use
You get to experience it in real time, which is the landing page equivalent of a photo that shows happy people in a noisy bar saying "aaaah that's what it is!"
Request for Data
This is a little more subtle, but Shazam is mapping your current location when you tag the song (their naming convention for when you request that they recognize the song), so that they can create a map of interaction with regard to this song – presumably to gather demographic data of some sort.
Safety Net
All of the song details are stored in your iPhone for later, when you can go back through your tagged songs to buy the ones you liked recently
Call to Action (CTA)
They have several:

Preview and buy on iTunes
View YouTube video
Tweet about it
Send a postcard
View tag location
View discography
---
2. Buying a book in a bookstore
I made a beeline for a local Bookstore chain called Indigo and located the Marketing section. Throughout the store I was presented with various ad types; banner ads hanging from the ceiling, cardboard cutouts holding books, and stickers on books offering 30% off.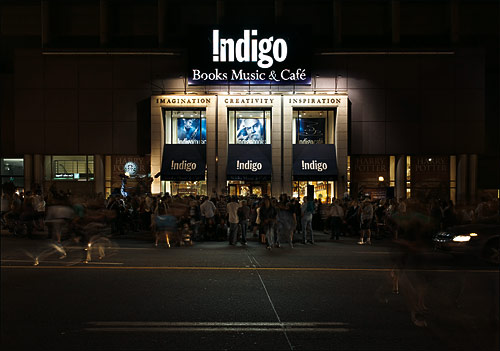 When mixed with the elements on book covers, we can view the majority of the 7 Landing Page Elements quite easily.
Landing Page Element
Real-World Interaction
Unique Selling Proposition (USP)
Each book does this with varying degrees of success. Uniqueness is a little more difficult as any given book will be situated fairly closely to other similar titles. However, in terms of the landing page elements (main heading and subtitle) most books do this with great effect. An example from my purchases today is a book written by Chris Brogan. Title: Trust Agents. Subtitle: Using the web to build influence, improve reputation, and earn trust.
Benefits
The benefits of a book are often listed in the same form as a landing page. A short paragraph followed by a list of bullet points. The back cover of the Writer's Digest "Handbook of Magazine Article Writing" uses this exact technique to give a summary of the main subject mater covered within.
Hero Shot
Sometimes, there is striking photo or illustration on the cover of a book which would fall into this category, and nowhere would it be more appropriate. The cliche "Never judge a book by its cover exists for a very good reason", people do it. Design a stylish book cover with impressive typography and an emotive photo and you're half way there.
Context of Use
Authors take advantage of painting a picture where you can imagine the book in the hands of other famous authors – thereby increasing trust in the product. Examples of this are:

An introduction by His Holiness The Dalai Lama
Testimonials in teh form of review quotes from critics and other famous authors

Request for Data
Join the rewards program to receive an additional 10% off. Just complete this short form to get your rewards card – containing about 10-15 fields of information.
Call to Action (CTA)
You could consider the 30% off stickers placed on many of the books as a form of CTA. Aside from that, it's more implied than anything, you know you have to buy it to get it.
---
3. Renting a car from Zipcars
This was my favorite example of the day. I won't get into too much detail of what Zipcars is; suffice it to say, they let you rent cars by the hour from locations around the city. Round the corner from my house there is a Zipcars lot were I found the banner below.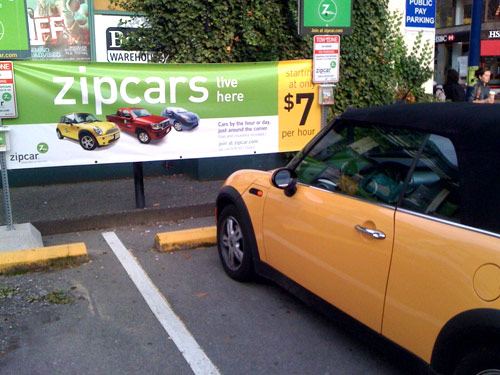 This real world ad and landing page experience was a perfect 7/7 when matched against the 7 Landing Page Elements.
Landing Page Element
Real-World Interaction
Unique Selling Proposition (USP)
"Cars by the hour or day, just around the corner" is their primary theme, with a big "starting at only $7/ per hour" offer rounding out the USP. With no office or people to deal with, this is definitely a unique offer.
Benefits
Beneath the primary USP is the statement "No gas or insurance required". This answers the most common questions people would have. Clearly it's a great benefit to be able to walk round the corner and pick up a car to drive somewhere for an hour. It would generally take you about an hour just get into a car at a regular rental agency.
Hero Shot
This is clearly shown as the main photo in the banner, highlighting the types of car you can rent. And not just any type of car either, I've noticed a wide range of very cool cares in the lot, which differentiates them greatly from the run-of-the-mill cars you'd find at most rental agencies.
Context of Use
This is the best part. If you look at the photo I took, you'll notice the car available for rent (a yellow Mini) is exactly the same as the one in the hero shot. So here I am staring at the banner imagining driving a funky little convertible Mini, and it's right there to entice me further. This is the digital equivalent of the instant digital download.
Request for Data
To register, you need to go online and fill out a form (and submit payment details). They then have your email for subsequent promotional offers.
Safety Net
A perfectly executed "Safety Net CTA" is provided by Zipcars. At the end of the banner is a small box with brochure takeaways. Allowing you to take the information with you and give you a reminder when you get home (where you can now sign up). Seamless.
Call to Action (CTA)
The main CTA on the banner is "Join online at Zipcars.com". While not very big or dominant, the weight of the rest of the experience more than makes up for this. I would be interested in seeing how their conversion performance would change were they to place more emphasis on the CTA, by having a large statement directed at asking people to grab the takeaway leaflet and sign up online.

I already own a car, but I'm pretty confident that I'll be using their service just to drive a sweet little convertible up the Sea To Sky Highway, one of the world's most beautiful drives from Vancouver to Whistler.
---
4. Sorry, we're closed – the safety net call to action
Two quick examples of the Safety Net CTA. This is something you want to utilize to capture customers that aren't ready or able to convert at this time, but who have enough of an interest to want to become engaged at a later date.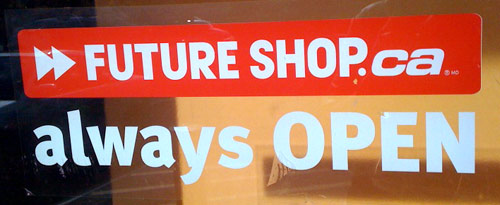 This is a good example of extending your opening hours. By saying "always open" they give you reason to stop and think about what it means – my initial thought was actually "cool, they're open all night". Then I snapped back to reality – electronics stores aren't open 24hrs in New York, never mind sleepy North Van. But the pause was enough to make the connection that their website is always open for business.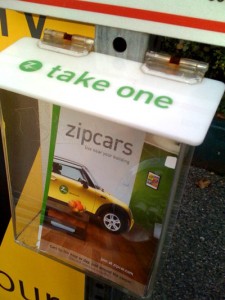 This is the brochure I referred to in the Zipcars example above.
I have one of these now, and even if I don't ever dig it out of my jacket pocket, the strength of their branding coupled with the enhanced memory of the event (created by me physically taking the brochure), will produce a strong likelihood of conversion.
---
5. Choosing a gas station – which side of the street?
Returning to the car theme for a moment, I needed to fill up with gas on my little field trip and as is common I had a choice of 2 different gas stations (one on each side of the road). I took this snapshot beside the Shell garage as it was a decent example of a landing page experience.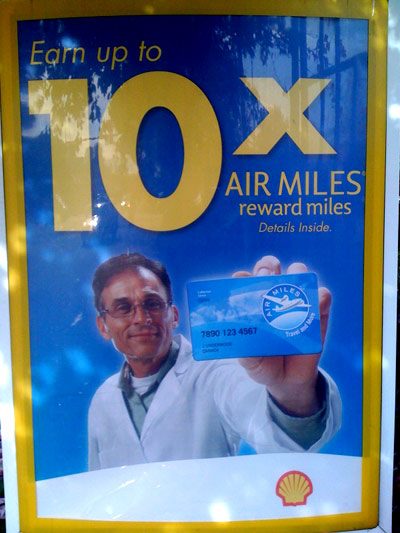 | | |
| --- | --- |
| Landing Page Element | Real-World Interaction |
| Unique Selling Proposition (USP) | To be unique in this circumstance, all you need to do is be different from the guy across from you. Here they make the offer very clear. 10x Air Miles reward miles. |
| Benefits | 10x the reward points is pretty good – potentially 10x better than across the street. So you'll be able to get that flight to London more quickly if you gas up at Shell. |
| Hero Shot | There's a fairly big focus on a person holding an Air Miles card. This can connect with you if you already possess one and make you feel like a participant. |
| Context of Use | Not overly strong here, all you really get is the implied image of a blue sky which may or may not make you think of being able to fly for free. |
| Request for Data | You may be required to register for Shell or Air Miles to participate. |
| Safety Net | If you decide to inquire about the offer inside, you may convert and you might not, depending on how much effort it is to sign up (you might not already have an Air Miles card, and even if you do, you may be required to sign up for a Shell account of some kind). However, even if you don't follow through with the offer, you will probably still fill your car with gas and buy something else inside the store – this is the Safety Net. |
| Call to Action (CTA) | Small and not very powerful, but the CTA in question here is the "Details Inside" copy beneath the USP. This gets you inside the Shell station where they can engage you with any loyalty and sales tactics they may have. |
---
6. Tourism
Here we have a typical signboard sitting outside a tourism based office on a busy street. With so much information vying for our precious attention, the need for a Safety Net takeaway is more critical than ever. These guys do a decent job of utilizing the fundamentals.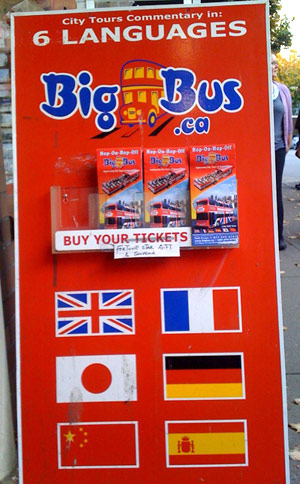 | | |
| --- | --- |
| Landing Page Element | Real-World Interaction |
| Unique Selling Proposition (USP) | City tours in 6 languages. Very clear and simple. |
| Benefits | The only real benefit listed is the multiple languages, but this is very important for tourists so it's a good focal point. The use of flags gives an immediate recognition point. |
| Hero Shot | The illustration of a big red double-decker bus alludes to the old fashioned romanticism of the tour. (Sadly it's more reminiscent of London than Vancouver, but hey, points for trying). |
| Context of Use | The brochure on the stand includes a map with photos of stops along the way, showing you what you'll get if you take part. |
| Safety Net | As mentioned, there is a brochure that you can quickly pick up in passing without being bothered by a sales person. This is doubly smart for BigBus as they have multiple hop-on, hop-off points around the city, so the chances are that by the time you open and read the brochure, you are still within close proximity to a connection point. |
| Call to Action (CTA) | There is a somewhat tacky white label saying "Buy Your Tickets", but it's better than nothing. Some more detail on a special offer and a more punchy CTA would be a good test for an addition to the sign. |
---
7. Withdrawing money from an ATM
How can an ATM be like a landing page you say? Well, more than you think. If it's your own bank, you need no information to go and use the ATM, just the desire to withdraw money. But if you find yourself walking down a street in need of cash and you are nowhere near your own bank (where you wouldn't get dinged), all of a sudden, every ATM is both an advertisement and a potential conversion solution (just like a landing page).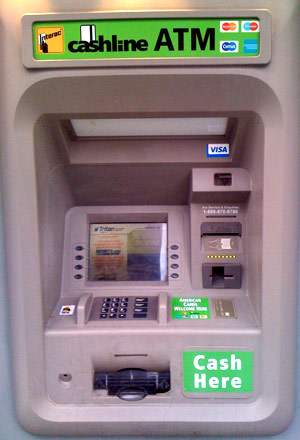 This ATM is one of the generic brand of ATM's you find scattered all over the place and they could be doing a much better job of selling their service, but I'll get to that as we explore which of the 7 Landing Page Elements this ATM possesses.
Landing Page Element
Real-World Interaction
Unique Selling Proposition (USP)
Nothing unique about an ATM really. However there could be! All generic ATM's ding people a lot. With a simple USP that states a lower level of dinging (less fees) than other ATM's they would be more likely to get passersby to stop and use the service. In this example, the only statement being made is "Cash Here".
Benefits
"Cash Here" and convenience are the primary benefits, but they also show compatibility benefits using logos of their partner networks.
Context of Use
Right here, right now. "Cash Here".
Call to Action (CTA)
There are two CTA's in effect here:

Cash Here
The blinking green dotted line above the card slot that calls out to you to insert your card.
---
Marketing Lessons Learned From My Field Trip
A valuable lesson learned from this trip was the need to take care of the impatient and unsure customers by giving them some way of remembering you once they've walked past your Ad. You can confidently assume they will quickly be distracted with a new lesson in information overload. Great branding is the best way to stand out in a crowd, but a brochure in your pocket is another good reminder.
More importantly, to become a successful marketer, you need to spend time in your customers shoes. This doesn't only mean being a consumer yourself. It means paying mindful attention to the experience as it happens, and taking the time to watch how other people interact/react as they engage with the elemental aspects of a landing page experience.
Observing these elements in the physical world will enable you gauge not only your own reaction (what you find irritating or enticing) but also the behavioral traits of others. This is a great step toward understanding the importance of knowing your customers. Usability testing is founded on the principle of voyeurism – an unbiased study of human interaction and behavior when confronted by your product. If you can extend this practice to observation at other times such as lunch in a food court, the commute home from work, standing at a bus stop, you'll become a better and more empathic practitioner.
A Final Word About Brand
Sometimes you don't need any of the 7 Elements of a Landing Page to be successful. Truly great brands can seduce you with nothing more than a photo and a line of copy. With this approach, they are putting the faith in their brand's strength to plant a seed that will germinate at an appropriate moment later in the day.
A perfect example can be seen in this bus stop poster. And on that note, I'm off for a pint…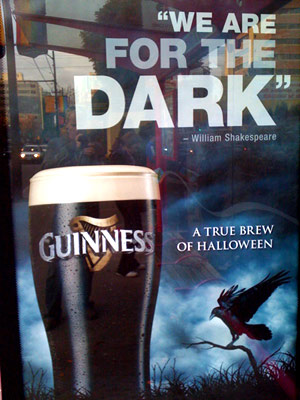 Come back tomorrow for when I'll be covering "7 Different Types of Landing Page" and why each is used for a different type of user experience and marketing goal.
Cheers,