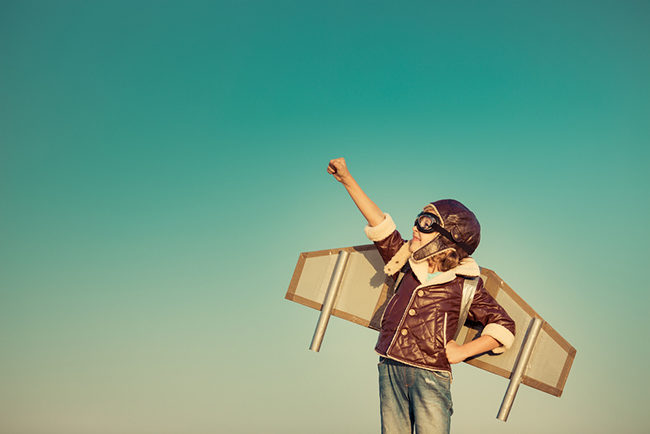 Send your conversion rate soaring with landing page and PPC best practices. Image via
Shutterstock
.
Do you ever dream about increasing your conversion rate? How about increasing it by 290% and boosting your lead generation by 9x?
Well, that's exactly what we did for our client, Revecent, a company specializing in sales consulting and recruiting. The results were so dramatic, they asked us to scale up the campaign less than a month after initial launch!
Today, I'm going to show you exactly how we did it, and how you can achieve the same results by following key PPC and landing page best practices.
Ready to start making more money than you ever thought possible from your B2B PPC campaigns? Let's dig in!
Identifying the issues
Most B2B PPC campaigns have poor conversion rates and ROI. This usually happens because the campaign is not set up using best practices, is not managed using a disciplined process and does not use optimized landing pages. In fact, 52% of B2B PPC ads still point to home pages.
Indeed, when we first looked at our client's old Google AdWords campaign for recruiting services, we saw each one of these issues at play.

Revecent's overall conversion rate of 2.83%, while above average for a B2B campaign, was nothing to write home about. And the high cost per conversion didn't produce many quality leads, thus preventing the client from scaling up the campaign.
While there were many issues, we focused on four key areas for our plan of attack:
Poor account structure
No targeted landing page
Wasted ad spend
Inadequate keyword management
Let's dig into each with more detail…
1. Poor account structure
One of the biggest issues in the campaign was that they had only three ad groups with 40 to 50 keywords each. This resulted in poor quality scores and poor message match between ads and keywords. Here is an example of one such ad and the variety of different keywords that trigger it: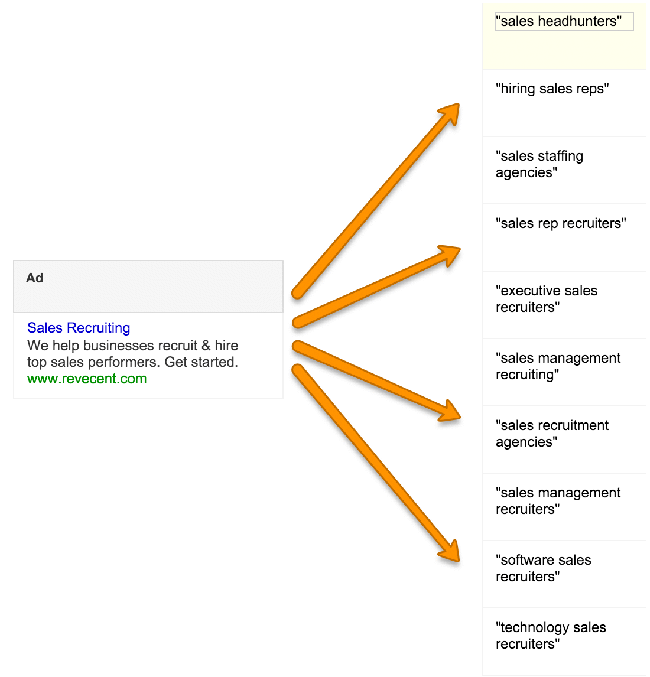 Your ads (and landing pages) can never be relevant for so many different keywords. Ideally, you should strive for a 1:1 ad group to keyword ratio for keywords expected to drive at least 80% of the traffic to your campaign.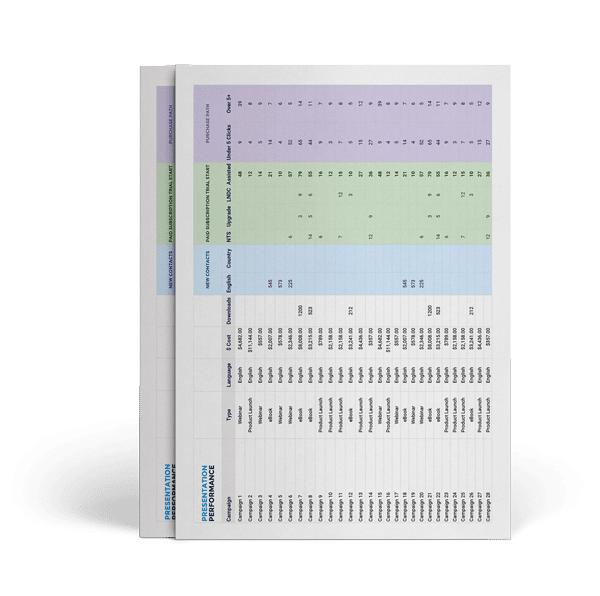 Not sure how to spend your PPC dollars?
Steal Unbounce's spreadsheet so you can become more campaign driven and begin spending wisely.
By entering your email you'll receive weekly Unbounce Blog updates and other resources to help you become a marketing genius.
2. No targeted landing pages
Rather than develop specific landing pages for the campaign, the client chose to use one of their service pages as a landing page. As you can see below, it had a number of issues including conflicting calls to action, multiple navigation links and some pretty blasé content and design: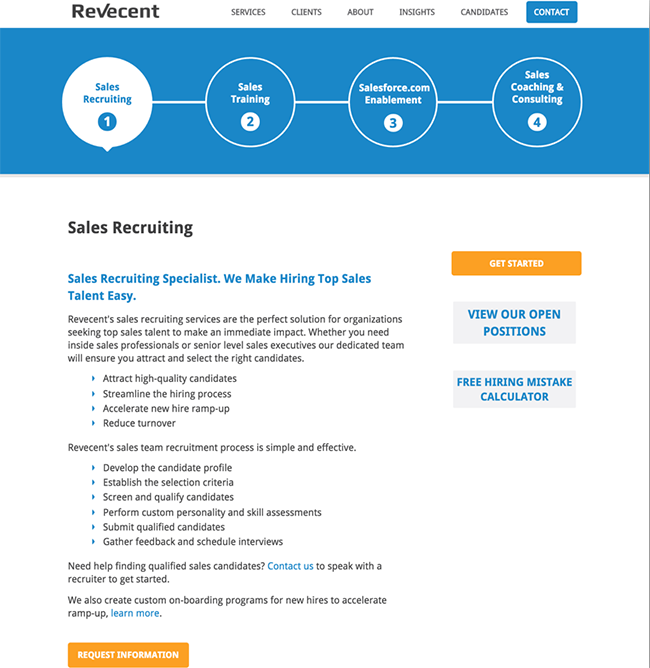 3. Wasted ad spend
Even considering their modest budget, the campaign was very inefficient — only 10% of the keywords had conversions, and 90% of the conversions came from 30% of their total ad spend.
4. Inadequate keyword management
Revecent's existing campaign used mostly general and high-level keywords, rather than niche and long-tail keywords.
Keywords with specific job titles, industries and geographic locations were notably absent from the campaign. Because of this, Revecent's ads were generic and not customized to the user's search queries, which resulted in poor performance.
Additionally, while Revecent did add a few negative keywords when they first launched their campaign, they did not monitor their search terms on a regular basis to add new negative keywords. Ideally, this should be done on a weekly or bi-weekly basis to improve the quality of traffic.
Implementing the solution
We came up with a three-step plan to optimize the PPC campaign: (1) Use best practices to structure the account, (2) create conversion-optimized landing pages and (3) use a disciplined process to manage the campaign and realize ongoing improvements.
1. Use PPC best practices to set up the campaign
First, we spent time understanding the client's business in detail — going through their services, industries they serve, ideal customers and competitors.
For context, the client provides sales recruitment services to small and medium sized B2B companies located in major metropolitan areas across the US. The industries they cater to include software, technology, real estate and B2B services. Based on this information, we conducted extensive research to identify some quality keywords for their campaign.
Using the Google Adwords Keyword Planner, we identified the best keyword opportunities including niche keywords around specific industries like software, SaaS and technology, as well as keywords containing metro areas like Chicago, NYC and San Francisco.
We poured through the Search Terms Report from the client's old campaigns and extracted some excellent keywords as well as a host of negative keywords. We also used the SpyFu tool to look at which keywords competitors were using, and then extracted some of those as well.
Next, we set up an account structure that would give us a solid platform for the campaign. We created a structure where keywords accounting for around 90% of the expected traffic to the campaign were placed in single-keyword ad groups. This resulted in about 80 ad groups.
Our approach would give us the most control over the campaign, ensuring precise message match between keywords and ads, high quality scores and click-through rates, while keeping keyword cost per click at a reasonable level — even for the top three ad slots.
Below are three examples of the ad groups we created.
Ad Group Sales Recruiters Dallas:

Ad Group Software Sales Recruiters:

Ad Group Sales Recruiting Agencies:

We rewrote all the ad copy to properly convey the client's main benefits with lines such as "Build an All Star B2B Sales Team" and "Targeted & Vetted Candidates Only." We also added sitelinks, callouts and call ad extensions.
Finally, we added a number of negative keywords in each ad group to make sure that any keyword searched on Google would only match one ad group. For example, in our "Sales Recruiters" ad group, we added "Dallas", "Software", "Agencies" and a host of other terms, as negative keywords.
2. Create conversion-optimized landing pages
We created a new landing page in Unbounce starting with the 5-Elements template. We customized the template based on the client's brand, added original copy and then made tweaks according to best practices for landing page design.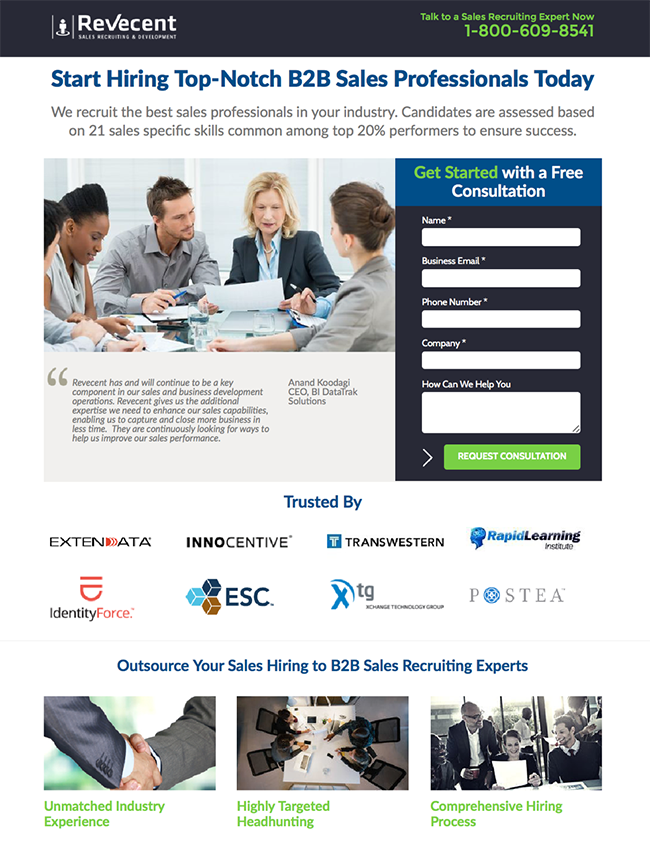 Some of the best practices we employed on the landing page were as follows:
Tagline below logo emphasizing focus on Sales Recruiting
Phone number integrated with Google call tracking so we could track phone calls being made from this page
Real customer testimonial
Prominent above-the-fold form
Clear call to action and animated arrow to attract attention
Customer logos to build trust
UTM parameter tracking using hidden form fields to capture the campaign, keyword, device and keyword match type
We also created a headline and subheading that effectively described what the client does and what the main benefits of the service are.
Instead of creating multiple pages with content customized to associated ad groups, we opted to use Dynamic Text Replacement to change the content of a few key areas of the landing page. Using this approach, we were able to change the entire headline based on which ad the user clicked on. We also used Dynamic Text parameters for a portion of the subheading and section headings.
For example, below is the ad copy for "Software Sales Recruiters". The bolded, italicized portion represents the dynamic portion of the ad.
Headline: Hire Top Notch Software Sales Professionals Today
Subheading: We recruit the best software sales professionals in your industry. Candidates are assessed based on 21 sales specific skills common among top 20% performers to ensure success.
Section heading: Outsource Your Sales Hiring to Expert Software Sales Recruiters
Once we had our account setup the way we wanted and the main landing page ready to go, we launched the campaign.
3. Do ongoing optimization and A/B testing
Even if you use best practices to set up a campaign, things may not always go as planned. Real-world performance can throw a few curve balls.
In our case, while we did find that our campaign was performing a lot better than the old campaign, there were a few things that needed to be adjusted.
Negative keywords
One of the first things we found was that the campaign was getting lot of irrelevant traffic. We identified several search terms for industries the client did not serve; for example, medical and pharmaceutical.
We also found search terms that referenced services the client did not provide, such as IT recruiting. There were a number of informational search queries as well which were not ideally suited to our campaign. So, we went into the Search Terms Report in AdWords and added these as negative keywords. You can see examples of some of these below: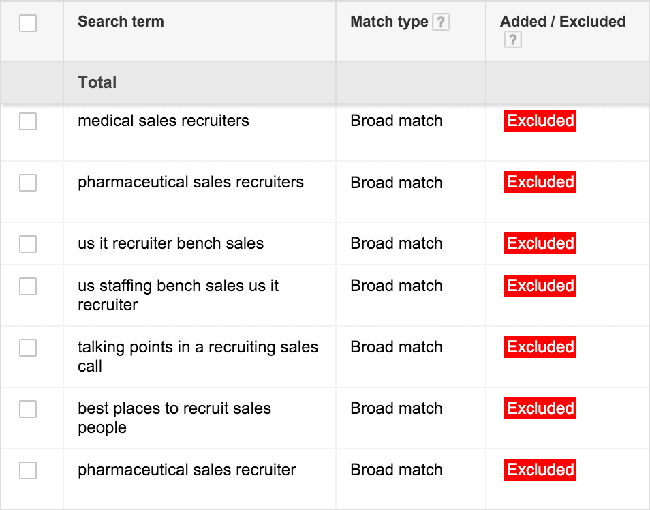 New keywords
On the other hand, we found dozens of new keywords that people were searching for that we hadn't used in the campaign. We added these keywords into new ad groups in the campaign to maximize their effectiveness: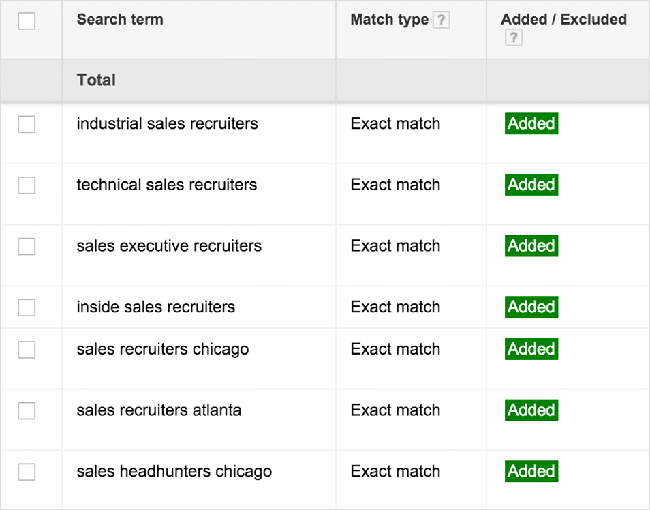 A/B testing
We started out with two ads in the ad groups receiving the most traffic and continued to A/B test until we found a winner. Then, we created a new variant and tested that against this winner and continued this process to improve click-through rates.
We also created a variant of the landing page using the Forward template in Unbounce. With this landing page, we tried a different CTA and a different headline that included a number (as these tend to perform better).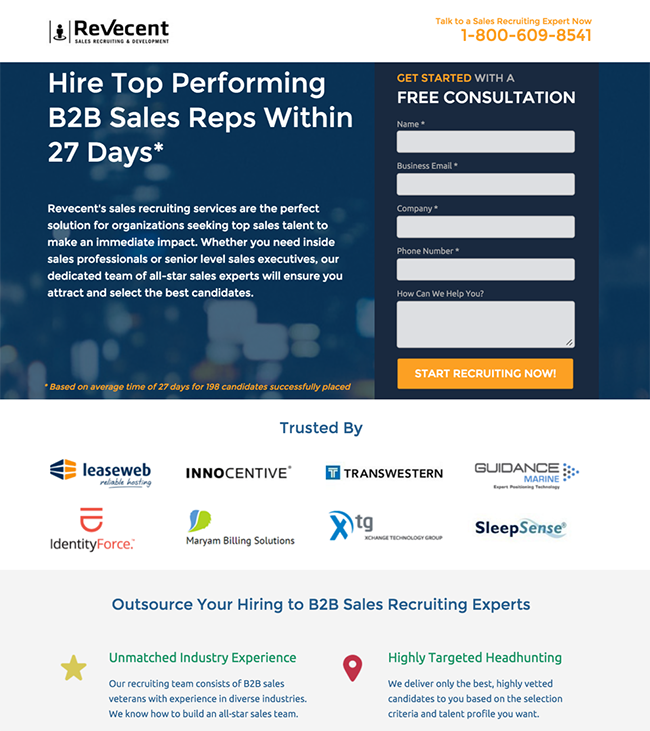 Bid optimization
We employed a manual CPC-based bid strategy throughout, because that gave us the most control over the bidding process. We also monitored and optimized bids regularly to maintain a top three average position with most ads.
Lead quality
Our client wanted to make sure that we minimized leads from job candidates. They also were not interested in getting leads from companies looking for part-time help or commission-only sales reps.
Most leads specified what they were looking for in the description box on the form. We used this in conjunction with the search term used by the lead to identify keywords that were responsible for such leads. Based on this, we would either pause those keywords or modify the ad copy.
The Results (and the payoff)
As you can see in the table below, our new campaign performed exceptionally well compared to the old campaign. We were able to realize immediate performance gains and, because of the low cost per lead, the client asked us to scale up the campaign quickly.

In all, the new campaign was able to:
Reduce cost per conversion by 78% — from $183.13 in the old campaign down to an outstanding $39.85
Improve conversion rate by 290% — from 2.83% to 11.04%, which is outstanding for a bottom-of-the-funnel B2B offer
Boost conversions from 33 to 308 in the same time frame
Improve the lead-to-opportunity conversion rate from 10% to 25%
We achieved our results by following best practices for campaign setup and landing page design and by employing a disciplined process for ongoing optimization after the initial launch.
Although it took a considerable amount of time to set up the original campaign structure, this approach allowed us to get the perfect search term + ad copy + landing page message match. In the end, we were able to create a solid, highly scalable platform for sustained growth.