When designing your landing page, you've probably at one time or the other suffered from creative block. Picture this: you're seated at your desk, staring at the blinking cursor, not knowing why you can't finish your design project with your usual flurry or unmatched grace to come up with a masterpiece. It sucks, and it gets you at the worst of times.
Break out of your maddening creative rut with this post, which will teach you:
The definition of creativity & how your brain handles it
4 tactics to overcome creative block
3 landing page examples, each with a core "inspirational" focus and takeaway
How Your Brain Handles Creativity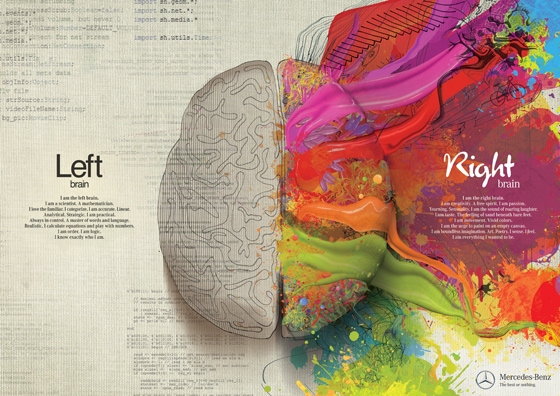 Click for full-size image – You'll want to, trust me (
Image Source
)
Creativity & The Brain
What exactly happens when you get hit by creative block? The brain is constantly firing off neurons and processing information.
The brain's right hemisphere governs creativity, and thinks in images and metaphors. Passion, inspiration and moments of clarity all originate from this hemisphere.
The left hemisphere is responsible for logical thought, language and the known.
(See what I just did there?)
Creative block makes the right brain lock up, making it hard for you to come up with exceptional design pages that convert.
What *is* Creativity?
According to the American Psychology Association, creativity is made up of two parts: originality and functionality. For an idea to be considered as creative, it should also work. There's no point in coming up with ideas that aren't practical in the real world or where profits or results are at stake. At the same time, the US Patent Office isn't really gung-ho when it comes to ideas that are obvious rip-offs. Even though you may get away with closely modeling your landing page to that of your competitor, the key is to remain true to yourself and your aesthetic as a creative individual.
The APA also goes on to state that there is another dimension to creativity; little 'c' creativity, and big 'C' creativity. The difference between the two is while the former is an extension of what we see on a daily basis, the latter involves flashes of inspiration, resulting in products, designs and concepts that radically change the way we see things, affecting whole industries and even becoming cultural game changers.
4 Tactics to Overcome Creative Block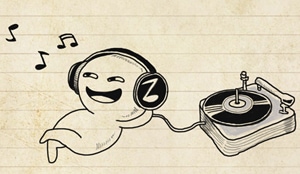 The trick to beating creative block lies in harnessing the power of the right brain in order to keep ideas flowing whenever needed. Here are some ways of beating creative blocks that you may want to try out to boost your creativity as a designer:
Listening to jazz. Yes, you heard that right: jazz. What does music have to do with creativity, anyway? Dee Coulter, a musical patterning specialist, carried out an experiment to determine the effect of jazz on the human brain. Improv jazz is a form of jazz that relies on unpredictable musical notes and spontaneous arrangement to come up with interesting and quirky musical composition. Miles Davis, John Cage and John Coltrane all paid homage to this kind of jazz. Coulter noticed that improv jazz stimulated the production of theta brain waves in subjects. These brain waves are associated with increased creativity and deep insight in humans, meaning that jazz provides a gateway cue into the sometimes elusive world of creativity. The next time you feel like you're out of ideas, turn on the radio and put on some Miles Davis; you won't ever have to stare idly into space, waiting for inspiration to hit.
Go for a run or swim a few laps. Exercise produces endorphins, also known as feel-good hormones, that flood the brain with the fuel needed to think up abstract and novel ideas.
Sketch every idea that comes to mind, whether good or bad. Pick up a pen and paper and start sketching. Some of the sketches that you'll come up with may look unrealistic or impractical, but keep at it. When you're done, take two random and opposing ideas and mash them together. Sometimes, a great idea is an amalgam of two completely unrelated ideas.
Distract yourself by doing something completely out of the ordinary. This allows you to put your mind in the perfect space where it's able to form new connections, while, at the same time, easing some of the pressure off a task. Chances are that when you come back to your laptop screen, you'll find that ideas bubble out of you in an organic fashion.
Landing Page Examples to Give You Inspiration
At the end of the day, it's your job as a creative individual to find alternative ways of getting to your destination by mixing things up and experimenting. The first step in beating creative block is understanding it, and we hope that this post helped you do exactly that.
However, sometimes just reading about inspiration isn't enough…you need to see something. So, here are some landing pages that push the bar for creativity and will help get your creative juices flowing!
Flutter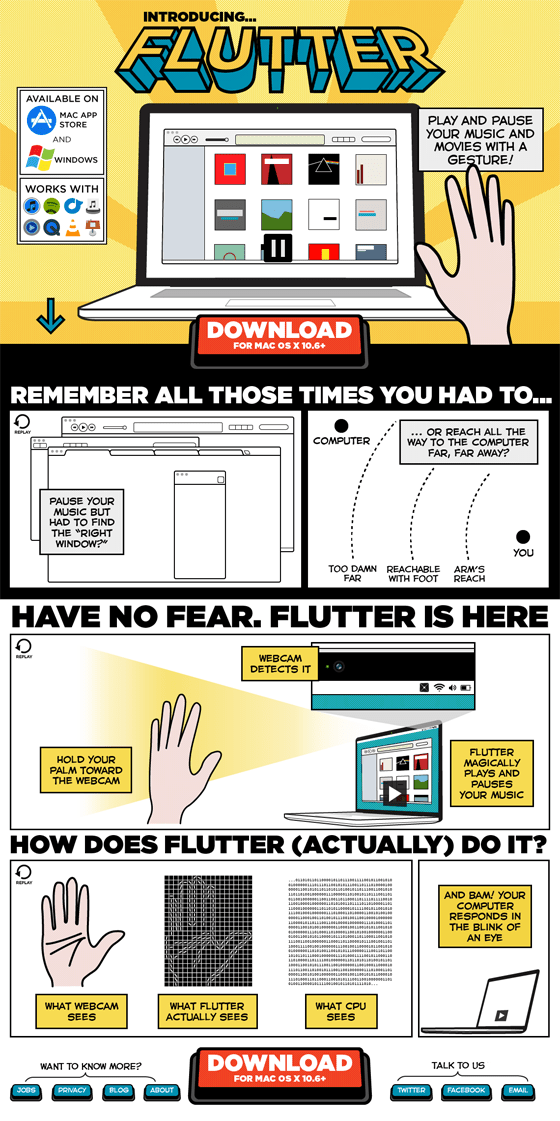 Click for full-size image
This landing page screams different and exemplifies a great use of illustration. The headline and CTA both jump off the page and the comic-book style makes the reader want to travers the entire page. The text isn't in your standard Times New Roman, Arial or even in Google Web Fonts either, the fun details make all the difference on this page.
rdio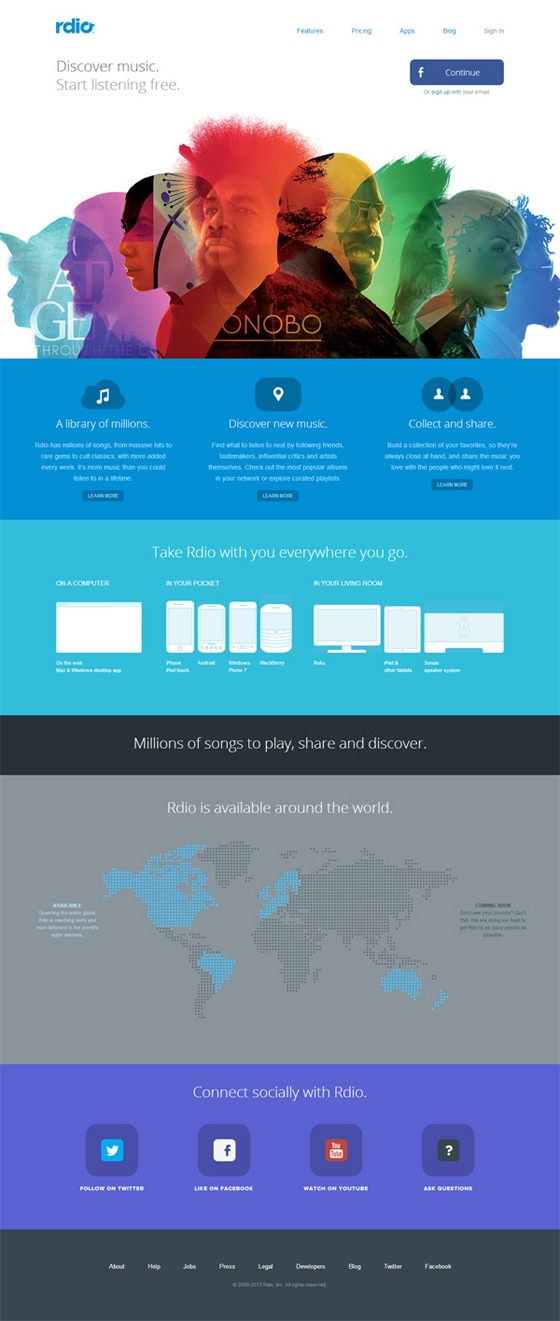 Click for full-size image
Rdio makes a great impression by effectively using color. Their page header captures visitors attention with bright colors, combined with faded silhouettes. Rdio uses the power of blue predominantly on this page, which provides sense trustworthiness, logic and communication. Color choice can be a catalyst for inspiration in itself. Used well, color can help you to seal the deal and turn site visitors into customers and/or subscribers. Check out How Color Theory Affects Landing Page Conversion.
Square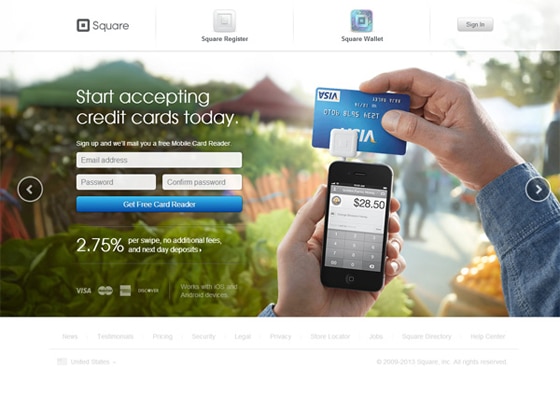 Click for full-size image
Square app demonstrates that a crystal clear image of their product in use is all the basis they need to create a good-lookin' page. Stay away from stock photography if you can and get inspired by browsing image heavy sites like Flikr, Pinterest or even instagram.
---
When you're designing a landing page, the possibilities are endless.
Get rid of creative block, harness your creativity, step away from the dull & boring and come up with new, inspiring out-of-the-box landing page designs that will make your visitors want to read, click and know more about you and your product, service or company. These tips will help you conquer creative block and make your landing pages more engaging and successful.
---