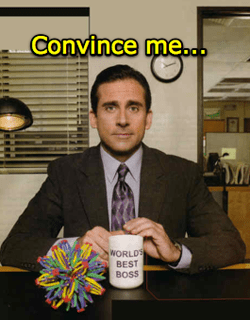 You've been reading about Landing pages, and you're ready to convince your boss or client to start improving your conversions.
There's only one problem. Short of saying "It'll get us more leads! TRUST ME!" You don't know know how to properly demonstrate the value in terms they'll understand.
Don't worry. In this article, I'll give you a 5 step process you can use to convince (almost) ANY boss or client that improving the landing page strategy is not just a great idea, but if done to scale, can result in massive revenue boosts for the company.
1. Show Them The Stories
If bite sized stats won't work in demonstrating the value of landing pages to your boss or client, you should share some stories of other companies seeing success with landing pages.
The trick here is to find case studies about companies that started with a similar challenge to what your company is experiencing. Marketing Sherpa is a great resource for this.
Here are three stories to get you started, feel free to use these if you want.
Prospects weren't clear on what the site actually did.
In this article, Designer Sacha Greif talks about how the homepage of his startup Folyo, wasn't clearly communicating the benefits of the service.
Confused users would email Sacha thinking the site did one thing when it actually did another.
As an unofficial observation, I see this problem with plenty of businesses – regardless of size.
Marketers and CEOs get so close to the product, it's difficult to describe the benefit to the prospect. So prospects get confused or think the product solves a different problem, resulting in low conversions.
Anyways, instead of blaming users for "not getting it" Sacha decided to focus on the page's message first, then design backwards from there.
This resulted in adding a nifty animation which showed the basic premise behind the service.

Click for full-size image
Making the pain more apparent in the secondary headline.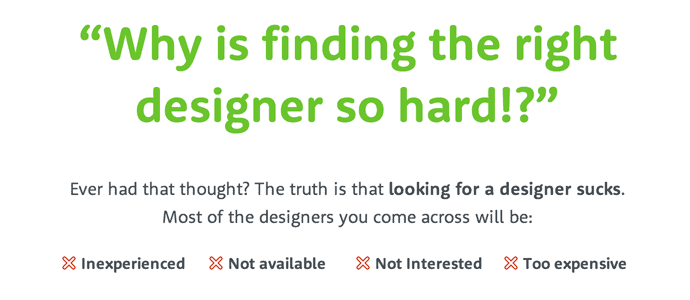 And controlling your exposure as you scroll down the page. (We do this on the Unbounce Homepage too)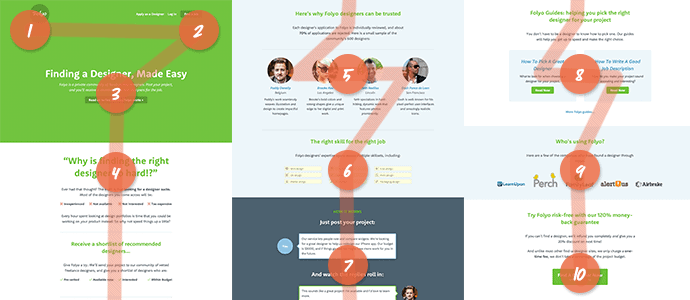 Though Sacha hasn't released the test results yet, the value proposition is much clearer, allowing the prospect to know EXACTLY what the site is about.
Site didn't communicate benefits nearly as well as the CEO did in person.
Software company, Moz added over $1 million dollars to their bottom line by testing a long version of their landing page.
The challenger page answered common questions prospects had about the service as well as used language CEO Rand Fishkin would use when he pitched the product in person.
What they found was that when Rand talked about Moz, he would passionately describe the value, but that the existing home page did not. Though it talked about common features, it did not communicate the benefits of using the software. (Something that is often lost in translation from in person to on the web)
Just because the product is boring, doesn't mean it can't convert better.
In another case, The U.S Life Division of Genworth Financial was able to grow Digitally-Driven revenue by 350% and increase lead volume by 3000% by identifying the needs of their page visitors, and refining their landing page strategy.
Proving even something as boring as Life Insurance can benefit from improving their landing page strategy.
2. Inform Them About The Competitive Advantage…
Once you've found the story of a company with a similar problem to yours, remind the boss that 44% of clicks for B2B companies are directed to a home page, not a landing page, giving you a huge competitive advantage by testing a more targeted landing page strategy.
If you really want to drive the competitive advantage home, do a quick google search for your primary keyword, and see how many direct competitors are using targeted landing pages. (chances are, you'll see a landscape ripe with opportunity)
Then remind your boss or client that of B2B companies that use landing pages, 62% have six or fewer total landing pages, meaning that most marketers aren't even taking contextual pages seriously, and that's a huge opportunity for you.
Why?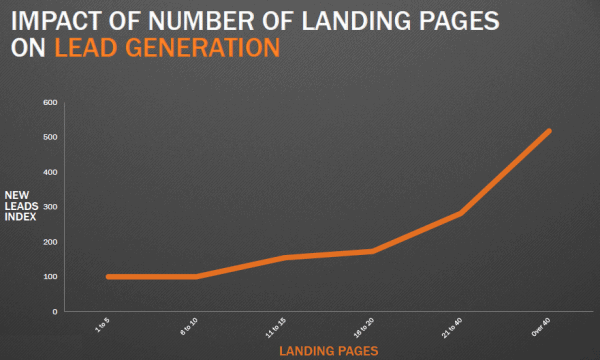 (Image Source)
According to Hubspot, companies see a 55% of increase in leads when increasing their number of landing pages from 10-16. This number spikes even more when a company uses 40 or more landing pages – likely due to the specificity landing pages offer.
When you take a step back from your primary website, how many specific pages do you think you could create? Resource Libraries, FAQs, Pricing, Partners, Case Studies, Benefits & Features pages are all great value adds to information hungry prospects.
3. Remind Them The Competition IS Catching On
According to Marketing Sherpa, 48% of Marketers build a new landing page for each marketing campaign. In another study, 85% of marketers say they're focusing more on conversion rate in 2014, and 83% feel "good" and confident about their approach.
By comparison, 65% reported confidence in 2012, meaning marketers, including the competition, are getting smarter and preparing to pounce.
Stress to your boss or client that it's better to start with landing pages & testing NOW so that when the competition does roll out their new landing page strategy, you're not there with your pants down trying to respond while they're enjoying the benefits of first mover advantage.
4. Remember 'Budget' Doesn't HAVE To Be A Problem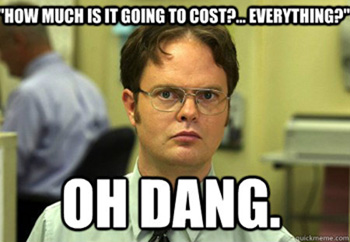 Of course, the boss's primary concern is always "How much is it going to cost?"
Now, the answer to this can be "not that much" IF you've created a detailed plan for your design strategy.
Marketing Sherpa has a great 6 step guide to analyzing the data, and mapping out your improvements. You should check it out here.
Once you have the plan in place, you have a couple of really affordable options at your disposal.
First, you could use a landing page software. There are plenty of options and most include a free trial, which will usually give you enough time to determine if your new page will be a success.
If you don't want to use landing page software, you could let your boss know that you could mock up your test page in photoshop, and convert it to Html.
There are a lot of free tutorials out there, or you could hire a company to do it for you for less than $200.
Either way, the investment is not usually as bad as the boss makes it out to be, and if you're designing your page with a thought out plan, the rewards far outweigh the cost.
5. Let Them Know Testing Will Be Minimal Risk
While we're going to talk more about A/B testing in my next post, remind your boss or client that making the page go live doesn't mean sacrificing what you know already works.
For example, if you're testing one product page design over another, you would enter the existing page & challenger page into Google Content Experiments (free) and determine ahead of time what percentage of traffic gets sent to the challenger page. Use this calculator to determine the amount of time the test should run.
Understandably, your boss will be nervous about sending traffic to the new page. Assure them that if the new page doesn't outperform the old page, 100% of the traffic will return to the old page when the test is over.
Anything I Missed?
Of course, some bosses/ clients are so resistant to change, that even doing all of these things won't convince them.
What excuses objection(s) have you heard for not testing?
Would love to hear that in the comments!
Let help each other out by busting those objections, and make each other look even better for to our clients and companies!
---