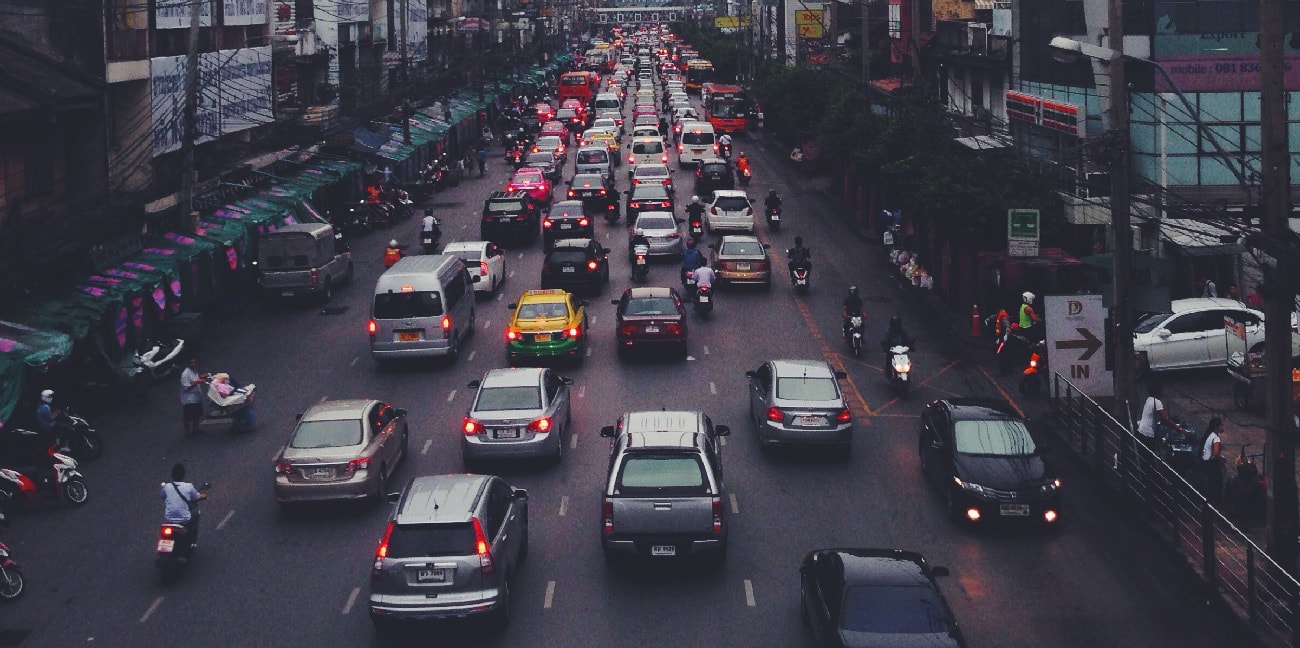 How do I optimize my landing page when I don't have enough traffic to A/B test?
It's a question that Unbounce customers ask regularly, and one that plagues any marketer who wants to optimize their landing pages but just isn't blessed with the traffic of a Fortune 500 company.
So it was no surprise when the question came up during the A/B testing panel discussion at the 2015 Call to Action Conference.
Luckily, conversion experts Ton Wesseling, Peep Laja and Michael Aagaard had all the answers. And it turns out that marketers with more humbly-sized traffic streams are going to be okay.. We can all breathe easy, because as Peep put it:
You can still optimize even if you can't A/B test.
Even if you don't have the 1,000 conversions per month recommended by our panel experts, you still have options for optimizing your campaigns. Read on to find out how.
Figure out where and why you're losing conversions
A/B testing isn't just about figuring out how you can get more conversions. It's about learning why you aren't getting more conversions in the first place.
That's where conversion research comes in: digging into analytics and crunching numbers to determine where your biggest conversion lift opportunities lie. Regardless of whether or not you have enough traffic or plan to A/B test, Michael underlined the importance of this step:
"If you don't have enough traffic to get proper data out of it, then [A/B testing] isn't really helpful. But one thing that's always helpful is doing the research – because you need that anyway."
Michael related a story about some research that we did on our free trial landing page. When someone arrives at the page, it looks like all they need to do is enter four pieces of information to get a free trial: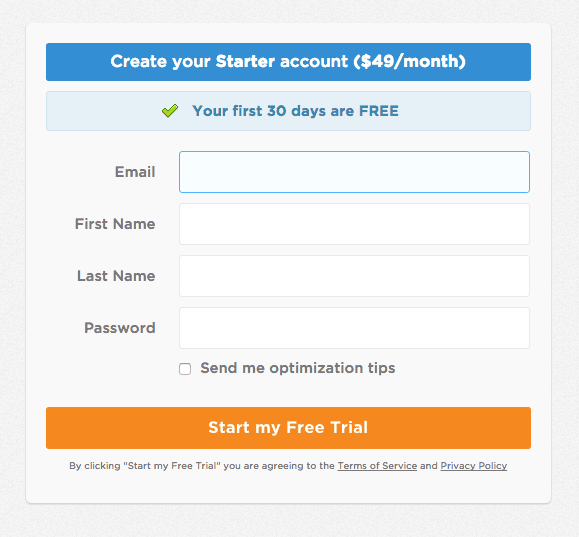 But when someone clicks the CTA button, a whole new set of form fields is displayed: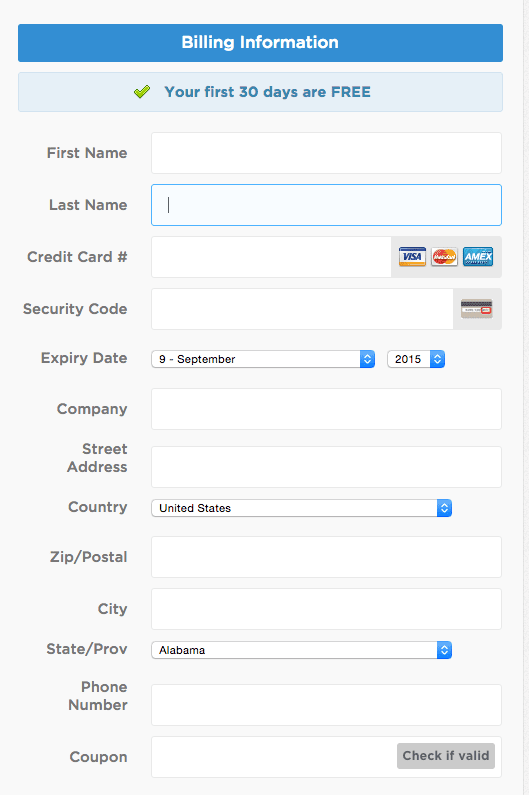 When Michael looked at the data, he discovered that a significant number of people were abandoning the process at this step, where the actual signup process is revealed to be more complicated than the first stage of the form implies.
That discovery led to us taking a good, hard look at the process, and Michael is now working on optimizing that page to make it a more delightful, streamlined experience for marketers looking to try out Unbounce.
None of that would have been possible without researching where people were abandoning the process. But by learning the exact point of friction, Michael can continue testing and iterating towards new designs that aren't burdened by similar issues.
Peep summed this up nicely:
If you don't know what people are doing on the page, you're in the dark. You need to record what's happening on your page in order to identify connections between certain behaviors and conversion rate.
Conduct qualitative research by asking questions
Your landing page has one purpose: to convert visitors to leads or customers. We do that by appealing to our visitor's needs. But, as Peep says:
If you don't know what matters to your customers, you have to figure it out, or you can't  optimize.
If you don't have enough traffic to get quantitative feedback through A/B testing, you need to spend time gathering qualitative feedback. That means actually speaking with your customers to get to know them and their needs.
Ton agreed:
Talk to your customers. They'll give you great answers on what they're looking for that can help you a lot.
During the CTAConf copywriting panel, expert copywriter Amy Harrison of Write With Influence discussed getting to know your customers in order to address their needs.
Amy believes that too many marketers start by presenting the solution, because we know what the solution is – our product – and we know how we want it to be perceived. The problem is that if someone comes to your landing page and you're not speaking specifically to their needs, they won't relate to your solution.
What Amy does is take a few steps back and start with identifying the symptoms that a person might experience that would lead them to need your product. What problems are they experiencing, and how can you relate to them?
That's what AppSumo founder Noah Kagan was forced to ask himself when he emailed 30,000 people about his new entrepreneurship course, How To Make A $1,000 A Month Business, and only 30 people purchased it. What went wrong?
ConversionXL reported that he sent a survey to everyone who clicked through but didn't convert and asked them, among other questions, "Why not?" And then he rewrote and redesigned the page to address the most popular doubts.
Unsure if it works in your country?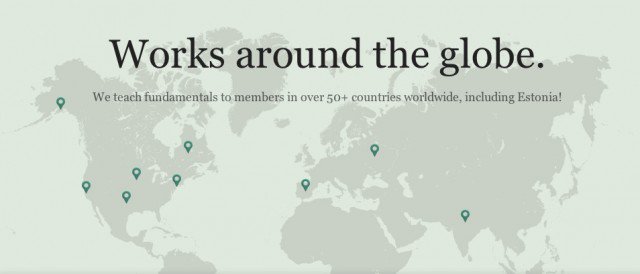 Worried it's not for you?

Failed before and not sure what will be different now?
Noah adjusted the copy to address all of his prospects' biggest fears, and used their own language to inspire himself. That strategy echoes back to advice that Joanna Wiebe, the copywriting mastermind behind Copyhackers, wrote on this very blog back in 2012:
If you want to write great copy, swipe it from your visitors, customers and prospects."
Don't be afraid to take big risks
When you can test the impact of every change on a page, iterating individual elements for small wins is one way to grow your conversion rate over time. But when you don't have the luxury of testing against tons of traffic, you're unlikely to move the needle with mere iteration. As Ton advised:
Most small things make a small impact. You have to take bigger risks to get bigger rewards.
This is actually one of the things that Joanna herself addressed during her Call to Action Conference talk, Death to Fear And Laziness! How to Push Yourself to Write Sticky Landing Page Copy.
In her talk, she presented an A/B test she ran on two sets of ad copy. The one on the left is the control, and the one on the right is the (rather bold) variant. Or as Joanna referred to it, not trying vs. trying.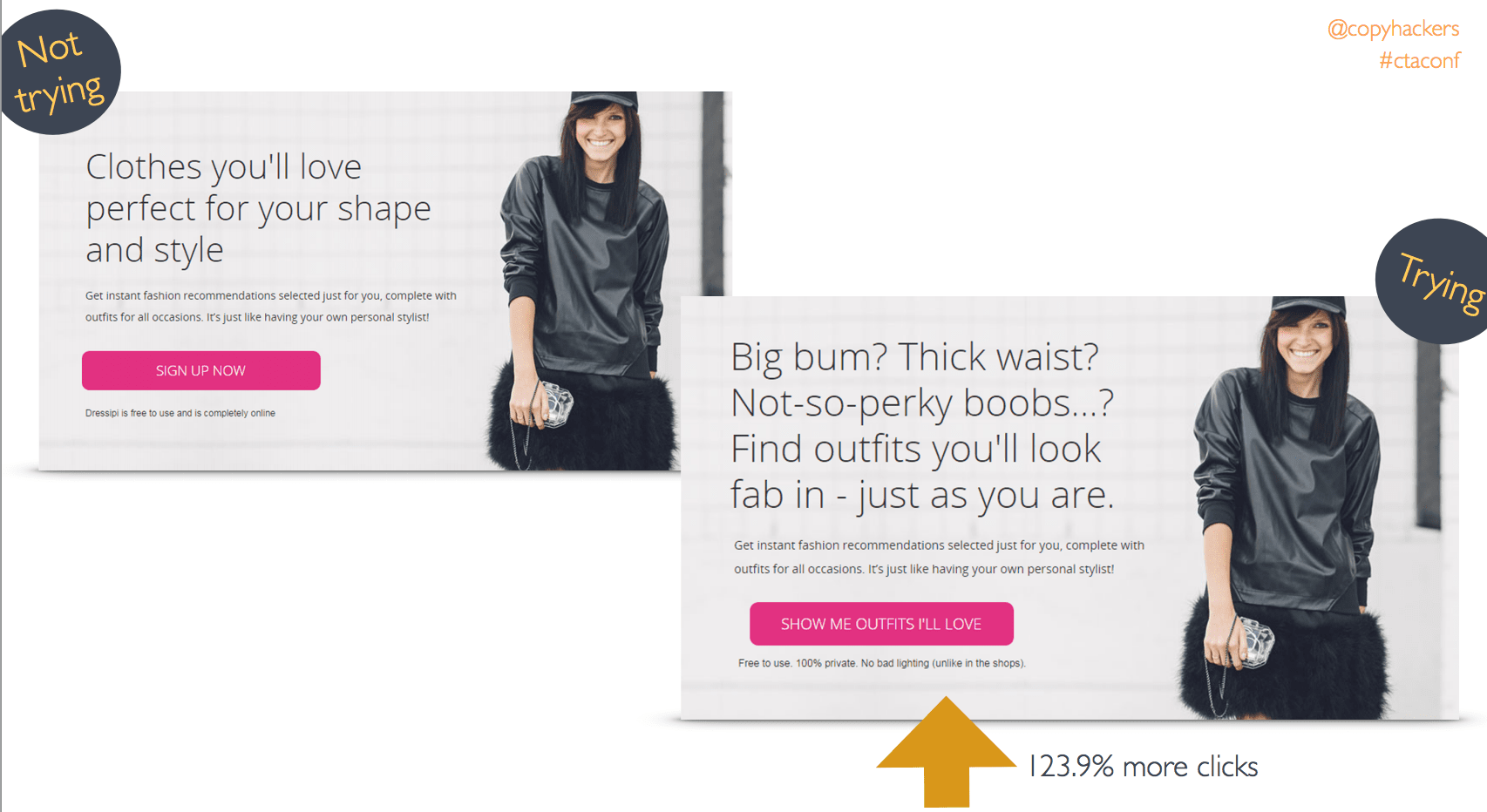 The message on the left is what Joanna refers to as "word-shaped air". There's words there, sure, but what does it really say? The variant takes a huge risk by using words that might be stereotypically perceived as "negative," avoiding the empty pleasantries of the control.
But this language is how their real audience actually talks and thinks. And the gamble paid off, with a 124% increase in clicks.
Whether you're actually running an A/B test or simply changing something on a page and waiting to see the results, there's one unwavering truth:
You never know until you try.
Stop stressing and start testing
There's no arguing that testing and experimentation are the heart of conversion rate optimization.
But A/B testing is just one kind of test; you can still make huge conversion gains without it, simply by researching your weaknesses, talking to your customers, and taking real risks. Rarely is there such a thing as a bad test, or a useless result.
If you're still not convinced, or just want to learn a lot about testing in not-a-lot of time, check out the full Actionable, Practical A/B Testing panel. If every good test starts with research, I can't think of a better place to start learning.