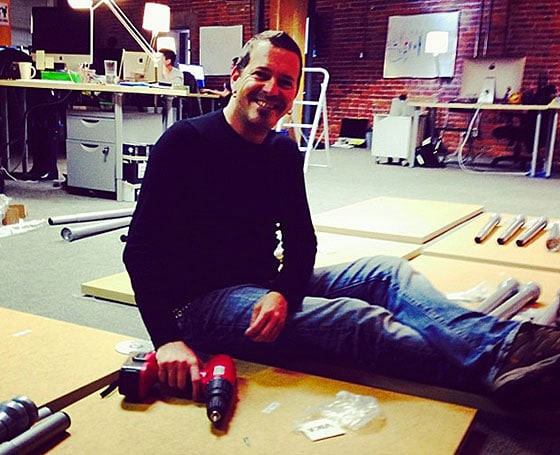 We make our content work hard. Just like our CEO.
I pity the fool that creates great content and forgets to put a marketing plan in place to leverage it. Don't be that marketer. You know better, but you don't know how to *do* better. Fortunately, at Unbounce we're pretty good at content marketing. And I'm a blabbermouth.
That's the reason I'm writing this post. To share some of our ideas with you, so you can get more from your content.
Here's a stat based on one of the methodologies we apply to our marketing:
By using contextual design, we've consistently seen conversion rate increases of over 29%.
Versus campaigns that don't employ contextual design principles.

Oli-verified Unbounce factoid.
Contextual design is a proven approach that we've started using for all of our landing pages. I'll get into more detail in a minute, but essentially you start a conversation in a blog post, in an ebook, in a promotion, in an ecourse, and then continue that conversation on the destination landing page.
Instant gratification for your visitors. Instant increase in conversion rates for you. Smart content marketing for all.
In this blog post you will learn how to use landing pages for content marketing, in particular:
How to master content reuse to multiply your lead gen potential by 10x
How to use confirmation pages to double your lead gen potential
How to use contextual design to connect with your visitors and boost conversion rates
How to be a successful content marketer without using bullshit expressions like "Content is King".
Actually, let's start with number 4. It's simple. Stop saying it. It's old and tired and nobody gets any value from hearing it.
1. How to master content reuse to multiply your lead gen potential by 10x
Here's how we did this. We took my Conversion Centered Design (CCD) concept and turned it into a series of 12 pieces of content.
Specifically, we:
And then we sent the traffic from all of these sources to landing pages designed to capture leads.
Here are the 3 landing pages we used.
CCD ebook landing page
Notice how this uses the ebook Slideshare deck as a type of preview of the ebook concepts.
Including the preview increased conversion rates by 12.5%.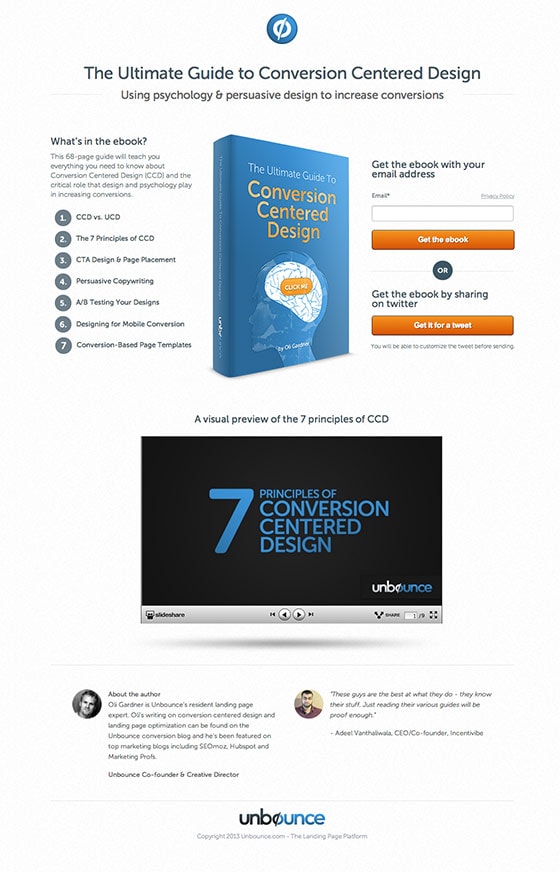 Webinar registration landing page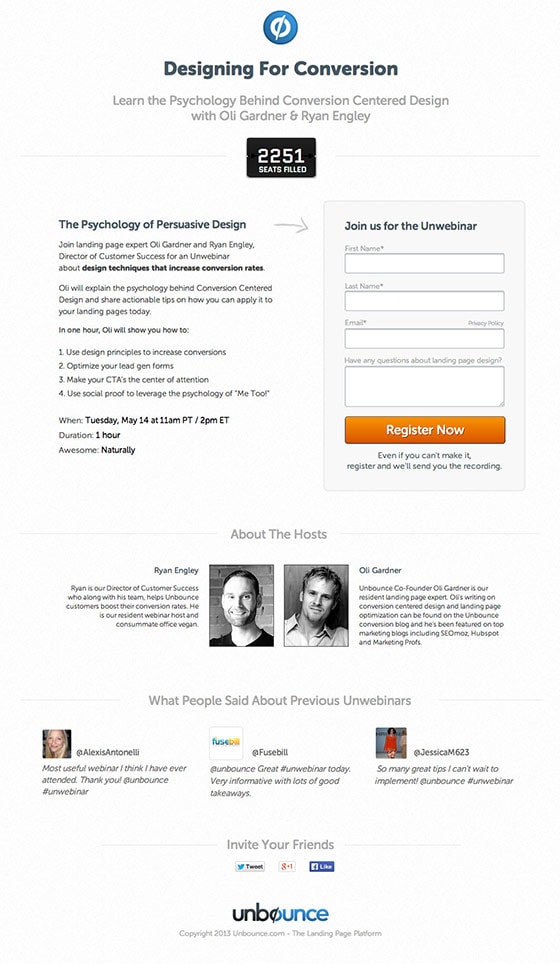 Webinar recording landing page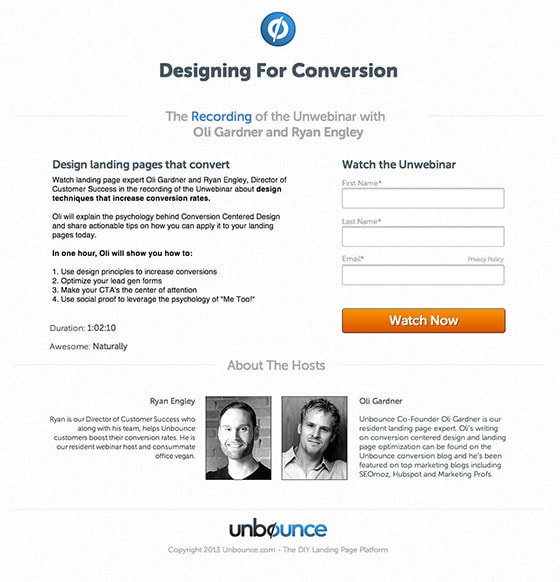 1 Concept, 12 Pieces of Content, 10 Content Marketing Channels
As you can see, a single concept can go a very long way when you break it down and reuse it in your content marketing campaigns.
Due to the number of channels we created, this content continues to pull in new leads every day.
2. How to use confirmation pages to double your lead gen potential
Here's a quick and easy case study for you that you can copy to give an instant boost to your lead gen numbers.
Lead gen confirmation pages are a goldmine of extra marketing potential. You have a perfect opportunity to ask something extra of your fresh leads when they are at their absolute warmest.
Recently, we changed the thank-you page for our webinar registration landing pages from asking for a social share, to asking people to subscribe to our blog newsletter.
Here's the confirmation page in question: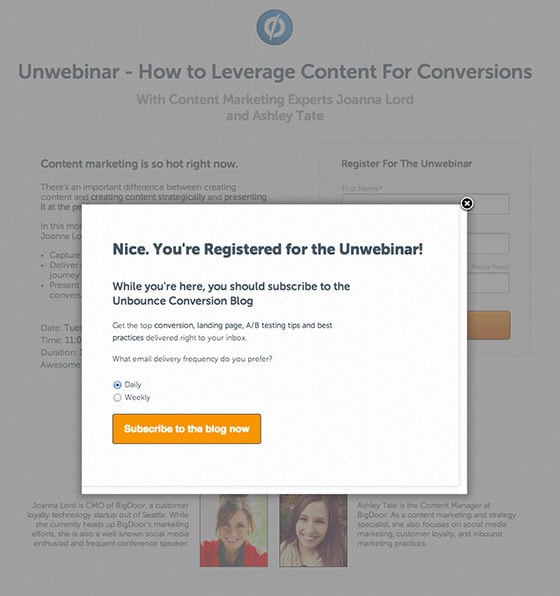 2,500 people registered for the webinar, and of those 40% subscribed to the blog! That's 1,000 extra blog subscribers just by adding a CTA to the confirmation page of a webinar lead gen form.
That's smart content marketing. Go do it now.
3. How to use contextual design to connect with your visitors and boost conversion rates
As I mentioned at the start of the post, contextual design is all about maintaining the experience your visitor is immersed in when they travel from one place to the next, such as from a guest post to your landing page.
There are several types of context that you can leverage for a successful content marketing landing page.
Conversation match
This is the primary theory behind contextual design. In very simple terms, it's about using a personal greeting on your landing page to make your visitor feel welcome. The more you can make people feel like you are talking to them rather than at them, the more inclined they'll be to listen to the rest of the conversation.
Design match
Design match is a measure of how well your visual design is maintained from content source to landing page. When the imagery is strongly correlated, people feel more "at home" on your landing page.
Message match
This is where the headline of your landing page mirrors the copy used on the link that was clicked to get to the page. Contextual design for content marketing takes a slightly different approach, relying more on conversation match, but you should make sure your message is represented somewhere on your landing page.
Let's look at some contextual design case studies.
When we have a CTA on a guest blog post, in the PDF of one of our ebooks, or from an ecourse, we take people to what we call a WHY page. This is where we explain why Unbounce is a useful marketing tool for the visitor, to encourage people to try it out.
We recently released an ecourse (The Smart Marketer's Landing Page Conversion Course). On the course pages that you get to after registering, there is a link in the page header:

This took people to a generic landing page: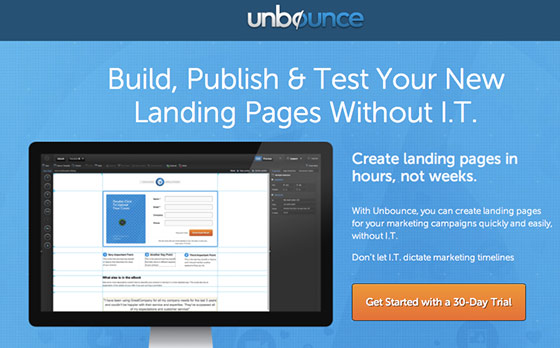 This has absolutely no connection to the places we were driving traffic from. It's simply a value proposition based explanation of what Unbounce is.
We've used this page for several campaigns, and it converted very reliably at 18% in every instance.
To improve the experience we ran an A/B test with a contextually designed landing page: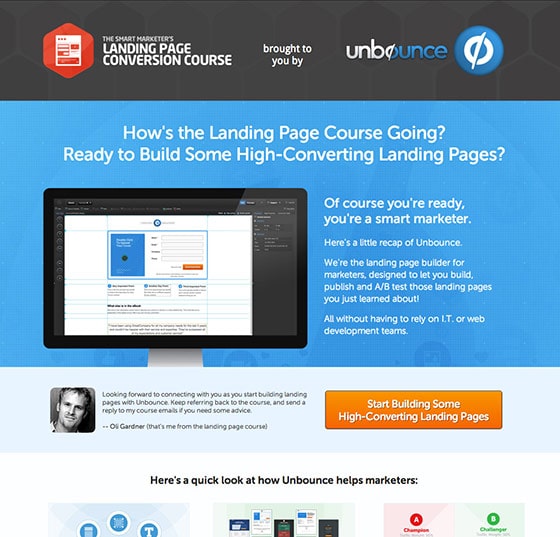 What's the difference here?
The header is co-branded, so visitors can see the connection from the ecourse and Unbounce.
The headline is a conversational question that speaks to the experience people were currently immersed in.
There is a photo and personal message from me (the primary author of the course).
This page converted at 23.20%, a conversion lift of 29%, simply by creating a conversation match with the visitor.
Since we learned how much impact this technique can have, we've implemented it for several more campaigns.
First, I wrote a guest post for Wufoo, and linked to a landing page at the end of the post.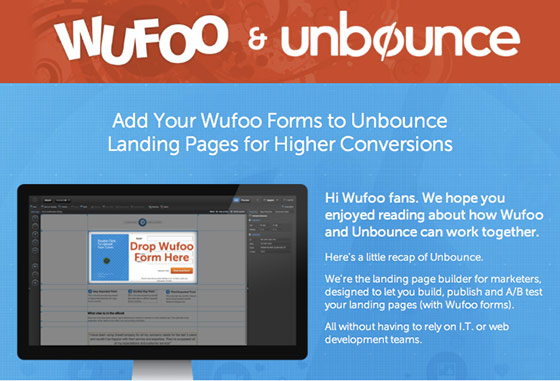 The Wufoo landing page converted at 33% (dropping to around 23% after the initial publish week – presumably because subsequent visitors came to Wufoo from organic search rather than being more highly targeted blog subscribers).
I did the same for a post on the Vertical Response blog.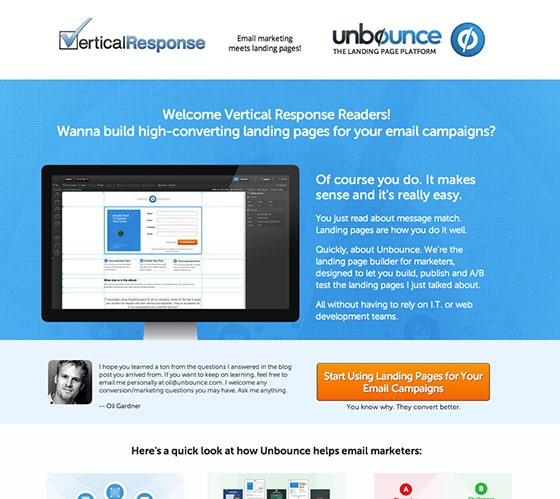 This time the landing page converted at 35%.
Contextual design FTW!
Wrapping things up
There you have it. Three incredibly successful ways to use landing pages to increase the conversion rates of your content marketing.
In summary, here's what we learned:
Create "big content", so you can slice it and dice it into multiple formats. This lets you reuse it to create extra inbound marketing channels.
Whenever you use a lead gen landing page to give away your gated content, ask your new leads to engage with you again on the confirmation page, while they're still hot for teacher. (You're the teacher).
Use contextual design to create a conversation from source to landing page.
How do *you* market your content? I'd love to hear your innovative ideas in the comments.
---