There are so many things to keep track of when designing a landing page. Is the goal clear? Is the page mobile responsive? Have you optimized the copywriting, testimonials, UX and design? How's your attention ratio?
With all that responsibility comes a lot on uncertainty. Wouldn't it be nice to have a sounding board? How about the guy who's seen more landing pages than anyone else on the planet?
With our new series The Landing Pages Sessions, we made that happen for 12 lucky marketers; we deconstructed their marketing campaigns so you can learn from their mistakes.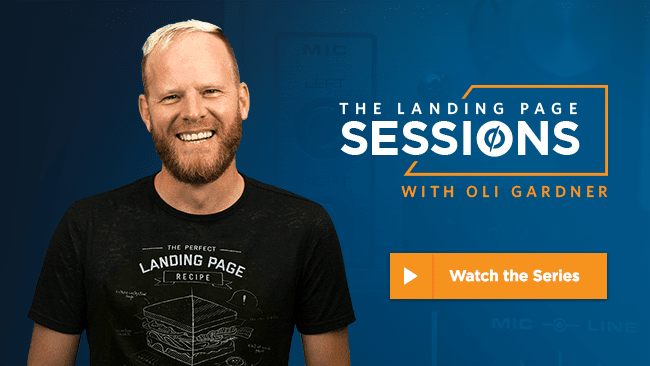 The Landing Page Sessions are 15-20 minute videos analyzing real-world marketing campaigns from start to finish. In each episode, Unbounce co-founder Oli Gardner dissects a campaign landing page along with the ad or email that drove traffic to it.
He gives his feedback on what he thinks could improve conversions, offers A/B testing inspiration, then actually implements those changes in the Unbounce builder so you can get the full picture of the optimized page.
And because we like you so much, we're dropping the first three episodes today. (After this week, we'll be releasing an episode every Friday.)
Episode 1: Five Hot Seconds
Powder White, a booking service for ski holidays, wants to collect leads by sending email traffic to a landing page. Unfortunately, this goal is lost in a mix of competing CTAs, unclear copy and disappearing form fields. Oli tries to right the ship with a five-second test in UsabilityHub and some quick copy edits in Unbounce.
Episode 2: A Moment of Clarity
NRG Edge is a social network for oil and gas professionals…or is it? Oli isn't sure at first. "Tabloidy" headlines, bloated copy and generic business speak get in the way of clearly communicating the value. Can an "Unbounce style" makeover bring a needed dose of clarity?
Episode 3: Message Match… Where Art Thou?
Photosocial is driving Facebook traffic to a landing page for its 12-month mentorship program. In this episode, Oli discusses message match vs. design match, how "conversion context" varies between inbound channels, and how to make your testimonials believable. Oh yeah, and how soon is too soon to say "welcome"?
Happy learning!