We need your help. We're trying to win the voting race for Canada's best startup and right now the votes are neck-and-neck, so I thought I'd ask our community of blog readers if they'd be willing to come and vote for Unbounce and give us a chance to present at the 2011 Grow Conference … voting ends Midnight on Saturday the 16th.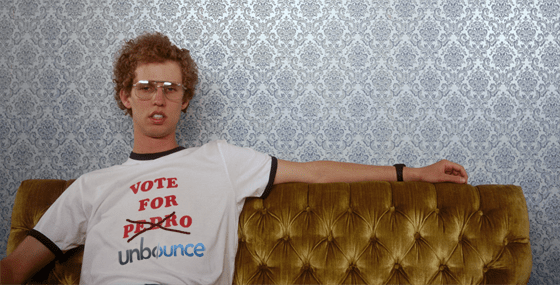 Don't vote for Pedro – vote for Unbounce!
The deets…
Last year Unbounce won an award for the best startup in Vancouver which was pretty epic! This year, as we continue to grow, so do the opportunities… The Launch@Grow Contest
Only the top 4 startups will get the opportunity to pitch live at this years Grow Conference – which just happens to be in our hometown of Vancouver in August – #Serendipity.
How To Vote For Us
If you like what we're doing at Unbounce and enjoy reading the content on our blog, we'd love it if you'd visit our entry page and vote for us. To vote – click the orange "Vote for this entry" button and follow the instructions. (You just need to log in via Facebook or quickly register to record your vote.
We may have lost the Stanley Cup, but we can win this contest with your help…
So, please come and vote – we'd sincerely appreciate your support.
— Oli Gardner (and the whole Unbounce team)