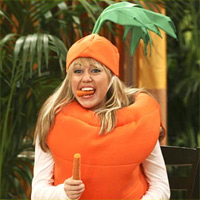 Building a list of sales leads is a big deal for most marketers, and internet marketing has opened up previously unheard of opportunities for capturing new prospects.
The Question: How do you make your client list swell like a ripe plum in the summer sun?
The ability to generate good leads lies in your ability to give away something of value that is relevant to your target customers.
In this post we'll discuss the types of freebies commonly given out in exchange for personal contact information.
The Short Answer: Free giveaways that are useful, valuable or funny.
7 Freebies That Will Make People Share Their Personal Info
1. An eBook
This is one of the most common methods. Write something of value and allow people to download it in exchange for their details. You can control the value of the leads directly by making the content very specific to your business.
2. Webinar Registration
Webinars are online seminars. A live event where a company engages their digital audience with a conference-style presentation. These are usually coupled with a live chat connection where viewers can ask questions as if they were actually there. (Without the embarrassment of holding your hand up while the dude with the mic runs over to you).
If you're an authority on your subject (as you should be if you're charging people money for your product), you can attract enthusiastic viewers to these events. The benefit to the viewer is that they are effectively going to a conference they otherwise wouldn't get approval for from their tight-fisted bosses.
If you find this an intriguing idea, I'd recommend you check out Hubspot. They do frequent webinars. They also do some similar stuff to us, but we like to be friends with everyone – even competitors, so webinar away.
3. Newsletter Signup
A very common example. Allow people to enter their email address to receive your newsletter. If you want to use these leads for other purposes, make sure you're clear about that with a couple of asterisk thingy's and some clear terms & conditions.
4. Discount Coupon/Voucher
A great way to draw traffic can be to offer a discount coupon. Use a coupon code to be entered at the online checkout, or a voucher that can be printed and taken to a brick-and-mortar location.
Another common use is in the affiliate marketplace, where you offer affiliates a bonus code to sell customers on a preferential rate. You have to provide both a discount to the customer AND a kick-back to the affiliate for this, but you also have a potentially unlimited source of new marketers working on your behalf.
5. Contest Entry
These usually involve big-ticket items that encourage a lot of people to register, like a holiday or a car. They cast a wide net (demographically speaking) so it's more of a numbers game – get thousands of leads and enough of them will convert to cover the cost of the prize.
6. 30-day Free Trial
Common in software sales, you get people trying your product for free in the hope that they enjoy it enough to pay up after a fixed time period. More recently the model has been to require a credit card from day 1 – but only charging after the trial period. However, you need to physically engage in the action of un-registering to avoid the recurring credit card payments.
A way to increase your chances of repeat business (or staying past the trial period), is to operate under the SaaS model (Software As A Service), where the data resides online, within the site you are doing business with. If your software is good enough and you're enabling people to create a large amount of valuable content within your system, you are effectively creating business by virtue of doing business.
The Trial exists in the physical realm too. Consider the TV ads that get you to provide your credit card for a free 30-day supply of Acai Berry Pills. If you cancel before the end of the trial period you pay nothing (and got a big load of colored pills for free). After that it's only $x.xx per month. It's actually not a con, just smart business: if your product is decent, it will flow nicely.
As always, there are dodgy folks out there that do take advantage, but you can typically spot them a mile away.
(Props to Sean Anderson for the Acai Berry example).
7. A Physical Gift (Direct Mail)
If you are in the business of direct mail, then a physical gift is the best option. Why? Because you are giving a valid reason to ask for a physical address. Asking for an address for an eBook is unrealistically greedy. As far as the type of gift, consider personalized options: an etched company logo along with the recipients name on an iPod will allow your brand to be carried everywhere, and if you have a cool brand, it'll become an object of desire and a worthy piece of memorabilia.
---
Thoughts on Relevance
To attract valuable customers, you need to be relevant and attractive. If your goal is to attract 30-something women to visit your new spa then an appropriate and relevant giveaway would be a discount coupon. This is because a qualified lead is someone who wants to visit your location.
A poorly targeted giveaway would be a draw for a free weekend. While a great prize, it doesn't achieve your goal of getting visitors to your physical location and hence you are gaining leads based on the desire for a freebie rather than being based on people who want to find a good spa to go to.
A subtle but important difference.
If your goal is to have a lot of people to send communications to, then a qualified lead is just someone who likes spas and hence the getaway weekend would be appropriate.
---
Remember
The key to success with lead gen comes down to 2 things:
Giving away an item that's relevant to your target market.
Making the item desirable enough to justify the exchange.
Unbounce Challenge
What do you give away on Lead Capture pages?
I'd love to hear about the types of thing you use to encourage customers to part with their guarded credentials. And if you had any cool experiences creating them, please share.
---