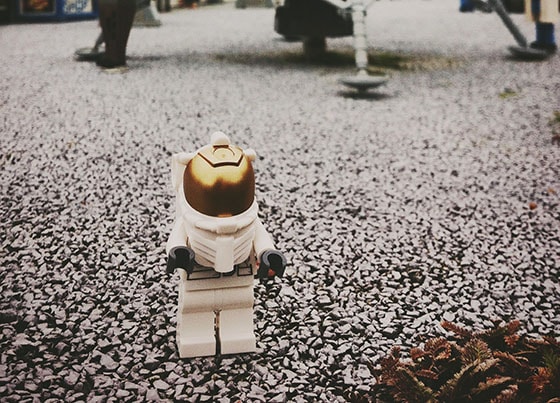 For many marketers, LinkedIn is unchartered territory for collecting leads. Image by Henry & Jane Rios via
Flickr
.
LinkedIn has come a long way since its beginnings in 2002.
Though traditionally used to house professional resumes, connect with influencers and find new hires, it's also become a valuable resource for your marketing campaigns – with an audience of over 300 million business professionals, LinkedIn is a hotbed for lead generation.
And I've got the stats to prove it:
Research from Oktopost shows that 80% of leads generated via social media for B2B marketers originate on LinkedIn.
Reachforce data supports the effectiveness of the platform, showing that 44% of B2B marketers have generated leads via LinkedIn.
But how exactly are these marketers using LinkedIn to grow their business and achieve their KPIs?
I had a closer look at their most successful strategies – here are five LinkedIn lead gen tips from the pros.
1. Combine buyer personas with LinkedIn targeting for hyper-relevant ads
ScienceLogic had been running PPC ad campaigns for upwards of a year in a notoriously competitive niche. With a cost per lead of almost $625 apiece, they knew something had to change.
They enlisted the help of Marketing Mojo, who suggested pivoting their advertising strategy to invest more money in LinkedIn ad targeting. Here's what they did:
Marketing Mojo identifying ScienceLogic's key buyer personas and did research to determine what sort of content they'd be interested in.
For each buyer persona, they created a series of white papers, surveys and webinars to be placed on dedicated landing pages.
They then used LinkedIn's demographic targeting feature to show relevant ads to users who matched the profile of their buyer personas.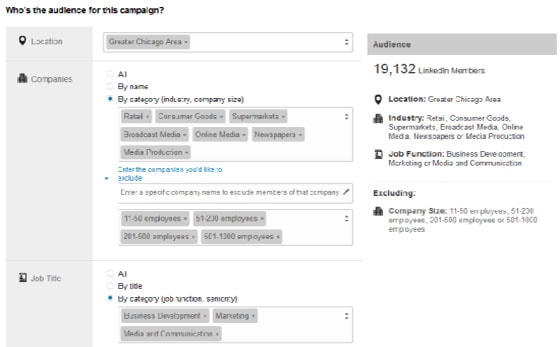 LinkedIn's demographic targeting feature allows you to put your ads in front of your key buyer personas.
Image source
Compared to the keyword-focused Google Adwords campaign they had just run, ScienceLogic got 217% more leads – all while reducing the cost of the campaign by 82%.
How to apply this to your own marketing campaigns
Identify your most important buyer personas. For each persona, choose a lead generation incentive that will be attractive to them and place it on a dedicated landing page.
Use LinkedIn's ad targeting feature to drive traffic to those landing pages. Get as granular as you can about your buyer personas; the feature allows you to filter by location, title and job function.
2. Use ad rotation to prevent banner blindness and find your best performers
When SEER Interactive started used LinkedIn ads, they found that a simple change in strategy made a big difference in the campaign's success.
Instead of sticking to one ad per campaign, SEER found it more effective to create a bank of at least different eight ads for rotation.
Not only did this help them prevent banner blindness, it helped them determine which of their ads performed best.
When they selected a winning ad, a single week of traffic resulted in a 152% spike in clicks and a 900% boost in conversions.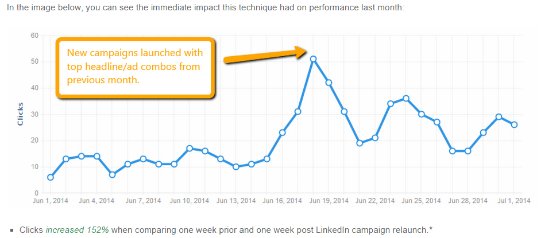 SEER Interactive
rotated their LinkedIn ads to determine a winner. When they selected a best-performing ad, they saw a dramatic jump in clicks and conversions.
How to apply this to your own marketing campaigns
LinkedIn gives you the option to allow ads to rotate evenly or to allow their algorithms to pick a champion. I would recommend allowing them to rotate evenly – LinkedIn's algorithm is known to quickly pick a winner and choose to show that ad more frequently, which can skew results.
Make sure you allow your test to run for several weeks to ensure a large sample size. Once you've picked the best performing ads, you can manually swap out the losers and start testing new ones.
3. Find unique ways to use your personal profile
If you're looking for new channels to generate leads, your LinkedIn profile probably isn't the first thing that comes to mind – but it has a lot of potential.
Randy Kobat of software company MPi EDGE found that your LinkedIn profile can also be used to send people to lead gen landing pages.
In preparation for an upcoming webinar, Kobat updated the "Projects" section of his profile with the details of the event. He included a synopsis of the webinar and explained what prospects would learn. Finally, he included a link that directed interested users to a registration page.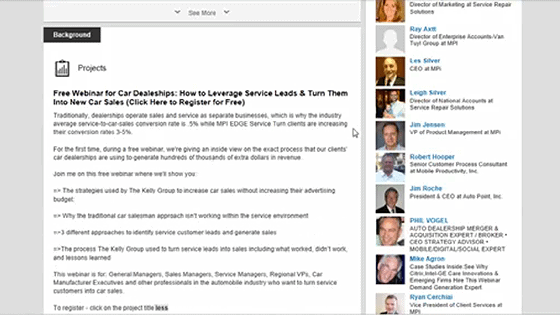 Screenshot taken from the full LinkedIn profile makeover video
here
.
When Kobat participated in LinkedIn groups, people who clicked through to his profile were presented with information about the upcoming webinar.
The result: a 20% increase in webinar registrations.
How to apply this to your own marketing campaigns
Use various sections of your profile to house social proof for your target audience. Showcase real results, impressive data points and your most effective strategies.
Add registration details for upcoming webinars to the "Projects" section of your profile. Make sure to include a clickable call to action that links to a dedicated landing page, so you can track conversions that come from your LinkedIn profile.
If you're worried that this might seem a little spammy and not in line with your brand values, then ease into it to test the waters. For a more subtle approach, consider adding a discrete call to action to only one profile section.
4. Combine sponsored updates with valuable content
While regular updates can be hit or miss in terms who sees them, using sponsored updates allows more precise audience targeting – and allows you to share updates that don't appear as ads at first glance.
That's exactly why NewsCred decided to run a LinkedIn sponsored updates campaign to generate leads for their business.
They started by generating a whole lot of original content; nine blog posts and five white papers to be precise. Then, they created 20 sponsored updates over the space of two months to promote their awesome content to their target audience.

NewsCred combined valuable content with sponsored updates to generate qualified leads.
Image source.
It was a lot of work, but the work paid off.
The campaign netted them 288 new followers and 71 leads. What's more, they found the campaign to be 75% less expensive than the Google AdWords lead gen campaign they were running concurrently.
They also found that:
Leads collected via LinkedIn were three times as likely to convert into customers than leads collected via their Google AdWords campaigns.
Every dollar spent on the sponsored updates resulted in more than $17 in revenue. Not a bad return on their investment.
How to apply this to your own marketing campaigns
Create whitepapers or attractive content bundles to give away to your audience. Be sure to over-deliver in value as much as you can.
Determine a budget and length for your campaign and advertize your content through sponsored updates – Hubspot has a detailed getting started guide here.
Monitor the success of your campaign, determine which incentives are most attractive and make changes to future sponsored updates based on the insights you learn.
5. Run an email marketing campaign with sponsored InMail
InMail is LinkedIn's messaging system for connecting with people you don't know.
You may have used it to network or connect with a potential business partner, but have you ever used it to generate leads?
DocuSign did, running a sponsored InMail campaign to reach an audience of VPs and sales directors at companies with more than 500 employees. They sent out one email every two months for six months, inviting prospects to a "Leadership Series Roundtable" webinar.
But they didn't stop there. DocuSign also asked guest panelists in the roundtables to invite their contacts to the webinar.
It was a win-win. These experts were given credibility as thought leaders because of their participation in the roundtables and DocuSign benefited by having their InMails come from recognizable and respected names in each industry.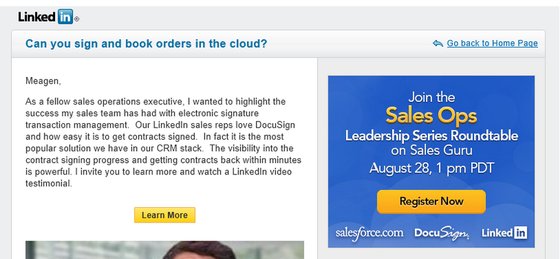 DocuSign used InMail to rack up
more than 350 webinar registrations
. Check out
the webinar
for more detail on the strategy.
With a more personal touch than receiving InMail from a company, DocuSign's campaign resulted in more than 350 webinar registrations.
How to apply this to your own marketing campaigns
Ask your webinar and roundtable guests to promote the event to their LinkedIn network.
Make use of InMail's filtering tools to send super-targeted messages to recipients. Filtering recipients by role, company size and industry will help you find the perfect targets for your campaign.
Putting it all together
By now, you should have a handy to-do list for generating leads on LinkedIn. In case you blinked, here's a summary of those key points:
Target ads to your buyer personas with LinkedIn ad targeting
Use ad rotation to prevent "banner blindness"
Find unique ways to use your personal profile
Combine sponsored updates with valuable content
Run an email marketing campaign with InMail
Bonus: Don't forget to link each of your ads to a dedicated landing page
And most importantly, test each of the options that LinkedIn offers until you find the one that resonates most closely with your audience – and brings you the most conversions.
Have you been using LinkedIn to generate leads? Have any tips that I didn't mention here?
---