You're a marketer, and a dang good one at that. You follow best practices. You always send campaign traffic to a dedicated landing page. You make data-driven decisions. You do post-mortems on all your campaigns and record your learnings.
But still, your visitors are dropping off your website without converting, leaving you with no way to nurture or convert them at a later date. And it sucks.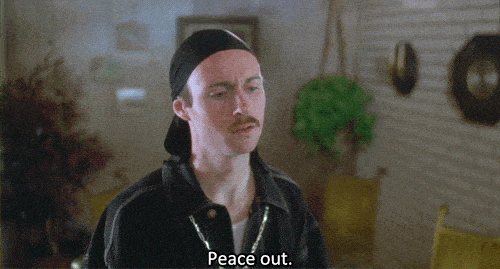 No, wait, don't go! Image via
Giphy
.
Things are no different for us at Unbounce. Despite our best efforts, we still miss out on a ton of conversions. Whether folks aren't ready to hand over their information, or they simply aren't finding what they're looking for, not everyone signs up to try us out.
We wanted to see if we could increase the odds they do, so we started experimenting with website popups.
Popups allow you to show relevant offers to specific users at the perfect time, making them less likely to leave your website without converting.
It's a win-win really. You want the sale, they want the bargain. You want the email, they want the ebook.
But just like with any marketing tool (landing pages, emails, etc.), popups need to be relevant, timely and valuable in order for them to be effective.
As you may have heard, Unbounce recently launched popups, which can be triggered on-arrival, after delay, on-scroll, on-click, and on-exit. But before releasing popups to the masses, we diligently tested them on our own website.
Psst. Already an Unbounce customer? Log in now and build your first popup at no extra cost. You can use the same drag-and-drop Unbounce Builder to drive conversions on your website (not just landing pages)!
Two experiments in particular stand out, in which we used popups to collect leads for online partnership events. In total, we were able to collect 3,200 leads and signups. We also learned a thing or two about how to maximize conversions, while at the same time respecting the goals of the user. We'd like to share our results and learnings with you.
Digital Agency Day: Sign up to get the recordings
On January 28, 2016, Unbounce and HubSpot co-hosted a brand new online event just for digital agencies. We called it Digital Agency Day (and sometimes, internally, "DAD," because we're goofs).
Digital Agency Day consisted of a combination of in-person and virtual events, bringing together expert speakers from the world's top agencies and agency partners to share actionable advice on analytics, reporting, growing retainers, new business strategy, conversion rate optimization and much more.
In total there were 18 online sessions, with 6,500+ participants across 101 countries. Yep, you read that right — 6,500 participants. Many of which were captured via a hyper-relevant lead gen popup.
The problem
The main goal of the Digital Agency Day microsite was to get people to register for the live event. But anyone who's hosted a webinar or similar online event knows that getting attendees can be tricky. People just don't want to commit, for fear they'll be too busy to attend or have scheduling conflicts. Digital Agency Day was more than a single webinar, but the same perceived friction existed.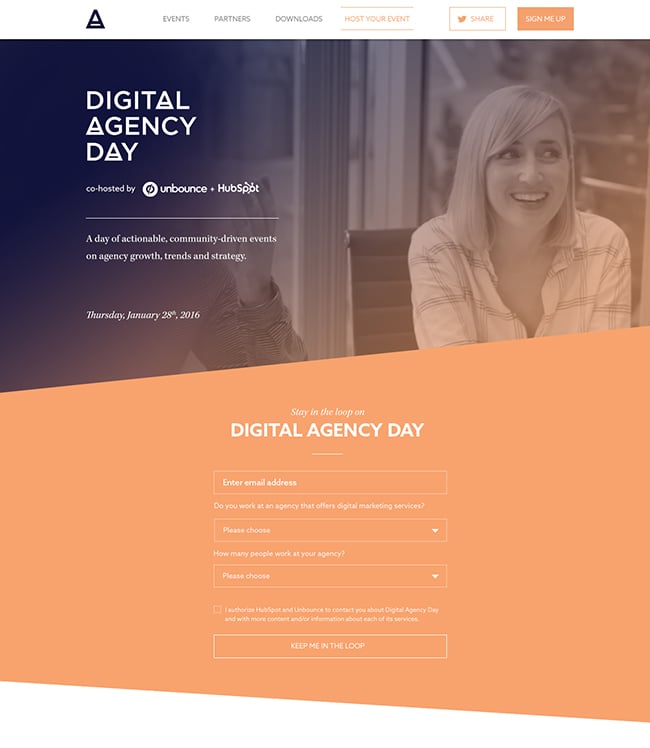 The Digital Agency Day microsite. (Click for full image.)
We had to find a way to capture those visitors who just couldn't commit to the live event before they left the site.
The solution
A popup triggered on exit was the perfect solution. But rather than asking for visitors to sign up to attend the event, as was the goal of the microsite, the popup prompted visitors to enter their contact info in exchange for the recordings.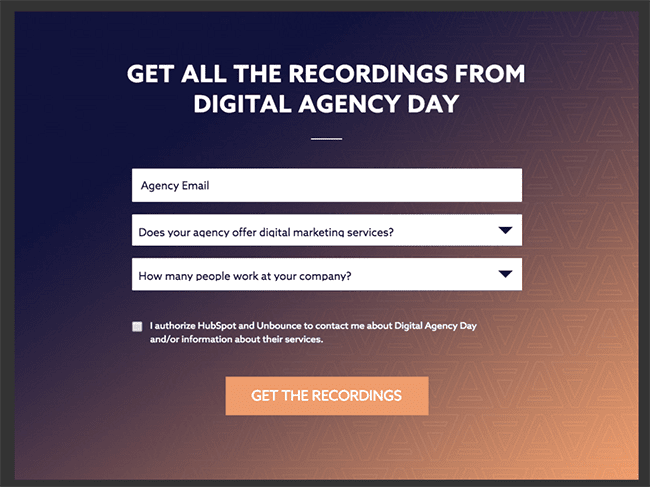 How it performed
We weren't all that surprised that the popup worked, because of its high level of relevance. That said, even we were a little surprised by the whopping 19.03% conversion rate.

In the end, we chalked up its success to relevance, value and timeliness — the trifecta of effective popups.
Relevance: The offer was similar yet complementary to the on-page offer.
Value: Rather than blocking a day off in their calendars, visitors could simply sign up for the recordings to watch at their leisure and cherry pick the ones that were relevant to them.
Timely: The offer was presented on exit, as visitors were about to abandon. Had it been triggered on arrival or after a delay, visitors who wanted to participate in the live event may have been confused.
Pro tip: While best practices indicate using no more than two form fields on your popup to maximize conversions, you may opt for more should you require additional information to qualify or disqualify leads. At Unbounce, for example, we often qualify leads based on a four-field form. The trade-off here may be fewer conversions but with the benefit of qualifying or disqualifying leads right off the bat. Of course, this is something you'd want to test for yourself.
CRO Day: Click through to get the recordings
After the success of Digital Agency Day, we decided to adapt the format for CRO Day — a full day of webinars for conversion-driven digital marketers.
Featuring five webinars, two panel discussions, one AMA, one Slack workshop and one… Five-Second Landing Page Showdown, CRO Day was a smashing success — thanks to amazing participants, dedicated team members and one kick-ass popup.
The problem
Like Digital Agency Day, the goal of the CRO Day microsite was to get people to register up for the live event. But not everyone can commit to a full day of events.
We included some fine print on the page indicating, "Can't make it? No worries! Sign up anyway and we'll send you the recordings." but it would be easy to miss.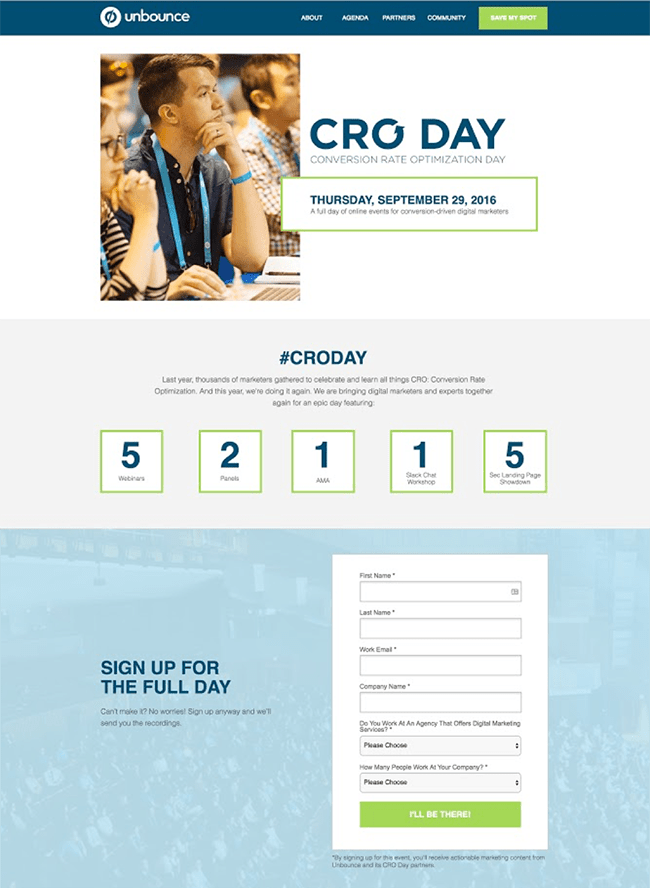 The CRO Day microsite. (Click for full image.)
Again, we needed a way to isolate the message that if you couldn't make the online event, you could still get the recordings.
The solution
Popups are so effective because they focus the visitor's attention on a single offer… like getting free recordings.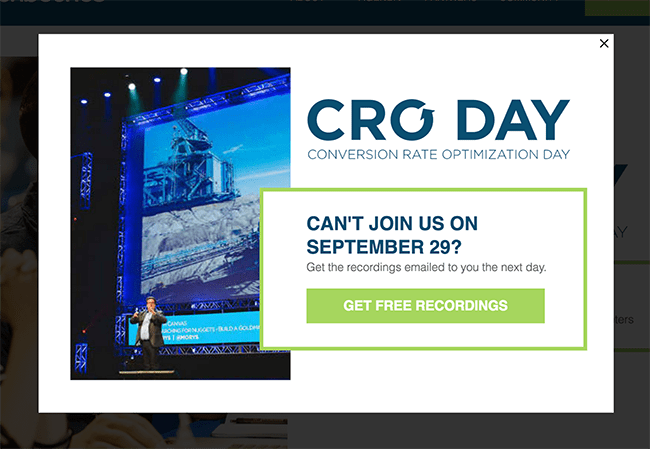 Unlike the popup for Digital Agency Day, we experimented with a traffic shaping popup, which directed visitors to a secondary signup page focused just on getting the recordings after the event.
Typically, traffic shaping popups are used to move visitors from low-converting pages (like your blog homepage or ecommerce category pages) to high-converting pages, but in this case we used a traffic shaping popup to entice abandoning visitors with an alternate offer.
The flow looked like this: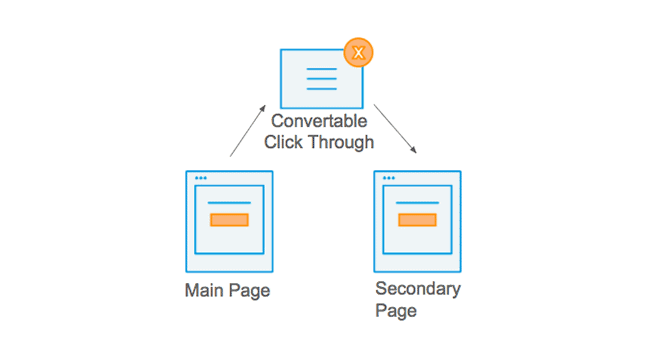 How it performed
Pretty. Darn. Good.
Using the traffic shaping popup, we directed 27.31% of abandoning visitors to a secondary sign up page.

Once on the page, 67% of visitors converted, filling out a six-field form!

Again, this popup was relevant (a similar yet complementary offer), valuable (forget blocking off your calendar — watch the recordings you want, when you want) and timely (visitors were shown the popup on-exit after they had seen the initial offer).
However, there's another key principle at play here: Specificity.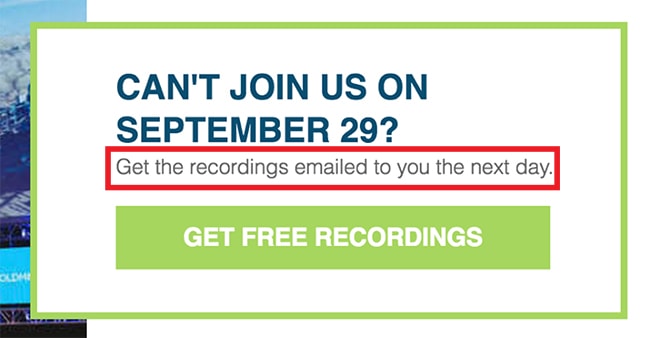 When will I get the recordings? The very next day. Can't get much more specific than that!
By specifying that the recordings would be emailed to visitors the day after the event, we were able to boost our credibility, presumably resulting in more signups.
Tips, tricks and takeaways
Using the Unbounce popup guiding principles, you can build popups that convert like crazy…but not at the expense of visitor experience.
When planning your own website popups, keep in mind the following:
Make it relevant. If your visitor is reading a blog post about waterproof watch reviews, your popup better not be about bikes. Rather, it should be complementary, like an popup that directs the visitor to a features page about one of the watch models.
But don't present the same offer. Presenting the exact same offer on the popup as on page is annoying and needy. Don't be that person.
Make it valuable. Asking visitors for their personal info is a big deal. Make sure what you're offering in exchange is of equal or greater value.
Make it timely. Choosing when to trigger your popup depends upon the goal. (Psst: With Unbounce, you can trigger your popups on-entrance, after delay, on-click, on-scroll and on-exit.)