If you could get in a room with digital marketing experts from Google, AdRoll and LinkedIn, what would you ask them? Better yet, what if you could rub shoulders with them without having to leave your desk?
We're not trying to torture you with hypotheticals. For the second year in a row, Unbounce and HubSpot have teamed up to curate Digital Agency Day: a full day of virtual and in-person events dedicated to the digital agency professional.
And it's happening very soon: on March 16th, 2017. Completely free.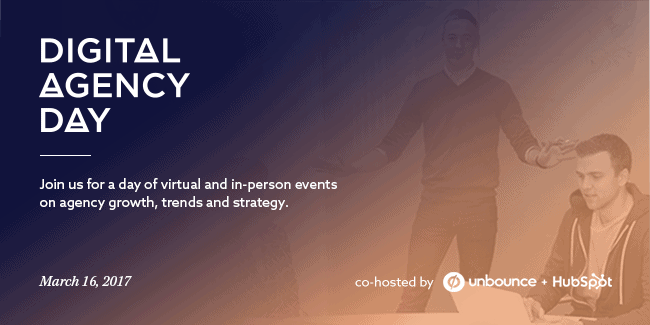 Register for Digital Agency Day here.
Join expert speakers from the world's top agencies and agency partners as they share actionable, agency-tailored advice on analytics, reporting, growing retainers, new business strategy, content marketing, conversion rate optimization and much more.
Here's just a taste of some of the presentations you can expect:
Rethinking Retainers & Other Pricing Issues
What Your Agency Needs to Execute Content Marketing the Right Way
Grow Your Agency With LinkedIn Sponsored Content
Extreme Growth with Google AdWords: For Agencies
Unifying your Customer Journey: Unlocking the Power of Cross-Device Marketing
Here's what some of our attendees from last year had to say:
See you then? Click here to register.