This little blogging contest called Conversion-Fest (#ConversionFest on Twitter) that started just over a week ago has ballooned into something so much bigger and more special than I'd imagined. Why?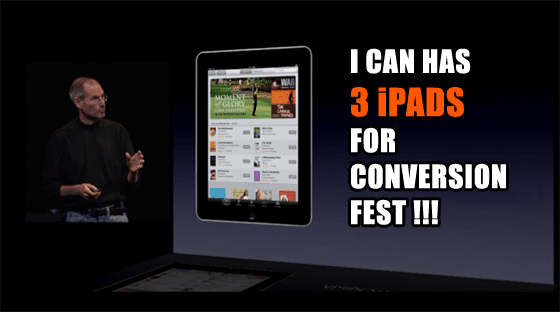 Here's why…
You're amazing writers: The quality of posts has been simply phenomenal. I can barely sleep because I'm watching the Twitter stream rockin' day and night. For the record, I've only given the posts a cursory high level inspection to make minor "structural" suggestions so they look and read their best within our stylesheet and blog format. (I'm saving the reading for the judges voting round to keep it pure).
You're amazing marketers: The creative ways in which you've spread the word and cultivated exposure has been inspirational. I've personally learned a ton by watching how y'all (borrowed from Jen Gordon) operate – and we're not even 1/2 of the way through.
You have incredible community spirit: Watching you selflessly retweet each others posts and add in-depth comments (all of which increases the score for your competitors) is a beautiful thing that can't be designed, required, asked for or imagined. It's just a testament to the fact that you're a hugely generous group of people.
---
So, to reward your honey badger-esque efforts, we're going to triple the prizes.
The prize structure will now be:
First Prize: A pimped-out, top-of-the-line 64GB iPad 2 with WiFi. PLUS a big bundle of accessories (exact details TBD – writing this in a hurry)
Second Prize: A 32GB iPad 2 with WiFi
Third Prize: A 16GB iPad 2 with WiFi
(The top 3 still get Unbounce accounts too as originally planned).
Plus as mentioned a couple of days ago, the Top 5 will also each get to choose 2 great online accounts from our prize sponsors: SEOmoz, KISSinsights, SlideDeck, UserTesting, Olark & Attention Wizard).
So keep on pushing and see if you can score one of those sweet iPads – you deserve it.
Happy Friday Rockstars.
Love you all…
Oli
---
Wait! – Not done yet – Tweet About It Please
Tweet this so I know you know about the new prizes, and to get us all jazzed up again.
Here's a ready-made tweet for ya » Click to Tweet «