Following popular demand from Unbounce customers, we're really excited to launch an integration partnership between Unbounce (for landing pages) and AWeber (for email and list management).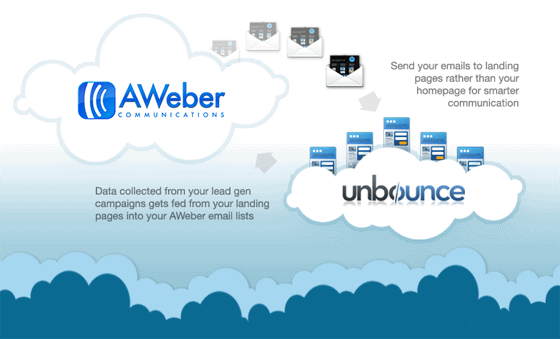 Unbounce now integrates our lead gen landing pages directly with AWeber email lists.
If you're doing email marketing, there are a few things you can do with landing pages to increase conversions:
Gathering leads: Doing lead gen is more effective when you use landing pages designed specifically for the purpose – eBook download, newsletter sign up, webinar registration or product launch list building.
Simplified promotional email marketing: You can make your promo emails shorter and more direct when you have a matching landing page to send them to, containing the full promo details.
Segmentation: Use segmentation (geo-location, age, sex etc.) to group recipients and give them a unique landing experience. The extra personal touch will result in a higher conversion rate.