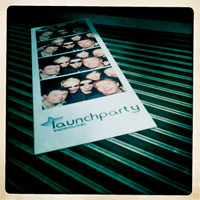 At the recent Launch Party Vancouver 9 (#LPV9 on Twitter), Unbounce got a great surprise by taking home the judges choice for startup most likely to succeed. It was a great event with a massive turnout from the local Vancouver startup and investment community and a strong contingent from Silicon Valley including Flowtown's Dan Martell.
Huge thanks to the Bootup Entrepreneurial Society who puts on the Launch Party events, and to the 8 judges (Michael Arrington, Jason Bailey, Katherine Barr, Rob Richards, Amar Varma, Stewart Butterfield, Debbie Landa and Dean Prelazzi) who gave us the nod.
You can read more about the event at Launch Party HQ – and photos from the event are up on Flickr.
Rick Perreault & Jason Murphy accepting the superhero award. Photo by
Jeremy Lim
A short video about Unbounce
Check out the Unbounce video we submitted to Launch Party.