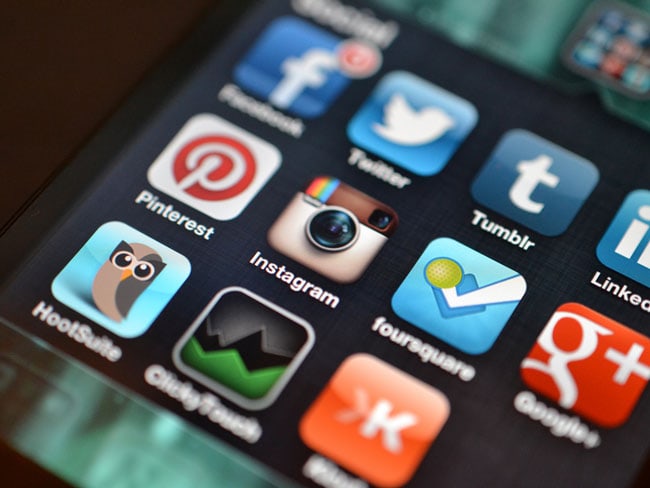 So many social networks, so little time. Image via
Flickr
.
Facebook users react to and interact with content differently than Twitter users, and you won't see results from your social media campaigns if you're blanket publishing across all networks. But with all the social media platforms out there, it can be a real pain in the booty to tailor every piece of content to each specific network.
But as we learned in the latest episode of the Call to Action podcast, there's plenty that can be done to streamline the process; Ryan Stewart, founder of WEBRIS, shared some analytics hacks to help you see better results without having to work harder.
You will learn:
Why you should use UTM codes to keep track of the performance of your content on social media.
How data can help you determine which social media network is right for each piece of content.
How Ryan got a marketing post to go viral on Reddit (hint: he started by collecting tons of data).
Listen to the podcast
Listen on iTunes.
Prefer Stitcher? We got your back.
Mentioned in the podcast
Read the transcript
In this episode: Dan Levy, Unbounce's Content Strategist, interviews Ryan Stewart, founder of WEBRIS.
Stephanie Saretsky: With all of the different social media platforms out there, it can seem like a pain in the booty to tailor every piece of content to each specific network. But if you're mass posting links and not seeing great results, then you probably subconsciously know the answer to your problem.
So, how do you figure out where's the best place to share that awesome post on 9 Marketing Tips From Your Office Dog?
It's all in your data, my friend. Unbounce's Content Strategist Dan Levy spoke with Ryan Stewart, founder of WEBRIS, about the analytic hacks you can use to beef up your social presence and maximize your time.
Dan: You opened your post by saying that social media is quickly becoming one of the most time-consuming marketing channels, what do you mean by that?
Ryan: You know, I'm very big on native content and native publishing. So what I mean by that is when I publish something to my Instagram, I don't push it to Facebook because it's not technically native, right? I mean, the content that shows up on Instagram is significantly different than the content that shows up on Facebook. So the strategy that I've developed and what I've really seen working really well is creating content specifically for each network, specifically on Facebook. I mean, Facebook right now is on a crusade to keep traffic within Facebook. I mean, you look at what's happening with pages over the last couple of years. You know, the "organic reach" has gone down. Some people view that as a bad thing and kind of jump ship from Facebook. But if you just play by their rules and just try and keep traffic within Facebook — though you have to ask yourself the question, "What matters, is it traffic to your site or is it people consuming your content?" So taking a different approach and actually creating content that lives within Facebook, especially like native video, native long form posts, images — I mean, this type of content just crushes it on Facebook. But it's a different type of metric, it's not traffic to your site. It's content consumed, it's views, it's likes, it's shares… so in that sense, as a business owner, I don't have time to do that and it's become a very, very time consuming process, but a very important process nonetheless.
Dan: That's really interesting. I guess that speaks to the whole conversation about owned media versus earned media.
Ryan: Yeah. You know, it's crazy because us as marketers, you know, one little thing changes, we get used to doing something. We finally figure out how to rig the site — that we finally figured out how to get that click the rate up — and next thing you know everything has changed, right? And it's frustrating as a marketer, but as opposed to taking the time to take to a blog and write about it and complain about it, if you just understand that Facebook doesn't want you to leave. You know, they don't want you to man your page, but there's things that they want you do, and just understanding that… I mean, like I said, video right now — Facebook is making a tremendous push to get YouTube off the planet. Facebook wants to be the video hosting platform because video is the fastest growing content on the planet. So instead of posting a YouTube link and obsessing over YouTube views and obsessing over ranking those YouTube videos, just post it to Facebook. If you upload it natively to Facebook you can get like 10, 20, 30 times the reach of a YouTube link. So again — and this is kind of stealing stuff from what I've heard BuzzFeed talk about over the couple of years — when they look at their metrics, they look at combined page views. They look at combined views, so they're looking at Snapchat's use. They're looking at Facebook embed views. They're looking at YouTube views. They're not looking at traffic pages per se as part of the metric, but they understand that, you know, our attention spans are fleeting and they're fleeting quickly. And our attention is where we want it to be: it's on Twitter, it's on Instagram, it's on a blog post. So understand that you're not gonna reach everybody with blog post and one piece of content. You have to repurpose it across channels and take advantage of what those platforms offer. And it's a lot of work, but you look at somebody like BuzzFeed who has taken over the world with what they're doing — it's really the way of the future, especially for content marketing and social, really.
Dan: Yeah. So your blog post is all about how you can streamline that process. But before you can streamline, you need to make sure that you're tracking things correctly, right? And you talk about using UTM codes.
Ryan: Yeah.
Dan: I don't want to get too technical here, but can you explain why these codes are so important? And I'm curious to know how many marketers you think are actually using them correctly?
Ryan: That's a great question. So a UTM code is just – you know, if you're not familiar with analytics this is gonna kind of sound like Greek – it's a URL parameter. And what it does is it literally just injects text into the end of a URL stream, so it tells Google Analytics where that traffic is coming from. Because if you post 100 links to Facebook, they're all gonna show up in your analytics as Facebook unless you look at a pages report of where you sent that content. But still, it's not effective. Because if you're posting three links to the same page from Facebook, you're not going to be able to tell which one of them at what time is driving traffic. What a UTM code does is it breaks down each link that you post into a separate line in your Google Analytics. So you can actually see every single link that you post across Twitter. Wherever you're posting a link, it tracks it, including internal links on blog posts and stuff like that. So when you're looking at stuff like, "When should I be posting? What should I be posting? Where should I be posting?" That's how you really start digging into those answers because you can really nail down exactly which post is driving what. And in terms of how many marketers are using them, I don't know. If you have any sort of paid search background or paid advertising background, you use them because they kind of auto append from Google Analytics. But I think if you're in the social space, very few people use them unless you're working for a big agency. I run a small agency, but I've worked with big agencies before, so I understand the difference, and big agencies understand analytics, and their team understands analytics. I would probably say more than 75 percent don't use them for sure.
Dan: Yeah, so that's a huge opportunity.
Ryan: A huge opportunity, yeah.
Dan: We've talked about on the podcast before how in many ways the world of social media marketing and content marketing are converging with the world of paid marketing and marketers who are able to bring that paid marketing experience and that data-driven outlook to the table are at a huge advantage.
Ryan: Yeah, absolutely. I'm an organic SEO, "expert by trade." That's how I got into this digital industry, that's where my interests mostly lie. But just because of how dynamic organic search is in the touch points with content, the touch points with social — even understanding how offline advertising plays into organic search — branded search, and increasing the rankings through that, driving demand and stuff like that. I mean, I've really learned kind of the full gambit of marketing as a whole, offline and online. But what's happening right now is really interesting because ads just don't work anymore. Like, banner ads just don't work like they used to for a number of reasons. I mean — banner blindness — they're annoying, they're obtrusive. You know, we're at a point where value matters. That's really why content matters, because it's about adding value. And when you throw a paid spend in, so like what we're doing is we're creating really, really advanced targeting using Facebook. Facebook has just an insane amount of data. I mean, you know where people have shopped. If you think about all the websites that you log into with your Facebook account, Facebook has that data. It's really valuable data, but like a paid search doesn't have that type of data. So if you can take a way to combine those two, you know, taking that information from Facebook and retargeting across search — and even across banner if that's what you want to do — it's powerful. So what we do is we create like very specific types of content. Very good blog posts. It may be like a gated piece of content, and we take advantage of the paid promotions. I mean, it's really cheap to promote a post on Facebook, drive a ton of traffic to a landing page and really target a specific audience of people using that Facebook data, get them to a landing page, cookie them, and then retarget across search and social. So we're building custom audiences using content, if that makes sense, and it's like ridiculously powerful right now.
Dan: Yeah, we actually just had one guy from an agency in Chicago who is running Facebook ads for New Balance. And they found that once they were able to optimize their ads for Facebook website conversions or landing page conversions, that they were able to get way better ROI out of that than, you know, I guess what you were talking about earlier, which is just keep people in the Facebook ecosystem. So I guess there's a time where you want to keep people in Facebook and focus on clicks and views. And then when you're looking at conversions in particular, you want to start looking at pinning them to a landing page, which is actually what I wanted to ask you about next. You know, social media is typically seen, I think, as more of a top-of-the-funnel channel, so are conversions really the right metric to track on social?
Ryan: I think it depends. I mean, in short, yes. I mean, number one, it depends how you're tracking conversions, right? I mean, if you're doing last touch attribution, first touch attribution… basically what that means is if, you know, somebody discovered your website through Facebook first and then ended up converting through organic search, or if they came through paid search first and ended up seeing a Facebook post that you didn't convert to Facebook. So that's the difference between first touch and last touch, so it depends how you're tracking it. But just understanding that you can no longer ignore anything if you really want to. You know, you can have success online, or you can have success as a business by just being really good at paid or really good at organic. But if you really want to crush it — like really dominate on the web these days — you can't ignore anything. Because it's understanding the customer journey, it's not just like, "Oh, let me type in, 'Buy a pair of shoes' right now and then buy them," right? That's just not the way it works anymore, right? I mean, we have so much information available to us. there's so many different touch points and discovery points of really getting to know a brand and getting to know a product that you can't just be like – you know, I hear it all the time from clients: "My customer isn't on Snapchat." Or like, "I'm not gonna waste my time on Instagram because it doesn't drive sales." But you can't look at it like that. You have to take them all seriously. And I understand if you don't have the resources to pay somebody full time to post to Snapchat. I get that and I'm not going to force that on you, but I am gonna tell you ahead of time that you can't ignore it, especially because it's by far the fastest growing medium on the planet, and whether or not your audience is there right now, you better believe in a couple years that they will be. That's just the flow of social, right? You know, it's tough to say. Does social drive an ROI? I'm gonna say yes because for me I source a lot of clients off of Twitter, off of Facebook, Google+, so I'll say it drives an ROI for me. But again, I also know that they're not just seeing a Facebook post and calling me up and paying me money to do stuff. That's just not the way it works.
Dan: And I guess the bottom line is that maybe Snapchat is a top-of-the-funnel channel for people right now. Maybe at some point it will be more at the bottom-of-the-funnel channel. But when it comes down to it, social has a place at all parts of the marketing funnel. You just have to figure out which network makes sense at which stage, I suppose.
Ryan: Yeah.
Dan: So where's the best place to start when you're trying to identify whether your social efforts are driving conversions? Should you look at your posts overall and how they're converting, or really figure out which network is most lucrative for your business?
Ryan: Again, what we're talking about all lies in your data, right? I mean, I would get active on everything. Tag everything with UTM codes. Even if you don't have a presence, do what you can and just look at your data. Understand where the value is coming from by looking at black and white data. Is it driving conversions? Is it driving traffic? And again, going back to understanding that while conversions do pay your bills and keep the lights on, they shouldn't be the only goal. There should be sub-goals, or even separate goals. I mean, branding is kind of a buzzword. It's' thrown around, but I think it's really making a resurgence because of social. I mean, you can create like a mini-BuzzFeed. That just like kind of sprung up over the last couple of years. That's just a powerhouse right now, and it's because of social. I mean, they do 80 percent of their traffic from social media. So again, it does lie in your data and understanding just how to dig that out — which obviously I talked about in the post — is incredibly valuable. And it really saves you a lot of time too, so you don't have to ask these questions. You can just look at a report and you know if it does or not.
Dan: Yeah, and your post goes through lots of really useful reports, which are more interesting to look at and talk about. But I wonder if you could give us an example of how you've maybe taken the data that you've collected from one of these reports and then used it to optimize your social strategy accordingly?
Ryan: Yeah. I mean, one of the biggest things that I do is optimizing time of day that I post. As an agency owner, that started for me as a consultant and it's growing really fast. I'm unfortunately still at the point where everything runs through me. I'm building my team, but I'm doing it at a pace that I can keep up with. So my time is absolutely by far, by none, the most valuable asset to my agency right now, because if everything has to run through me, then it's all dependent on my time. So understanding how to get the most out of social media with the least amount of my time, and even being able to pass that on to a junior person is incredibly valuable. So I really, really, really dig into, you know, not so much conversions, but I look at more front-end data, like engagement on Twitter specifically. You know, what time is my following most active? When are my posts getting the most reach? So that way what I can do is I can just automate it with like a Buffer, or a Hootsuite — whatever suite you wanted to use — and really get the most out of my following. But also understanding that you have to consistently test because if you're growing your social media following like you should be — you're getting new followers and they have a different schedule than your existing following when you've done analysis. So it's important to really be mindful of your data and keep a constant eye on it, but it's really not that difficult. You know, once you understand exactly what to look for, you can get in and out of there in less than three minutes for them, and you're just setting up one report and looking at it.
Dan: I mean, I guess platforms like Facebook and Twitter make it easier to figure that stuff out, but not all channels have that sort of built in analytics function. I read about an interesting case in your post, where you were able to drive — I think it was like more than 1,600 views or something — from Reddit by just optimizing the timing of when you posted on that channel. Can you tell that story?
Ryan: Yeah, Reddit's tough. You know, it's funny, if you look at the amount of times that I've failed miserably on Reddit versus that, you probably wouldn't even look twice at it. But yeah, I mean, I understood the power of Reddit as a platform, in terms of how many people were in it and the traffic that it can drive. It's all desktop too, which is rare these days. So you're getting desktop traffic, but also just because I had never had success on it before because it's a very, very difficult platform in its terms of the users, they're overly honest at times.
Dan: It's not a place where people appreciate being marketed to all the time.
Ryan: Exactly. That's well said. But I understood the value of what it could have in terms of link generation, traffic, exposure, all that stuff. And if you get something to go viral on Reddit, I mean, you're talking traffic in the millions. But, you know, I looked for a lot of resources on how to growth hack it, but what I found was that there really is no growth hacking Reddit. It's just one of those things where, number one, you have to abide by the rules of Reddit, like post in the right subreddit, post with the right titles, post the right content. As boring and lame as that advice sounds, if you don't do that you're never going to have success. But the other big thing was looking at when people were most active. So really, all I did was I just start to research the subreddits that I wanted to post in. and then, in the subreddit, it tells you how many people are online at that time. And all I did — really lame, but I took data for like a week or two. I checked three times a day every day for like seven or ten days: how many people were online in those subreddits that I was targeting? And then I just charted it out and it was easy to see when the most people were online. And I just kind of got lucky by hitting the right subreddit at the right time with the right content. And 1,600 — actually in the grand scheme of things, it's the best data that I have on it, but in the grand scheme of Reddit, it's not that much, but it was very targeted traffic. It was coming from marketing business type subreddit, so the traffic actually had some value to me.
Dan: It's funny, I guess sometimes the most effective tactics aren't like the sexy growth hacks, but just the, like you said, the lame boring keep a spreadsheet for a week manually and then you might actually have some pretty good results out of that kind of like old fashion police work.
Ryan: Yeah. And I think people really underestimate the value of – you know, I think growth hacker is kind of buzzword for just a really good marketer, really. But the best growth hackers are the ones that really pay attention to data. I mean, they might not talk about it as much because it's not really that sexy, but you cannot have success, you cannot have explosive success because if you're just kind of just pulling things out left and right, you're never going to be able to growth hack that process, because it is a process. If you want to have success in this world, you've got to do things the right way. There are no shortcuts. But understanding how to get there quicker is because you know how to get there, and that comes from understanding what works. And that comes from your data.
Dan: Yeah, so the results might be awesome and explosive, but the process itself is actually usually pretty geeky.
Ryan: Yeah, absolutely, not sexy.
Dan: There are sexy geeks, but I guess it's a different story. So the last tactic for streamlining your social marketing that you share in your posts is to zero in on who else is sharing your content on social? Can you break that one down for us? What's the opportunity here and where's the best place to start?
Ryan: Yeah, it's a big opportunity. And this kind of ties into the non-conversion type stuff. But, you know, I'm very very big on building communities. I don't think it's something that as marketers we talk about enough, or even deliver to clients. I mean, everybody does it, you know, like building a Twitter following, building a Facebook following, you know, and email this. We all do it, but it's not talked about enough. And communities are really built from adding value. And a big way to add value is through communication. You know, especially as you grow and people recognize you for being genuine and people care if you talk back to them if they tweet you. They appreciate if you respond to their tweet. If you reply to a comment on Facebook, comments on your blogs, it makes a big difference. And there are tools out there that can help you do it. You know, Mention – I think Moz might do it now. There's a lot of tools out there that can do it. And within analytics too, even though it's not the best admittedly, there are ways to track mentions and it's incredibly valuable, incredibly valuable. Again, it's not something that you're gonna necessarily see a dollar sign ROI from, but to me that's how brands are built, on a micro level anyways.
Dan: Yep. And I think as we talked about, you need to make time for conversion centered tactics, but also not forget about things like community building and brand building because that stuff in the long term is just as important.
Ryan: It makes a difference.
Dan: All these reports you talk about in your posts and all these tactics sound really great, but they still kind of seem like a lot of work. So I'm wondering where the streamlining, time-saving part comes into all of this?
Ryan: Yeah, it's a lot of work. I mean, like I said unfortunately I work 18 hours a day, seven days a week, but I'm working on that. You know, there aren't really many shortcuts. I think if you really want to do things — this I just my opinion obviously — but there are very few shortcuts in this world to getting to where you want to be. But, you know, with that being said, like when you look at that post that I wrote, if you don't actively access analytics or your data, then it's daunting. You know, before I really started paying attention to data I had no interest in it. I would look at a post like that and fall asleep. And that's why it would take so long for me to do anything because I was doing it the wrong way. A lot of people look at analytics like it's Greek, it's just they're not comfortable. That's the biggest thing I hear is, "I don't know how to use it," but if it you just put in some time and understand that the answers to so many of your problems are just a few clicks away. You know, answers to major business questions, you know, like, "Where should I be investing my money? Where should I be investing my time? Do I need to hire more people?" All this stuff, I mean, it really truly lays in your data. It might not be your analytics data, but it's some form of data that you just – you need to consult. So it's tough to growth hack that process, but you can shorten the process by just learning the tools and understanding the tools a little bit better, I guess. I mean, it's creating dashboard. You can just click a dashboard and look at all the reports that you need to within 25 seconds and you're good, and then just dive in deeper if there's some issues.
Dan: Yeah, I guess when it comes down to it, if you're doing things that are informed by data and informed by what's worked in the past, then that's going to help you focus on only the things that you know work, and that in itself is more efficient and is going to save you time and energy in the long run from doing the wrong things.
Ryan: Yeah, absolutely.
Dan: So what's one step social media marketers can take right now to make their campaigns more streamlined and data-driven?
Ryan: Use the network for what they're intended to be used for. I mean, I've started seeing tremendous growth – I mean, I don't want to say tremendous growth. I don't have like a million followers or anything, but I have seen a lot of growth. I built a Facebook community; it's got about 3,000 people in it now. My Facebook fan page, my Twitter page, my Google+, all of this stuff really started growing when I started creating stuff of value. So creating content I think is a humongous part. And again, content doesn't have to be a blog post. Content could be, if you're a designer, like create cool stuff in Photoshop, I don't know, I mean, that's a form of content. So understanding valuable content and creating large amounts and consistently, that's number one. And number two is using the networks for what they're intended for. Like it drives me nuts when — I unfollow people on Twitter all the time because it's like, "Dude, I don't want to just get blasted with links to everywhere you're posting. That's not why I'm on Twitter. I don't go through Twitter to go to your blog. That's not why I'm there. I'm there to get short stackable whatever, and it's really a communication tool for me." So understanding what these platforms are used for and what they should be used for and just playing kind of by their rules, instead of being like, "God, I don't want to use my Facebook page anymore because every time I post a link to it it goes nowhere." Well, then maybe you should stop posting links to it. Using them what they're really meant for, and this is like the buzzword of the year, it's like native content. You know, create stuff for those platforms. It's a lot of work, but if you really want to have success? I mean, you look at anyone who has success on any sort of platform, like the people who get huge on Snapchat or Instagram or Twitter, I mean, they're not just on Twitter posting links to their blog. Like, no, they're out there communicating with people. They're talking to people. They're posting interesting stuff. So again, it's not a shortcut by any means, but if you really want to have success on social, I think, you need to be social and create that native type content for that platform.
Dan: Got to respect the platform.
Ryan: Got to.
Dan: Thanks so much Ryan for taking the time to chat, this is great stuff.
Ryan: Yeah, any time.
Stephanie That was Ryan Stewart, founder of WEBRIS.
Transcript by GMR Transcription.
---