When you're launching a new AdWords account or getting your hands dirty optimizing an existing account, the world is full of possibilities. You implement all your ideas, do heaps of testing and are left with fairly mature campaigns…
… and that's when the real challenges spring up.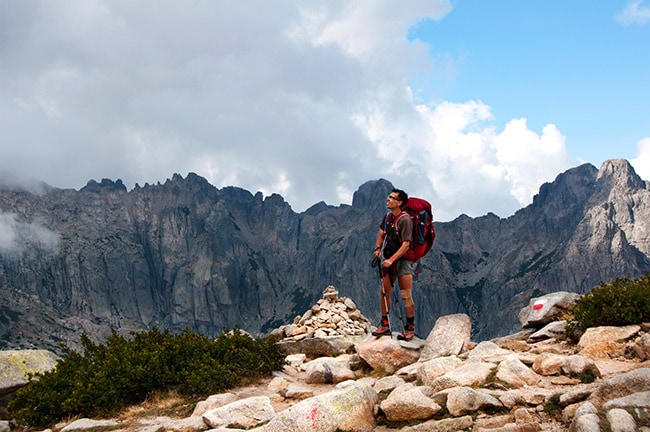 Once you've scaled the mountain that is correctly configuring your AdWords account, you realize you're only halfway to the top…
Image source
.
As a seasoned AdWords marketer, you find yourself yearning for more volume, better CPAs and higher click-through rates.
In this post I want to cover some of the advanced levers and switches you can employ at the more mature stages of your account. For each of the problems above, we'll look at super-specific tactics and advanced AdWords functionalities that you can use to solve for X.
Let's dig in.
I want more volume
There comes a time when AdWords has proven a successful advertising channel for your business and your CPA is profitable.
You've expanded your keyword list as far as it will logically stretch, you have ad groups covering every possible topic that has been shown to convert customers, and you still can't seem to get as much traffic as you can eat.
Let me remind you that there's a subtle campaign setting you can try out: accelerated ad serving.


Where you can change your delivery method in your AdWords account.
By default, Google tempers your campaigns so that your entire budget doesn't get spent at 12:01am when the new day begins. They balance your impressions so if you enter a $100/day budget, that $100 gets distributed somewhat evenly throughout the hours of the day.
But when you switch on accelerated ad serving, you're telling Google to throw caution to the wind and show your ad for every possible relevant impression.
Perhaps you're thinking, "Isn't it best to spread impressions throughout the day? Why would I want Google to rapid-fire my ad in this way?"
If your budget is tight, yes, it's often best to show ads evenly over time. But if what you're after is the maximum number of impressions that could reasonably yield a conversion, and you set your campaign budgets high enough, accelerated ad serving will get you in front of prospects that would not otherwise see your ad due to "even delivery" or load balancing.
You can learn more about this ad delivery method here.
Pro tip: Be ready to raise budget caps if you go with accelerated ad serving. You don't want to let Google spend all your budget between midnight at 8am, leaving you out to dry during other peak traffic times that might otherwise be ripe with conversions for you.
I want better cost per acquisition
Most people manage cost per acquisition (CPA) by campaign, keyword and ad group, adjusting bids at those levels.
But there are other factors and dimensions by which you may want to change your bids on the fly.
If you only adjust bids at the ad group and keyword level, you're basically prioritizing specific search topics rather than information about the searcher. Sometimes, indicators like how they choose to visit your site and where they're visiting from can be even better indicators of a potential customer than the keyword searched.
For that reason, it's equally important to look at performance by device and by geography. Take your account to the next level by starting to make mobile/desktop/tablet bid adjustments and geo bid adjustments.
Bid adjustments by device
If you're running mobile-specific campaigns, then you should be making use of this feature. Here's the screen where you can make bid adjustments by device:

Click for larger image.
As a bonus, you can also learn some things about your visitors' experience of your site through this feature.
If certain mobile devices or tablets are doing particularly poorly, try opening an incognito browser window and accessing the site from the device in question (this'll "wipe the slate clean" and remove the possibility that browser cookies you've collected will influence how you see the site). You might be surprised by what you discover.
At a former workplace of mine, we used to assume that if a single employee saw a bug or broken experience in a given environment, 100 visitors have experienced the same freak issue. In the case of search ads, this type of usability issue can really hurt conversions.
Of course, you can and should run proper usability testing on your app or site to discover problems of this type — but device bid adjustments can be a handy place to learn about potential issues.
Bid adjustments by geography
Some products and services convert differently in disparate geographies. If you're selling raincoats, to use a simple example, you will do better in wet climates like Seattle and Portland than in areas that see less rainfall.
Here's how you adjust bids by geography/by state, using the checkboxes to modify bids for a given geo: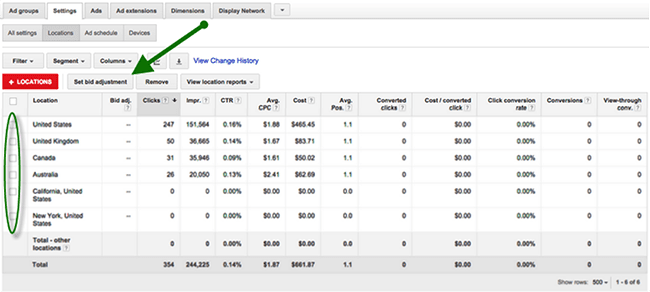 Click for larger image.
Google reps I've talked to tend to suggest adjustments in the 15% range. This is a big enough percentage change to impact the auction and review results, but conservative enough to avoid throwing CPA out-of-whack by much if it doesn't succeed.
If a device or geo is under-performing, they suggest cutting the bid by 15%, or maybe 10% if it's doing just slightly worse than desired.
See more info on bid adjustments.
I want better click-through rates
When an AdWords account is sufficiently mature, it becomes harder to figure out ways to take up additional real estate in the search results and really make a splash.
The character requirements of AdWords ads are stingy, with just 95 total characters to differentiate your product or service from the many competitors showing up beside your ad.
Ad extensions offer several ways to get more bang for your buck. Let's look into three extensions that will help you amp up your ads with:
Beefed-up benefits statements
Links to relevant areas of your website
Additional ways for customers to contact you
1. Callout extensions
The more real estate your ad covers in Google search results, the more dominant your company appears beside the competition.
Callout extensions are extra text snippets that you can use to add callout text beneath your ad when it shows up in the top three slots in paid search results.
They show up in gray beneath your ad and they're typically used to speak to a few key benefits of your product or service. Businesses will often use this feature to talk about things like free shipping, price matching, 24/7 support or impressive ratings and reviews.
For example, in the ad below, the advertiser has chosen to focus on free shipping, 24-7 customer service and price matching.

The final line of text in this ad shows what callout extensions look like.
Not everything fits in those two tidy description lines, so take advantage of this additional real estate.
You can learn more about callout extensions here.
2. Sitelink extensions
Although your ad headline should generally point to a dedicated landing page for the keyword in question, there are often peripheral pages on your site that might be of interest customers. Sitelink extensions enable advertisers to link to specific topic areas on their website.
These can range from "About us" to "Our guarantee" to "How to save 15%" and similar offers.
Here's what sitelink extensions look like:

In the example above, sitelinks help solve the problem of a searcher who isn't looking for a landing page to convince her that Walter's dog bakery is awesome. Instead, she may be looking for the bakery's hours or the specific types of biscuits available.
You may want to add sitelinks to link to pages or secondary calls to action:
About us
Discounts or special offers
Our team
Our guarantee
You can also enter descriptions for each sitelink, which appear like this: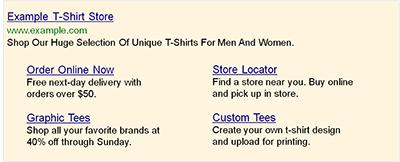 If you feel an aversion to increasing the number of links you're serving in your ad, consider this case study, where sitelinks increased CTR by 64%.
These may not be for everyone, but the only way to find out if this will be an effective feature for you is to test.
Pro tip: Get creative with sitelinks! Google lets you test a slew of them at once, and you can view reports that break down how each performed from a click-through and conversion perspective.
3. Call extensions
If your company encourages phone calls to sales or customer service departments, you can also take advantage of call extensions.
Why? Because they work. In this case study, adding a call extension increased mobile leads by 110%.
What's more, some businesses find that phone calls convert better than online inquiries. Because it takes more motivation to pick up the phone and speak to a human than it does to fill out a form, leads are often more motivated.
Here's what a call extension looks like (though it'll vary depending on the device you're using):


If you run this type of extension, consider tracking calls via unique phone numbers.
This can help prove out the ROI of using AdWords to drive phone calls, can help determine which advertising channel drives the most calls, and can even let you distinguish between calls from the ad extension text itself (like the GEICO ad above) and prospects who clicked through and landed on the website before dialling in.
Depending on the relevance of inbound calls to your business, you might want to learn more about advanced call analytics.
Never be satisfied
With PPC (and more broadly speaking, with conversion rate optimization), the goal isn't to achieve a "good" conversion rate. It's to keep getting better through testing new features and new hypotheses.
Once you've got your AdWords account set up and you fancy yourself a more seasoned AdWords marketer, you should never settle.
Keep reading new blog posts. Keep testing new features. Because the only good AdWords performance metrics are those that are constantly improving.
---