As we ramp up for Unbounce's upcoming PPC week, we thought we'd revisit some of our favorite PPC posts from the archives. This post was originally published in June 2015 but still rings true. Enjoy!
Have you ever been kicking so much AdWords Search Network butt that it made you raise your chest and gave you instant super powers?
You know, the type of confidence that makes you walk with a pep in your step and hair bouncing around?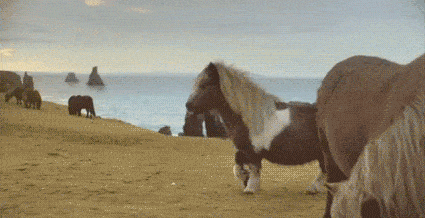 Feels AMAZING.
But sometimes you hit a ceiling with the keywords you're bidding on, and there's literally no more Search Network traffic out there (since your impression shares are all around 98%).
You immediately think of using the AdWords Display Network, simply because you know there's more traffic, cheaper clicks and much more potential ROI just waiting to be grabbed.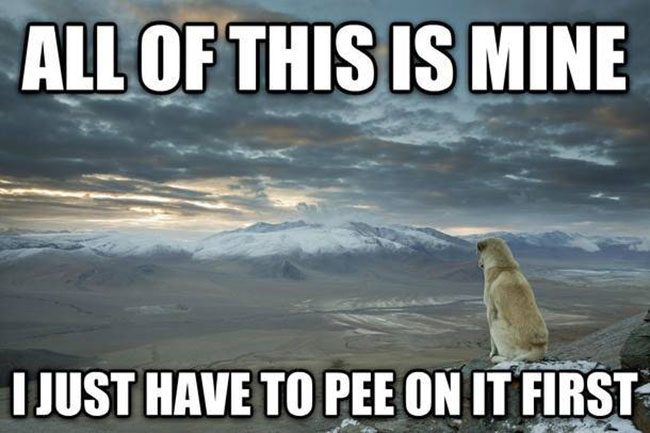 Actually, don't do that. It won't get you conversions.
Image source
.
As you may already know, the AdWords Display Network (also known as the Google Display Network/GDN) is the biggest digital ad network in the world. It allows you to advertise on publisher properties like websites, mobile apps, Gmail, YouTube and more.
Compared to the AdWords Search Network, the Display Network also houses the largest viewership of any online platform. YouTube itself has a monthly viewership equivalent to 10 Super Bowls – so it shouldn't come as a surprise that display advertising is said to capture 34% of all online ad spend and about 10% of all marketing budgets.
But with new channels come different strategies.
What you're doing on the AdWords Search Network will not perform the same way on the Display Network.
If the Display Network is uncharted territory for you, here's how you need to adjust your current PPC strategy to get the results you want.
Different user behavior calls for a different strategy
The biggest difference between the AdWords Search Network and Display Network can be seen in the sweet visual I had my designer custom-make below.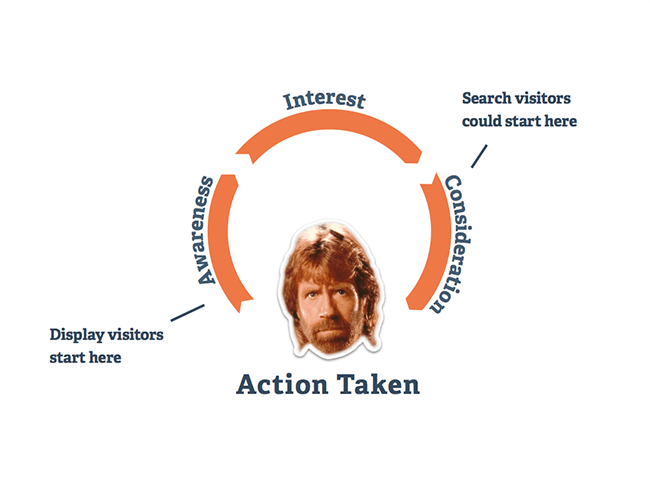 In the "Chuck Norris" action cycle above, you can see how the power of keyword intent in the Search Network can put people really close to taking action (AKA converting), but the Display Network typically has visitors who are a few steps behind.
This is because people who are on the Display Network aren't actively searching for what you offer. As Erin Sagin puts it, they're rarely in "shopping mode."
Instead, Display Network visitors are most likely in the research phase when your display ads are hitting them. They're on forums, blog posts, or watching that YouTube vid trying to gather enough information to make a decision. They don't know what they need yet, so your job is create awareness.
If you're selling more of an "emergency" service like being a locksmith or roadside assistance, then you'll have a hard time using the Display Network to your advantage.
This is simply because ads on the Display Network are not triggered from a search engine like text ads on the Search Network are. The Search Network works as a demand harvester (your ads are grabbing the intent), while the Display Network works as a demand generator (your ads are creating awareness).
So how do you change your strategy from the Search Network to also make the AdWords Display Network a money making machine?
Create trust and deliver value
As I mentioned, your Display Network ads could be interrupting someone who's reading the news, reading a blog or watching a video.
Because of that, the level of commitment it takes for someone to stop what they're doing, click your ad, then call you or fill out your landing page form is high and much more unlikely compared to the Search Network. In other words, you can't expect to have the same campaign conversion rates on the Display Network as you do on the Search Network.
If you're offering "Free Quotes" on the search network because people are actively searching for someone who can relieve their problem, it might actually be better for you to lead with valuable educational material (i.e. your content) on the Display Network.
A perfect example of this is my crush of an email marketing company, Emma.
Emma uses the AdWords Search Network to drive sign ups, but they use the Display Network to give you great, fun and actionable value. Here's what some of their Display Ads look like (click on them to go to the accompanying landing page):



I reached out to Cynthia Price (the Director of Marketing at Emma) and she gave me this golden nugget about how they use the AdWords Display Network:
We get that someone seeing a display ad isn't necessarily interested in learning more about our product just yet. It's all about brand awareness, and more importantly for us, trust-building.

So we offer content that we think will be valuable and helpful to our audience's marketing efforts. It starts our brand relationship off on the right foot, helps them understand the strength of our expertise and paves the way for us to nurture or retarget them in the future.
You already know that content marketing's core foundation is about adding true value.
Your display ads should be no different.
On the Display Network, your first goal is to establish trust by giving value, and then nurture the visitors down the road to become paying customers.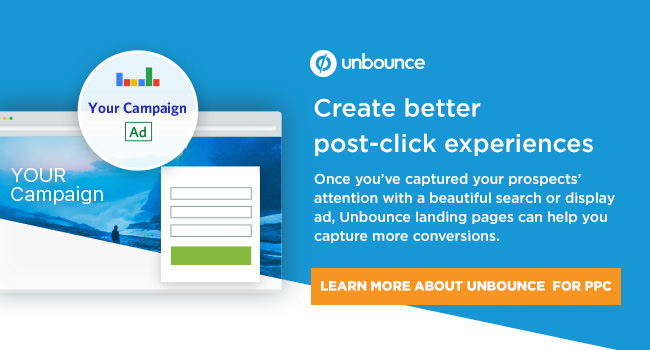 Revisit your targeting options
Once you have a great piece of content that delivers value and educates your audience, it's time to figure out how to target it to people who actually want it.
Let's have a look at the five targeting options that've been found to drive the biggest impact on the Display Network.
To illustrate how each one works, let's pretend you're a dog walker. Your name is Lori and you live in Huntington Beach, CA. You've been advertising on the AdWords search network and this is your landing page: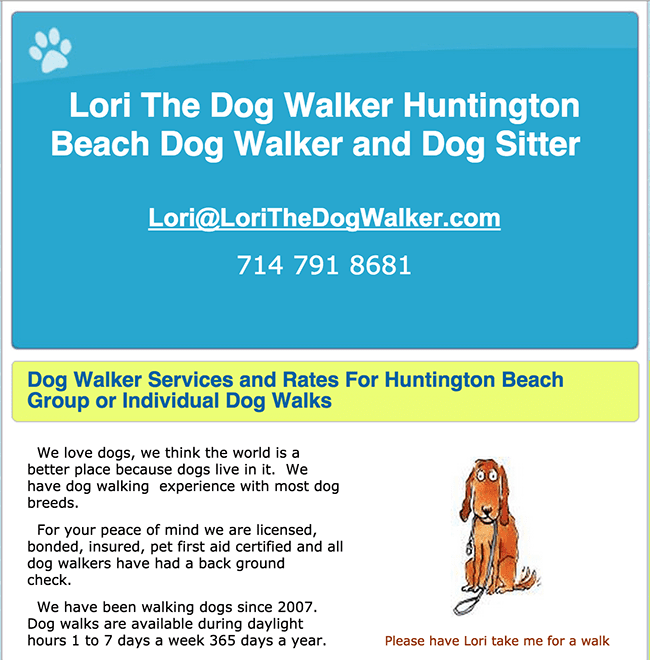 What are your best targeting options?
Placement targeting
Placement targeting allows you to advertise directly on certain publisher sites. This means you could have your ad show up on Forbes or CNN if you'd like.
Best practice advice: Make sure the website or page's audience is relevant to what you're offering. Don't shotgun approach all of CNN – sniper shot individual placements within CNN if you can.
Contextual/Keyword targeting
Contextual/Keyword targeting allows you to give Google your keywords and have it automatically find relevant placements for your ads.
Best practice advice: Mix this with placement targeting to be even more laser focused with your targeting.
Topic targeting
Topic targeting allows you to go more broad than regular placement targeting.
For this, you could target the topic of Pets & Animals directly and cast a wider net, with the possibility of your ads showing up on FerretLovers.com (yes, that's a real site).
Best practice advice: See what Topic targeting gives you, then exclude unwanted placements from your campaign once things are running and data is coming in.
Interest targeting
Interest targeting is kind of similar to topic targeting, but instead of judging the context of websites, interest targeting tracks behaviors of web users. This targeting method can be even more vague than topic targeting.
Best practice advice: Every industry is different, so always test things out and see the performance. Be quick to pause and exclude irrelevant placements once data comes in.
Combining targeting methods
This is where you'll have a lot of fun and potentially get better results.
You're not locked into using just one targeting method with the AdWords Display Network. In fact, Alistair Dent over at Search Engine Watch and many others highly recommend never going with just one targeting option, but combining multiple together.
You can target certain placements with the addition of contextual/keyword targeting to tell Google that you only want your ads to show when a visitor is on CNN and reading an article about dog walking.
Or you can target different interests with contextual/keyword targeting as well.
Create multiple ad groups, each with their own targeting specifications, and see how they perform against each other. Once you've hit your stride and conversions are coming in, pause the other ad groups that aren't working, and make variations of the ad group targetings that are working for you, so that you can squeeze more out of your PPC dollars.
Wrapping up
Wow! Quite a bit of info huh?
Now that you clearly know why your Display Network strategy has to be different from your Search Network strategy, what do you have to lose? Get started now. Try different targeting combinations, and never forget to offer true value.
What have you found to be the best driver of conversions on the AdWords Display Network? How different are your strategies compared to the ones we talked about?