If, like most writers, you find your creativity needs the occasional nudge, then you need to know how to use social media to uncover the secret sauce your latest masterpiece-in-progress might be lacking.
By deconstructing the best blog posts, I've found they consistently contain one or more elemental ingredients – what I like to call content enhancers (or information on drugs) – that create an amplification effect on your writing. They also increase the motivation for readers to discuss, comment on, bookmark and share your content, increasing it's reach and impact.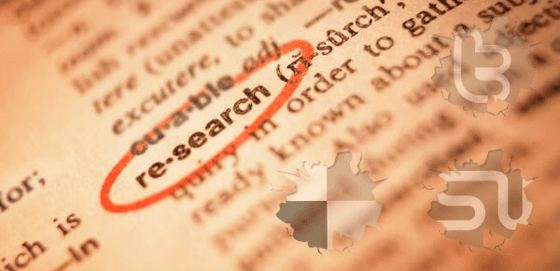 You can use social media channels and sites as research tools to find great blog content enhancers
The ingredients of a successful blog post – Content Enhancers ('Roids)
Content enhancers are supplementary informational artifacts – like spices added to a meal – that can boost the flavor of your writing, making it more enjoyable. Your social research strategies should be aimed at finding these enhancers, which I've broken down into the following categories:
Stats
Infographics
Lists
Expert opinion and quotes
Resources/references
Events
Breaking news
Apps
Funny sh*t
Before I show you how to find these content enhancers, let's deal with a simple question:
Why use social media for research?
It's inspiring, timely and pre-qualified
Content flows fast via social media channels and with the right strategies you can uncover the latest and most interesting additives already sliced, diced, classified and rated for you by a community of keeners.
To augment your organic search
Organic search is effective at finding what Google and the SEO folks have deemed most appropriate, which is fine for historical background research, but it's not always so good at finding what people are discussing right now. As I'll show, social media can augment your research in ways that traditional methods can't.
---
Let's Dig in – The 10 Research Strategies
Each approach is split into two elements: the strategy (what you're trying to create and why) and the steps (how to do it with social media).
1. StumbleUpon some targeted and random treats
This technique isn't targeted at finding any enhancers on purpose. On the contrary, it's intended to give a helping hand to your creative destiny. Inspiration can come at random moments from unexpected sources, and you probably don't have time to wait for serendipity to tap you on the shoulder. When faced with deadlines and writers block, your best friend is StumbleUpon.
The Strategy
StumbleUpon is great for juicing the inspiration meter and while you can't predict magic, you can give it a helping hand. The randomness of stumbling is an excellent way to get warmed up with some fresh "left field" ideas. We'll use it to visit about 100 sites in 10 minutes.
The Steps
First of all you need to sign up at StumbleUpon if you don't already have an account.
StumbleUpon don't seem to want you to find their regular search feature, but it does exist and it's the fastest way to add some focus to your random search (if that makes any sense).
Go to http://www.stumbleupon.com/search and type in the blog topic you want to research. For this example I've used "iPhone apps":

Looking to the right of the search results, you'll see a big green "Stumble results" button.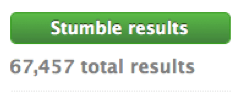 This is where the cool part happens. When you click this button your search criteria are locked into the StumbleUpon toolbar in your browser, leaving you to stumble randomly within your search results, keeping you on topic.

In 100 clicks or less (without even moving your mouse) the Stumble! button will show you a bucket-load of new material guaranteed to make your writing arm twitch with delight.
2. Find infographics & stats using Delicious
Infographics are more than just the pretty face of content link bait. They also hold important statistics and data not generally indexed by search engines. Their massive popularity and bookmarkability makes them easy to find with your favourite social media sites.
The Strategy
The goal here is to find infographics that you can embed in your blog post (with attribution of course), link to, or extract data from to add substance to your writing. Statistics are a great way to validate your opinions. What you don't want to do is simply re-purpose the work of someone else, so make sure you are using the graphics and data as a true supplement to your own original piece of work.
The Steps
The best place to start is Delicious. Here you can use tag exploration to drill down to a collection of content that's been deemed worthy of remembering.
Explore everyone's tags by clicking explore from the Tags drop-down menu in the main navigation.

Enter the tag "infographic" in the search box to find all the web pages tagged as infographics.

Now refine your search by adding a secondary tag based on your blog topic (for example iPhone):

You'll be able to gauge the popularity of the results by how many times they've been tagged. Avoid trying to re-order your search by clicking the "Popular" filter as this removes your secondary tag for some reason and you'll end up with a generic list of infographics.
Where else can you find infographics?
The Cool Infographics blog is one of the best curated collections of infographics. Flickr is a good resource where you can enter a simple search e.g. "iphone infographic" and of course Google Images too – with the advantage that you can see the images rather than just the links.
Remember though that we're trying to utilize social media as a research mechanism that relies on the folksonomic power of the crowd rather than the SEO prowess of the content creator.
3. Get breaking news while you write with Twitter search tabs
The Strategy
Add the latest information to your blog posts to give them extra relevancy and timeliness. This will help establish your blog as a source for freshness, and by linking out to new content and commentary on your subject you'll capture the attention of your sources.
The Steps
This is a passive search technique that does the work for you. To get started, search for relevant keywords and hashtags on Twitter and leave each search open in a new browser tab.

Notice how the result counts (the number in parentheses) increase to let you know "in real-time" of any new tweets on your subjects – here I've searched for #fashion, #LadyGaga and pararazzi.
Leave these tabs open the whole time you are writing, and check in on them every once in a while to see if anything interesting is happening, then add last minute links, quotes or references to your post before publishing.
4. Discover events & attendees using Plancast & Facebook
The Strategy
This research technique can make you a facilitator, connecting people with events targeted directly to their interests. List relevant upcoming meetups (there's a new meetup starting every 20 seconds), conferences, parties and causes in your blog posts.
If the subject of your post is the event itself (preview, live-blogging, review) you can find out who is attending, establish connections in advance to arrange hookups and people to interview.
The Steps
In Plancast, visit http://plancast.com/search and enter your topic. Then filter by Users (to find people in general) or Plans (to find events). In this instance, I searched for iPhone plans which brought up a list of iPhone related conferences.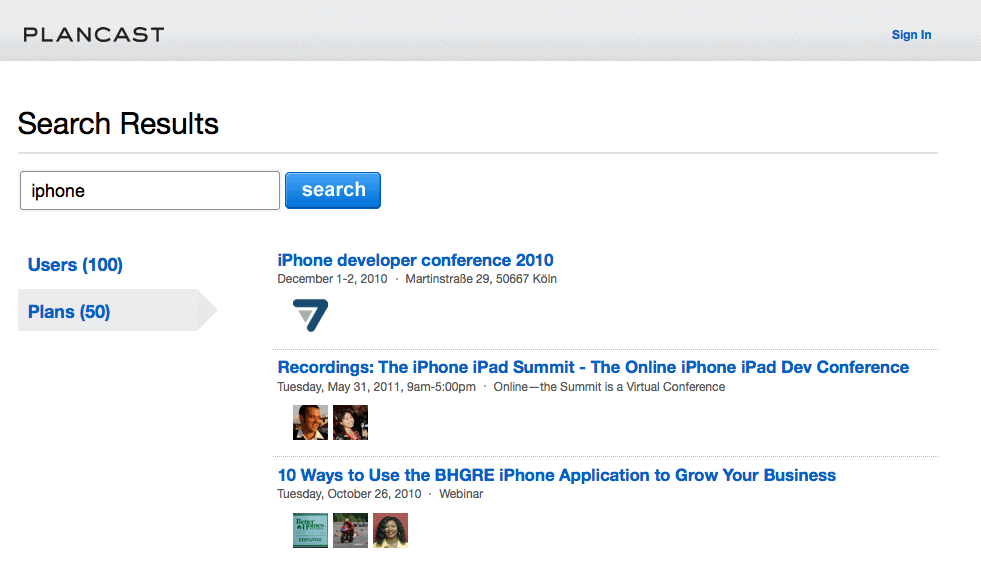 Once you have found an interesting event, you'll be able to see who's attending and connect with them.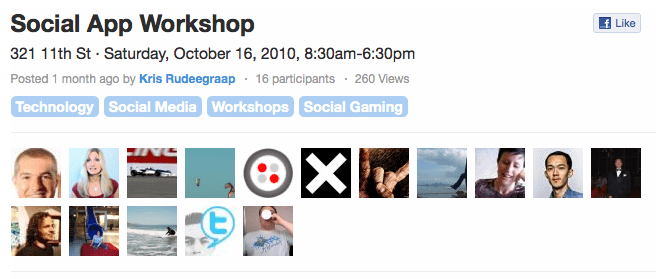 Then jump over to Facebook, go to http://www.facebook.com/search/ and select the Events tab. You can search for the same event here and find other ways to connect with attendees.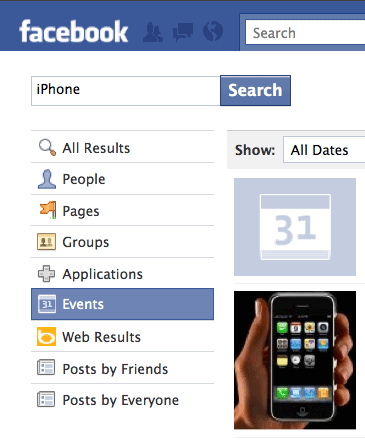 5. Find experts using LinkedIn
The Strategy
Expert opinion can establish authority and credibility for your blog posts and gives people more reason to bookmark and link back to you. If you add interviews or quotes (see strategy #6 below) to your content, the extra voice can inspire community interaction. Your source can engage and answer questions in the comments section and they may be inclined to help market the post for their own benefit – giving you more exposure.
Often you can create a reaction from others simply by linking to their content or citing them as an expert in your blog (as they'll often get a pingback notification) – but first you need to find out who the experts are on your topic so that you can link to them and their work.
The Steps
In LinkedIn, there are several ways to find experts. But your goal here is not only to find them, but to be able to contact them. In order to be able to contact a person on LinkedIn you either have to pay for the right to send what they call InMail, or you can join groups that they are part of, geting you inside the circle of trust without paying for it (the group membership acts as your connection mechanism).
Search directly for people
First, search the "People" section to find out who's describe themselves as having expertise on your subject. In the example below I'm searching for blogging experts.