As a B2B marketer, your top priority is to build substantive connections that yield conversions, and your experience tells you that social media is an invaluable tool for accomplishing this goal. As much as you love Pinterest and Facebook for consumer marketing, they are quite focused on the B2C market and you are well-aware that the B2B community is a completely different ball game.
If only there existed a social network where fellow marketers, business leaders, passionate students, and high-profile investors could easily engage with one another beyond a casual Tweet or LinkedIn connection!
This community very much exists — it's called Quora. Positioned as a question and answer (Q&A) engine, the platform has evolved into a peer-driven, substantive resource for millions of business leaders, students, journalists, marketers, designers, engineers, and high-tech aficionados who have one thing in common: a desire for knowledge.
---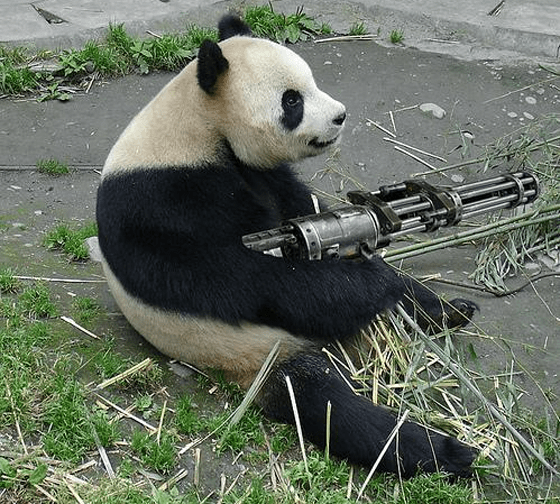 Google might have a have a thing for Panda's (keep reading) – but ours has a giant ass gun! #WINNING (Image source: ebaumsworld.com)
---
Whether you're a social network lurker or status-update chatterbox, Quora can help you become a more intelligent, engaged, and influential marketer.
Hoping to find your next secret weapon? Here are three reasons why Quora is it.
1. Quora is gaining traction in Google's SEO landscape
If you're building a product that caters to business leaders, Quora is an invaluable SEO strategy tool. Let's use Unbounce as a case study. As a marketer with a limited budget, I definitely like to do my homework on products that I'm thinking of using. Knowing this, I Google the following question to make sure that I'll be spending my money wisely.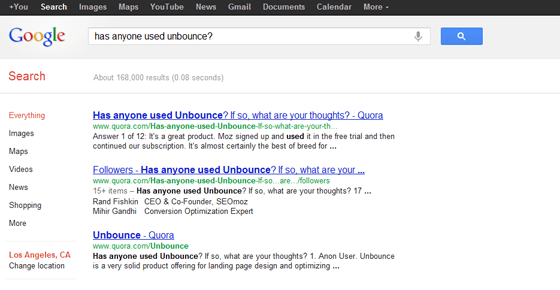 Note how the top 3 results are *all* from Quora.
As you can see, a Quora Q&A thread is the top item on the search results. It looks like a good fit to help answer my question, so I click on it. Eyeballing the discussion, I see feedback from Unbounce customers ranging from analysts to directors and even company founders. Inadvertently, the Quora thread is helping market this product.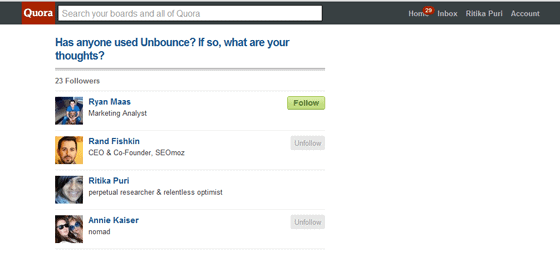 Especially in today's post-Panda era, (see how clever that intro photo is now? You had your doubts. Admit it.) Google SEO revolves around quality content, user engagement, trustworthiness, and reputable information. With its peer-driven community of experts, Quora meets all of those standards, which is why the platform will continue to rank high in Google results.
Keep in mind; however, that the Quora community will self-regulate against blackhat SEO tricks from spammers and excessive self-promoters. As with any strong content marketing strategy, the value of Quora stems from engaging discussions and a strong value proposition. It's all about balance.
Marketers should actively follow questions that relate to their products. Learn what customers are saying as a means to collect feedback, and interject when necessary when you see a question related to the service that you provide. SEO-wise, this effort has the potential to help you, provided that you keep it spam-free.
2. Quora can help marketers generate leads & conversions
Online ticketing company Eventbrite provides a great example for how companies can generate leads and conversions through Quora. Take the following Quora discussion, for instance: "what are the best New Year's Eve events in Los Angeles?" Tighe Flatley, Community Manager at online ticketing company Eventbrite, had an extremely helpful suggestion: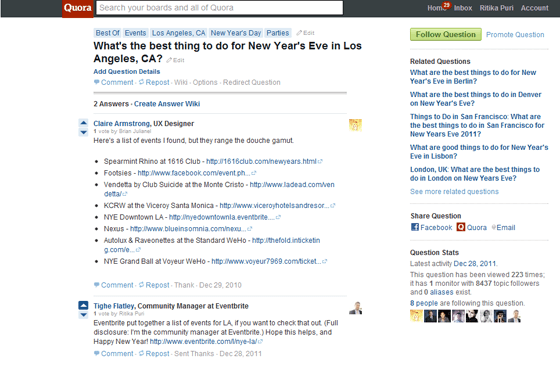 Given that Eventbrite's business model and conversions depend on event ticket sales, Flatley's comment has the potential to generate substantial value to his employer. His approach isn't spammy at all; rather, it is a win-win situation that helps a business connect with prospective customers that are looking for a fun event.
Even though this specific example refers to a consumer marketing strategy, its applications extend to the B2B world. The question "what is the best source for startup events in San Francisco?" is a strong example of where the Eventbrite team can weigh-in.
On Quora, answers to questions have the potential to travel far. The topics "San Francisco" and "Startup Business Development," for instance, have a combined total of more than 17,000 followers who may come across relevant questions in their feeds.
Eventbrite teaches us the value in actively following and engaging with questions related to our businesses. If there's an opportunity to generate leads and conversions (in a non-spammy way, of course), go for it!
3. Quora is a hub for constant learning and networking
From a networking standpoint, Quora is similar to Twitter in that people can follow and subscribe to posts from one another without any restrictions. In contrast to Twitter; however, Quora users can answer questions in greater depth. Simply put, the peer-to-peer learning value is unparalleled as we can — without restriction and in one place– ask and answer questions ranging from engineering to marketing, design, religion, and sociology.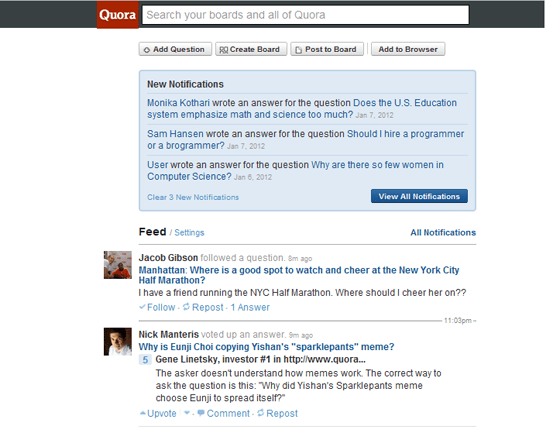 As an example, in the photo above, I've included a screenshot of my feed, which tracks topics related to statistical programming, computer science, data, e-commerce, sports, and marketing.
There's so much to learn, and Quora's community is diverse enough to cater to a variety of niches from biotechnology to religion and startups. Given this wealth of information, marketers can leverage the platform to learn about trends, identify key industry leaders, and follow high-growth businesses. Above all, Quora will help you become a stronger communicator who can adapt to diverse audiences.
Next time you find yourself with a professional question, consider researching it on Quora for quick answers from multiple perspectives. Install the app on your phone, and you'll be learning constantly. Lurk away — it will be productive and fun.