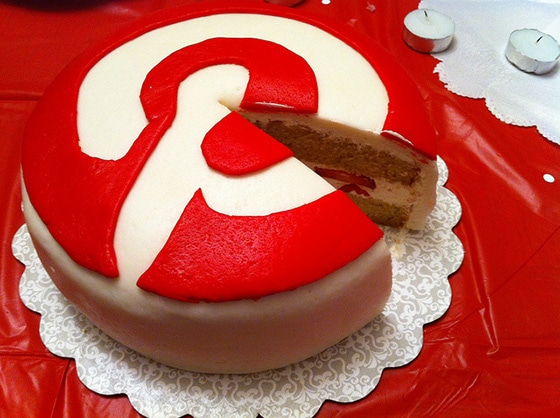 Driving conversions with Pinterest? Piece of cake. Image by
Roxanne Ready
via Flickr.
Here's a pretty crazy stat: Pinterest users pin more than 3,400 pins a minute.
That's good news for marketers using it in their campaigns – the more time people spend interacting with pins, the more exposure they have to your brand and the more likely they are to convert.
And I've got the numbers to prove it:
Shopify research that shows that Pinterest users are 10% more likely to buy than those referred from other social sites.
Pinterest drives 300% more revenue per click than Twitter and 27% more than Facebook.
With all this opportunity to convert leads, people are finding original and effective ways to use Pinterest to achieve their KPIs.
Here's how successful marketers use Pinterest to drive conversions – and how you can steal their strategies for your own marketing campaigns.
1. Delight followers and promote campaigns with contests
When C. Wonder, a luxury retail store for women, wanted to promote a new product line, they created a Mother's Day contest to create awareness and drive conversions.
The terms of the contest were simple: participants were asked to pin their favorite C. Wonder monogrammed products to their boards along with their email address.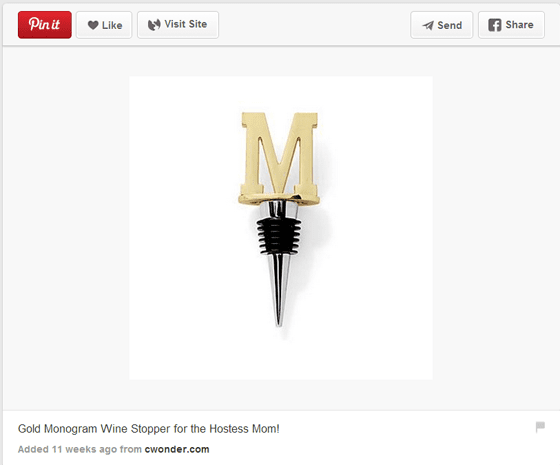 Luxury good retailer C. Wonder ran a Mother's Day contest that asked participants to pin their favorite products.
The contest gained momentum because it leveraged the power of user-generated content and social proof: participants' submissions were shared with their followers and helped spread the word.
This snowballing effect brought C. Wonder impressive, measurable results from their Pinterest contest: In addition to a 23% increase in repins, pinning activity doubled and they saw a 44% increase in revenue per click.
C. Wonder isn't the only retailer to get a conversion lift from a Pinterest contest. Contests like this have helped bring cosmetic company Beauty Bridge more traffic, more engagement and more conversions; they now describe Pinterest as their "number one revenue-generating social channel."
Apply this to your own marketing campaigns
If you're ready to launch your own Pinterest contest to drive conversions, DIYThemes has some great tips for success, including:
Set campaign goals for your contest, whether it's getting more followers, leads, brand awareness or conversions. Focus on one primary goal to avoid making the terms of your contest too complicated.
Decide on the terms and rules of your contest and ensure that they're aligned with your campaign goals.
Provide an awesome incentive by putting an irresistible, high-value prize up for grabs.
Use multiple channels to promote your Pinterest contest. Whether on other social media networks, through paid advertising or through affiliates, the more momentum you can get, the better.
Make it as easy as possible to participate by establishing crystal-clear rules and having simple entry guidelines.
Measure your results with stats, analytics and spreadsheets. Gauge how effective your contest was at achieving your marketing goals, then optimize, rinse and repeat.
2. Leverage user-generated content for powerful social proof
Like Beauty Bridge and C. Wonder, more and more companies are leveraging user-generated content (UGC) in their social media campaigns. UCG allows customers to share what they love about your brand, and is a great way to provide social proof, which is widely known to influence conversions.
Urban Outfitters has used this trend to become one of the fastest growing retail brands on Pinterest.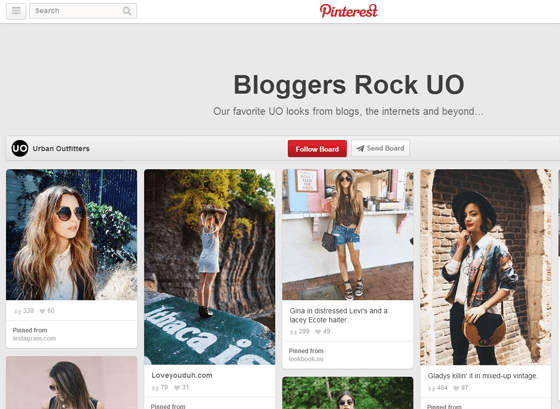 One of their Pinterest boards gathers photos of people wearing their brand from around the web, while they encourage other users to post pictures of themselves wearing UO clothes.
Then they showcase the user-submitted pictures on their site with a call to action to "shop it," allowing people to purchase the items with only a few clicks.
The stats they report show that 20% of users click that "shop it" button.
Apply this to your own marketing campaigns
If you want to spread the word about your next marketing campaign, user-generated content can help you acquire new leads and create buzz. This article by Jason Boies has some great suggestions to get you started:
Encourage fans to upload photos of your product or service.
Ask for video testimonials and reward the best.
Give top pinners access to your board.
Whatever you do, make it fun. Ask yourself, "Would I be willing to share this on my personal account?"
3. Collaborate with influencers in your space to help generate buzz
Bourbon & Boots worked with Hello Society to identify influencers to take part in a sponsored pinning campaign. The end goal was to collect leads for nurturing – any click on an influencer's pin took the user to the Bourbon & Boots site with a pop-up email capture form.
The influencers they selected were well known by their prospects and had followings between 200,000 and 10 million. All they were asked to do was to pin on the behalf of Bourbon & Boots to lend their credibility and generate a bit of buzz.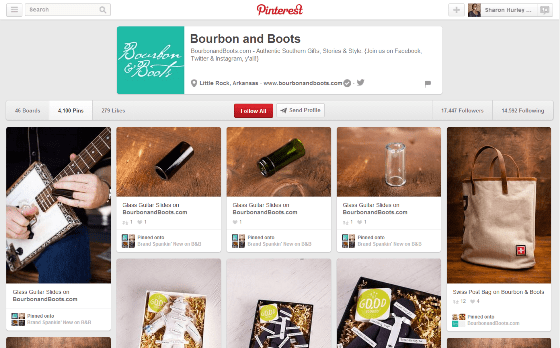 The campaign ran twice for three days and brought the company an 1000% increase in site traffic, 30,000 captured email addresses, and a 1300% increase in Pinterest-led revenue.
According to another Bourbon & Boots case study, using Pinterest gave the company better ROI than both Facebook ads and paid search. The study says that shoppers referred from Pinterest tend to spend more and buy more often, making those leads 20% more valuable than those coming from other channels.
Apply this to your own marketing campaigns
Want to leverage influencer social proof in your next marketing campaign? It's as simple as this:
Let influencers and strategic partners add to your boards on your Pinterest so they can create momentum and buzz – and bring you social proof.
Link influencer pins to dedicated landing pages to capture leads for nurturing.
4. Surprise referral traffic from Pinterest with a discount
Can you guess what Gardener's Supply Company sells? (Hint: it's not UFOs.)
The company had been using Pinterest for a while and although they were getting lots of traffic, they just weren't getting the conversions they expected. So they did something different, creating a campaign that targeted visitors sent to their homepage from Pinterest.
They added a popup that collected emails and offered free shipping on orders of $75 or more – a nice element of surprise to delight visitors.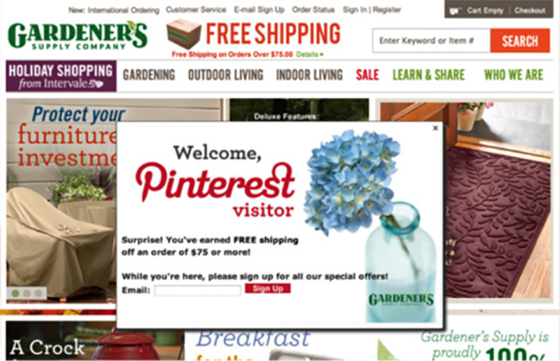 A simple change to their site, but implementing it brought Gardener's Supply a 3x increase in purchases from Pinterest referral traffic.
Apply this to your own marketing campaigns
Though Gardener's Supply targeted traffic to their homepage, the same tactic could work awesomely on the landing page for your next campaign:
Create targeted welcome messages for referrals from Pinterest to increase relevancy. Notice Gardner's Supply Company's headline, "Welcome, Pinterest visitor"?
Include an exclusive Pinterest user discount coupon to give added incentive to purchase.
5. Create desire by providing an exclusive offer for Pinterest users
Neiman Marcus took its Pinterest strategy one step further by leveraging the power of exclusivity and scarcity.
When launching the Rebecca Minkoff Elle handbag in 2013, the retailer made a limited-time offer to its 65,000 Pinterest followers; for a two-week period, they were given exclusive access to pre-sale page for the red handbag. 
The experiment resulted in tons of organic referrals, the addition of 3,000 followers and a 35% increase in repins.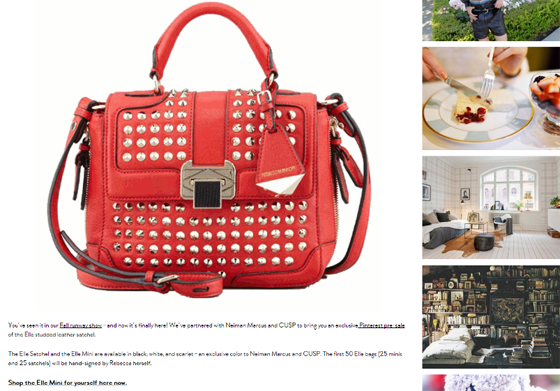 Though Neiman Marcus hasn't published the specific number of bags they sold through this campaign, they created a lot of buzz and desire for their new product – which is sure to have translated to sales.
Apply this to your own marketing campaigns
Exclusivity goes a long way in creating desire for your offers. For your next marketing campaign, consider an exclusive pre-launch for Pinterest followers.
Action items for your next marketing campaign
Whoever said that Pinterest is just for browsing and wedding planning?
If you want to leverage the power of Pinterest in your next marketing campaign, make sure you're doing what matters (and what will get you more conversions):
Delight followers and promote campaigns with contests
Leverage user-generated content for powerful social proof
Collaborate with influencers in your space to help generate buzz
Surprise referral traffic from Pintrest with a discount
Create desire by providing an exclusive offer for Pinterest users
Bonus tip:
If you want to measure the success of your social media marketing efforts, create a dedicated landing page for Pinterest referral traffic. That way, you can keep tabs on conversions and optimize for what's working (and let go of what's not).
Have you had any conversion success with any of these Pinterest strategies?
---