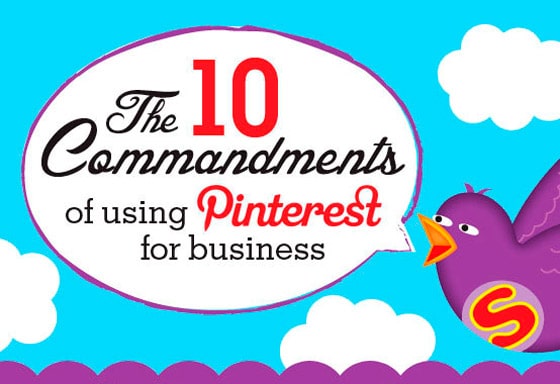 Pinterest is often seen as a bit fluffy in the marketing world, but it's changing. Fast. If you're creating interesting visual content (you should be), then this guide will help you maximize your acquisition potential. In short: Master these 10 commandments and you'll be able to leverage your content visuals as one more channel in your inbound marketing, and it WILL benefit your business.
The 10 Commandments for (P)Interest in Your Business
Plan for success
There's no point in having pinnable content if you don't have an easy way to let people pin it. Add "Pin It" buttons on or around your post or image. If you have multiple images, add a button to each one.
Honor thy source
Backtrack all the way to the source of any images you are pinning, as they could have been re-used multiple times and the creator should always get the credit. It can be a bit of a treasure hunt, but it's the right thing to do. Then make sure you provide a link back to them as a digital thank-you. See below the infographic for an example.
Pin strategically
If you sell products, include the price in the first image of your post & include it in the Pinterest description field, and remember to include a link in the description back to your source or website.
Remember to be social
You can @tag other Pinners by name, this is a nice way to thank people for their great content. And if (like everyone) you have a boss who questions the value of using a social network like Pinterest, use this URL based tool to track who's pinning your content – http://pinterest.com/source/yoursite.com/
Produce pinnable content
Rule number one – take the time to create or choose (with attribution) a great image for the top of your blog posts. This is the image that will be pinned if someone clicks the standard Pinterest plugin buttons, so you want it to be good. If someone is pinning your post simply because it's great content, this is the image that will show up on Pinterest, so make it like a CTA to entice click-throughs.
Create as well as curate
This post is all about curation. I've borrowed the work of another talented company (linked to below the graphic), which can be a great source of blog content. But it's important to create your own pinnable content, so that people will see you as a potential source of great content for the future. Also remember that if you're going to play the curator role, you need to add value to an infographic (basically what i'm writing now) – don't just post the image and cross your fingers. Here's an example of visual content that Unbounce created that's helped acquire customers by showing our subject matter expertise (notice that it got a good number of Pins), which leads nicely into the next point.
Promote your business creatively
Now here's something I like! Use a CTA in your pins. This is done through persuasive language and a link in the description when you set up your "Pin It" buttons. Pinterest is also a really great place to run a social media contest (especially the "Pin It to Win It" variety).
Consider referral traffic and SEO
The goal here is to get people coming back to your site. How? CTA's (as per above), links in the description, pinning your own images to create boards (collections) of the best visuals you have, and resist the urge to pin everything you do. Only pin the best, so that people want to link to it and give you some SEO juice.
Take advantage of tools
There are new tools emerging all the time. Find one that helps you gather the information you need and pin more effectively. Some examples: Pinerly, Pinpuff and Pinstamatic.
Research and measure your pins
A key here is to check Google Analytics to see the value of the Pinterest traffic you are getting. Do you get lots of visits, but no conversions? Then strengthen your CTA's. At the end of the day, not every social network is useful for every industry vertical, so also don't be afraid NOT to use Pinterest if you can't make it successful. But I'm betting you'll do okay if you follow these 10 commandments.
There's a ton more useful information in the infographic below. Absorb, and use wisely.

Infographic by Socially Sorted (
Source
)
---
A Few Tweetable Facts to Make You Sound Smart About Pinterest
If you sell products, include the price in the first image of your post & include it in the #pinterest description.
» Tweet This «
Track repins from your site like this >> http://pinterest.com/source/yoursite.com/ #pinterest #social
» Tweet This «
Learn how to use Pinterest for business with this #Infographic. #pinterest #smm
» Tweet This «
---
What to Do Now
Take an inventory of your best graphical content and plan a campaign around using it via Pinterest.
---