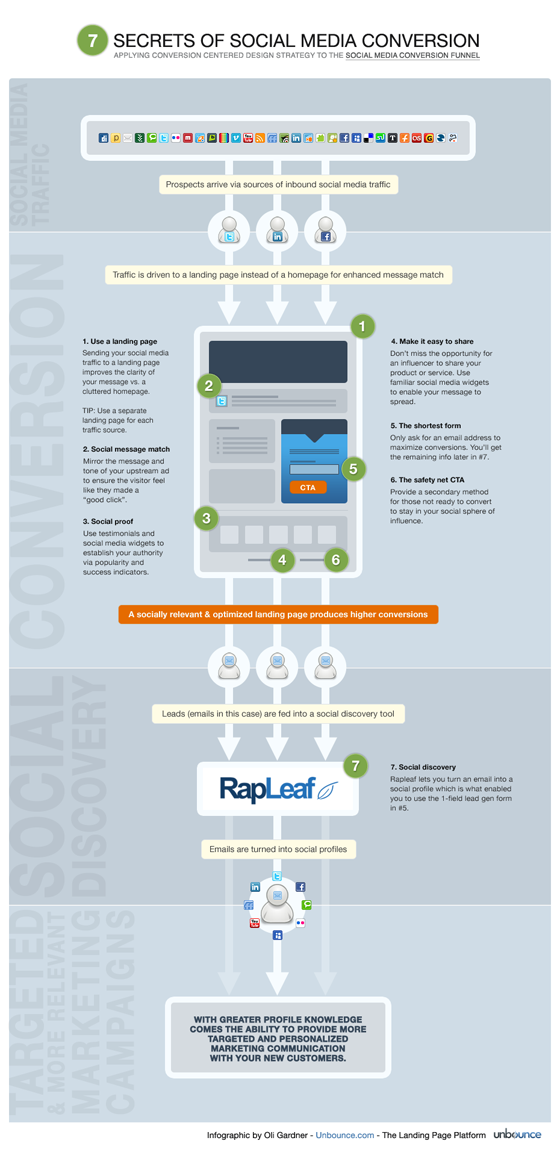 (Click infographic for full size view)
Social media should be good for business, but there are two lingering problems. Firstly, the stubborn gaggle of non-adopters that doth protest too much – "it should be for personal use, not business". Secondly, most people that are using social media for inbound marketing are doing a poor job of converting the traffic once it arrives.
If you're using Twitter, Facebook, LinkedIn etc. to drive traffic to your business – but the results are less than inspiring – you're probably making fundamental mistakes during the conversion phase of the social media conversion funnel (see the infographic attached to this post).
The 7 Secrets
While they're not as sexy as Victoria's, or even close to being in the same league as "Aladdin's Cave" – these 7 secrets (shhh) will help you leverage social media in smarter ways to improve your conversions.
SECRET #1 – Use a landing page please
Let's start with a simple vocal warmup exercise. Repeat this phrase out loud until your coworkers tell you to shut up:
"Don't drive traffic to your homepage. Use a landing page."
"Don't drive traffic to your homepage. Use a landing page."
"Don't drive traffic to your homepage. Use a landing page."
Your homepage is a terrible destination choice for social campaign traffic because your message gets diluted upon arrival. Landing pages on the other hand are purposely designed to be one dimensional so your 140 character tweet (for example) can be expanded upon without distraction from other messages.
From a practical perspective, if you tried to update your homepage to reflect every promotion and lead generation campaign you do, it would quickly turn into an ugly mess and would be impossible to measure or test. Not to mention the grief you'd get trying to convince a boardroom full of stakeholders for approval.
Compare these two (slightly convoluted) scenarios
Scenario A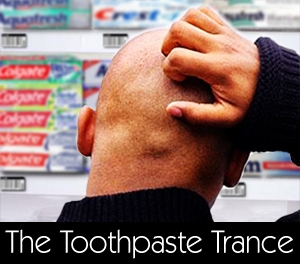 A friend tells you about a great new flavor of toothpaste (bear with me), and drops you off at the supermarket. If you manage to find the toothpaste aisle, you'll be so overwhelmed by the choice that the odds of you getting the right kind are akin to pinning the tail on the donkey. And that's if the magazine rack and the booze section don't distract you first.
Scenario B
A friend tells you about a great new flavor of toothpaste and takes you to a room dedicated to only that type of toothpaste. There are posters on the wall explaining the benefits and there is a big shiny cash register with a large "buy the toothpaste you are looking for here" sign above it.
Which scenario do you want your customers to experience? (The correct answer is B).
SECRET #2 – Social message match
The primary message on your landing page should be the same (or reflective of) what you said in your social media channel. Like positive reinforcement for dogs, seeing a familiar message adds to the feeling that you made a "good" click. Conversely, not having a matched message can make your visitors feel lost – at which point they head for the comfort of the back button.
Stick to the tone of your seed message. Chances are that if someone clicked on your link then they connected with your style. If you are using a quirky short form on Twitter, repeat this on the landing page. If you're driving corporate business traffic from LinkedIn then maintain a more formal style. Consistency is the key here.
For extra reinforcement, use an icon or design element that reflects the upstream social source. There are a million free social media icons that you can use for this purpose. It can work a little like a socially co-branded experience between the source and your brand; where you can clearly tell where you came from and where you are going.
[TIP] Use a landing page for each traffic source
Using a different landing page for each social media traffic source lets you personalize the experience and improves the social message match. It also makes it much easier to track the performance of your pages and determine which traffic source converts the best.
[Example] – Contextual social message match
The WP Greet Box WordPress plugin is used to provide a contextually relevant icon and message to visitors from social media sites. It detects where you came form and suggests that you follow/like etc.

SECRET #3 – Social proof via social media widgets
Most people are a bit like sheep. They have no idea where they are going and no idea if it's a good idea. Our herd mentality makes us want constant validation that our choices are sound. We do this by seeking reviews of products and services and we observe the reactions of others as they experience the goods before us.
Imagine walking down a street; on one side is a person staring straight up, on the other side is a large group of 30 people all looking up at the sky. We are programmed to react more strongly to the inferred wisdom of the crowd and will gravitate towards checking out what the group is doing first.
This is a form of social proof, which can be used in the digital realm as an aide to conversion manipulation or optimization. There are a few techniques you can use to replicate it on your landing page:
Show your popularity: use a social media widget to show how many Twitter followers, article retweet's and Facebook likes/fans you have.
Show your success: testimonials show people that you have made someone else happy. Make sure they are authentic and provide a photo if possible. Ideally show the support of an influencer in the common space you share with your customers. You can also use social media widgets to show a timeline of "reactions" from various channels (such as an @yourname feed from Twitter).

An example of Twitter social proof – showing the number (and faces) of people that entered a contest from a landing page.
Cats are like sheep too
Whiskas cat food used this concept to great effect in their 80s/90s ad campaigns declaring: 8 out of 10 cats prefer it. People believed it then, they'll believe it now, especially if you show the proof.
SECRET #4 – Make it easy to share with social media widgets
Having your content shared might not be your primary conversion goal, but it can be an important source of bonus traffic – or it can be the difference between mild and epic success. The multiplicative effects of viral exposure are often the tipping point in a social media campaign.
Motivation comes in numerous forms from self expression (the online equivalent of placing your favourite books or CDs in view for your houseguests) to status (the "I saw it first" effect). Some people are gagging to find quality content to share as it reflects well on their perceived connectedness. If you have a great product, service or offer, enhance this motivational desire by making it really simple to share. Test different sharing mechanisms to see which your audience responds to the most.
No barrier to entry
One of the simplest sharing methods for Facebook users is the new Like button widget. Many Facebook'ers are in a permanently logged-in state – which lets them interact in a single click without leaving your page.
Familiarity breeds interaction
Be consistent with your traffic source, e.g. if they arrived via Twitter – have a Retweet button as it offers the lowest barrier to your "sharing" conversion goal.
[Example] – follow and share to enter a contest
This example uses Twitter widgets to ask people to follow and share in order to gain entry to a contest. (Source http://campl.us/ – update: the contest is no longer running so this part has been removed from the page).

SECRET #5 – The world's shortest lead gen form
Conversion is a balancing act between enticement and resistance (barriers to entry).
If you are collecting leads (personal data such as name, email, phone number, company, website etc.) then your lead gen form is a barrier to entry and the size of the barrier is directly correlated to the size of the form (number of fields).
When collecting personal data, you need to offer something back to the customer in exchange, such as a whitepaper, webinar registration, eBook and so on. The more relevant and interesting your giveaway is, the larger you can make the hurdle.
This balance can be tough to achieve, when people in your company are asking you to add extra fields to the form to get the data they so badly need.
A solution to this is to remove every field from your form except the email address.
In the past this would mean you would have empty meaningless data and the subsequent email campaigns targeting these new leads would be impersonal (no first name). With the use of post-conversion social discovery tools like Rapleaf you can get the best of both worlds, by lowering the barrier to entry all the way down, while still receiving the data you need.
Secret #7 below sheds more light on this. But for now the important lesson is that you can greatly increase your conversion rate on lead gen campaigns by leveraging the power of a short form – without sacrificing the quality of your data.
SECRET #6 – Use a safety net CTA
Sadly, not everyone that comes to your landing page is ready to convert. They may be window shopping, browsing or just curious about what you have to say. By offering a secondary call to action (CTA) you can sometimes persuade the visitor to maintain a connection with you.
The simplest ways to do this are to provide a method to:
Follow you on Twitter
Like your Facebook page or group
Join a LinkedIn group
Bookmark you on Delicious
Even if 1 in 100 decide to do this, it adds up to future conversion potential because they have entered your sphere of brand influence.
Note: You don't want this to take away from your primary CTA, so place it in the footer or near the bottom of the page.
SECRET #7 – Post-conversion social discovery
Post-conversion strategy is a completely overlooked part of the sales funnel. You got your conversion and you got your lead so everything's good right? Wrong.
There are 2 main ways to optimize your post-conversion opportunities:
Good: Place additional CTA's on your confirmation or thankyou page (after they complete your lead gen form). This can help to reduce clutter on your landing page. And you can also suggest a page on your website as their next step – knowing that they have a qualified level of interest.
Better: Turn the email into a complete social profile using a service like Rapleaf. This gives your leads an identity and sets you up for more targeted follow-up marketing. Your first contact with the prospect is critical, and the more you know about them the better. By connecting based on real profile data you look like someone who's made the effort to do some research before making contact. This is a massive conversion advantage.
As I mentioned in secret #5, social discovery lets you shorten your lead gen forms to improve your conversion rate. And while it's true that a social profile may not answer every question you have about your new prospects, what it does is provide you with a level of personal data that can start a more effective conversation.
In Summary
For your next social media campaign or promotion, try a few of the 7 secrets to improve the conversion phase of your social media funnel. As a starting point, make sure you begin with #1, #2, #5 and #7 on your next lead gen landing page.
A word of caution: using all 7 secrets at once may cause undesirable side-effects such as content bloating and sweaty widgets. If you don't need a form, don't use one (obvious), and if you want to utilize social sharing widgets, pick one (relevant to your audience) not twenty.
Share this post