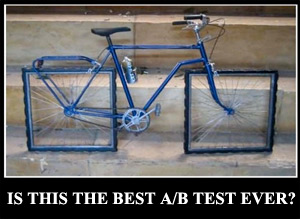 A/B testing is part art, part science, and part blind luck. But unless you test, you're walking blindly through a marketing maze, not knowing which direction to turn.
So to get you started down the right path, I've put together a checklist of things you can test on your landing pages.
If you're a smartypants, you've already started testing, and you'll be able to check off a bunch of the ideas on the checklist below (if not, read "The Ultimate Guide to A/B Testing").
The Checklist
See how many you've already tried and share your score in the comments below. Once you're done you'll have a nice to-do list of things to test next time you run an experiment – based on the ones you haven't tried.
Total Score: 0/21
Total Score: 0/21
---
What now
Start testing! Also, remember to share your score in the comments, and any other test ideas you might have.
---