Okay, fine. HiPPOs don't know what they're talking about. And A/B testing is awesome. Made you think though, right?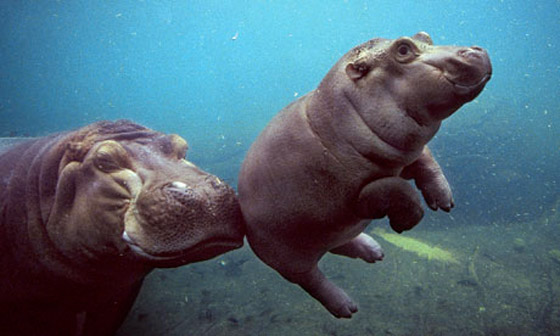 Bye bye HiPPOs. We're going back to real experimentation and statistical analysis.
Conversion Tip: Never Believe a HiPPO
A huge Hippo-sized thank you to the hundreds of people who submitted their questions to our fake panel of HiPPOs. Most of you should have received an email with a highly targeted piece of subjective advice, carefully constructed by our extreme artificial intelligence engine.
Apparently though, while HiPPOs are great at being opinionated, they're not very good at sending email… (in other words, a few of the emails didn't get through – we used a personal email server).
With that in mind, we'd like to recap some of the funnier questions and a random selection of HiPPO answers for you in celebration of April Fools Day…
The Top 10 HiPPO Questions & Answers
Anonymous from the Hippopotamus…

1. Should I put a pork chop on my homepage?

HiPPO: Stick a bunny on it.  Everyone loves animals.

2. What is the meaning of life, and how can I use A-B testing to find out?

HiPPO: The only time you should be hearing the word "testing" is when a roadie is setting up a mic for Aerosmith.

3. I think increasing the size of my "submit" button will increase conversions, how big should it be?

HiPPO: Generally you're better off if the button takes up at least 50% of the page width.  Not including margins, of course.  And if you're using a serif font it should be 60%.

4. If I build my website exclusively with the color orange, will I get the top ranking for my category in Google?

HiPPO: Look, Google is so smart you don't need to worry about SEO, just put up some pictures, I'm pretty sure Google can index those now.  Oh, and make sure you put 'em in a Flash slideshow that autoplays.  Everyone loves those.

5. I feel like my designer wastes a lot of time making "pretty" landing pages. How can I make his efforts more efficient?

HiPPO: Reverse psychology – that's how you trick your people into not doing what you don't want them to do. Get it?

6. How do I decrease My Bounce Rate oh wise HiPPO??

HiPPO: If your bounce rate is high, you should try adding some Javascript to freeze the page for 2 minutes so people can't leave. Yup, that's why they pay me the big bucks. #IdeasLikeThat

7. Should I break up with my boyfriend if he does not want to get married?

HiPPO: Which page do the customers like better, A or B? pffft… Saddle up and make the decision yourself there cowgirl!

8. How many animated gifs should I have on my home page?

HiPPO: Demographics? This ain't no demo and we don't need no graphics. Just lots and lots of links to click on!!!

9. Is it important to have a beard if you want to be taken seriously as a guru?

HiPPO: I think a picture of a hot babe is better.  I have no idea what you just said about "audience" and "appeal", but even girls like to see pictures of hot babes.  I read that.

10. What's the best text for a call to action button? Also why are you so sexy? Also why does chocolate taste so good?

HiPPO: Add "Free" in a few random places on the page.  Nobody reads your copy, but "free" will stand out.  And if you could make it blink…
Prize for the cutest questions goes to…
Who will you marry when you grow up? (6 years old)
What will I get for Christmas this year? Cause I have NO idea! (7 years old)
Thanks for being good sports and indulging us after we stayed up late last night to whip this thing together…