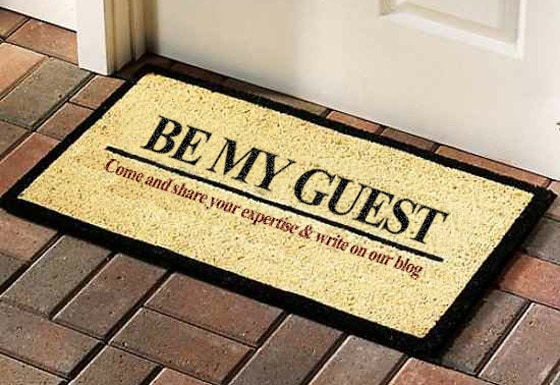 (Original image source: sharenator.com)
Guest blogging is time consuming, complex to manage and often requires a sizeable investment. So you need to squeeze more out of every link that you acquire.
Today I'll cover 6 ways to increase conversions from your guest blogging efforts to get more than just 'SEO value' out of a link.

If you can show conversions and demonstrate that guest blogging can align with the business goals of your company (rather than just an element of an SEO campaign) it might just open the eyes of your manager or client and help you to secure more budget and a wider scope.
1. Targeting the Right Places to Guest Post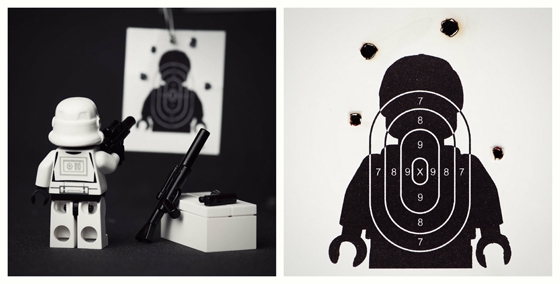 Getting guest blogging right starts with the right targets. So what do these look like? (
Image Source
)
Targeting is vital because failure to identify and develop a relationship with the blogs and websites your target market read will ultimately reduce (or eradicate) the impact of any of these other conversion tactics that you adopt.
Connect with people
In nearly every industry there are a plethora of opportunities to make a connection with bloggers, publishers and corporations where there is mutual benefit to be exploited. I covered just one example of this in a recent blog post which explored the potential of guest posting on corporate blogs.
A 'large' audience and/or a directly relevant or complementing audience – large is of course relative to your market.
Focus on calibre of the audience – if you work in a niche industry or target a small segment of the market then "high-traffic" will likely mean something completely different to you so focus more on how likely the audience is to be interested in not only what you are talking about but also your actual product/service offerings. There's no hard and fast way to determine this but you can often get an idea by spending a bit of time on the site and looking at things like reader interactions, positioning by the publisher.
A mailing list with 100 engaged subscribers is worth far more than a mailing list with 10,000 un-interested subscribers and when it comes to blog followers the principle is no different. I'll cover why this is the case in more detail shortly.
Consider publishing frequency – a spot on a website which publishes once a day or once a week means you get the full attention of their audience which is sometimes worth more (even if the 'visitor numbers' are smaller) than a guest post on a mega-traffic website which publishes 10 times a day.
Imagine your ideal client/customer – what websites/blogs might they read? This will be easier in some markets than others and sometimes you'll need to do a bit of detective work.
Advanced Tip – If you are in a B2B sector then you could try the following method:
Find 5-10 websites of clients you would like to work with
One-by-one enter them into Open Site Explorer or your favourite link analysis tool
Since most comments are no-follow, select the option to filter by 'only no followed'
You get a list of blogs that your prospects are engaged enough with to comment
Identify common blogs (where a number of your target customers spend their time)
Pitch them with your guest post
This technique saves you the time and hassle of searching around for the right blogs. This method means you get a list of blogs that potential customers read, know and respect – perfect for pitching to since you can say with some degree of certainty that time invested in creating content for this site will be worthwhile.
If you take for example my guest post here on Unbounce, the site has high-traffic, it isn't really an SEO blog but it covers internet marketing as a larger topic area so the audience is relevant to my business.
I also write frequently for SEOmoz and if we break that opportunity down we can see that this has a large audience, this is a directly relevant audience to my business as we mainly work with other SEO agencies in addition to the direct clients who may be reading the SEOmoz blog to educate themselves.
Attacking niche markets – to become the recognised subject matter expert
Imagine becoming the SEO expert on a dental industry website read by dentists looking to market their practices. This 'business vertical' approach can be very rewarding for word of mouth business.
Don't dismiss opportunities which help to raise your industry profile, a conversion from guest blogging can be direct or indirect. Granted the indirect conversion is less easy to measure but if you can leverage an industry guest post for social proof, and it has SEO and branding benefits, by all means pursue it.
Even small but good quality blogs have an audience, don't forget about the "newbies". Everyone has to start somewhere, and if you write well for these blogs, it can lead to other opportunities and if nothing else help you to "be everywhere". Which might just improve conversion (because of familiarity with your brand) via your guest posts on the more established websites.
2. Select the Right Topic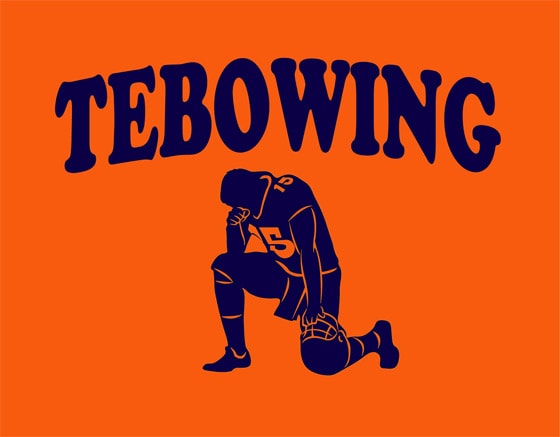 Selecting the right topic includes being current with what's going on at the time – like when the football world went all Tim Tebow (Image source: houstonpress.com)
Once you have identified websites to guest post on – the next step is selecting the right topic. This can be tricky because you need something that:
Appeals to the blogger/publisher
Works for your business
Provides value to the reader
Is current and topic(al) – this will help with the initial micro-conversion of getting someone to open your post (and also help with sharing it)
You may have noticed that I am bridging two areas with this guest post, 'conversion' which sits close to the heart of Oli and the rest of the Unbounce team and 'guest blogging' which aligns with the current offerings of my business.
This may have been one of the reasons Oli agreed to let me publish, there is clear benefit in this for me and my business and hopefully you, the reader, to derive some value from the post.
This is key because high-conversion guest blogging is very much about tying the article back to what it is you are trying to promote without looking salesy in the process.
The topic you select will very much depend upon the type of website you are targeting. Some websites I have approached have a very strict content calendar where a time period will have a certain theme or you may be approaching a corporation who will only publish your post if you can tie it back to their products and services in some way or help them to achieve their marketing objectives.
The important thing is to be flexible and work with them to ensure you both get something out of it. This is very much a fusion of business development and link building.
Work your product or service contextually into a broader post e.g. 25 ways to get more clients… one of them being guest blogging.
Connect the product or service of your business with theirs to create a use case which is both useful to readers and subtly promotional.
Give readers an insight into your internal processes, this will provide immense value to a reader and will likely help you secure new business as you are demonstrating your capabilities and being really transparent as an organisation (both good things in the eyes of a prospective customer!).
Examples to learn from
Copyblogger and IncomeDiary.com are two very good examples of websites who produce content and tie it back to their business goal without taking away from the quality of content.
In the case of Copyblogger they deliver immense amounts of value in topics that surround their various product offerings. They have a much more structured approach to content marketing than IncomeDiary.com in the sense that their content calendar works up to the launch or sales push of a product and will mainly highlight a way to use their product (i.e. sales through education) rather than then just hitting readers with a promo.
IncomeDiary.com on the other hand wants to help its readers as well as earn money from them through affiliate commissions and sales of their product; for example this post which helps readers work through a very real problem (wanting to grow an email subscriber list) by providing a useful blog post and highlighting a combination of free services, their own product and a few they are an affiliate of.
So whilst these examples aren't directly about guest blogging, they serve as a good reminder of how to do content creation – the right way. This kind of mindset will help you work up a topic which is more effective all round.
3. The Content
A poorly devised guest post even on a high traffic website will likely flop – at least from a conversion perspective.
I'm not talking about 'bad content' in the sense that the piece contains spelling mistakes, grammatical errors and lacks readability. If you can't master these things (or pay someone who can) then you don't really have much hope of getting published on big name websites, let alone needing to worry about improving conversions.
Brand yourself & pitch content at an appropriate level
If you are an advanced consultant in a particular business field for example then you need to make sure your content is equally advanced in nature. If it's not, you risk an inconsistency in message with a gap between what you say your business does and what others perceive your business to do (even if you actually do a great job – the reader doesn't know this). Additionally you will likely end up attracting the wrong kind of prospect since beginners naturally gravitate towards entry level content.
It's not a hard and fast rule but to give you an example; As a business we would steer clear of a guest post about 'Optimizing your business website for local search listings' as an article like that is likely to attract local business clients and as an agency we're not really geared towards those kinds of clients.
The example I just gave is an obvious one as there is a clear disconnect between our business goals and that topic/type of content. Frequently there is more of a subtle disconnect that you need to tune into and avoid if you want to maximise conversions.
Display transparency
Producing a post which centers around transparency leads to higher conversions. Again, this isn't a fundamental 'rule' but is based on my own experiences.
My 2 highest converting guest posts (in terms of business generated) are:
Here are the number of visits each one sent us over the previous 12 month period:

Combined, these 3 posts, have generated *approximately 80 leads in the past 12 months so just under a 3% conversion rate (which I definitely feel I could improve!).
*I say approximately because this doesn't account for leads acquired indirectly as a result of the trust/social proof of getting published on these websites. It also doesn't account for people who discovered us via the guest post but converted at a later date perhaps just coming straight to the site via the address bar.
Obviously not all of these leads converted into new business but if you are a consulting type business like us, you don't need a huge number of leads to achieve revenue growth.
The one thing they all have in common is that they are underpinned by transparency. I provide an insight inside Skyrocket SEO with each blog post. People appreciate the fact that I could have kept all our juicy secrets and top tips to myself but I quickly realised that by sharing more not only did I actually help to further develop our own process and get fresh ways to work but we also gave prospective clients the reassurance that we are an open business.
Tie back to your products and services
The guest posts above are closely tied into our service offerings; guest blogging and infographic promotion. Given my experience with guest blogging on other topics, it has become evident through scrutiny that one of the key reasons these 3 in particular have proved successful is because they are so closely linked to our services and almost sell our offerings without overtly selling them.
In summary, your content should:
Brand yourself & pitch content at an appropriate level
Display transparency
Convey your expertise and competencies
Tie in to your business goals
Take Action

Carefully plan your next guest post and tie closely in to your marketing objectives
Produce a guest post which gives the reader insight into at least one of your business processes
4. The Calls to Action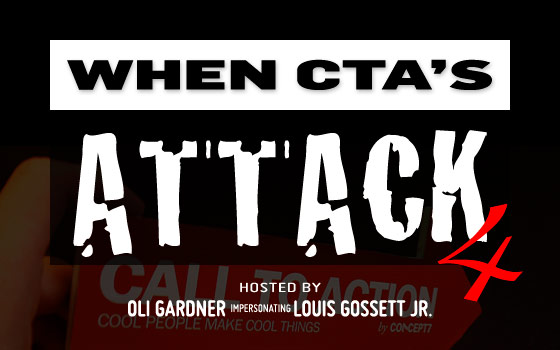 An effective CTA
is of massive importance as you want your readers to take an action (and then go on to complete your intended conversion goal) after reading your post.
The way you structure your CTA, as with any call to action will depend on the type of conversion you are aiming for.
A subscription conversion e.g. email newsletter or some kind of social following
A lead or ecommerce sale conversion
Positioning
Most people go for a link at either the start or the end of an article. I personally favour including my CTA at the end as it provides a better quality lead as they read right to the end of your post and have generated some interest.
A link right at the start can be a little like asking someone to sleep with you on a first date, if you slowly develop the relationship throughout the article then you can hopefully entice them back to your place. I'll stop with the metaphor now! :-)
Wording
The SEO in you probably wants to secure a nice keyword rich anchor text link "at the top" because the first link counts but as the world has become more SEO-savvy (to a certain extent anyway!), a shoe-horned exact match keyword anchor text link that doesn't really fit contextually can destroy any credibility and rapport with the reader – or read like crap.
I'm not suggesting you can't include a keyword rich link per se but just make sure that it fits and feels natural to the reader.
How many?
Trying for too many conversions with one piece might just make the reader feel confused and less likely to convert at all. Generally one primary CTA is the best approach for ensuring a conversion.
Test and improve
No CTA is perfect.
Analyse performance and make adjustments accordingly.
Ultimately there's no set in stone rule for creating the best CTA for your guest post but personally I try to adhere to the following:
Short & simple
Relevant/Natural
Clear & obvious
Arouse their curiosity OR leave them wanting more (or both)
Your call to action ties in with your landing page…
Take Action

Look at the CTAs your competitors are using to help develop yours
Be experimental with your next guest post CTA and monitor the results
5. Targeted Landing Pages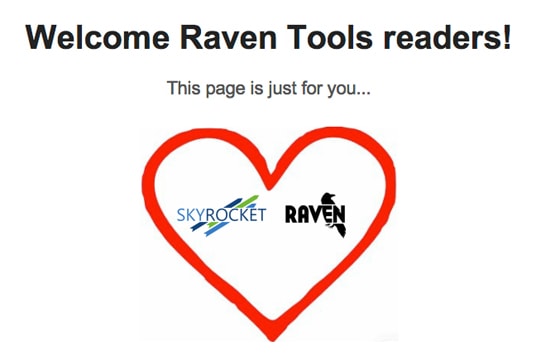 This is a personalised landing page which I put together for the readers of my recent Raven Tools guest post.
You can direct readers to do something which is beneficial to you but also really targeted towards the current 'mindset' of that visitor, having just finished reading your guest post.
It is particularly effective for subscription conversions for example as you can use the landing page as the final convincer for anyone that was interested enough to click through from your guest post but isn't sure whether you are just a one-hit wonder or genuinely worthy of paying attention to.
To help visualise the theory here, let's look at the AIDA model (Attention, Interest, Desire, Action)
Attention – the guest post
Interest – the guest post | the CTA | the landing page
Desire – the landing page
Action – probably somewhere on your site
This is a very basic funnel that the reader is likely to move through. If we consider for a moment the Interest and Desire stages which are the points where your landing page comes in, it is clear that your personalised landing page should serve to further the interest and create that desire to subscribe/follow etc.
Or the Interest/Desire.Action can all take place on the landing page.
A personalised landing page helps to create that seamless transition from someone else's website onto your own without the visitor/reader feeling like they are just being sold to.
To take the example of the personalised landing page I created for Raven Tools, I added some bonus content which extended the guest post I had written before going for the soft conversion.
What about sales or lead conversions?
If you are looking to convert prospects into leads or sales then I will usually divert visitors to the highest converting, most relevant landing page on our site.
In some cases that will be a blog post on the topic, in other cases that is the service page website which will likely contain other useful information beyond just sales copy.
When we analyses the performance of the Skyrocket SEO website, it became clear that nearly all of our leads came via a similar path:
Entry into website > Read Blog Post or Service Page > Read another Blog Post or Service Page > Submit Enquiry
I prefer to get them on a proven conversion path as soon as I can, rather than try to get them to fill out an enquiry form.
Take Action

Compare referral traffic to the landing page you linked to in previous guest posts
Experiment with your next guest post by adding a personalised landing page
6. Leveraging your guest posts
Leveraging your guest posts correctly is perhaps where you can gain the most conversions.
Second tier link building
Firstly the direct conversions can come as a result of second tier link building. In a nutshell, you should leverage a guest post which converted well for you and explore ways of pushing additional visitors through this post.
Acquiring links for SEO and traffic potential and pointing them towards your guest post might seem like an odd tactic, but very often the trust and credibility factors alone help to drive more conversions from visitors deriving from other sources provided they go through that authoritative guest post first.
Ross Hudgens wrote my favourite post on this topic
Leverage for social proof
Another key way to make the most of your guest posts is to make sure ANY visitor arriving at your website or a sales prospect in real life is aware that you've been published on authoritative website X, Y and Z.
Social proof as a result of your 'published' status can be the difference between a lead conversion and a bounce.
Make the most of every guest post!
Leverage the connection
There is also potential for further conversions (indirectly) by leveraging the connection/relationship that results from the guest post.
If you view the guest post as the start of a partnership – particularly if you are guest posting on a corporate blog or your two businesses are in complimentary markets – there may well be opportunity for further collaborations. Think mutually beneficial (and legal) sharing of your email databases, webinars, whitepapers, eBooks or even events.
Update it or write a second post
There does seem to be a misconception that writing a second guest post for a website is a waste of time (Editors note: I agree, this is total bs – you should continue to guest post wherever you find success).
Even if you are just thinking in link building terms, a fresh second guest post link is still valuable in your pursuit of conquering the search results. It also establishes you as an important authority in a new community that has fresh visitors all the time. Just don't waste your time writing for sites that don't drive acquisitions.
When it comes to high-conversion guest blogging, writing a second guest post or thoroughly updating your original post can be a really successful and worthwhile endeavour.
Their audience is hopefully growing all the time and it is plausible to say that their new audience members are at least similar to the ones who valued your original post and a second post or an updated one can gain the attention of new readers as well as solidifying your expert status amongst those who read your first guest post on the site.
Remember that you are unlikely to reach a blog's entire audience with one post, as an example my SEOmoz posts have performed progressively better as the community gets more familiar with me.
Take Action
Look at the guest posts you currently have published and:

Rewrite any that are outdated
Get back in touch with previous guest post publishers, keep the connection alive even just to see how they are doing
Add social proof to your website and sales literature with the logos of places you have guest blogged
---