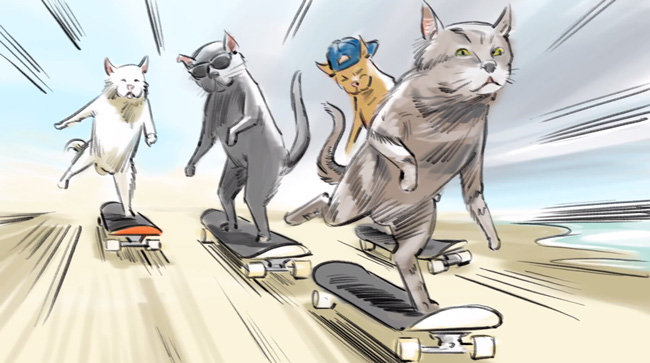 Looking for creative marketing campaign ideas? What if I told you that there was a literal festival of creativity that celebrated the biggest and best marketing campaigns, and laid their secrets of success?
There is! It is, of course, the Cannes Lions International Festival of Creativity. They recently announced the winners for 2015, and with the exception of a few breakout hits like the infamous ALS Ice Bucket Challenge, they are mostly huge in scope with a budget to match.
But you don't need to lay down millions to run campaigns that are creative and effective.
Great ideas are great ideas, and you can make them work with any budget. So steal these lessons from the Cannes 2015 award winners, and make them a part of your next campaign.
Something for every screen
There used to be just two screens that you could expect to find your audience in front of: their television or their PC. The rise of laptops that could be used anywhere added a wrinkle to this framework, but the domination of mobile completely decimated it.
Because mobile devices can be used in so many places and situations it's nearly impossible to guess a user's context and mindset while using one.
The proliferation of mobile has been a sore spot for many traditional advertisers, who have failed to adapt to the new environment. Department store chain John Lewis, whose Christmas advertisements have become a major part of the holidays in the United Kingdom, deserves credit for evolving with the times.
John Lewis' The Bear and the Hare campaign, launched in Christmas 2013, was ahead of its time even by 2015 standards — as one might hope with a total campaign budget of almost $11 million.
A video breaking down the details of the Bear and the Hare campaign.
The core of the Bear and the Hare campaign was a beautifully animated advertisement, unsurprisingly starring a bear and a hare. There was tie-in merchandise that completely sold out of stores.
One of the campaign's most distinguishing traits is that it had something for every context — including every screen.

In addition to the advertisements on television (and, of course, YouTube), there were also tightly integrated social media campaigns, a single by Lily Allen, and a narrated ebook for tablets.
All of this ensured that John Lewis could keep fans engaged with its campaign no matter what type of device they were using.
Give something for (almost) nothing
In a desperate bid to get their hashtags into our tweets, brands constantly ask customers to "share their story." So clichéd is this call to action that a Tumblr exists solely to mock it.
But these stories are very rarely interesting, and aren't your real concern; what you're really after is the awareness generated by someone sharing your campaign with their social circle. So why not merely reward the act of sharing itself?
That's what Lay's did with their "Tweet to Eat" campaign, which involved them installing vending machine/video advertisement hybrids at various bus stops in the UK.
The video screens served as a window into a chamber in which British sportscaster Gary Lineker is trapped, alone with his copy of War and Peace, pleading for you to tweet so that he may bestow upon you a complimentary bag of chips.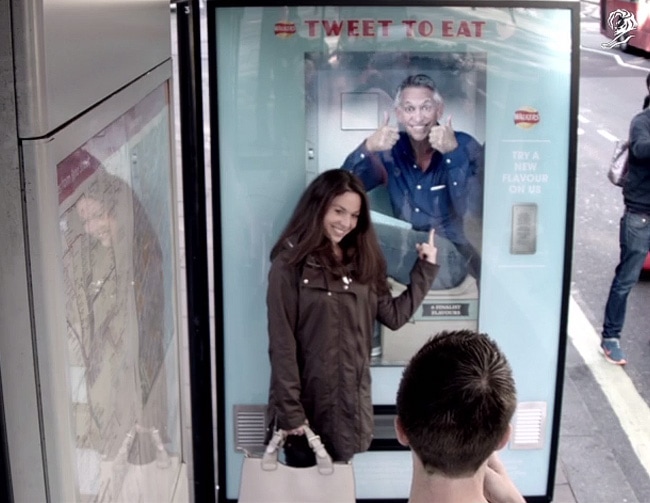 It's just a little unsettling.
The participant gets to experience something novel and fun, gets a free bag of chips, and has an incentive to tell all her followers about the campaign. It's a win for everyone.
This tactic doesn't only apply to elaborate, physical experiences; you can leverage social sharing as a way to spread word about your gated content, while giving your audience a frictionless way of obtaining it. We've even done it on one of our own landing pages: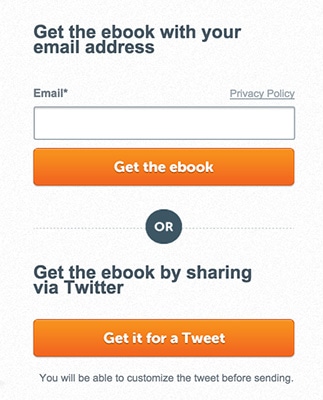 Presenting sharing as an option in alternative to something else is a win-win: you get the chance to reach someone who may have been unwilling to offer their email, and they tell their friends about your content, all while making a choice they feel good about.
Mock the machine
In the internet age, with information flowing freely about all kinds of media, consumers have more awareness than ever about how advertising works and just how often they're subjected to it. And they're not super happy about it.
That's why advertising that acknowledges its inherent inconvenience, or makes light of the advertising machine itself, has been winning the praise of shill-weary consumers.
Geico's award-winning concept began with one universal truth: everyone hates pre-roll ads.
Even the most ardent marketers skip them, anxious to listen to the latest hot single, watch the news or have their endorphins set ablaze by the latest adorable animal.
So Geico crams the entire ad into those first five, infuriatingly unskippable seconds, and rubs it in your face: "You can't skip this ad, because it's already over." But you know it cannot be so.

You, humble dot with the red road in your rearview mirror, can see the expanse of grey highway ahead.
This accomplishes what most pre-roll ads could never hope to do: it convinces you to not skip the ad. And it rewards you for doing so, treating you to hilarious scenarios in which the ad's characters freeze in place, while the world of the advertisement continues unabated around them.
A dog, unhindered by the social decorum of his masters, jumps onto the dining table and devours its bounty. A vacuum races away to an unknown frontier. And, uh, this:
By openly acknowledging the pain of pre-roll ads and delivering something that's actually worth sticking around for, Geico is able to connect with an audience that would have otherwise rejected them without hesitation.
Mocking the world's most reviled ad format is one thing, but what about taking on the biggest, most braggadocious advertising event of the year?
Heineken's Newcastle Brown Ale — a brand whose prime demographic is probably really into the sportsball — framed their If We Made It campaign around the absurdity of advertising during the Super Bowl.
Rather than run an ad during the big game, they designed a campaign around the ad they would have made, could they have afforded to. It was complete with summer blockbuster storyboards, scathing focus groups and Academy-award winning actress Anna Kendrick, pretending (or maybe not) to be livid over not appearing in an actual Super Bowl commercial.
They pulsed the snippets out through daily videos during the week leading up to the game, ensuring that the campaign had legs longer than its runtime.
The result is infinitely more memorable than yet another whiz-bang 30-second ad in a sea of whiz-bang 30 seconds ads.
Master the art of interception
In addition to producing a genuinely funny campaign, Newcastle also managed to make themselves a part of the Super Bowl advertising conversation without actually having to run a Super Bowl ad.
But that's not even the craziest story of Super Bowl advertising interception — Volvo managed to leverage their competitor's advertisements as part of their own campaign.
Volvo wanted to get the word about their new XC60 model, but like Newcastle, couldn't afford to run a Super Bowl ad of their own. But rather than creating a sprawling, hypothetical campaign, Volvo settled for something much simpler: a hashtag.
Volvo piggy-backed on their competitors' Super Bowl ads with a simple proposition to the public: tweet #VolvoContest mentioning someone in your life who deserves the new Volvo, and they just might get it.
Except, you can only do it while a car commercial is airing during the big game. In Volvo's own words, "When Lexus spent $4.5 million for this [Super Bowl ad], Twitter looked like this:"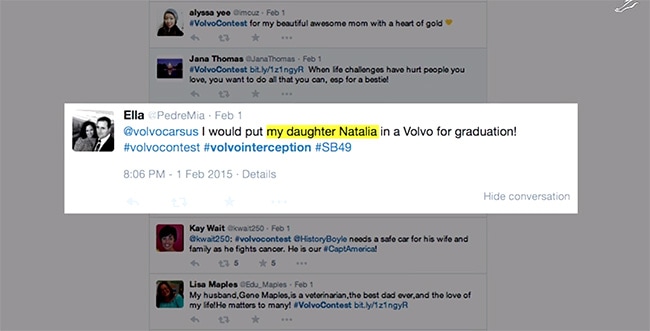 The results spoke for themselves: up to 2,000 Tweets per minute, about Volvo, during other car companies' ads. Awesome for Volvo and #volvocontest, which ended up trending nationally and globally during the #superbowl, and a big "ouch" for everyone else.
While Volvo took advantage of their competitors' ad spots, it at least came up with its own hashtag. One of the more controversial methods of marketing interception is hashtag-jacking, which means co-opting an already-popular hashtag for your own use.
This is almost universally irritating and in poor taste, but there was at least one organization with a mission worthy of intercepting one of Instagram's most popular hashtags, #nofilter, which is used when a photo has had no filter applied.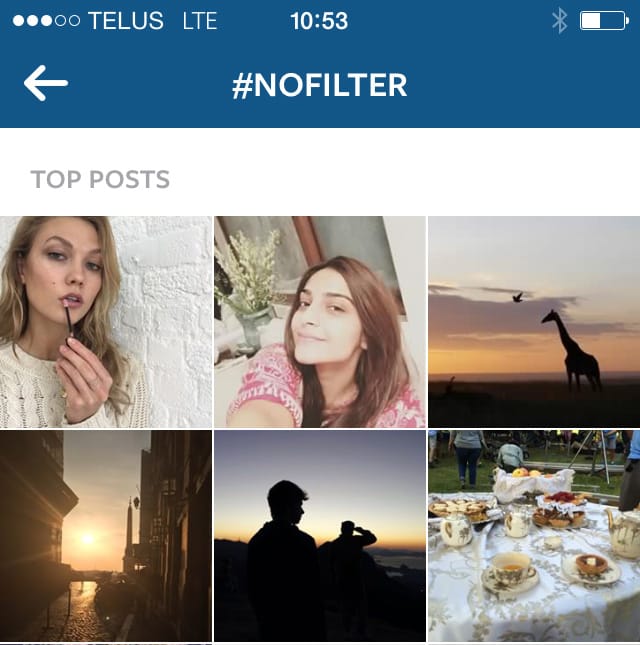 This hashtag has been used on Instagram over 131 million times and Waves For Water — an organization whose mission is to get clean water to those in need — co-opted it for their NoFilter initiative.
Their campaign promises to implement one water filter in an area of need for every 1 million #nofilter uses on Instagram. Each filter is capable of producing 1 million gallons of clean water. 1 mention = 1 gallon.
For a cause this important, one is willing to overlook the modest crime of hashtag-jacking.
"Context" is more important than "cost"
The shared thread between all of these campaigns?
It wasn't just about great messaging or a killer value proposition. And despite the high production value of some of these campaigns, it wasn't how about how much they spent, either. It was about finding novel ways to become a part of conversations and activities that their audiences were already engaged in, without seeming intrusive.
Now more than ever, marketing isn't just about how much you can spend to get the word out — it's about whether the word you're spreading is interesting to anyone but yourself.