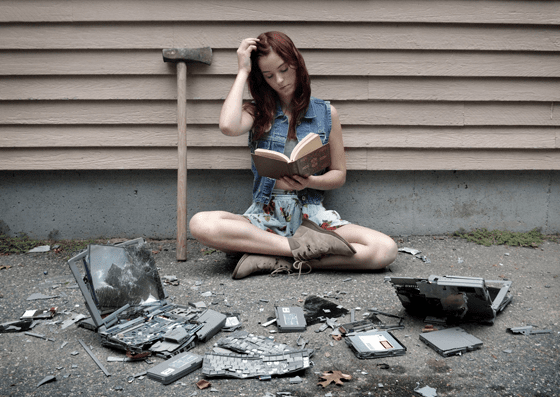 Just because Google put the hammer on the RSS reader, dosen't mean your blog subscribers have to go back to the books. (
Image source
)
When Google announced its decision to retire Google Reader, the response from blog owners, writers, and content marketers was a resounding #@#@&*(#@. In short, businesses are afraid that they're going to lose a significant number of subscribers who rely on Google Reader to ingest content.
How could Google put an end to such an influential, long-standing, loved, and useful product?
"There are two simple reasons for this: usage of Google reader has declined, and as a company, we're pouring all of our energy into fewer products," Google said in their official announcement. "We think that kind of focus will make for a better user experience."
Complaining is pointless — the decision won't change, so start taking action
The July 1st d-day is less than 3 months away, so the time to start your prep-work is now. If you wait until the last minute, you'll run the risk of losing hundreds, thousands, or tens of thousands of regular readers (or however many you have).
There is no plug-and-play solution — you need to get your marketing ducks in a row, and get creative. There will be four parts to your strategy. Each is equally important and tackles a different facet of your subscriber problem.
New Audience Development (Recruit new readers)
Audience Retention (Build new subscription channels)
Alternatives (Find substitute RSS tools)
Communication (Educate your readers)
Here's how to tackle these four areas:
1. New Audience Development
Plain and simple, audience development means boosting your readership — something that marketers and writers should be actively doing anyway, regardless of whether they're affected by Google Reader's demise. Now is the time to start recruiting more eyeballs to your website. Here are some ideas: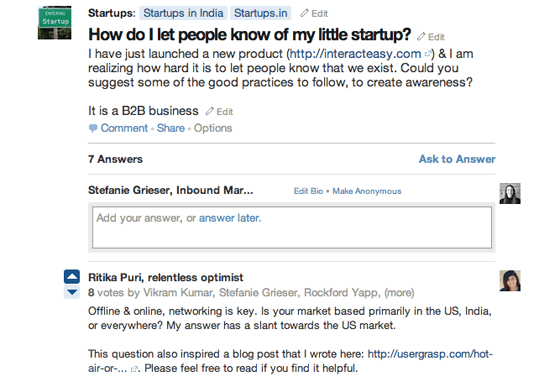 Tap into existing conversations about your brand's area of expertise in robust discussion communities like Quora, LinkedIn Discussion Groups, and StackExchange. Find relevant conversations, jump in, and link back to your blog as a frame of reference. The trick is to find discussion topics with existing built-in audiences. Put your business blog out there — you're already creating all that valuable content, so get out there and answer some questions (see my Quora examples above).
Syndicate your content with other blogs and media channels — build 1:1 relationships with fellow bloggers, or use an automated distribution platform like Pulse that leverages sophisticated algorithms to match readers with content they're likely to enjoy.
Guest post on high authority sites with the goal of recruiting new readers. You might not have the bandwidth to leverage this strategy on a regular basis, so make each opportunity count by hand-picking opportunities that match your goals (relevant audiences, wide readership, etc.).
Submit your blog to high-quality topic and story aggregators like Alltop.
Not actively prospecting for new readers? The death of Google Reader provides a good excuse to start.
2. Audience Retention
Move your Google Reader people to email. That is all.

— Brian Clark (@brianclark) March 13, 2013
With Google Reader, you'll lose a big list of readers. So what? Build your own. Move your dependence away from other companies' technologies and tools. It's easier than you think, and here's why: e-mail.
"Move your Google Reader people to email. That is all. " said Copyblogger's Brian Clark in a Tweet shortly after the Google announcement.
Media strategist, blogger, and writer Jerod Morris explains the value of Clark's suggestion in an eloquent follow-up in which he describes the value proposition for content-consumers:
"When you subscribe to a website via a third-party RSS reader, you're at the mercy of that third party," says Morris. "But when you subscribe via email, you've created a direct relationship with the publisher… Email will never go away. Neither will e-mail subscriptions."
Business bloggers, if this strategy intrigues you, make sure that you have the right tools for execution. First and foremost, you'll need a targeted landing page that you can optimize for the conversion goal of boosting email subscriptions (Oh hey – that's Unbounce's specialty — check out the lead gen and click-through templates). You'll also need an autoresponder to confirm subscriptions and schedule follow-up messages and newsletter blasts.
Your strategy should be to send traffic back to your business blog, and to do this successfully, you have a couple of options:
1. Create a beautiful, regular newsletter (Example: LearnVest)
2. Send subscribers a reminder when you update your blog (Example: QuickSprout)
A tool like MailChimp can help on all of these fronts from setting up your autoresponders to timing your messages and customizing your newsletters.
3. RSS Alternatives
RSS is a loved technology, and chances are that a good chunk of your readers won't want to part ways. You need to make sure that your business blog caters to this inevitable user preference.
Across the blogosphere, writers are rounding up their favorite 'Google Reader alternatives.' Top media channels like Mashable, The Verge, and Lifehacker have come to some strong consensus around a select few:
Feedly — Within the first few days of Google's announcement, more than 500,000 Google Reader users migrated to Feedly, according to Mashable. On Lifehacker, this platform was voted a top contender to Google Reader, long before Google decided to retire its RSS reader. Feedly rocks because it's more than an RSS reader. It has a content recommendation algorithm as well as built-in social tools.
NewsBlur — Users who love the Google Reader interface will be natural NewsBlur adopters as the look & feel is very similar between the two. The key difference is that NewsBlur has a few more customization options. For instance, users can toggle original views and browse content exactly how it shows up on their original websites. Readers can also choose to view content in text-only format. NewsBlur has two user accounts on its platform — a free version that caps user accounts to 65 blogs and 10 stories at a time, or a premium version with unlimited sites and functionality
($24/year).
Do your due diligence before pinpointing the alternative that best complements your blog (and keeps your readers happiest).
4. Communication
Keep your readers involved with the decisions you're making around this RSS issue. It could be the case that your audience has no idea what's up, so if you're moving subscriptions over to e-mail, make sure to prepare a thorough blog post, landing page, or website blurb that explains why.
You can also keep your readers involved with your decision-making process. Why not poll them for suggestions? What Google Reader alternatives would they like to see?
Open communication will decrease your risk of losing subscribers. As a blogger, it's your job to maneuver your community through this transition. Be in control, and everything will be okay.
---
What have been the best Google Reader alternatives that you've come across? What's your game-plan?
---