Some would argue that creative content and using it as a marketing device (i.e. Content Marketing) is the only way to market a business. Without it, you're like the wallflower at the prom. And seriously, who even uses the word wallflower these days?
Which proves our point. If you're not using content marketing, you're dated. (Or without a date… at the prom). Get on board. Fast.
"Content marketing is the only marketing that's left,"
claims Seth Godin, blogging phenomenon and marketing guru.
In 2011, this certainly seemed to be the case, with a study released by Hubspot that showed that businesses with more than 200 blog posts generated 3.5 times more leads than blogs with fewer than 20 posts.
So if 2011 laid the groundwork for content marketing, then 2012 will be the year of it, with businesses switching from older, more expensive models of marketing, to free mediums like blogs. "Content is certainly the name of the game in digital marketing today," argues Alissa Leonard on ClickZ.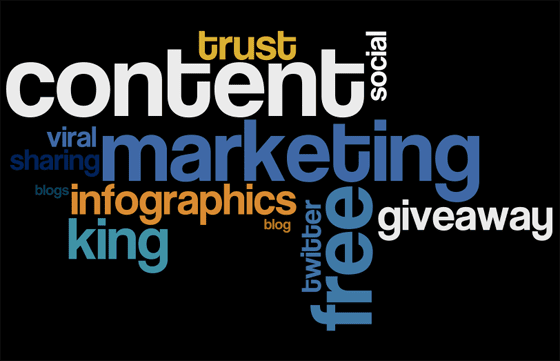 What is Content Marketing?
But what is content marketing, and why would anyone care about you blog? If you're providing interesting, engaging content – which is the essence of content marketing – and you have 10 customers who are consistently reading it, those 10 customers become your biggest fans. They'll bring you more business than any of the thousands of other people who visit your site. If you keep them coming back, by posting frequently and engagingly, they'll bring others with them, until you have a tightly knit network of cheerleaders for your brand.
In other words, making free content that doesn't suck benefits everyone. It's a consumer-producer marriage made in heaven. "The average blog, article, anything, gets average results," says Dharmesh Shah in a lecture at Saleforce.com's Dreamforce conference. "And average results will kill companies."
So how to produce engaging content? First start by being real. Consumers are jaded after years of feeling tricked into buying things based on misleading advertising. They want to be talked to directly, and they want to be treated with respect.
They also want to read personal stories. In the age of Facebook and Twitter, people are accustomed to sharing intimate narratives. They relate best to information coming from Facebook friends, whose personal lives are laid out for them to explore. They don't want to be told to do something indirectly. They want personal contact with a brand, and they want to feel like they can relate to it.
Finally, they want the information to come to them easily. If they follow a blog, they want that blog to post its content on Facebook, Twitter, Tumblr and any other social media they may follow. They want the language you use to update them to be funny and engaging. And they want to they want to be able to read it all in one click.
Finding the right type of content
Once you master the language of speaking informally and truthfully, all that's left is to figure out what your readers want. Are they interested in your infographics? Or do they love the content that is broken down into lists? Can you produce some kind of content – an advice column, an expert tip book – that just doesn't exist anywhere else? If so, then give them more of what they want, and less of what doesn't get any hits.
As your followers blossom on Twitter, and your Google Analytics spike on your blog, make sure that you're always drawing in new customers by finding similar sites in your arena, and speaking directly to them. Comment and follow those who follow you. And if you write something, and someone responds to it directly, give them the respect of responding back. Doing so forms symbiotic Internet relationships.
Great Examples of Content Marketing
There are countless examples of great content being produced every day – but here are a couple to give you a sense of what can be used to create a stir. Tip: Always make it your best work.
The N00B Guide to Online Marketing Infographic
Oli Gardner of Unbounce spent weeks designing and writing the now infamous and epic Noob Guide to Online Marketing. Yes, it took a while, but it's also resonated around the world (translated into at least 7 languages and been read over a hundred thousand times). The best thing you can do with content marketing is to think longevity. Don't spend an eternity on something that will disappear in a week – think evergreen – something that never dies.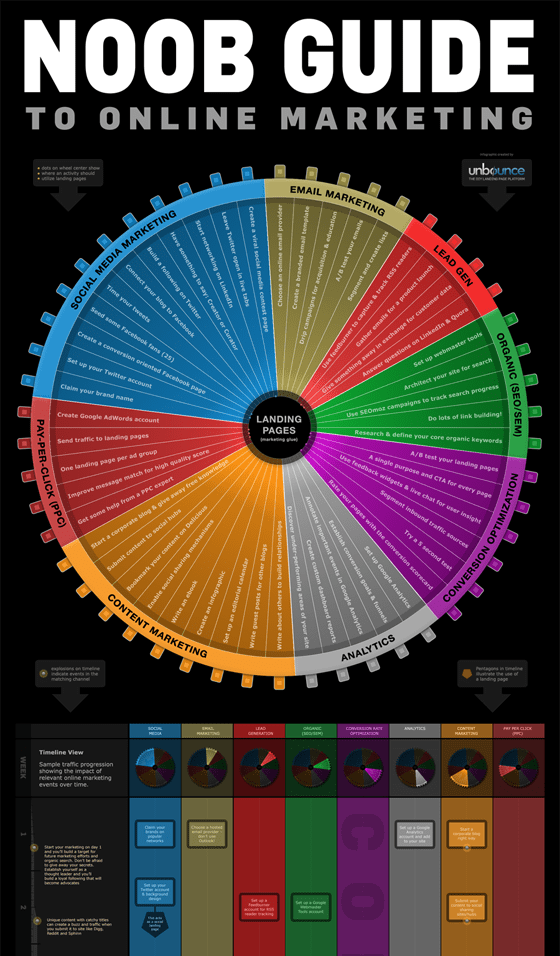 Click the image for the full infographic
The Anatomy of a Perfect Landing Page
Another great example is The Anatomy of a Perfect Landing Page which spurred a lot of inbound links (exactly what you're looking for) and generated a lot of buzz and is helping to accelerate the production of better landing pages. That's great content done awesome! While benefiting business and marketers at the same time – which is what all great content should do.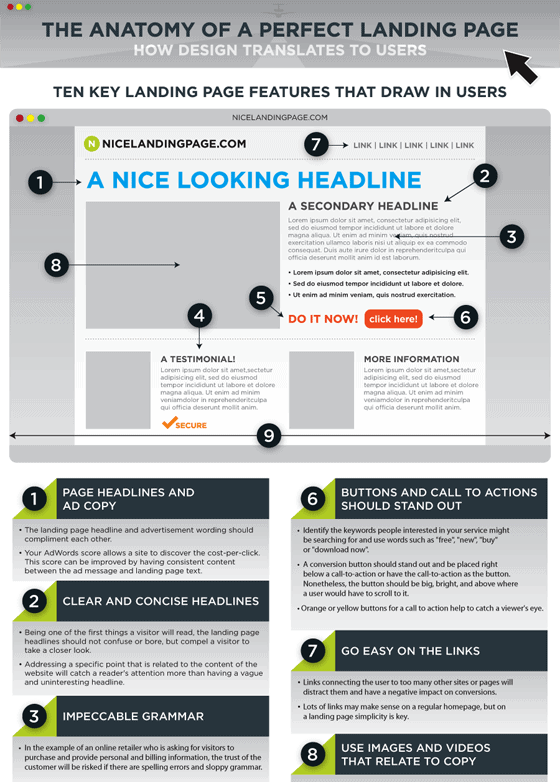 Click the image for the full infographic
---
How effective is your content marketing?
The last thing you need to do is measure whether or not you have effective content marketing. All you need to do is ask yourself four questions:
Is my content compelling?
Can it be integrated cleanly into the site?
Is it discoverable?
Is it promotable?
If the answers to these four questions are yes, then you're well on your way to building a successful marketing plan for 2012.
Go get 'er done!
— Brienne Walsh (and a little from Oli Gardner)