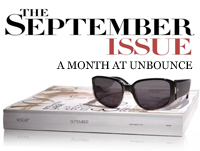 September was an exciting month for the Unbounce team. We moved into a new office and cranked into high gear for the big push towards our end of year launch (shhhh).
We bored our friends and family to tears with talk of landing pages and conversion marketing, and we wrote a slew of blog posts to help our readers kick their own landing pages in the butt.
If you've only just discovered Unbounce, this is a great place to start as we roll through the highlights from the month.
September's Greatest Hits
Here's 14 things we'd love for you to check out. Actually, only 13 of them are suggestions. Number 12 is an order.
1. More landing page optimization tips than you can shake a stick at
Kicking things off in style, we published what must be the definitive list of landing page optimization tips. In fact, with 101 of them, I'm not sure a bigger list exists anywhere. What are the chances of someone commenting with a link to 102 landing page tips :)
2. Sticking it to the man: we critiqued the best websites of 2009
We started our critique of the best websites of 2009 using the "5 Second Rule". In the first in what will be a 5-part series we analyzed Flickr, Delicious, Skype and Twitter amongst others.
3. In landing pages we trust
In an age of spam, we took a look at how to build credible landing pages. These 15 trust tips should allow you to design landing pages with a greater believability factor.
4. Testing your way to lead gen greatness using your A|B|C's
To introduce the concept and value of A|B Testing we discussed how you can use it to uncover the perfect form length for a lead generation landing page. Lead gen pages are so commonplace and so many people have requirements about what information to collect, so we devised a way to make everyone happy. Amazing.
5. How to rule at landing pages with Twitter
We published a free PDF for our monthly Conversion Marketing Report, which showed you:
5 ways to improve your landing page conversion rate with Twitter
How to market your landing page with Twitter
Tracking and measuring your campaign using Twitter and Google Analytics
Using Twitter to enhance, promote and measure your landing page campaigns (11-page pdf)
6. The marketing FAIL stamp touched down on the newbies
For anyone starting out with landing pages, we brought out the Marketing FAIL Stamp to expose the 7 most common newbie mistakes.
7. The NFL optimization playbook
The NFL season started with a slew of missed field goals, so to help get you back in a conversion mindset we came up with an entertaining and analogy laden 10-step playbook to optimize your landing pages.
8. The best use of A|B testing: proving your boss wrong
Tired of making the logo bigger? Think blue is better than red? These are great things to test on your landing pages. Find out how and why.
9. A video about herding cats… and a lesson about focus
Your landing pages should be focused on a single goal. A simple rule of thumb that I could've probably just Tweeted about, but here's a full post about the reasons and methodology – oh and a funny video about herding cats.
10. Let them Puppies Tweets breathe – the "less-than-140 rule"
This is a simple concept. If you use up you full allotment of tweet space (140 characters), you'll not have any left for people to Re-Tweet you.
11. How to align your marketing team for higher conversion
We took a look inside the small to medium business workplace to explain how to align your marketing team(s) and get your campaign strategy flowing more smoothly through the marketing funnel.
12. Chuck Norris was in the house!
Last Friday, Chuck Norris decided to come and critique our landing pages. Actually, he came and deleted them all from the server and put digital posters of himself all over our website. Who are we to argue?
13. The best times to Tweet and Re-Tweet… ever
We did some research into when the best time for Tweeting and Re-Tweeting is. Turns out there's a good reason to pick your times carefully for maximum exposure and also maximum re-tweetability (is that a word?), and we uncovered that the best time to Tweet is 9am PST, and the best time to Re-Tweet is 4pm EST – or beer o'clock.
14. How to lower your CPA with landing pages
And rounding off the month, we took out our calculators for a lesson in landing page economics, where we showed how using and testing landing pages can double your conversions and slash your cost per acquisition (CPA).
We're eagerly anticipating more epicness in October, so stop back to see where we're at, and leave us a message or two below.