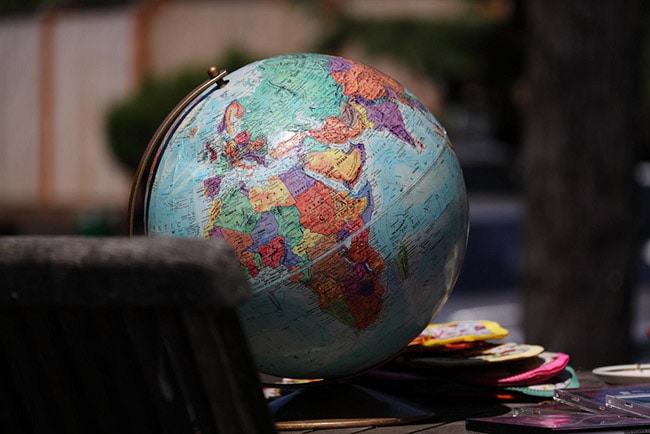 On March 4, 2014, Unbounce Event Marketing Manager Stefanie Grieser started an email thread with Unbounce's co-founder Oli Gardner and VP of Marketing Georgiana Laudi. She wrote:
Another idea I've been toying with was declaring an International Conversion Day. Similar to Mashable's International Social Media Day.

We would round up a bunch of experts, partners and companies and make a huge digital scene. We'd have a day full of webinars, Google Hangouts, AMAs and Twitter chats. And lastly, we'd encourage in-person world-wide conversion meetups.
A little more than a year later, Unbounce hosted the first ever International Conversion Rate Optimization Day (CRO Day).
The event featured almost 60 conversion rate optimization experts in 30 different webinars that revealed the art and science behind effective copywriting, A/B testing, landing page design, email marketing and other aspects of the online marketing universe.
The webinars were attended by more than 4,000 people and included industry experts like Andy Crestodina, Joanna Wiebe, Talia Wolf, Bryan Eisenberg and Larry Kim. And by the end of the day, almost 6,000 tweets went out with the hashtag #CROday, making this a day of learning and conversation that exceeded every single one of the KPIs that we had set out to achieve.
As you might expect, putting together something like this was not easy. Along the way there were many hiccups, roadblocks and challenges.
But in the end, there were smiles, cheers, congratulations, songs, high fives – and many lessons learned. We gleaned a lot of insights along the way, and are sharing them here in hopes that it will inspire you in your own campaign planning and execution.
Why CRO Day?
Stef's initial email appealed to Oli's longstanding desire to beat the record for world's largest webinar, set by Hubspot in 2011. But as more people joined in, they realized they could do something even more epic.
Since webinars had proven to be a key acquisition tool for Unbounce in the past, the idea of holding a day's worth of webinars was an easy sell to stakeholders.
More than just a lead generation campaign on a grand scale, it was important to everyone at Unbounce that it celebrate a specific topic that marketers of all stripes could get behind. If it could do that, then brand awareness and lead generation would follow.
The topic we chose was conversion rate optimization; it was about time that CRO had a day to call its own.
Getting CRO Day started
With Campaign Strategist Courtenay Ledding managing the internal team that would make CRO Day a reality, Customer Success Manager Tia Kelly became Unbounce's point of contact for partners.
In the end, Tia exchanged an astounding 1,193 emails with representatives from WordStream, Hanapin Marketing, Copy Hackers and more to make sure everyone knew what they should be doing, when it should be done and how to go about it. Says Tia:
I just reached out to a ton of potential partners to see who would be interested in presenting, but the response was so overwhelming that I ended up with way more people than I thought I would.
If every partner had their own time slot, it may have ended up being CRO Week. In order to make it more manageable, Tia went through the unenviable task of matching up webinar presenters speaking on the same subject.
Meanwhile, Stefanie Grieser was helping to coordinate a meetup in Vancouver on the day of the event. Although CRO Day was a virtual event, there were also 12 offline meetups that day. Stef explains:
CRO Day was a way for us to celebrate something international — something as far reaching as conversion rate optimization. And there's a real value to face-to-face meetups, just as much as the online webinars. Whether it's just a few people getting together for a drink, or a 60-person conversion event, there is great value in meeting people in person.
Building the foundation and dealing with snafus
Even with strained resources and a tight schedule, Courtenay wrangled the internal team and got the website finished on schedule.
But then things got tricky.
The original name for the event had been Conversion Marketing Day. "Conversion marketing" was a term that Unbounce had been using to describe results-oriented marketing that revolves around optimizing for conversions. But when Oli saw the first iteration of the site, things came to a halt. The term "conversion marketing" was not sitting right with him.
At this point Corey Dilley, Unbounce's Director of Campaign Strategy, stepped in to help mediate between Oli and the rest of the team. "There was a lot of swearing about Oli," Corey told me as he sat back in his chair and laughed.
I asked Oli where the term "conversion marketing" came from in the first place. "My disdain for the name leads me to believe it's my fault," he said with a wink and a smile.
Oli recalled that this started a more fruitful discussion with Stefanie and Tia about rebranding the event, which eventually led to the name International Conversion Rate Optimization Day (CRODay for short).
Luckily, Courtenay had budgeted time to deal with potential snafus. The team was able to pivot, start again from the wireframe stage and come up with a design and copy that worked for everyone involved – and, more importantly, served the goals of the campaign. Courtenay gave credit where credit was due:
Everyone definitely pulled together and worked really hard on it. Interactive Designer Alejandra Porta was a key part of the success, and the entire team was just outstanding.
Despite the setback, the team was able to launch the website on time (special shout out to the Creative team, who worked super hard to make it happen).
Partners began signing up to take part, and attendees started signing up to attend webinars. Crisis averted.
Building a CRO community
As D-Day drew closer, promotion began in earnest. Unbounce's Community Manager, Hayley Mullen, began promoting the event on our social channels about two months out, but it was the community who really took over and started pushing the event with about a month to go.
The first mention of the hashtag #CROday went out on March 7 in a conversation between Talia Wolf and Joanna Wiebe.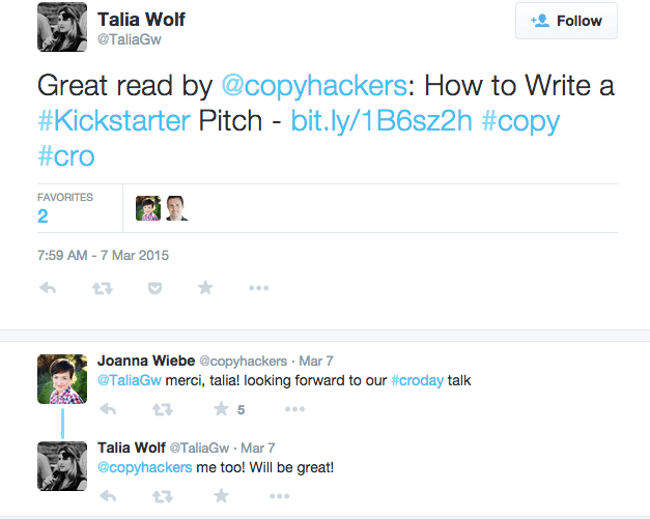 As the days went by, more and more people from the marketing community started tweeting about CRO Day. From speakers to attendees, #CROday began to snowball. As bigger names like Larry Kim, Joanna Wiebe, and Alex Harris started signing up, others gained the confidence to come on board. And then they began to come in droves, looking to get in on the action. With a week to go, the final schedule was set, and the last push for promotion began. A special edition of #bufferchat, the popular Twitter marketing chat, was held featuring Oli, who discussed conversion rate optimization.
RT @buffer One hour to go until #bufferchat with @oligardner from @unbounce to discuss conversion rate optimization! #CROday #BufferChat — Nicole M. Miller (@nmillerbooks) April 8, 2015
Inbound.org began promoting an AMA that they would host on their site on April 9 that featured 20 of the CRO Day experts and garnered 58,853 page views on the AMA thread.
The day before CRO Day, there were hundreds of tweets promoting the event and the excitement was palpable.
It's International #CRODay This Thursday & @Optimizely @unbounce @WordStream @HubSpot @copyhackers will all be there http://t.co/0XacOmDhwp

— Cara Harshman (@CaraHarshman) April 8, 2015
By April 9, there were 13,531 total registrations for the 30 webinars.
The challenges had been met, the team had risen to the occasion, and CRO Day was ready to kick off!
CRO Day at last!
CRO Day kicked off with a bang at 6am EDT with two webinar for attendees to choose from. For most of the day, there were two webinars per hour, in order to make enough room for all of them.
Webinar topics ranged from design to copy, and from lead generation to A//B testing. There was, literally, something for everyone in marketing happening that day.
Anxious to ensure that everything was running smoothly, Community Manager Hayley Mullen was up at the crack of dawn, making sure that everything was ready to go. Said Hayley:
I prepared nothing else for that day. I did nothing else that day. CRO Day was my whole world from 6am to 9pm.
She started monitoring social media activity — jumping in on conversations, helping people with questions, keeping the conversation going and making sure that Unbounce was a part of as many conversations as possible.
Meanwhile, while on vacation in Mexico, Tia began checking Twitter on her phone at 8am local time.
I was so worried that it would be a dead hashtag, but it was crazy! I couldn't even scroll down to the end. I started getting emails from all kinds of people that #CROday was trending, which was such a relief. I hadn't relaxed at all up until then.
Tweets rolled out fast and furious, with people tweeting what they learned during webinars, or promoting upcoming sessions.
In total, 549 people were tweeting about CRO Day, with 2,508 total tweets sent with that hashtag, which resulted in 30.5 million impressions worldwide.
As the cherry on a rather deliciously satisfying cake, Stefanie Grieser had organized a special meetup at Unbounce's Vancouver office. Stef says:
We knew we wanted to do something different, and someone came up with the idea of a CRO trivia night.
Teams of people, who didn't necessarily know each other, were matched to compete for the CRO knowledge crown in a trivia contest much like what you'd find at your local pub, including the beer.
Other meetups took place in places as close to Unbounce HQ as Seattle, and as far away as China.
With the day behind the Unbounce team, all that was left was to look at the results — examine successes, look deeper into the challenges faced along the way, and assess what could be done differently next time.
Wins, challenges and takeaways
CRO Day had two marketing goals:
Creating leads through a channel (webinars) that had been proven successful for Unbounce, and
Branding Unbounce as a leader in CRO.
Here are a few of the wins from the first International CRO Day:
#CROday was trending on Twitter worldwide all day
2508 tweets about #CROday on the day of the event
5963 tweets about #CROday in the month leading up to it
30.5 million Twitter impressions worldwide (we had people tweeting in Australia, Europe and Asia along with North America)
549 people tweeting about #CROday (including hosts and us)
Tons of love for the idea — great for brand awareness and placing us at the center of the CRO conversation
Overall, the biggest win was the number of people who were involved, both internally and externally, and the enthusiasm they had for the event. Even though challenges in planning and execution cropped up, they could not have been handled as well as they were if not for the fact that so many people had bought into the idea so wholeheartedly.
Without the love for the idea from the people in the marketing community, CRO Day could never have been the success that it was. It feels great to know that so many people are willing to get involved in sharing their knowledge to such a vast group of people, and that the online marketing community can come together to support and educate each other.
The next CRO Day
Will there be a CRO Day next year? Maybe. Probably. We're not sure yet. Everyone I spoke to expressed their hope for an even bigger CRO Day next time around, with more countries involved, more languages and more participants. To sum up: even more epic.
The discussions I had with people during the interviews were all positive. Even when discussing setbacks and challenges, it was with a smile and fond remembrance.
Stefanie summed it up nicely in our last conversation.
At the end of the day, the most important thing was the concept. The concept was to get a huge group of people to celebrate conversion rate optimization.
Mission accomplished.
…But don't take our word for it. Check out the recordings below.
---