You know that telling a story is a great way to write high-converting landing page copy. Thing is, you might not fancy yourself much of a storyteller. As much as you appreciate a good tale, when you go to spin one yourself, your words fall flat (and so do your conversions).
But what if there was a formula you could follow to piece together a compelling narrative that's sure to resonate with your ideal customer?
Better yet, what if there was an entire toolbox of formulas you could use?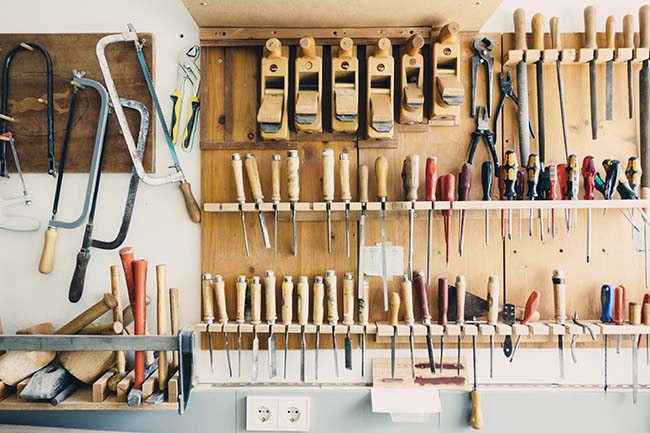 In our latest Unwebinar, expert copywriter and Write With Influence founder Amy Harrison shared three easy-to-follow-but-super-effective formulas for piecing together a captivating story on your landing page.
Watch the webinar recording here, or keep reading for a summary of three new formulas for your landing page copywriting toolbox.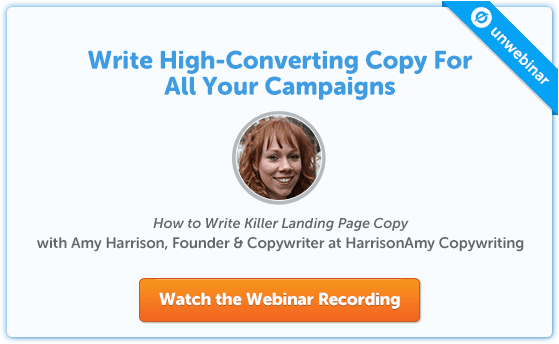 Tell a story no one's heard before
The story you tell on your landing page should be compelling, but Amy explained that it also has to be unique:
You want to show that what you have is valuable, but also different from the competition.
Even for verticals like real estate where offerings are similar across competitors, you can still stand out by telling a different story.
Easier said than done, though, right? But Amy's got a tool to help.
Tool: Combination Uniqueness, AKA The Headline Shaker Maker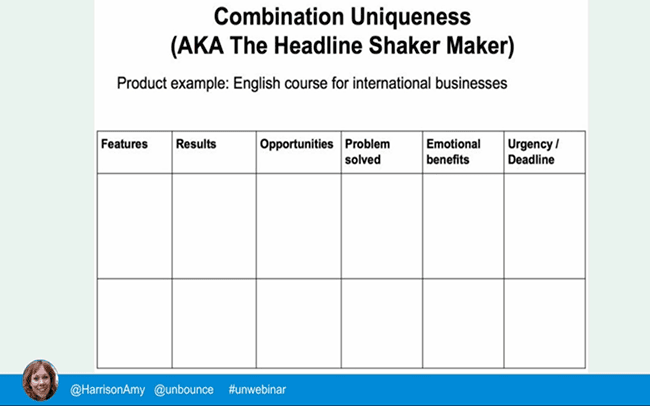 The table above allows you to break down each of your product or service's features, along with all the ways it impacts your customers: results, opportunities, problems solved and emotional benefits. And then there's a column for adding a smidgen of urgency to your offer.
Here's a table she filled out for a client who offers English courses for international businesses: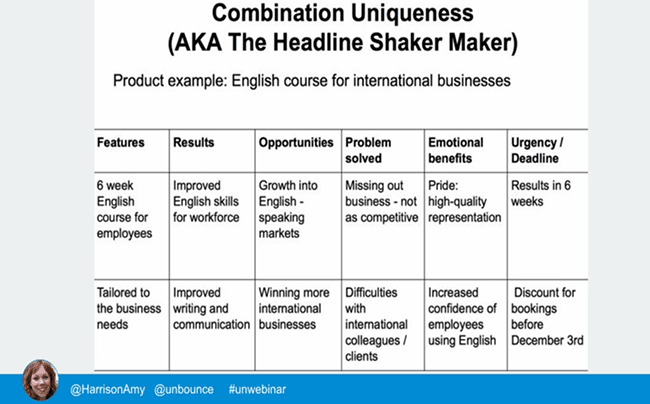 Amy explained that while you might have similar features to your competitors, laying out all the key elements of your product or service like this allows you to reveal unique elements that you can highlight in your landing page copy.
These were the elements she identified as being most important to her client's prospects: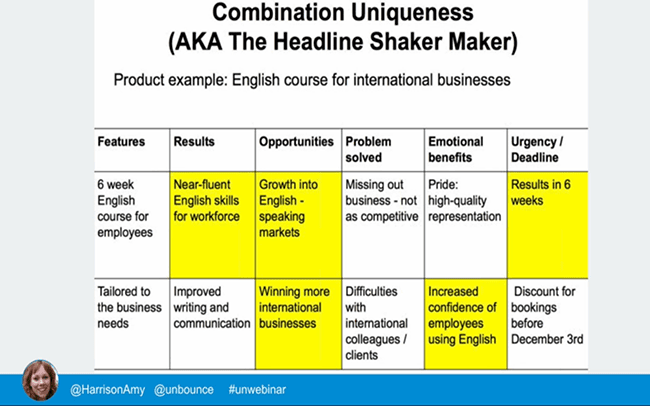 With that, Amy was able to put together a strong unique value proposition statement — which she explained is an important building block for writing strong landing page headlines in particular:
Instead of coming up with a headline out of thin air, we're taking a couple of steps to highlight things that you know are important to your customer.
In other words, instead of having to write headlines based on everything you know about your product, you can craft it out of a few key pieces. The result? Super-targeted, unique headlines that are sure to woo prospects.
Here are some of the headlines she wrote for her client, based on the highlighted elements above:
Compete for (and Win) New Business Internationally with Workforce Fluent in English
ABC English for Employees: Helping your Business Expand into New Markets
See Employees Using English Accurately and Confidently in Just 6 Weeks
Amy explained that these headlines will help her client stand out from competitors offering this service, who might have plain headlines like, "English Classes for Employees."
Her headlines are targeted to a customer's interest, which helps the headline sound unique by striking to the heart of what the customer wants.
Or as Amy puts it:
Tell a story that cuts deep with prospects
If you want prospects to believe that you have the solution to their problem, then you need to show them that you understand that problem to begin with.
And as Amy explained, this can be achieved by speaking to your visitor's symptoms.
Tool: Use symptoms in your copy
Symptoms, Amy explained, are "vivid situations that occur in your customer's life as a result of the problem that you solve." While a doctor may know that a flu is the problem, a patient uses different, symptom-based language: they describe their fever, lethargy and aching bones.
Incorporating symptoms into your copy is an effective strategy because they:
Get prospects nodding along with you.
Show prospects that you have a super intimate understanding of their problem, which makes them more likely to be receptive of your solution.
Amy illustrated with a poor example from another one of her clients, an analytics firm: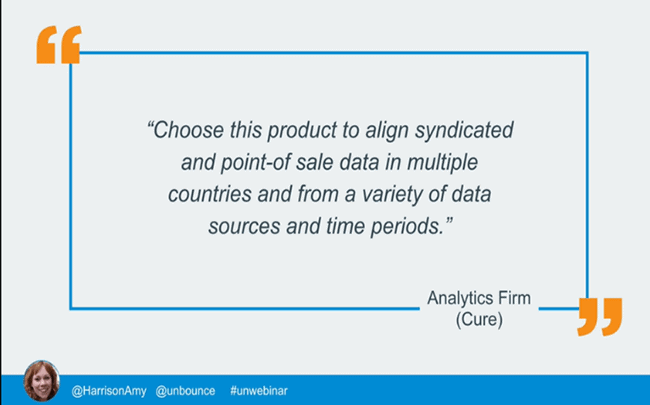 The issue with the excerpt above is that it leads with the solution without first identifying with the visitor's symptoms. This is problematic because the company's competitors offer that same solution. There's nothing to distinguish the two competitors in the mind of the visitor.
But here's a rewrite of the above, instead leading with the symptoms of the prospect's problem: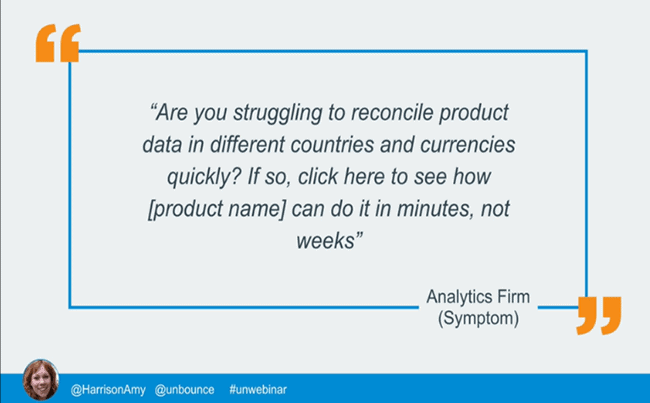 This copy highlights a specific symptom that will get prospects nodding their head "yes" and feeling like this firm understands their problem and is uniquely qualified to offer a solution.
Amy also shared a formula for incorporating symptoms naturally into your landing page narrative:
Here's what you may have recognized (symptoms)
Here's what causing them (problem)
Here's what you need to do (cure)
Here's what's possible if you do (results)
What does this look like in practice?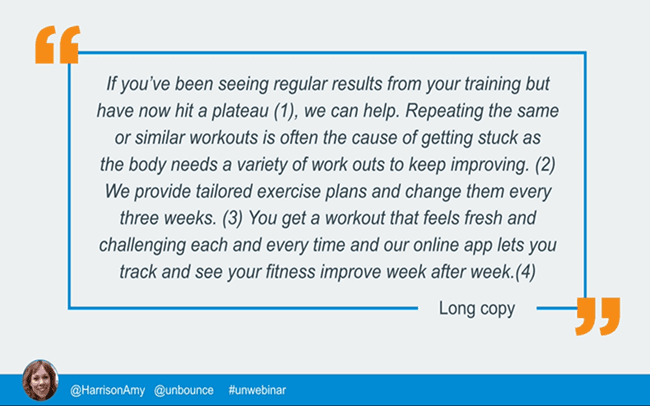 Showing this depth of understanding demonstrates to prospects that you understand where you're coming from — and it paints you as an expert.
Tell a story with a happy ending
As much as you want to show prospects that you understand how their problem impacts their life now, you also want to paint a picture of how things could be with the help of your solution.
Aaaand you may have guessed it, but Amy's got a tool for that, too.
Tool: The Impact Table
The Impact Table is a tool that Amy uses to take each feature and clearly articulate what the impact will be on prospects' lives — on both a practical and emotional level: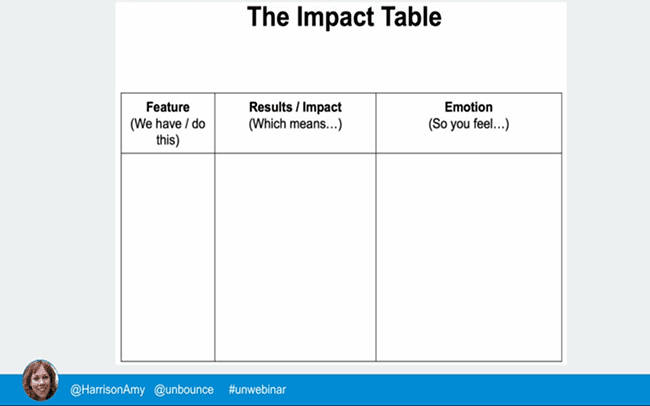 Features are hard facts about your service of product, whereas Results and Emotion are the benefits it brings prospects. Image via Amy Harrison's
recent Unwebinar
.
As Amy puts it:
An Impact Table gives you an at-a-glance view of the transformation you provide to customers – while showing how you do it.
Here's the Impact Table in action, using an example of a conference company that holds many conferences each year. Note that Amy filled the table out for a single feature: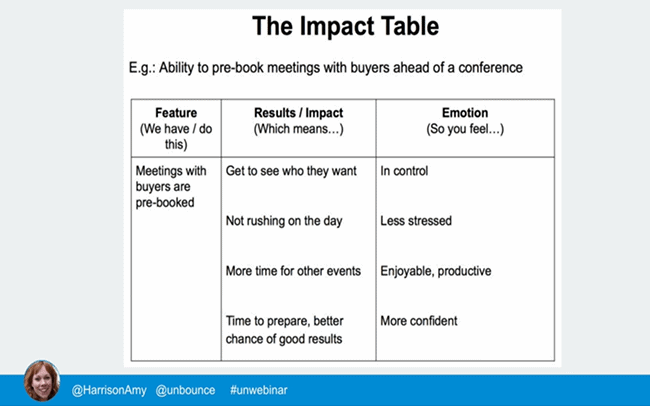 Amy explained that looking at these individual elements makes it easier for you to then build out sentences for your landing page: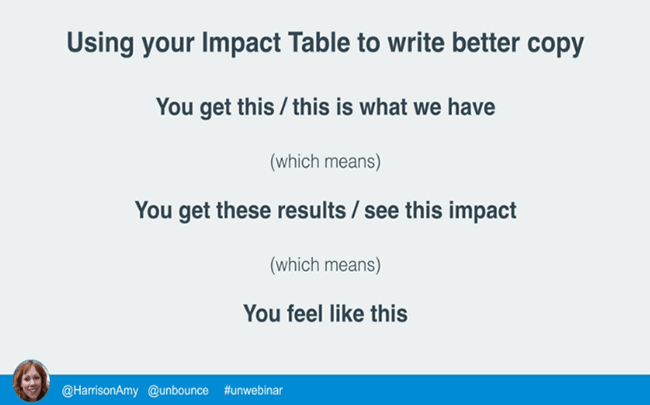 Here's an example of copy that she put together for the conference company, based on their Impact Table above: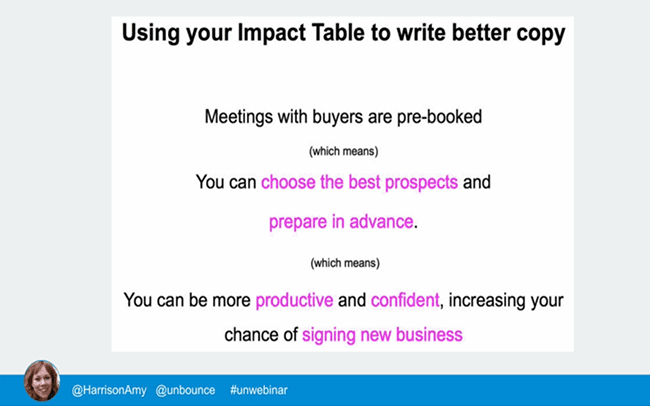 Using the Impact Table ensures that you write landing page copy that speaks to the things that customers are truly interested in. And Amy encouraged attendees to be as specific as possible:
The more specific you are, the more persuasive your landing page copy will be.
Will your landing pages have a happy ending?
Most authors won't sit down to write a story without having some vision of the beginning, middle and end.
Similarly, before you can tell a unique and compelling story on your landing page, you need to know all your plot points: the things prospects need to hear in order to convert — which is exactly what Amy's copywriting formulas will help you uncover.
Happy writing!