Think you're a rockstar marketer? Let's find out. Scan the list below and add up your total, multiply it by 2 and add a % at the end – that's your rockstar score.
Everything that's left is your marketing bucket list.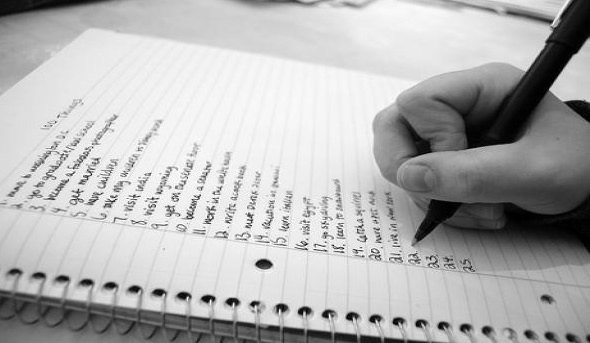 Image source: freelancefolder.com
In no particular order (how lazy of me) …
Get a difficult phrase to rank #1 in Google (i.e. not some random niche that anyone could rank well for)
Get more than 100 comments on a blog post that you wrote
Break the 1,000 retweet barrier for a single blog post
Design an infographic – all by yourself
Write an eBook
Write a real book!
Create a lead capture landing page to build a list of leads (you might want to give away the eBook you just wrote in exchange for email addresses)
Set up an editorial calendar for content marketing
Get a perfect AdWords Quality Score of 10, by crafting a beautiful ad and a perfectly matched landing page
Set up a WordPress blog (sorry Drupal and Joomla, but I think you're lame)
---
Write a guest post on a big important site/blog (a collection of guest post writing tips here). As for where to write, I'd recommend SEOmoz, Smashing Magazine and Unbounce ;) as good places. Tip: make it your absolute very best work.
Get 10,000 followers on Twitter without following more than 1,000
Try a 5-second test with a total stranger to see if your homepage messaging is clear and concise
Get enough RSS subscribers to your blog to be proud enough to show the number (I'd suggest > 1,000)
Get your blog ranked in the top 150 of the Advertising Age Power 150 (this is not easy)
Hit the 1,000 unique visitors per day milestone for your website/blog (unpaid organic search traffic)
Make an eBook or whitepaper go viral by using a social exchange tool like PayWithATweet or CloudFlood. Read this case study on making an eBook go viral to see how it works.
Run an online contest that requires social actions as part of the entry process (for example, requiring a tweet to enter a contest).
Get asked to speak at a conference
Actually speak at a conference (i.e. say yes) – I know Rand and Rick will needle me for this one
---
Have the conference pay your expenses when you speak (including the bar tab)
Get a stalker on Twitter (not a good thing – but it's probably an indicator of your status)
Run a webinar
Get people to guest post on your blog
Write a blog post (told you it wasn't in any particular order) – you'll be surprised at how many people haven't ever written a blog post
Run a PPC campaign
Create a Facebook page for your business
Get 5,000 people to "Like" your business on Facebook
Write a list post (like the one you're reading now). Tip: have a brainstorm to get as many ideas as you can for your list post then jam it out in an all-nighter (example: 101 Landing Page Optimization Tips).
Go your whole career without referring to yourself as a "Guru"
---
Run an A/B test
Keep running A/B test's until you actually get a conversion lift
Use hashtags incorrectly in your Tweets to construct memorable or entertaining statements. e.g. #NotGonnaLieHoneyBadgersAreTotallyBadass
Drunk tweet
Regret drunk tweeting
Delete your tweets because you regretted drunk tweeting (#FAILING can be a valuable lesson)
Build a retention path for your customers and implement an email marketing "drip campaign" for it
Use guerrilla marketing tactics to spread your message (doing some kind of branded trickery outside a conference so you don't have to pay to attend)
Run a successful affiliate program
Get your company reviewed in a top blog like TechCrunch (nudge nudge Michael Arrington)
---
Facilitate a co-marketing initiative to acquire new customers from a company whose customers closely align with your own
Make a custom and useful 404 error page that can draw lost visitors back into your sales funnel. And throw in some humor to placate them a little.
Do enough link building to give your website a Page Rank of 6
Set up goals and funnels in Google Analytics to be able to report on conversion rates
Be capable of answering c-suite questions such as: Which inbound channels are performing best? What's our conversion rate?
Increase your conversion rate of website visitors to signups by 10%
Have a blogathon: write and publish 1 post to your blog every day for a month
Create a marketing calendar: Mondays for SEO, Tuesdays for Content Marketing, Wednesdays for Conversion Rate Optimization, Thursdays for Email Marketing and Friday for Anlytics etc. And stick to it.
Every time you hire a marketer for your team: give them this list as a task
Do something else. Who wants to be a marketer their whole life?
---
What's Your Rockstar Marketer Score?
Remember to count the ones you've done. Multiply it by 2 and you have your percentage.
For the record I'm at 68% … I've done 34/50.
(You'll be able to add your score in after you click the link)