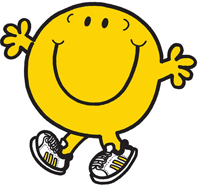 Landing pages, conversion rate optimization, bounce rate, blah, blah, blah, blah, yada yada yada.
As important as all of those terms and concepts are, sometimes you need to step back a bit and look at things in a more playful manner.
Landing Pages Made Simple
I find metaphor can greatly aid the process of communication – although as you'll infer from the title of this post – my examples can at times be a bit of a stretch. Hopefully, this bunch are clear enough to mean something.
And so, with no further posturing or technical jargon, I present to you – The MR. MEN Guide to Landing Pages, Conversion and Absurd Metaphor.

About the Mr. Men
The Mr. Men show and book series were one of my favourite things as a kid, so this is my way of an homage to their enduring coolness as a brand.
They were created by Roger Hargreaves in the 70s and have been an evolving group of characters in children's TV and books ever since.
Can you think of any more Mr. Men conversion metaphors?
Is there a person in your office that's like a Mr. Men character?
How does Mr. Tickle or Mr. Bump relate to your marketing process or philosophy?
I hope you found this little design exercise enjoyable. Please let me know if you did and share it with anyone you think might get a giggle from it.