Want to see how effective your landing pages are?
Run your page through
The Landing Page Analyzer
to get your custom report today.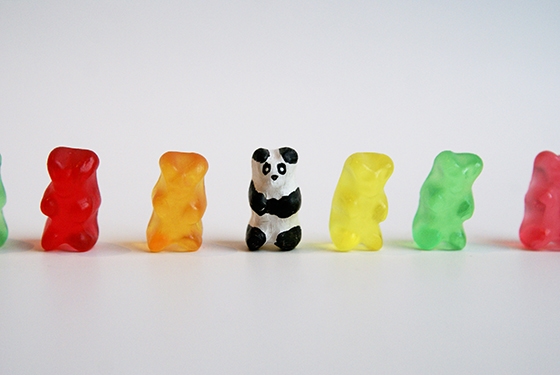 Your unique selling proposition needs to stand out on your landing page if you want to convert visitors. Image by
blatera
.
Did you know studies have shown that you have less than 10 seconds to convince visitors to stay on your landing page? If they don't feel that their needs are addressed, they will be gone.
Go ahead and count 10 seconds. It's really that quick.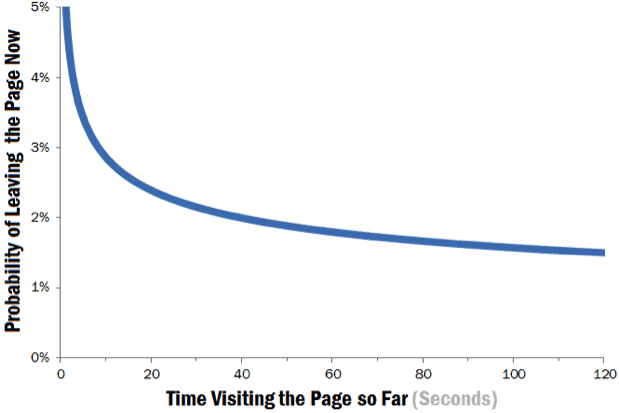 The first 10 seconds are critical in determining whether a visitor will stay on your page.
Image source
.
In an effort to get visitors to stick around longer, many online marketers A/B test headlines, images and calls-to-action. Yet many neglect a crucial element: a unique value proposition.
A strong value proposition needs to be conveyed in these first 10 seconds.
Testing and improving your unique value proposition is one of the best ways of increasing your conversion rates. It's just as important as testing your call-to-action buttons – and often even more important.
What is a unique value proposition (UVP)?
So just what is this all-important UVP?
Also known as a unique selling proposition (USP), a UVP is a clear statement that describes the benefit of what you are offering, how you solve needs and what distinguishes you from the competition.
The importance of an exceptional UVP is covered in many college-level business courses, yet many online business owners seem to have forgotten about it.
Even worse, many online businesses confuse their value proposition with their mission statement. That's a huge problem.
While a value proposition is visitor-centric, a mission statement is business-centric. First and foremost, your UVP should speak to your visitor's needs.
Take this landing page from the University of Vermont for example: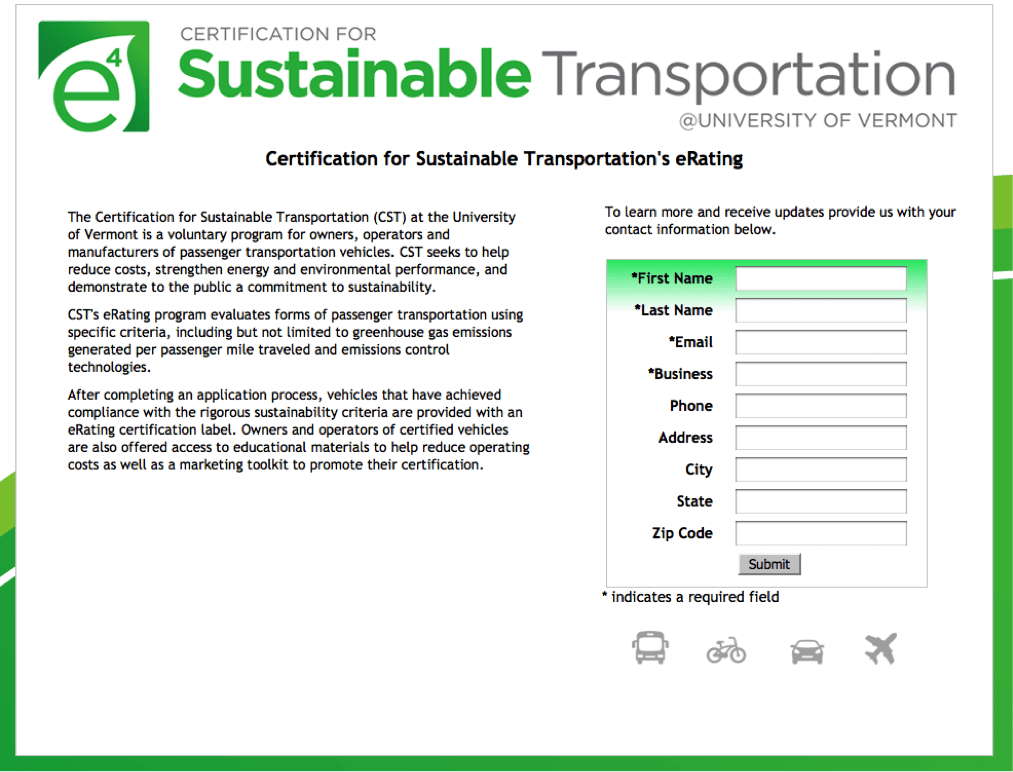 Click to enlarge.
Notice how corporate and dull the copy sounds and how it's all about the business rather than visitors?
Your landing page should have your UVP front and center.
If it's not, your visitors won't easily see the benefit of signing up and are more likely to bounce from your landing page and search for a solution elsewhere.
If they leave your landing page prematurely because of this uncertainty, you have precisely 0% chance of converting them into a sale or lead! Not good right?
Get maximum mileage out of your UVP
Even if you think your unique value proposition is both strong and prominent on your landing page, it doesn't hurt to gut-check.
No UVP is perfect; there's always room for improvement. Read on to uncover how to make your UVP stronger and how to increase the chances of it resonating with the visitors to your landing page.
1. Lay the foundation for a solid UVP
Before you get into distinguishing your offer from that of your competitors, you want to be sure that your value proposition is solid at its core.
Regardless of what type of service or product you are offering, there are several elements that go into making a solid UVP. Without exception, it should:
Quickly and clearly convey the value of what you are offering.
Explain how your service/product is different from that of your competitors.
State benefits as well as features.
Address the key needs and pain points of your target audience and underline how your offering is the solution.
Avoid superlatives such as "the best" or "world-class," as well as any jargon or acronyms.
Use layman's terms to convey your offering to even the most uninitiated audience.
Use customer-centric language rather than company-centric language (remember, this is NOT your mission statement). Steer clear of using the words "we," "our" or "I."
This landing page by Supercircuits demonstrates many of these best practices: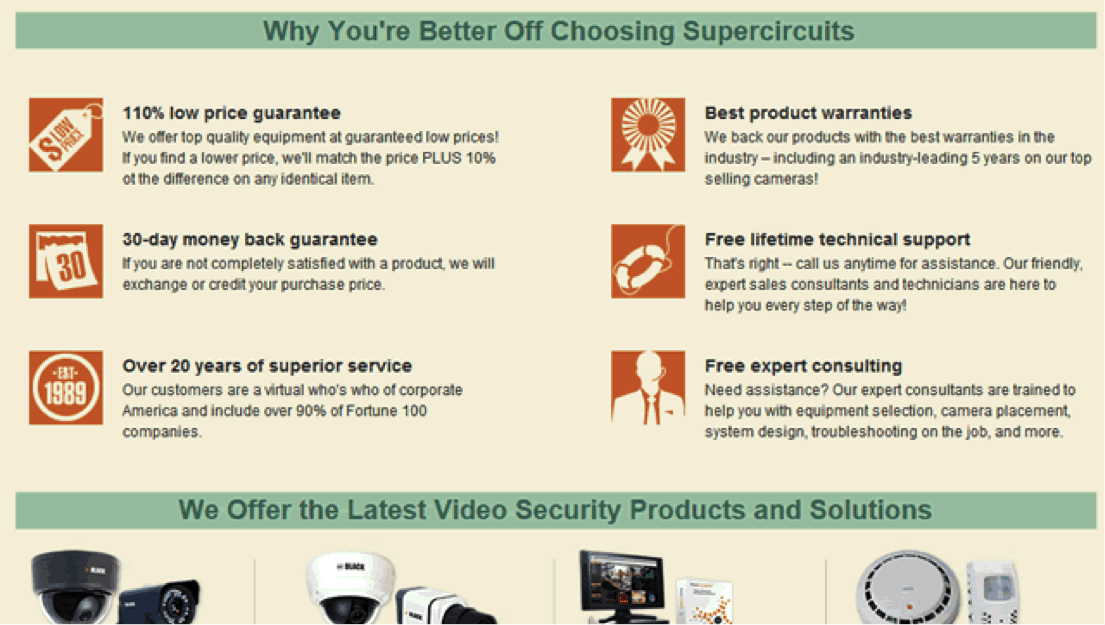 Click to enlarge.
Supercircuits addresses the customer directly as an individual and speaks to features as well as benefits.
They also reference how they are superior to the competition, promising to match any lower price plus an additional 10%.
This is where you can really maximize the uniqueness of your UVP: see what your competitors are offering and then offer more…
2. Evaluate your competitor UVPs for improvement ideas
In a world where everyone thinks their product or service is best, UVPs can sound generic, injected with superlatives.
It's critical that you spend plenty of time looking at your what your competitors are offering. Go ahead and block of several hours over the next week to look over their landing pages.
Take note of what they are doing particularly well (and not so well) with their UVP – and then take things one step further.
Offer a longer free trial, better money back guarantee, or free returns. Consider offering bonuses with your initial offer, whether a supporting community, video training series, real time support, free premium options, free one-hour consultation, or anything else that adds value in the eyes of your customer.
Don't limit yourself to reviewing your direct competitors; take a look at websites in similar fields as well, as they can serve as inspiration for improving your UVP.
3. Make your UVP prominent on your landing page
Now that you have a sharp and convincing UVP, you need to make it prominent on your landing page.
You may know your UVP by heart but your visitors don't, so make it loud and clear.
How can you ensure your UVP is quickly noticed and understood by your visitors within those first 10 critical seconds of them arriving on your landing page?
Have a short but powerful headline that helps summarize a key aspect of your UVP (in less than 10 words).
Have a supporting sub-headline or short paragraph to help explain or clarify your UVP.
Have a short bulleted list of the benefits/advantages of using your product/service, with supporting visual imagery (for example, icons, badges, or a hero shot).
Show all of the elements above the page fold (the area that visitors can see initially without having to scroll).
Bonus: if you want to get more bang for your buck, consider adding a tagline under your logo to help articulate your UVP. This is a highly visible spot as the logo is one of the first things that visitors look at on landing pages. It's especially useful if your company name isn't particularly descriptive.
SpiceWorks does a great job of this: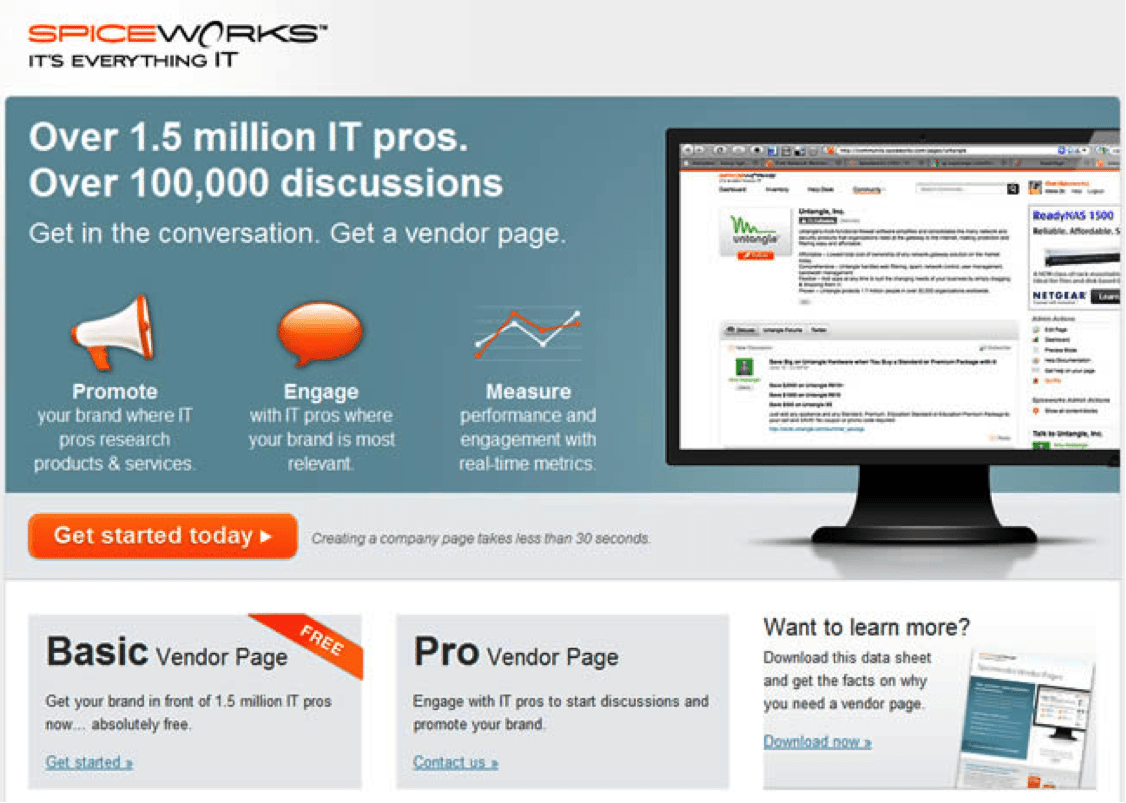 4. Carry the conversation forward
Finally, remember that the conversation should continue after people click on your CTA.
Your UVP should be prominent throughout your checkout or registration process.
Re-iterate an abbreviated version of your UVP on the sidebar of your sign up page, registration page, or checkout flow pages to be sure people remain influenced by it.
In this example from Experts Exchange, check out the value proposition bullet points in the top right of the side bar: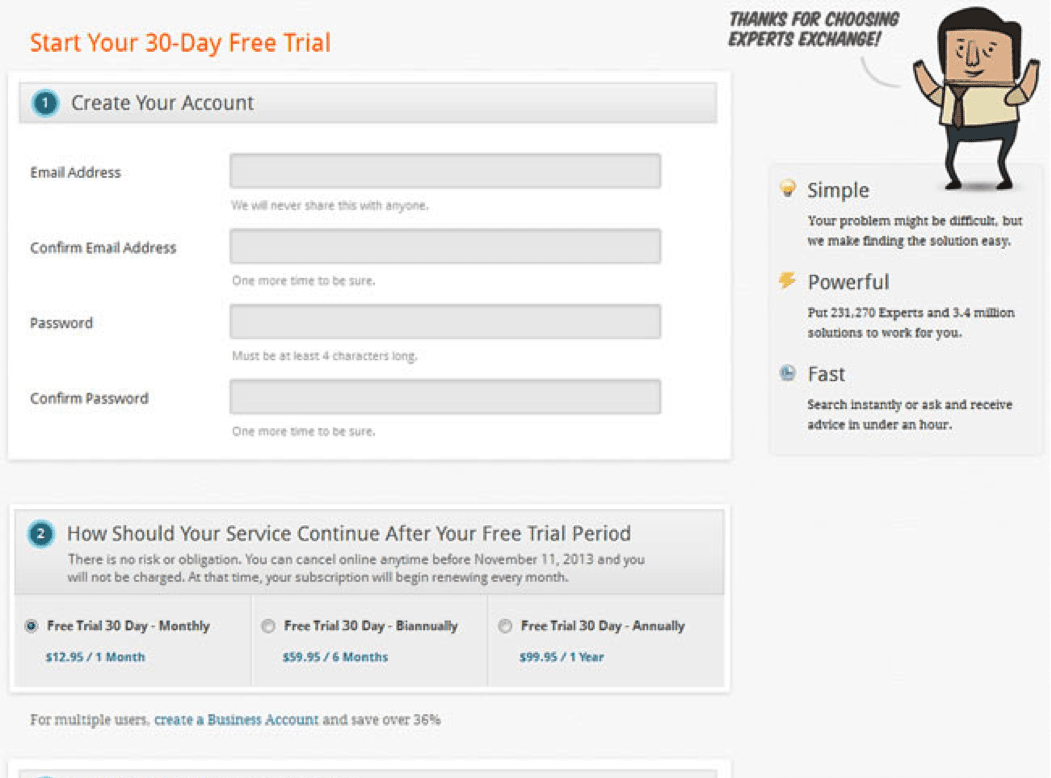 Click to enlarge.
Real life examples of UVPs with critiques
Let's take a look at some good and bad examples of landing page UVPs to help illustrate my points and inspire your improvement efforts.
Here are two landing pages with poor unique value propositions: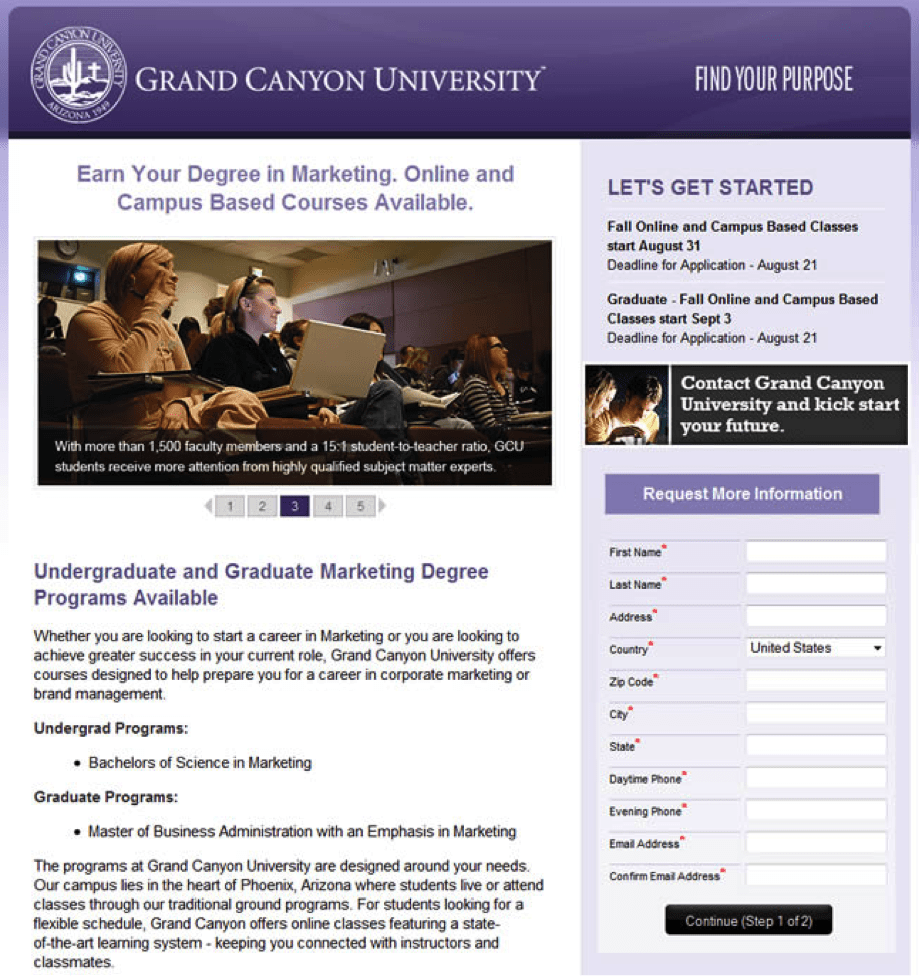 Why it's poor:
The market they're targeting is very competitive, yet the landing page explains no good reasons to go with this offering instead of another – all it mentions are the benefits of undergraduate and graduate programs in general.
The headline and copy are generic and don't function to describe the UVP.
There is too much emphasis on the form, without explaining the benefits of "Request[ing] more information."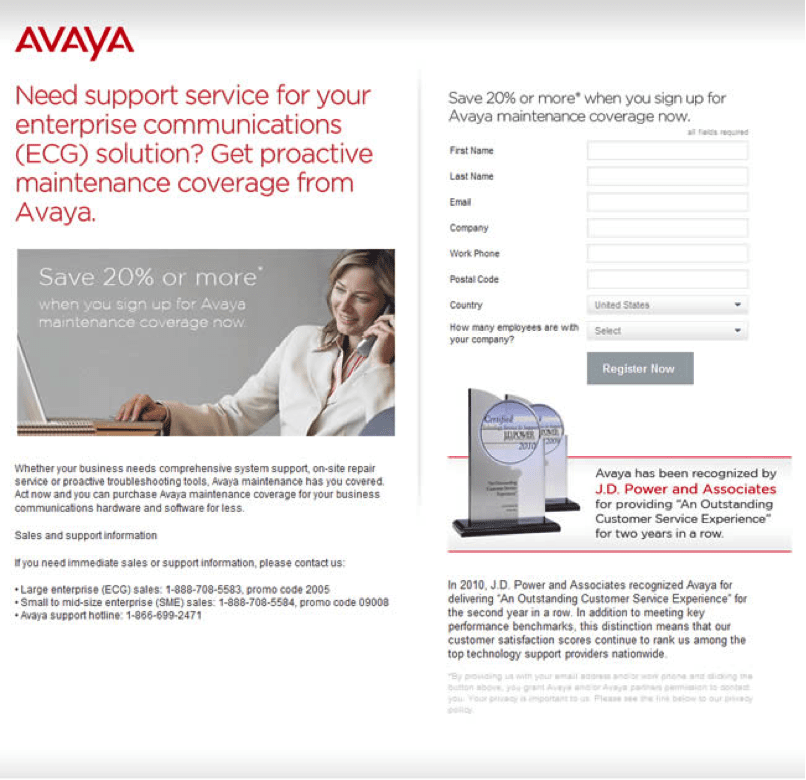 Why it's poor:
The vague headline conveys little value proposition, let alone a unique value proposition.
There are no bullet points of benefits and reasons to choose Avaya – just a very small, hard-to-read block of text.
Too much prominence is placed on the 20% savings offer and the "J.D Power award," especially without any explanation of why a prospect should use Avaya instead of their competitors.
On the flip side, here are two landing pages with excellent unique value propositions: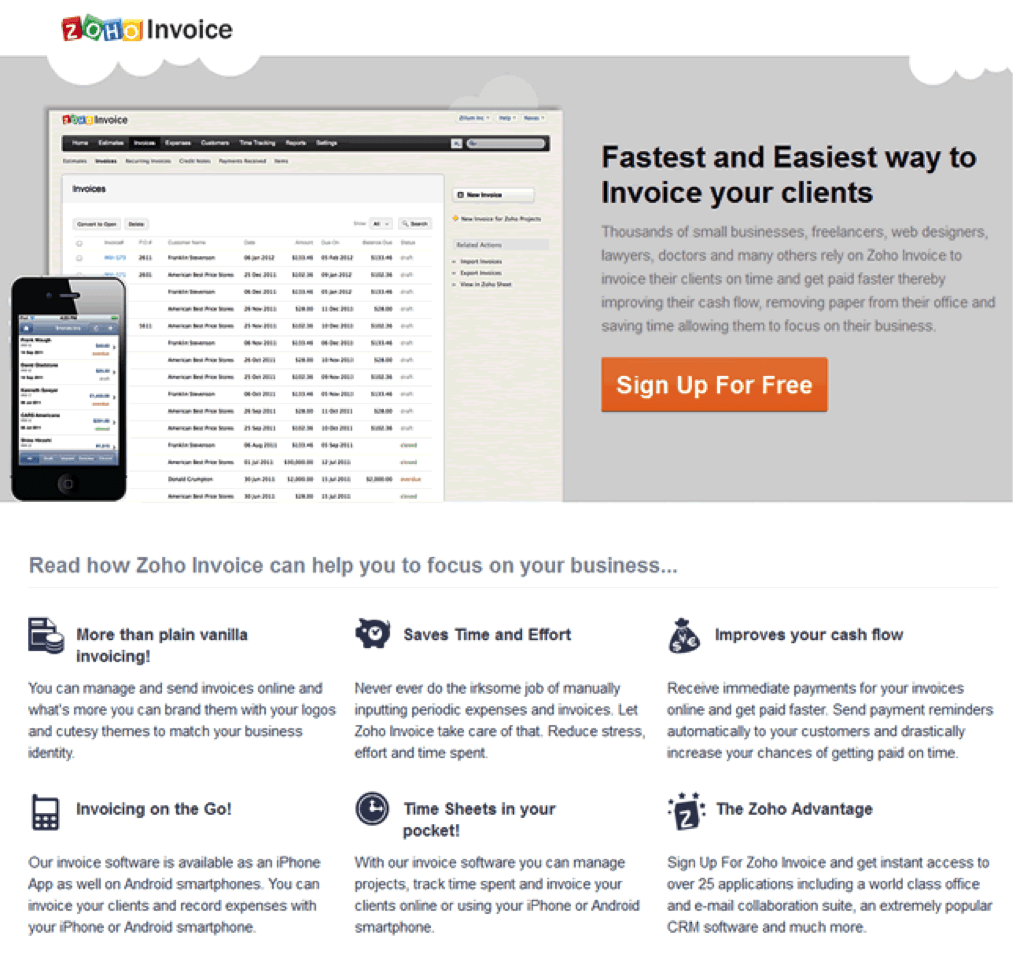 Why it's excellent:
The clear, concise headline helps convey the unique value proposition.
The aesthetically pleasing bullet points help convey benefits and what differentiates them from their competitors (particularly with the "Zoho advantage" point).
Both are shown above the page fold, so the UVP is prominent and will influence visitors.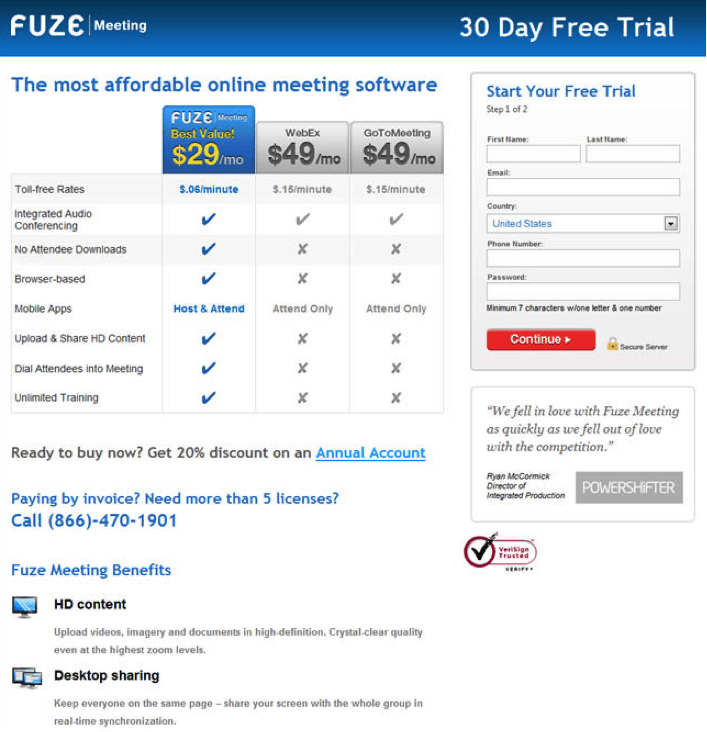 Why it's excellent:
Fuze uses a short and sweet value-driven headline that emphasizes low cost.
They show a prominent competitor comparison matrix table to help easily explain unique value proposition and differentiation.
Lower on the page, they show a benefits module to emphasize the benefits of the service.
Don't forget to test
Never presume that your UVP is good enough or being shown in the best place on your landing pages.
Testing your UVP is critical to improving your conversion rates.
Running A/B tests is a great way to improve your UVP. If you're not sure what to test, revisit the bullet points in the "Lay the foundation for a solid UVP" section of this article. Choose an element that could use improvement on your page and create a hypothesis.
For example, your UVP test hypothesis could be:
"Making our headline more benefit driven and adding a UVP benefits module to our homepage will increase clarity for visitors, reduce bounce rate and increase sales."
If you are using a tool like Unbounce or Visual Website Optimizer, you can quickly create a few test variations of your UVP to see which results in increased sales and leads and decreased bounce rates.
Another great way to optimize your UVP without an A/B testing tool is to run usability sessions to get feedback.
Create a few different variations of your UVP and then use a service like User Testing to ask questions and get in-depth feedback from your target market. I recommend getting at least five targeted responses to assist with your improvement efforts.
Your UVP always has room for improvement
Having a solid unique value proposition is often overlooked as an essential component of conversion rate optimization. Paying attention to yours can help you stand out from the crowd.
If you ask the right questions, A/B test and think critically about your current UVP, you'll be on your way to reduced bounce rates and increased conversions.
Now it's your turn.
How good is your unique value proposition? Let me know if you have any questions below!
---