White papers are content marketing powerhouses for business-to-business (B2B) companies.
We're not just sayin' it: 62% of the most successful B2B marketers think white papers are the most valuable type of content. On the customer side, 71% of B2B buyers use white papers to inform their purchases.
But you can only benefit from your white paper if people read it in the first place. If your landing page can't convince them to fill out your download form, your hard work will go to waste. So much for all that PDF formatting.
So how can you build a white landing page that gets people downloading? Let's talk about the goals a white paper should achieve and how your landing page can help you meet those objectives.
What's a White Paper?
A white paper is a marketing document that explores a topic in-depth using research and expertise. It aims to educate customers, raise awareness about a brand, and build that brand's authority.
While white papers look like ebooks at first glance, they tend to have more technical and highly researched content. Since they dive deep into a topic, they also tend to be longer than ebooks.
Why Should You Build a White Paper Landing Page?
You might think of placing your white paper download on one of your website pages, but you'd be missing out on the benefits of a conversion-focused landing page. A landing page directs its visitors toward one goal: downloading your white paper. It'll make it easier to track what elements of your page encourage folks to download it and what doesn't work.
White papers make terrific lead magnets—content you provide to visitors in exchange for their contact info. You can set up your landing page with a contact info form that shares your white paper once a visitor completes it. Using the emails you collect from these forms, you'll be able to build your email newsletter (with your visitors' consent, of course.)
Editor's note: If you use a landing page builder, keep in mind that you might need to host your white paper on another website. You can upload it to your website and redirect visitors to its file URL. Or, you could use a file hosting option like Google Drive or Dropbox.
3 White Paper Landing Page Examples to Inspire Yours
It's one thing to build a landing page for your white paper and another to build a good one. Whatcha gotta do to create a landing page that makes visitors want to download?
Let's learn from example—three of 'em, to be exact. You'll see what each page did right and wrong in its quest to convert.
1. Applause
Applause offers crowd testing for apps to help companies improve their digital experiences. This landing page for a white paper about crowdsourced usability testing is from 2014, but it follows some of the best practices we still use today.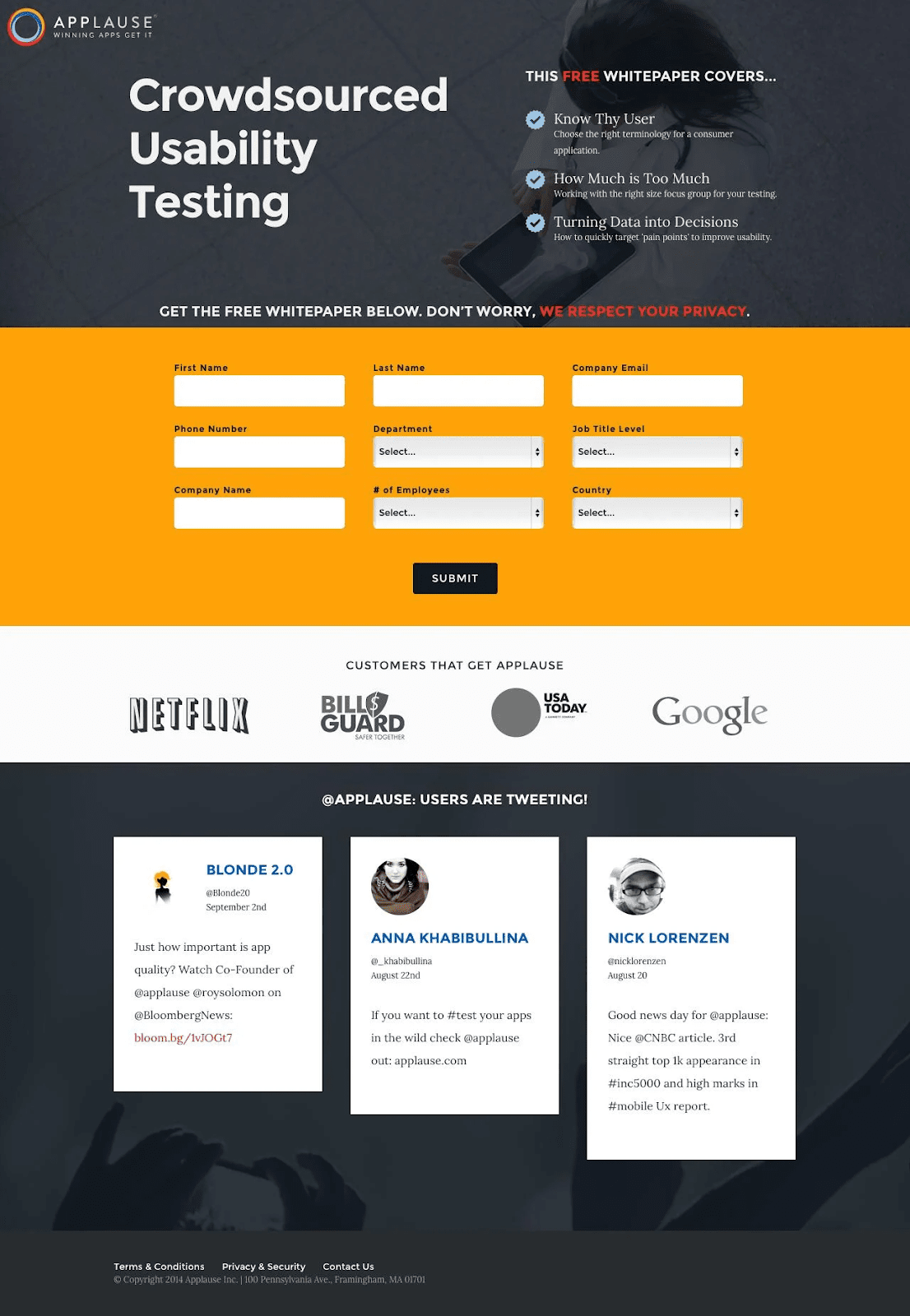 What does this landing page get right?
This landing page uses visual hierarchy to make each section feel unique from the others. It alternates colors and textures to break up content and highlights the star of the show—the lead magnet form—with an orange background.
It also provides a quick overview of the white paper's content right before the download form. In a few quick bullet points, the visitor knows what they're gonna download.
Plus, Applause's landing page uses two types of social proof to build authority. The brand seals show that big companies trust Applause. Meanwhile, tweets from real customers let visitors know that people like them enjoy the product.
What could this landing page improve on?
The form has a whopping nine fields. According to the seventh principle of conversion-centered design, you should reduce friction as much as possible by minimizing your form fields. Applause could get rid of any unnecessary fields or use a multi-step form to break them up.
2. Planable
Planable, a social media content planning platform, shares its report on content marketing processes with this beautiful landing page.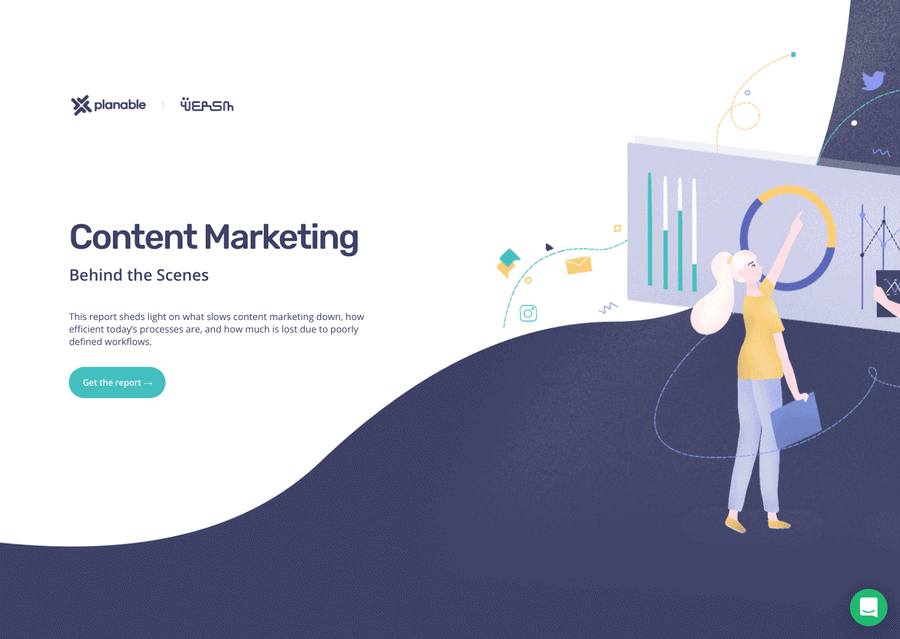 How does this landing page encourage visitors to download?
The first call to action button stands out. Planable placed it above the fold, so it's one of the first things visitors see. Its teal color contrasts with nearby elements to draw your eye.
Planable's download form sticks to two fields, making it easy for visitors to enter their info. It leaves visitors less likely to bounce due to form fatigue.

This landing page covers the report's highlights to encourage visitors to learn more from the full version. It ends with a cliffhanger stat—only 7% of content marketers are happy with their processes—to make you want to learn why.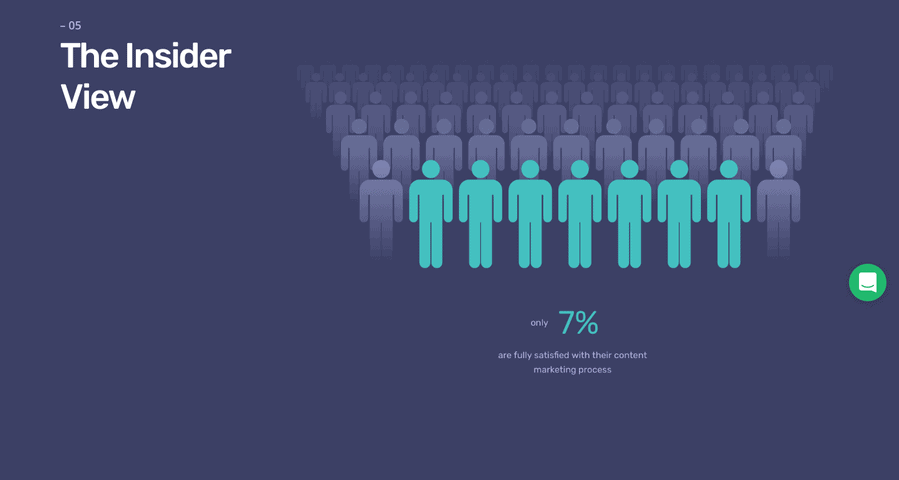 What could this landing page do better?
While the page starts with a call to action button, you won't find the actual form until the very end of the landing page. Compared to the large, colorful data visualizations, the download form seems tucked away.
This landing page also limits itself to insights from the report, neglecting any social proof that shows why you should trust Planable and its partner to provide this white paper.
3. Human Made
Human Made, creators of the Altis DXP WordPress platform, updates users on WordPress's Gutenberg editor through the white paper on this landing page.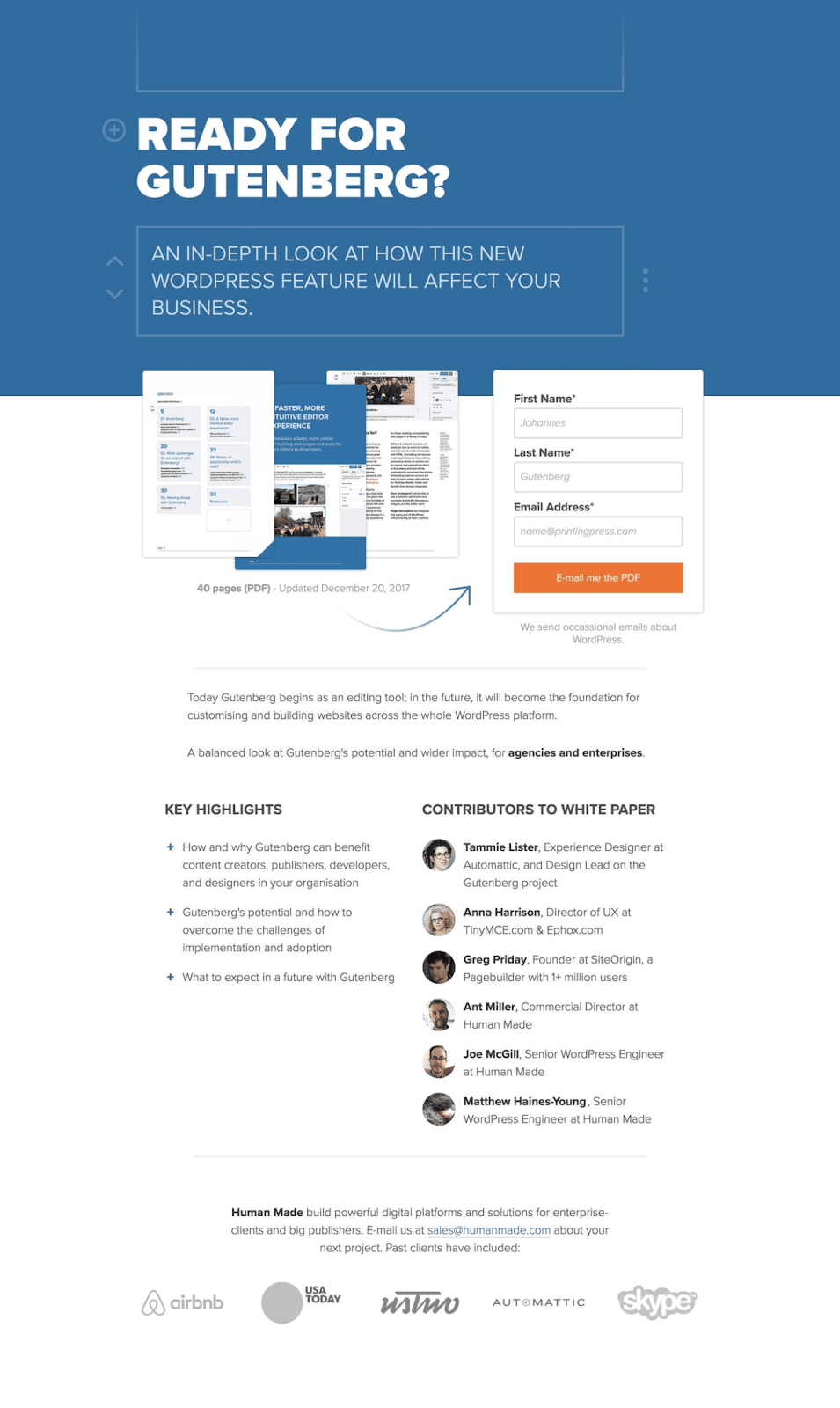 What does this landing page do right?
Human Made's landing page uses the Agitator formula in its headline to remind visitors that they need to get ready for the upcoming WordPress update. This headline formula highlights a pain point to make the reader more aware of the problem they need to solve with the white paper.
Right after the headline, you'll find the download form near the top of the page. The form reduces friction by sticking to three simple fields. Its call to action button reads "Email me the PDF," putting the action into the visitor's hands and letting them know how they'll get the download.
Also, Human Made gives its white paper authority by listing its authors and their credentials. You'll see Gutenberg's design lead at the top of the list—you can't get more authoritative than that.
What could this landing page do better?
The company's description doesn't mention its main product—Altis—or their work with WordPress at all. This lack of connection makes it unclear why you should trust the Human Made team to teach you about WordPress.
Human Made could also explain more about the emails they send to their list. Right now, the statement below the form simply says, "We send occasional emails about WordPress." Are these informative or promotional emails?
Remember to Build Variants for Your Audience
Don't forget to create more than one variant of your landing page to appeal to different parts of your audience. Even if you're promoting the same white paper, you've gotta serve up landing page content tailored to your main audience's wants and needs.
Once your variants are ready to publish, try using Smart Traffic to automatically direct folks to the variants most likely to encourage them to download. Sit back and let the AI do the hard work.