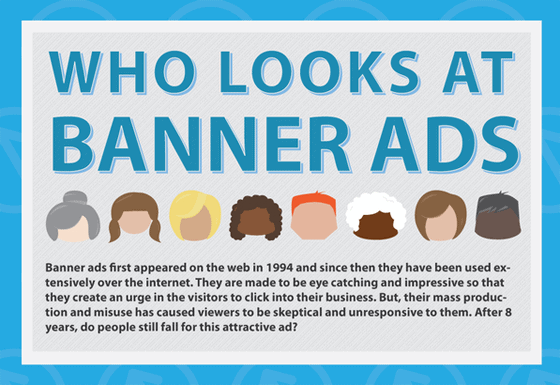 1994 was when banner ads first appeared? I bet they looked freakin' awful.
Anyway, things haven't necessarily improved much these days. A primary reason for their failure was "Banner Blindness" – a symptom of the predictable placement (and bloody ugly design) of the banners, making people blur them from their vision and focus solely on the content.
Marketers soon figured this out and started being even more annoying by putting them in the middle of blog post content (interruption marketing sucks!) so you tripped over them during your reading. Or more likely – hit the back button because you found it offensive.
Anyway, rant over. The point of this post is to examine who is looking at – and more importantly clicking – your banners. I think the most interesting stats in the infographic below are the ones about why people don't click on your banners – you could learn something from that section.
I've also included a bunch of tweetable stats from the graphic at the bottom of the post so you can sound all knowledgeable 'n' such. You're welcome.
This is my favourite:
"People are more likely to survive a plane crash than click a banner ad"
[ tweet this ]
Oh and don't forget that if you do manage to get a click on your banners that they should go to targeted landing pages to help you convert that valuable click into a customer.


Who Looks At Banner Ads Infographic
---
Tweetable Facts:
---
Got any interesting stats or case studies about your own banner campaigns? Share them in the comments, I'd love to know how you're doing.