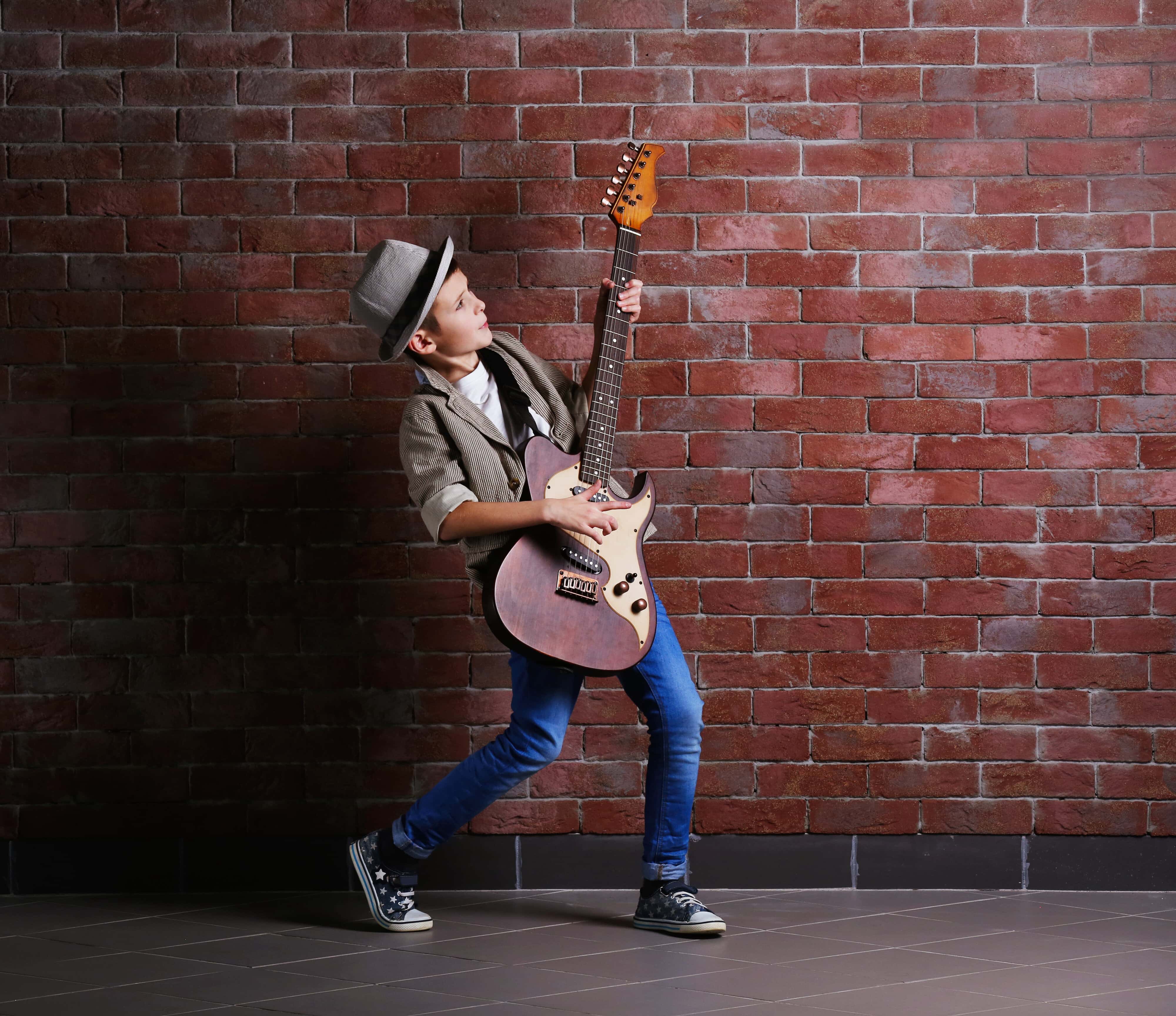 Digital Marketing Agency RevUnit rocked the house for their client by turning a deceptively simple idea into a 400% lift in PPC conversions.
When I first met Seth Waite over a Google Hangout a few weeks ago, he mentioned that his agency, RevUnit, had done some "pretty fun things with Unbounce" for clients.
It took a little while for me to understand what Seth really meant by "fun;" he meant innovative, experimental digital marketing that actually moves the needle on results. I'll admit, fun isn't the first word I'd use to describe Seth's story.
It's genius.
It's also deceptively simple.
Based out of Las Vegas, Seth is the CMO at RevUnit, a full-scale digital agency that takes pride in their ability to "Build Small. Learn Fast. Iterate Often."
This is the story of how Seth's team at RevUnit used Unbounce to iterate a PPC strategy — and it all started with a simple audit.
A little bit of background
RevUnit's newest client, School of Rock, had a little bit of an Adwords addiction. Their PPC spending was on overdrive. But the ROI? Well, there was room for improvement.
School of Rock is a music school with more than 160 franchise locations worldwide. They came to RevUnit after experiencing poor-performing Adwords campaigns with a specialized PPC agency. Lead acquisition via PPC for new enrolments was slow and lagging.
School of Rock's main goal was to drive new student enrolment to individual franchises.  In other words, they needed to get more students signed up for music classes at one of the more than 160 locations worldwide.
The question was, how could they increase enrollments and lower the cost of acquisition at the same time?
It all started with a simple audit
Before digging in and building new campaigns from scratch, RevUnit performed a full audit of School of Rock's Adwords account concentrating on keywords, ads and landing pages.
The AdWords account consisted of 160+ campaigns, 800,000+ keywords and 160+ landing pages. It's important to note that each campaign represents a franchise location (for instance, "School of Rock Scottsdale" is a single campaign) and each of those franchises locations had their own dedicated landing page.
During the audit Seth's team found some pretty common mistakes, particularly with the landing pages associated with each campaign. Here's what they were working with in the beginning:
Problems with the "before" landing pages:
Pages were very slow to load. Search engines like Google see this as a poor experience for users, and as a result, penalize pages with a lower quality score.
The lead forms embedded into each landing page were pretty long. Too many form fields can cause visitors friction, meaning they're less likely to complete the form (and more likely to bounce).
There were some general design and copy issues, the biggest being that content was not designed for easy reading. While there was a lot of information on the pages, they didn't tell a compelling story.
The pages did not mirror their upstream ads. Without a strong message match, visitors are more likely to bounce, again resulting in a lower quality score from Google.
Campaigns weren't enabled with click-to-call tracking so it was impossible to measure how many phone calls were generated from Adwords activities.
Seth's team hypothesized that if they tackled each of the problems above, School of Rock would yield better results from their AdWords campaigns.
But (and this was a pretty big 'but'), they couldn't really afford to tackle 160 different landing pages without knowing for sure.
Here's the good part
Instead of jumping in willy nilly, Seth's team decided to use Unbounce to create a template for just one of the franchise locations. Basically, he created a single landing page to test out his hypothesis. The idea was that if the template actually increased enrollment for one of the franchise locations it could be replicated for others.
Sidnee Schaefer, RevUnit's Senior Marketing Strategist, then went to the whiteboard with Seth and other members of the team to design the new strategic landing pages. After creating a mockup of the new page's layout, Sidnee jumped into the Unbounce builder to implement the design.
The newly designed landing page template aimed to follow a story that is easy-to-digest and comprehend while presenting a clean and well-structured format. The page was built to create the shortest path to conversion without sacrificing need-to-know information.
According to Seth,
Every brand has a very different story and we knew how important it was to tell the story of how School of Rock is different than the average music school. We designed the page to reflect this brand positioning.
For the new School of Rock landing pages, content was strategically placed into sections covering who, what, where and why (including reviews). "We kept the copy clear and strong to avoid burdening people with too much information," says Seth.
RevUnit also used Zapier to bridge a connection between Unbounce and School of Rock's CRM system, so new leads go directly to franchises once submitted.
The result of RevUnit's pilot was pretty convincing: a 75% increase in average weekly conversions and a 50% decrease in cost per conversion. And, all these new leads were acquired using half the budget.
Whew.
But that's not all.
Seth didn't stop with "good enough" – that's just not his kind of fun.
Here's the even *better* good part
The cherry on top of this masterminded plan is how RevUnit implemented Dynamic Text Replacement (DTR) to really match Google search queries with the landing page's headline.
DTR is an Unbounce feature that lets you tailor the text on your landing page to match keyboard parameters, pay-per-click (PPC) campaigns, and other sources, using external variables you can attach to the URL.
DTR automatically updates specified content on your page (like a word in your headline) based on a visitor's search query. RevUnit used DTR on their client's landing page to ensure each visitor was served up the most relevant copy possible.

Seth explains:
We used dynamic content on the landing page which allowed us to show personalized content to different site visitors based on keywords and locations from the ads. This helped us match the perfect ad with the perfect landing page.
In other words, when a searcher types in "drum lessons, Scottsdale, AZ" dynamic text replacement (DTR) is used to match the landing page headline with the Google search query. As a result, when the visitor clicks through to the School of Rock landing page, the headline would look something like this, "Scottsdale Drum Lessons."
A strong message match between the traffic source (PPC ad, social media, dedicated email or otherwise) and the landing page headline helps visitors understand that they are in the right place (and prompts thoughts like "yes, this is exactly what I was looking for!").
According to Seth, here's why DTR was a game changer for this campaign, "because our PPC keyword strategy was very focused on instrument lessons (guitar, piano, etc), we'd need five landing pages (a different landing page for each instrument type) for each franchise location."
This would have normally been a painful and timely undertaking but, as Seth put it, "Unbounce had a solution."
Here's how they used DTR:
We strategically designed the pages with DTR in mind, so that instrument keywords could be placed throughout the page. Instead of having to create 750+ landing pages, we only had to create one for each franchise location.
The results
After the pilot's stellar performance, Seth knew with confidence that it was time to roll it out to the rest of the 160+ School of Rock franchise locations.
Again, the results were incredible:
The number of monthly conversions improved 5x, by 250%, and the cost per conversion decreased by 82%. School of Rock has seen a huge improvement to their ROI on AdWords and their lead volume is stabilized.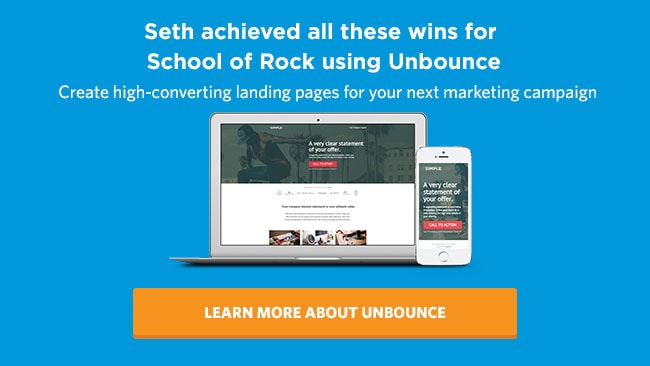 What did the mean for School of Rock? Well, according to Seth, the "average value of improvements made based on customer lifetime value is potentially a 400% increase in yearly revenue based on new leads."
The numbers are impressive but the best part of this story is that it's easy for data-driven marketers to replicate. Start with a guess – a hunch, a hypothesis, an idea – and test it out. In other words, "Build Small. Learn Fast. Iterate Often."