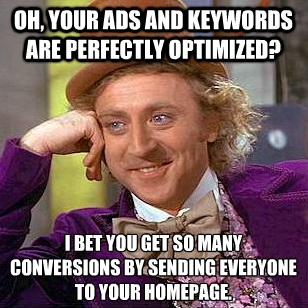 What's the biggest reason that companies using AdWords have such a massive rate of failure? – Marketers not understanding that they should have targeted landing pages to send their campaign traffic to. You can learn in a case study below how Nike manages their campaigns, and how with all their money and (I'd imagine) talent, they are still sending paid traffic to their homepage.
Why is this so wrong you're asking? Because the ad was about one thing, and unless you only have one product to sell – pretty sure Nike doesn't – then sending people to your homepage is like playing darts in a blindfold. You'll have no idea where your visitors will go or even if they'll come close to your conversion target.
Oh, and you can't miss the analysis of the presidential campaign (from both sides) about how they are managing their paid search advertising.
Critiques & Case Studies
With the Twittersphere erupting with talk of the election, there is no question that bloggers are going to write about it. And this post is solid. It evaluates Obama's keyword selection, account structure, ad copy and landing pages. It also points out some missed opportunities. Don't worry, this is a two-part piece and Romney is next – just to be fair.
In the same format as the above, this post evaluates Romney's keyword selection, account structure, ad copy and landing pages. According to this two-part post, the presidential PPC comparison has no real leader. In the comments the author, Aaron Levy comments, "Someone needs to teach these politicians how the internet works." Guess they have better things to do than focus on their PPC strategy ;) – Great takeaways regardless.
Did you know that Nike outbids their competitors for keywords? #awesome However, they also do not have a separate landing page for each PPC campaign. #fail Read an interesting synopsis of Nike's PPC strategies.
Yes, another presidential post on PPC. This one gives us a breakdown of PPC spending and a comparison of keyword overlap with a pretty diagram.
Some very interesting stats as far as PPC goes. According to the article, "61 percent of paid search ads are displayed in the right sidebar? Yet these ads get just 13 percent of the clicks."
Keywords
You know over here at Unbounce we are all about the split testing. Ad 1 vs. Ad 2. Landing Page A vs. Landing Page B. You should try sending your traffic to an experiment (more than one page in a test) to see which grants you the higher conversions. You should always be optimizing your campaigns.
AdWords' keyword matching isn't perfect. But no need to worry, this post gives you some tips to keep yours in check.
Everyone is well accustomed to Google's constant changes in everything from their algorithms to their policies. Wordstream gives us the breakdown of the latest policy update and how it will affect small and medium business.
This post gives a great visual example of keyword classification: Ford Truck Parts vs. F150 Truck Parts vs. Exhaust Pipes for F150 Quad Cab.
Being Empathic is easier said than done. I mean how do you put yourself in someone elses shoes, without actually being, well, in someone elses shoes? It may seem a bit ridiculous, but this post takes you back to high school theater class and gives you some exercises (somewhat zen-like). Channel your energy to make that breakthrough PPC ad.
Google vs. Microsoft. AdWords vs. AdCenter. Which one is better? Most people would go with Google. And I would too. But this article highlights some benefits and great features for AdCenter. And the word on the street is that it's cheaper too.
PPC on a Shoestring – Big Tips for a Small Budget
What should you focus your PPC dollars on? This article reminds us to filter out negative terms that are not associated with our product. It also reminds us that there are real people behind the screens that can help: Hello customer success!
Even small businesses with a tight budget can benefit from PPC. PPC is the quickest way to reach new customers, and it's something that even the smallest of businesses can benefit from if done properly. Here are 4 tips that will help you get a bang for your buck.
Tips, Tricks & Tactics
For all of those who didn't get the chance to go to the latest PubCon marketing conference, here is a recap of 'hardcore' PPC tactics from industry leaders.
Excel is a wonderful thing. Especially when it comes to PPC apparently. Here is a roundup of the best Excel posts that will help you with your PPC.
Did you ever think that sponsoring local student clubs at universities doing things related to your industry would help you improve your local rating? Ya, this guy has got some pretty neat ideas up his sleeve that you probably haven't thought of.
Awesome recap of a recent Halloween themed #PPCChat. Questions and answers all in 140 characters or less. You might want to join the next one on Tuesday at 12pm EDT, 9am PDT and 5pm in the UK. Tell them Unbounce sent ya!
Segmentation, segmentation, segmentation. You probably have it drilled in your brain. It is no different when it comes to mobile. Mobile-specific segmented ads lead to a significant increase in conversion rates.
The main takeaway from this post was nicely summed up by this catchy number: "Frontline the punchline to improve your bottom line." Feels like it should be included in a rap song, right?
A common description of the buying cycle is the AIDA process: Awareness, Interest, Desire, Action. By targeting your PPC campaigns and landing pages to each phase of the buying cycle, you can really take your PPC performance to the next level. This post has some great new links that cover segmenting and targeting PPC traffic.
"Studies on search behavior indicate that people search for specific business names near the end of a buying cycle." This article has a great point: If your brand isn't highly recognizable, then it is a clear indication your business could use PPC advertising.
PPC is Awesome
Let's be serious, Memes are hilarious. There is a reason why they are all over the internet. If you are bored from all these PPC posts, now is the time to take a break with this collection of PPC Memes. They will give you a little chuckle.
PPC Hero puts it better than I could, so to quote them directly: "PPC is the bee's knees. It's trackable, scalable and profitable. PPC can also be incredibly frustrating at times because the work is never done, the credit isn't always forthcoming and consistent stellar results have led to excellence blindness."
PPC Mistakes
If you fail to stay on top of your PPC ad efforts, you may be losing traffic and more importantly, it could be hurting your bottom line. This post gives some handy tips. My favorites include: Constantly revisiting your strategy (PPC isn't just a one-time deal) and keeping an eye out on your competition.
We have seen professionals make mistakes. Heck, we're all human. But we can learn from the mistakes of others. This post gives us a nice list, plus some handy takeaways.
Do you remember our blog post, 15 Epic Marketing Marketing Fails? Well, this is the PPC version (albeit, a bit shorter). You will no doubt shake your head, laugh or cringe.
---
Got any new PPC posts I missed? Then please share in the comments to build up this list.
---